Google Pixel 2 smartphones were launched last week at an event in San Francisco. Google's Sabrina Ellis while introducing the new smartphone, squeezed the phone and said "Ok Google! take a selfie," and she clicked a group selfie with the whole conference room without tapping a single button. This is the "Active Edge'' feature on newly launched Pixel devices.
The recently launched Pixel 2 and Pixel 2 XL are not the first devices to have such a feature. To recall, HTC had earlier tried the same thing with its U11 flagship this summer. However, on U11, the feature named as Edge Sense was seen as a marketing gimmick. Now, Google which has also acquired HTC's Pixel team has renamed the feature as "Active Edge".
Google has limited the Active Edge feature to open a single app- Google Assistant. However, you can also silence an incoming call with a squeeze. On the HTC U11, the Edge Sense was customizable for various uses.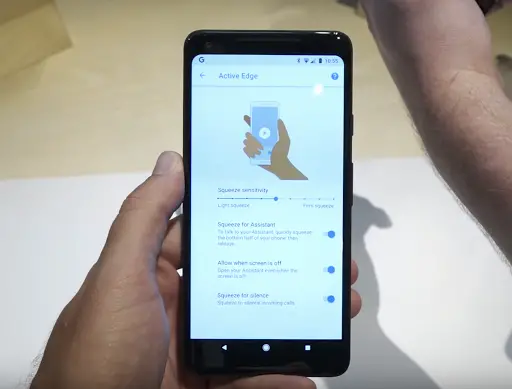 The main difference comes down to Google Assistant. The AI-powered assistant comes packed into all of Google's new hardware on Pixel 2. So, the big advantage with Active Edge is that Google has total control over both the hardware and software which means it can give Google Assistant access to the phone on a deeper level.
Dedicating the squeeze action to Google Assistant gives users an easy way to access many of the Pixel 2's best features. Just quickly grip the phone and you can do anything from clicking a photo to set a reminder. Here are some of the awesome things you can do with just squeezing your Pixel 2 devices:
Unlock your Pixel 2
Most of us hate it when PIN and fingerprint methods appear on screen while we are in a hurry. Now, with this new feature bypass these additional steps of using PIN or fingerprint. Just squeeze your Pixel 2 and using Google Assistant's voice command to unlock your device.
Open different apps
When you want to see your latest notifications without unlocking the device. Just squeeze the phone and say, OK, Google, open 'app name' and watch it open any of your favorite social media apps.
Play some music
When you are not in the mood of opening an app for playing music, just squeeze the phone and you can tell the Google Assistant to "play music," and get the party started anywhere.
Wake up with Google Assistant
No need to set the alarm and then fight with the snooze in the morning when you can trust Google Assistant to wake you up on time. You need only tell Google Assistant, "Wake me up at 8 a.m.," to set an alarm.
Send a text message
Need to send a text message to a friend or loved one. No need to search for their contact number and then type. Just squeeze the phone and say, "OK, Google," followed by, "Send a text message to (the person's name).
Get directions
When you're out with friends, but you're clueless as to where you should go, Google Assistant can help. Moreover, with the Nearby feature, you can also find out places to eat and shop.
The Pixel 2's squeezable sides should open any app you want, more than just Google Assistant. However, Google is really focusing on Assistant this year, making it a central component of how its products work. To recall, along with Pixel 2, Google also launched Pixelbook, Google Home Mini, and the Pixel buds, all of them are powered with Google Assistant.