Airtel has officially launched its 4G VoLTE services in Karnataka after testing it for some time. The 4G VoLTE services will allow Airtel customers to enjoy high-quality voice calls on their 4G network on compatible handsets. The VoLTE services also offer faster call setup time compared to normal voice calls.
Airtel had earlier launched VoLTE services in many states and cities including Mumbai, Goa, Madhya Pradesh, Chhattisgarh, Gujarat, Andhra Pradesh and Telangana. The Airtel VoLTE service promises seamless connectivity over its 4G network and in the case of non-availability of 4G, calls will automatically switch to 3G or 2G network. Moreover, customers can also continue with their data sessions at 4G speeds while the call is in progress.
How to enable Airtel VoLTE
As per the company, customers with Dual-SIM handsets need to insert their Airtel 4G SIM in SIM slot 1 and select network mode as "4G/3G/2G" for VoLTE to work properly. Also, Airtel says that the handset manufacturers need to upgrade their smartphone's software to support Airtel VoLTE.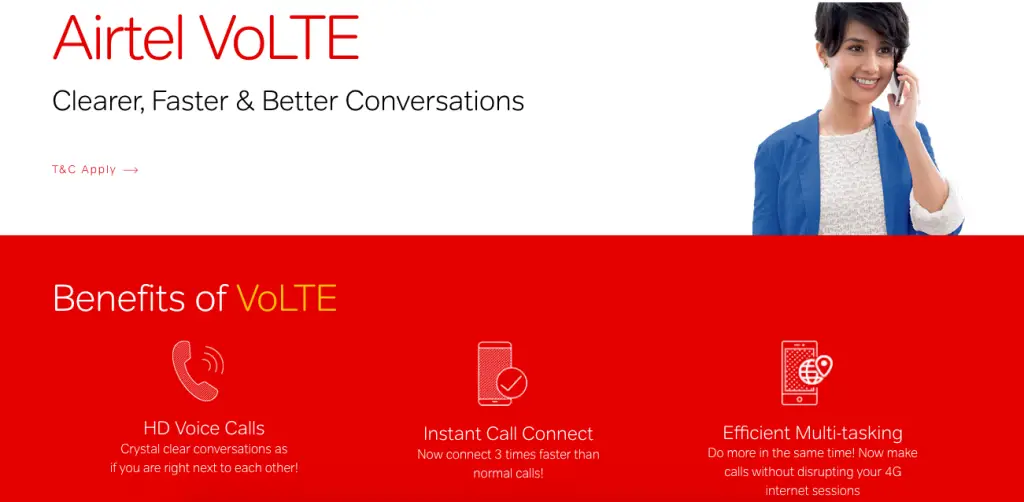 Still, there are hundreds of 4G smartphones in the market with VoLTE support. You can check out the list of Airtel VoLTE compatible smartphones here.
VoLTE services were first launched in India by Reliance Jio last year, with the service provider offering calling services over its 4G-only network. Airtel had also started rolling out its own VoLTE services over the last few of months. Apart from above-mentioned cities, Airtel says that it plans to roll out VoLTE across the country over the next few months.
Commenting on the launch, C. Surendran, Chief Executive Officer, Bharti Airtel—Karnataka, said,
"We are delighted to roll out VoLTE services in Karnataka. It complements our efforts in delivering the fastest mobile broadband services in the state. Our customers will enjoy the flexibility of making calls and using ultra high speed 4G mobile data services at the same time. As the consumers demand more of their smart devices, we believe that such technological advancements ensure they get the best out of their smartphones."