Samsung has started rolling out the Android 8.0 Oreo update to its flagship phones along with the new version of its user experience, the Samsung Experience 9.0. The latest update is still in beta and is expected to be released in the coming weeks.
While the Samsung update will include all the Android 8.0 features, Samsung is changing its software experience with Samsung Experience 9.0 to enhance the Android Oreo experience. This UI version will also be a part of the upcoming Galaxy S9 and S9+ smartphones. SamMobiles reported what would be the new features on Samsung Experience 9.0.
Improved keyboard
The latest UI update will come with upgraded Samsung keyboard which is now a customizable keyboard toolbar. It will give you quick access to stickers, emojis, settings, GIFs, and predictive text. Moreover, you can also move quick access icons around the toolbar. Additionally, there are four high-contrast keyboards for the users with visual impairments. Samsung has added lots of new emojis, stickers, and GIFs.
Smarter search
The search option is also getting smarter with Samsung Experience 9.0. The search will now be faster and offer more relevant results. It will also show keyword recommendations when you are typing something. Moreover, the search results for apps like contacts, settings, files, messages, and email will be shown in the form of cards. You can use these cards for quick actions without going into the apps. Interestingly, the app's search will not only include the apps present on your phone but also results from the Play Store and Galaxy Apps.
Bixby Briefing
Samsung is also bundling a new feature called Bixby briefing in its new UI version. This new feature will announce the weather information whenever your alarms ring. The feature can be turned on from the clock app. The Bixby briefing will initially include only weather information, however, Samsung might add options to announce news and other details in the future.
Color lens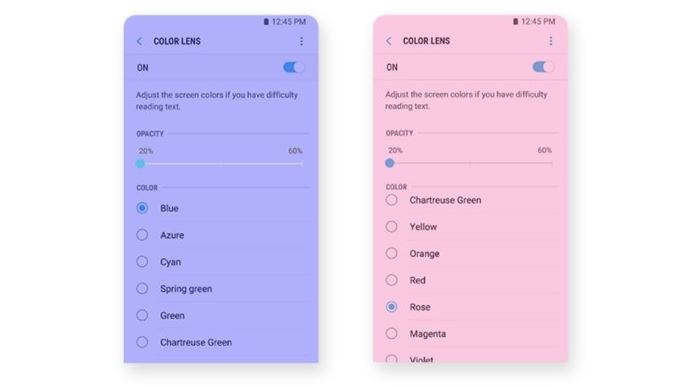 There is also a new interesting feature called color screens. So, if you don't like reading on a white screen, Samsung Experience 9.0 brings Color lens for you. It will allow you to change the color of your screen according to your needs. The Color lens feature will be available in the vision section of accessibility settings.
Samsung Connect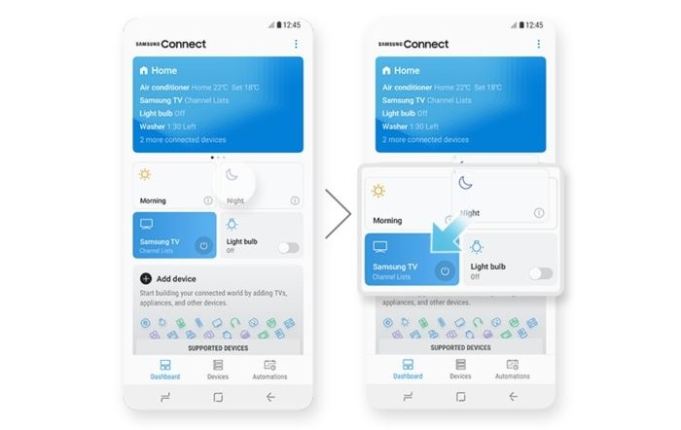 This feature is for Samsung smart home devices. You will now be able to add cards to the Samsung Connect dashboard to quickly manage your smart devices. You will also be able to set up cards for quickly accessing scenes as well. These cards can be used for switching on the light or changing a scene etc. Samsung is also including automation support in Samsung Connect that are based on time, device status or a location.
Others
Apart from above-mentioned features, there are a few other changes in the Samsung Experience 9.0. The South Korean giant is bringing Wi-Fi tweaks, improved video player, new clock styles for always on display, improved settings, Samsung Email app with snoozing and due date support and much more.