Truecaller is indeed one of the most used caller identification services across the globe. The reason behind its immense popularity is the way it pulls down the alleged caller details. Notably, if someone else using Truecaller has your number saved on his phone, you're likely to appear on Truecaller's database when searched by anyone either in the app or web.
There's no doubt that it offers the convenience to search for unknown callers, but at the cost of revealing your details to anyone on the platform. In fact, Truecaller even lists the address of the landline for some fixed-line phones.
Having said that, are you worried about Truecaller revealing your details to unknown people? Well, here's how you can remove your phone number from TrueCaller.
Remove your phone number from Truecaller
Well, you can easily remove your phone number from Truecaller using two basic steps. Notably, the first step involves de-activating your account on Truecaller after which you can proceed with unlisting your number from the platform.
De-activate your Truecaller account
1] Open the Truecaller app on your phone and navigate to Settings through the sidebar. Here, look for the Privacy Center option and click on it.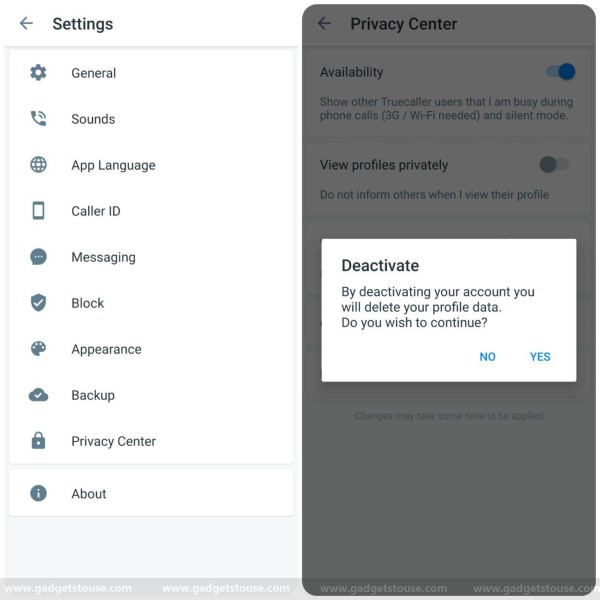 2] Tap on Deactivate. A confirmation dialog box will appear asking if you really want to delete your profile data. Click on Yes to continue.
You'll be now returned to the sign-up page, and your Truecaller account will be deleted. After that, you can follow up with the next step to permanently remove your number from search results.
Unlist your number from Truecaller
As noted, even if you deactivate your Truecaller account, users can still pull your information by searching for your number. Therefore, you can follow the steps below in order to unlist your phone number from Truecaller's database permanently.
1] Visit https://www.truecaller.com/unlisting (Truecaller's unlisting page) on your browser.
2] Enter your country code, followed by your phone number and validate the captcha.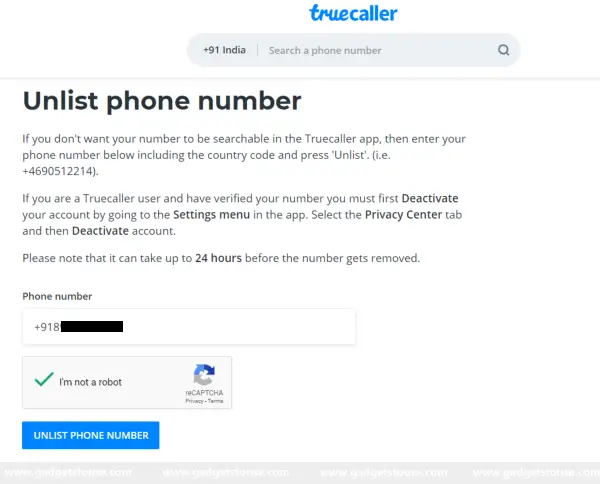 3] Now, click on Unlist Phone Number. Again, a confirmation pop-up will appear. Simply tap on Unlist to proceed.
That's it; your number will now be permanently removed from Truecallers database and from now, it will neither be shown to others while calling nor be displayed in user searches. Although, it can still take up to 24 hours for your number to disappear completely from search results.
Here's a Quick Hack
Do you want to hide your identity without de-activating your profile on Truecaller? Well, it's quite easy and something that I've been using for months now. Particularly, while signing up on Truecaller, choose to enter your details manually instead of logging in via Google/ Facebook. Now, skip the e-mail ID and put anything you'd like to appear in search results in place of your name.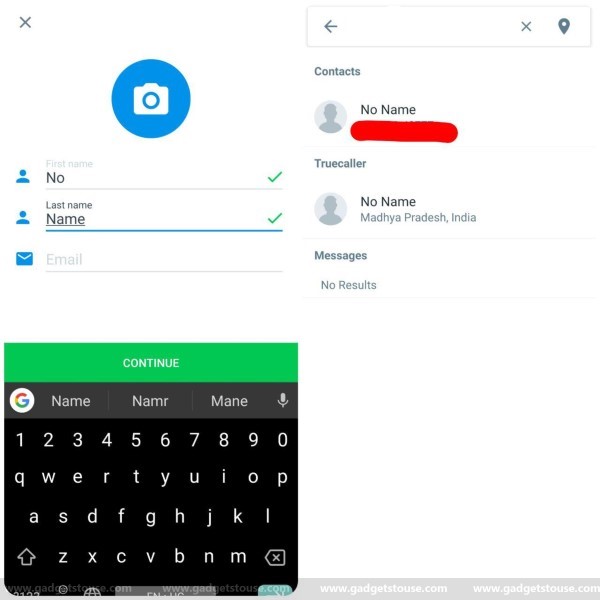 For instance, I've entered my name as 'No Name.' As a result, whenever someone tries searching for me on the Truecaller app using my number, the name will be displayed as 'No Name.' And since I haven't entered any other personal details like email-ID or address, they'll appear blank.
You can try the same and verify using your friends' phone. It's quite handy and helps in securing your privacy without leaving the platform.
Wrapping Up
So this was all about how to remove your phone number from Truecaller. While following the method above will completely erase your data from the database, we still recommend asking your friends to have a periodic check. Anyways, make sure not to register on Truecaller using the same number again.
That being said, which method are you going to follow? Are you permanently unlisting your account or planning to use it with an obscure name? Let us know in the comments below. Also, feel free to reach us in case of any doubts or queries.
Also, read | How to Enable Dark Mode in WhatsApp on Android
You can also follow us for instant tech news at Google News or for tips and tricks, smartphones & gadgets reviews, join GadgetsToUse Telegram Group or for the latest review videos subscribe GadgetsToUse Youtube Channel.