Twitter has lately gone through a complete overhaul for its web design. The social media giant now gets a whole new interface with redesigned elements and a cleaner UI inspired by the mobile versions. Notably, the command options have now been shifted to the left of the desktop, making up for easy site navigation.
However, the profile box on the topmost left corner that showed your tweets and following counts is nowhere to be seen and has been replaced by the trends section.
As a result, many aren't liking the new UI, be it due to cumbersome changes and or removal of certain old features. Unfortunately, Twitter hasn't given any option to switch back to the old interface.
However, there are still some workarounds using which you can get the old Twitter back.
Get the Old Twitter Back using GoodTwitter extension
Amidst the hate new version has been getting since last few days, a Twitter user @ZusorOW has come up a browser extension dubbed as GoodTwitter for those who want the old Twitter design back.
This open-source extension, once installed, sends a user agent saying that you're using Internet Explorer 11. And hence, Twitter offers the old, classic web interface to users of this age-old browser. If you've trouble getting into it, here's how you can install the extension and get the old design back.
1] Open Google Chrome and navigate to the Chrome Web Store.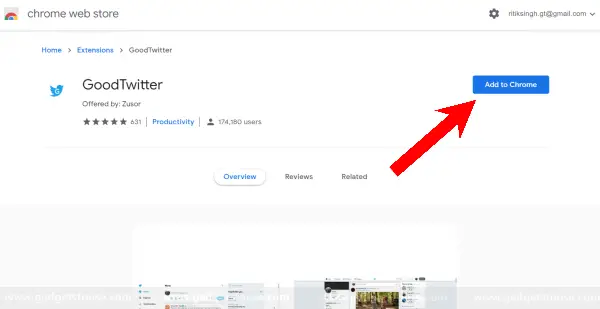 2] Search for "GoodTwitter" in the search bar and select the one offered by Zusor. You can also visit the extension page directly on your browser by clicking here.
Note: If using Mozilla Firefox, install it from Firefox's Add-On Manager.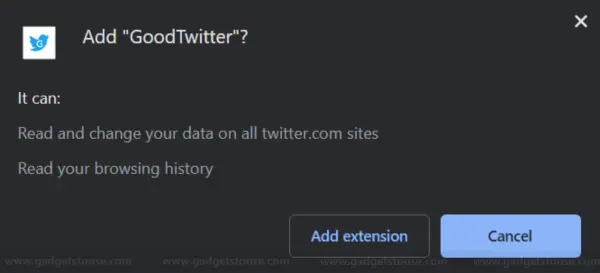 3] Tap on Add to Chrome and then click on Add extension when prompted. It'll now be installed on your browser.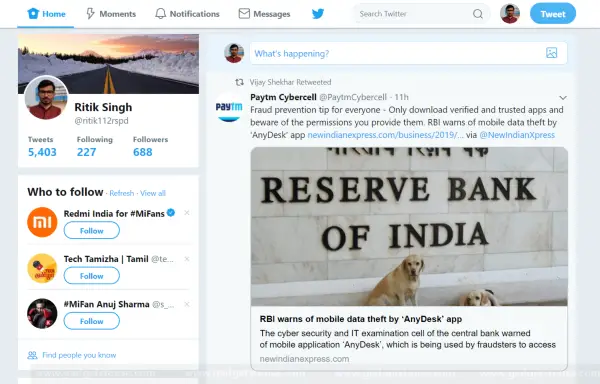 4] That's it. Simply head to twitter.com or refresh your existing page and you'll be welcomed by the classic old-school interface.
A few people have been concerned by GoodTwitter asking permissions for their browsing history on install. However, according to a recent clarification by the developer, it's required for the extension to be able to purge page cache in order to make the user agent change work without the need of reloading the page multiple times. And since GoodTwitter is an open-source project, you don't necessarily need anything to worry about.
Alternative Method- by changing the browser's user agent
If you want to access old Twitter without installing any third-party extension, all you need to do is change your browser's user agent to Internet Explorer 11 while browsing Twitter.
In Google Chrome:
1] Press CTRL + Shift + I simultaneously to open Chrome Developer tools.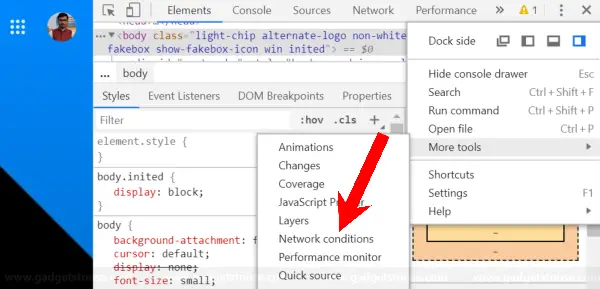 2] In the developer tools, tap the menu button with three vertical dots and navigate to More tools > Network conditions.

3] Open the Network conditions tab and uncheck the Select automatically option. Now, click on custom and select Internet Explorer 11 from the list.
In Mozilla Firefox:
1] Type about:config in the URL bar.
2] Click on the "I accept the risk!" button if warned about the warranty void.
3] Now, right-click anywhere on the page and select New > String.
4] Once done, you'll be asked to enter the preference name, followed by the string value for that preference name. Simply type "general.useragent.override.twitter.com," press OK and then type "Mozilla/5.0 (Windows NT 6.3; Trident/7.0; rv:11.0) like Gecko" for the string value (you can reset it later if you want to).
That's it; you Twitter will now be back to its old design. Note that you may be required to clear Twitter's cookies and sign back in before your changes take effect.
A temporary fix
There's a temporary solution for those who want to get rid of the new Twitter design without putting in many efforts. To do the same, open Twitter and tap the three-dot menu given at the bottom of the left sidebar. Select Settings and Privacy and click on About Twitter under the General Settings section.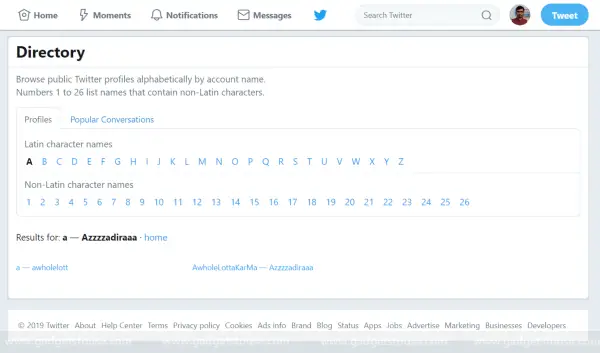 Now, a menu will appear on the right side of the page. Thereafter, scroll down and click on Directory. A new page will old Twitter design will be opened. Here, you can tap on any of the menus and enjoy the classic Twitter interface.
Note: As mentioned, this is a temporary solution and might be fixed anytime soon.
Wrapping Up
So this was all about how you can get back the old Twitter design. By the way, which method do you prefer the most from the ones listed above? Let us know in the comments below. Also, do let us know your thoughts on the revamped Twitter design.
That being said, feel free to reach us in case of any doubts or queries and don't forget to follow us on Twitter.
Also, read How to Stop Facebook from Tracking Your Location.