Are you planning to have security surveillance for your home but don't want to spend much on a home security camera? Well, if you have an old smartphone lying around then don't worry, it will do the job. In this article, let's talk about how you can use your old smartphone as a home security camera.
Use your old phone as a security camera
Things you'll need
Before you start with the process, there are certain things you'll need as pre-requisites in order to use your old phone as a home security camera, mentioned below.
An old Android or iOS smartphone, obviously.
An active WiFi connection/high-speed mobile data network on your old phone.
A spare USB charging cable.
A power bank/ charging outlet to keep the phone alive.
Setting up your old phone
The first and foremost part is to set up video monitoring on your phone using a security camera app. You can follow the steps below to activate video surveillance on your device.
1] Download and install Alfred app on your iOS/ Android device (the old phone ought to be used as a security camera).
2] Open the app on your smartphone and set it up. Following the same, start with selecting "Camera" instead of Viewer when prompted with "I use this device as."
3] Next, sign in using your Google account. For privacy reasons, we recommend using a spare Google account instead of your main account.
4] After signing in, grant the app with all the necessary permissions such as access to Body Sensors, Camera, Microphone, and Storage.
5] Now, swipe to open the sidebar at left and navigate to Camera settings. Here, you can tweak the video settings including the ability to record audio, focus mode, motion detection, auto-open after reboot, and passcode lock. Note that you get limited features on iOS, including the options to enable motion detection, choose between the front and rear cameras, and enable or disable audio.
6] That's it, you've now successfully set up the live-stream on your device. You can also turn on power-saving mode for phones having OLED displays. Plus, make sure your mobile phone doesn't go to sleep or lock screen after a period of time as this would close the app and it would stop working instantly.
Mounting and Power supply
Look for a place where you can safely install your phone without any issues. For instance, you can use a small tripod or suction-based mobile holder to stabilize the device. We'd suggest looking for commonly vulnerable points, including entrance gates or places where you store valuables.
As streaming video takes up a lot of power, your phone will die out of battery soon. Hence, connect the charging USB cable to the phone and power it up using a typical wall adapter. For occasional surveillance, you can also opt for a portable power bank.
Monitoring your home on other devices
After the completion of the setup and mounting the phone, you can watch your home live on multiple devices, including desktop and mobile phone, based on what you have in your hands.
On smartphone
Install Alfred app on your phone.
Sign in with your Google account, just like you did on the old phone.
Here, select "Viewer" instead of the Camera when prompted and you'll be able to monitor your home live on your phone without any issues.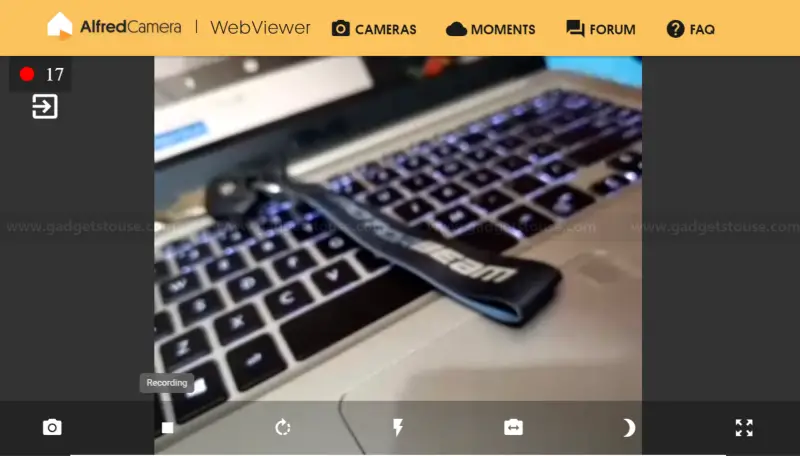 On desktop
Open your web browser and navigate to https://alfred.camera/webapp/.
Sign in with the same Google account you used to set up the app initially.
Thereafter, you'll be able to watch the live stream on your screen, record the same, and take snapshots.
Besides, you can also turn on the flashlight, deploy low-light filter, rotate the viewfinder or even switch between front and rear cameras, remotely from your computer. Sounds interesting, right?
Other options to use your smartphone as a home security camera
As noted, Alfred isn't the only app for remote surveillance. Instead, you can also opt for Manything, which is available on both iOS & Android and supports live streaming, motion alerts, cloud storage, multiple recording options, remote control, and IFTTT integration.
Furthermore, there's another app dubbed as IP Webcam, which lets you monitor the camera on other Android devices using free cam viewers like IP Cam Viewer. You can also connect it to Skype, or even stream it with media players like VLC. Note that most apps need subscriptions in order to unlock certain features, akin to Alfred.
Wrapping Up
So this was all about how you can use your old smartphone as a home security camera. By the way, what app you've decided to use for the same? Let us know in the comments below. Moreover, feel free to reach us in case of any doubts or queries.
Also, read Do These 10 Tweaks on Android, No One Can Hack Your Smartphone After This.