As a matter of fact, millions of people across the globe have been a victim of online bullying to date. And to combat the same, Instagram has now launched a new feature dubbed "Restrict" on its platform. So, what exactly is Instagram's Restrict feature, and how to use it? Read on.
Also, read | How to Use Facebook 'Take a Break' Feature to Mute Someone Without Blocking
What is Instagram's Restrict Feature?
The new "Restrict" mode effectively lets you shadowban a user on your profile. Now, this can be anyone who comments on photos with offensive or abusive language or tries to bully you on the platform.
Once you restrict someone on Instagram, you will no longer see their comments unless you specifically tap on the 'See Comment' button. Even then, anyone else except you and the bully would not be able to see or interact with the comment, unless and until you approve it for public visibility. This is similar to Facebook's Hide Comment option which has been there for a while now.
Moreover, you won't receive any message notifications from the accounts you've restricted. And even if a restricted user sends you messages, they will remain in the Message Requests section, and the user will not be able to tell whether you've opened it or when you were last active on the app.
Starting today you can protect your account from unwanted interactions with a new feature called Restrict. This is just one of the ways we're empowering our community to stand up to bullying. https://t.co/65WJuAOdON pic.twitter.com/WOaNnsJC1y

— Instagram (@instagram) October 2, 2019
Now, you might be thinking- how is it different from blocking? Well, blocking is never a solution to rectify cyberbullying. Users who are blocked might create multiple accounts to create a nuisance or go on bullying outside the platform.
And you can never track a user's activity once you've added them to your block list. Well, you need to know what is happening in order to counter the bullying, right? This is where the Restrict feature kicks in as the other party never knows what you've done to them.
Alongside, Instagram has lately released a new sticker dubbed as "Create Don't Hate" which when tapped, shows how it's being used to stand against online bullying. In the meanwhile, the giant is also testing a couple of new features, including hiding total like counts, directed towards putting emphasis on the post itself rather than likes.
How to Restrict someone on Instagram?
You can restrict anyone on Instagram using the steps mentioned below. Before that, make sure to update your app to the latest version through the Play Store/ App Store.
1] Open Instagram on your smartphone.
2] Now, you can restrict an account by either swiping left on a comment, heading to your privacy settings or doing so by visiting the person's profile.
3] Through the Comments Section– long-press his/her comment and tap on the warning button on the top right corner. Now, tap on 'Restrict Account' and confirm when prompted. On iOS, you need to swipe left on the comment and tap on the 'Restrict <username>' button.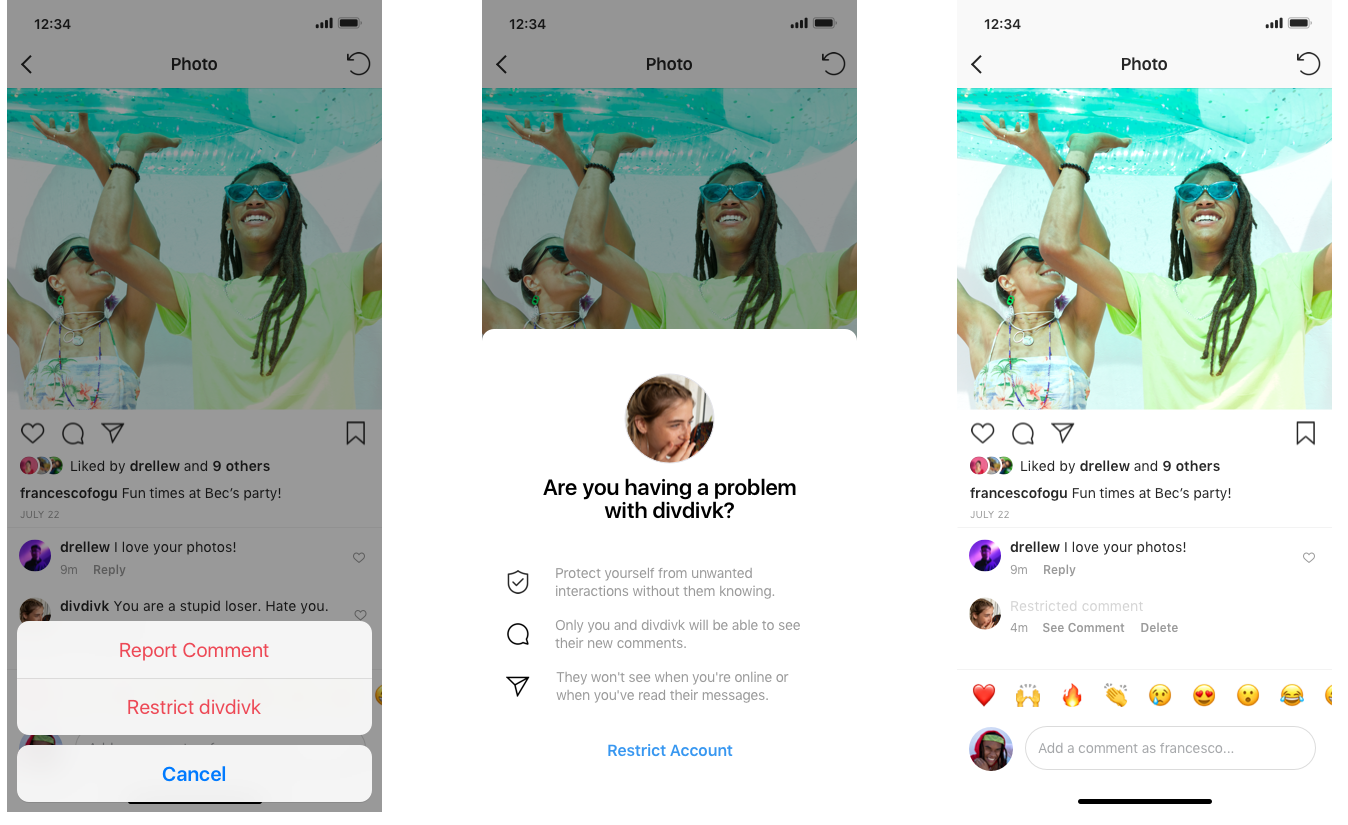 4] Through Privacy Settings- Open Instagram's Settings and head to the Privacy section. Here, tap on 'Restricted Accounts.' You can then manually search for accounts to add them to the restricted list and can remove the ones added previously.
5] Through the Person's profile- Open the user's profile which you intend to restrict. Now, tap on the three dots on top right corner and tap on 'Restrict.' Confirm the same in the next prompt.
Wrapping Up
While social media is a great place to hang out and connect with others, it has also become a hub for cyberbullying. Giants like Instagram focussing on rectifying these issues will definitely help to make social media a positive place for everyone. Anyway, what are your thoughts on the same? Let us know in the comments below.
Also, read Instagram Threads is a Separate App for Close Friends; Here's How it Works