Facebook has lately announced a new Off-Facebook Activity feature that lets you see and control data that the other services share with the giant. You can use this tool to stop the company from using your activity from other sites to tailor ads. In this article, let's see what exactly is the Off-Facebook activity feature and how you can use it.
What is Off-Facebook Activity Feature and How to Use it?
For starters, Facebook uses your activity on the platform and related products like Instagram to target you with ads. Besides, it also relies on data shared by third-party apps and websites that you've visited, to organize personalized ads.
With the new Off-Facebook Activity tool, you can now see which apps and services have shared stuff about you with Facebook. This may include your interactions with them, such as opening an app, logging in with Facebook, viewing content, searching for an item, adding an item to the shopping cart, making a purchase or donation, and more.
Apart from targeting ads, Facebook also uses this activity to suggest you groups, events, or Marketplace items you might be interested in. In parallel, it helps businesses and organizations to understand how their website, app, or ads are performing amongst users.
Step-by-step Guide to Disable Off-Facebook Activity & Clear History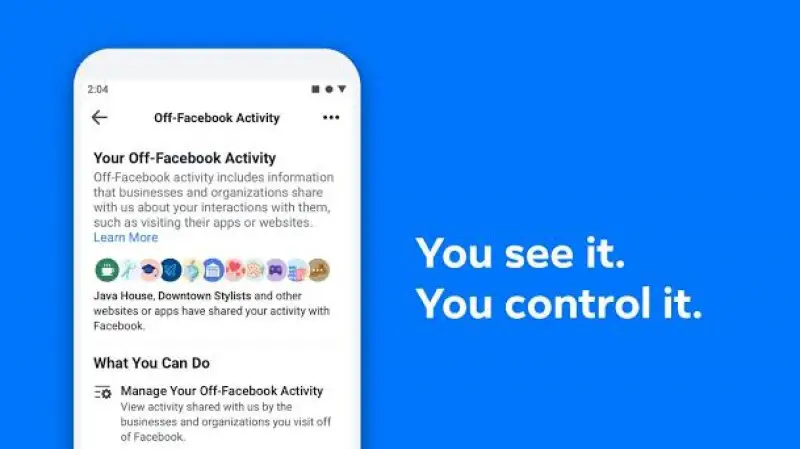 As noted, the Off-Facebook Activity tool lets you view and control apps and websites sharing your information with the platform. You can use it to clear your activity history, turn off off-facebook data sharing for apps you want to, or can disable it all-together using the steps given below.
1] Open the Facebook app on your phone. Click on the hamburger menu given on the top-right corner.
2] Scroll down and select 'Settings & Privacy.' Click on 'Settings.'
3] After that, choose the 'Off-Facebook Activity' option under 'Your Facebook Information section.'
4] Next, tap on 'Manage Your Off-Facebook Activity.' Enter your account's password when prompted.
5] On the next screen, you'll see a list of apps and websites that have shared your activity with Facebook. You can tap each app to check what type of data it is sharing with Facebook and what Facebook is using it for.
To turn off data sharing for an app you want, click on it, scroll down and tap "Turn off future activity." You can repeat the steps to remove as many apps you want to. In addition, you can also use the Clear History option to delete all of them at once.
To turn off any future activity for your account- Click on 'More Options' and select 'Manage Future Activity.' Thereafter, follow the next page and flick the toggle given on the right to turn off future activity for your account.
When Happens when you Clear History or Turn Off Future Off-Facebook activity?
Clearing activity history will remove your identifying information that the apps and websites share. Whereas, disabling future activity will ensure that Facebook doesn't receive future interactions with these services.
That said, doing this won't disable ads or affect their quantity. And you may keep on seeing advertisements from these businesses based on your activity on the platform. They may be less personalized to you, though.
Additionally, you may also be logged out of apps and websites. And to log in with Facebook again in the future, you'll have to allow information from that app or website to stay connected to your Facebook account. If you want a service back on, head to the 'Manage Future Activity' page and then tap on 'Activity You've Turned Off' to select apps you want
If you are not comfortable with Facebook tracking your on-site behavior for ads, you can change your ad preferences in the settings. To do so, navigate to Settings & Privacy > Settings > Ads in your Facebook app. Here, click on Ad Settings and turn off "Ads based on data from partners." Similarly, disable "ads based on your activity on Facebook Company Products that you see elsewhere," and "ads that include your social actions" one by one.
Wrapping Up
This was all about Facebook's new Off-Facebook Activity feature and how you can use it to view and control the data that third-party apps and sites share with Facebook. Do note that doing so won't completely shut off the tracking, but it will minimize it to a certain extent.
While Facebook isn't very trustworthy when it comes to privacy, it is good to see the giant offering users more control over their data. What are your thoughts on the same? Do let us know in the comments below. Also, feel free to reach out in case of any doubts or queries.
Also read: How to Remove Third-Party App Access from Google and Facebook