We generally use our Google and Facebook accounts to sign into multiple services on the web. This may include apps, games, and other sites that offer an option for quick signup using both the platforms. However, the developers of these services still do have access to your account and personal data even if you've stopped using them months ago.
Now, both the giants have strict policies about what third-party developers can do with your data. Yet, it's a safe move to permanently disconnect apps and games that are no longer in use. Therefore, in this article, let's see how you can remove third-party app access from Google and Facebook accounts.
Remove Third-Party App Access from Google Account
On Android
1] On your Android device, open System Settings and head to the Google menu.
2] Select the account you want to manage. And then, click on Account Services and navigate to the Apps Connected section.
3] Here, you'll see the list of all the apps connected to your Google account. Note that these apps have permanent access to your account, and hence they might be crawling your data even if you're not using them. So lookout for the apps you no longer wish to use or have stopped using long back.
4] To remove an app from your account, select it, and click on 'Disconnect.'
On Computer
If you're unable to access account settings on an Android phone for some reason, you can use any other web browser on your phone or computer to revoke account access permissions of third-party apps.
1] On your computer or any other device, open the web browser and head to this page.
2] Scroll down and click on Manage third-party access under 'Third-party apps with account access' section.
3] Select the app you want to revoke access to and click on Remove Access. That's it. You've now successfully revoked Google account access for the app in question.

Are you wondering about the consequences? Well, in case of apps and games with basic permissions, you'll simply be logged out and will be required to allow permission over if you plan to use it again.
Whereas, the ones with the read and write permissions will no longer show you the information that they were permitted to access before. This may include data from your Gmail, Google Calendar, Google+, Google Drive, and more.
Lastly, services seeking full account access will no longer be able to control your account. So, no need to worry about them changing your account's password or using it for any other unauthorized activity. In all, revoking permissions shouldn't be a problem for the most part since you can grant it again in the future.
Remove Third-Party App Access from Facebook Account
I wouldn't be wrong in saying that we use Facebook way more than Google to sign on any app, game, or service. This also involves those fun quizzes on the platform and random websites seeking login for giving access to particular content.
Nonetheless, we all know that Facebook doesn't have a good reputation when it comes to privacy, thanks to the number of controversies to date. And hence, it's better to stay away from allowing any suspicious app to access your account.
To check and disconnect third-party apps from your Facebook, follow the steps below:
On App
1] Open the Facebook app on your phone and tap on the hamburger menu.
2] Scroll down, click on Settings & Privacy, and then select Settings.
3] Under the Security section, tap on Apps & Websites and click on the 'Logged in with Facebook' option.
4] On the following page, you'll find all the apps and services where you've used Facebook to login with. To disconnect one, tap on the app, click on Remove, and you're good to go.
In case you want to disable the Facebook sign-in method altogether and cease all services having access to your account, choose 'Apps, websites and games' below the Logged in with Facebook option and click on Turn Off. This will delete your accounts and activity for apps and gaming activity for games. Furthermore, your posts, photos, and videos on Facebook that apps and websites have published may be deleted as well.
On Facebook Web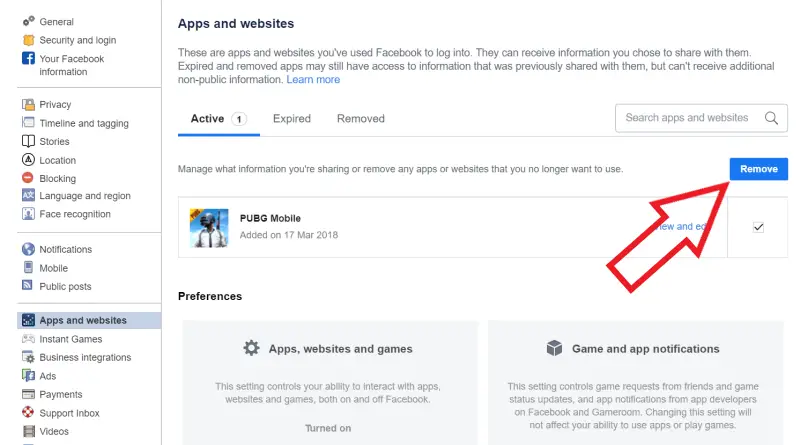 1] Open Facebook on any web browser of choice on your computer.
2] Head to the Apps & Websites section under Settings.
3] Select the apps that you no longer use or are suspicious and click on Remove, just like we did above on the mobile app.
Akin to Google, disabling account permissions for an app won't delete its existing data and is entirely safe. Plus, you can always re-grant account access permissions for any particular application in the future.
For those unaware, Facebook has now started blocking old apps for privacy reasons. As a result, access tokens for users who have not logged into an app or given it permission to see their information in the last 90 days will expire and require reactivation.
Wrapping Up
So this was a simple guide on how you can remove third-party app access from your Google and Facebook accounts. That said, we would suggest avoiding the use of the Facebook sign-in method for the majority of applications that you don't trust much or are looking for one-time use.
Also, skip Google login for services that seek full account control or access to your Mail and Google Drive storage. Instead, it's always better to manually type email, password, and use Google's password manager for swift logins.
Anyways, what are your thoughts on the same? Let us know in the comments below. Also, feel free to reach us in case of any doubts or queries.
Also, read-