Gone are the days when people used to carry around a notepad to log down things they want to remember. All the work, including taking notes or adding to-do lists, can now be done on smartphones with ease. However, when it comes to note-taking apps, there are hundreds of options available in the market, which makes it quite difficult choosing one. Therefore, we are here with a list of five best Notes apps for Android that are completely ad-free and available on the Play Store.
Best Ad-Free Notes Apps for Android
1. Evernote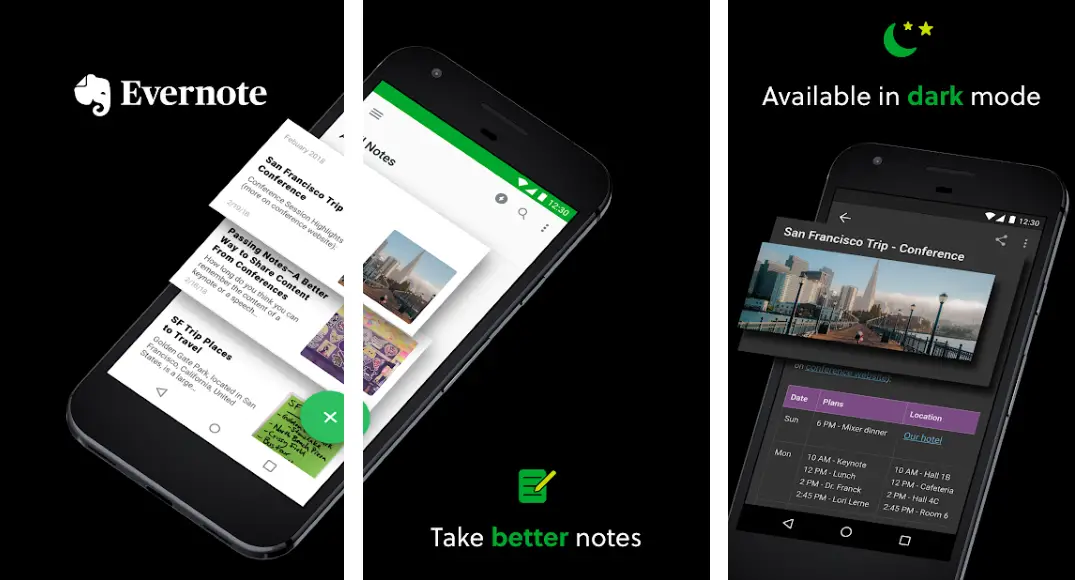 Evernote is one of the most popular notes apps for Android, where you can type as well as scan handwritten notes. It lets you add to-do's, photos, images, web pages, and audio. Plus, you can even attach Microsoft Office documents, PDFs, and web clippings to your notes, all of which are searchable.
The interface looks good and is quite intuitive for first-time users. Simply open the app, click the plus icon at the bottom-right corner and select from Reminders, Audio, Attachments, Handwriting, Camera, and Text options to start a new note. It gives you a variety of templates for text notes, followed by the ability to transcribe the data from any document or business card into text.
In addition, Evernote lets you create separate notebooks to organize your memos, receipts, bills, and invoices. All your notes can be cross-synced amongst your computer, phone, or tablet so that you can start working on one device and continue on another without missing anything. While the majority of advanced features are available in the Evernote premium, the free version still makes up for an efficient ad-free note-taking app.
2. Microsoft OneNote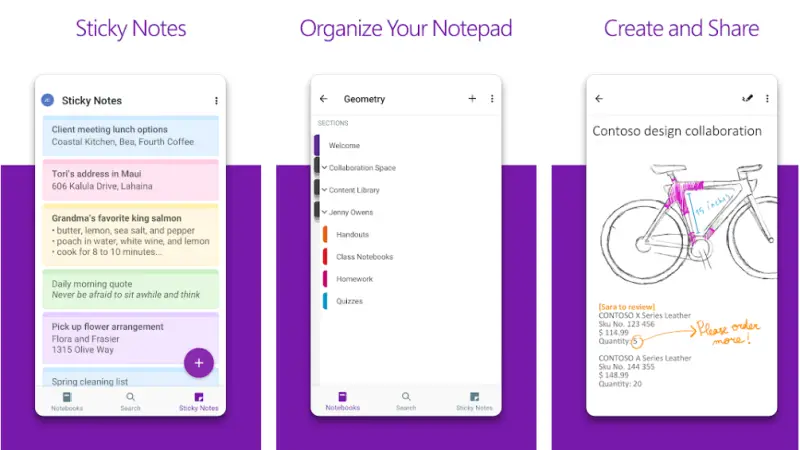 OneNote by Microsoft is a feature-rich note-taking app for Android, which lets you take notes by text, handwriting, drawing, or clip contents from the web. You can scan documents and business cards straight into the app while having an option to add pictures and images to your notes.
OneNote also gives you a flexible canvas to place content anywhere you want. Interestingly, it not only offers sync across all your devices but also lets multiple people work on the content together, at the same time.
And since it's a part of the Microsoft ecosystem, it works great with other Microsoft apps such as Excel or Word and integrates well with OneDrive. If you regularly use Microsoft Office, this would be a great tool to enhance productivity while at work.
3. Google Keep Notes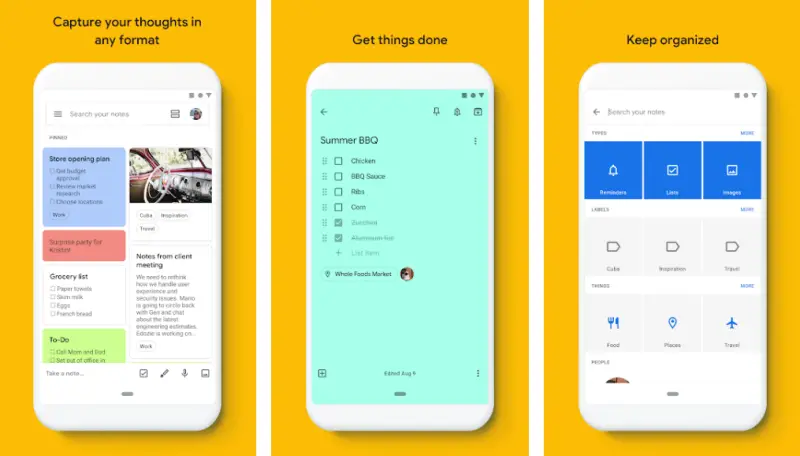 Straight outta Google's lab, Keep Notes comes loaded with a highly intuitive interface that feels quite comfortable to use with familiar Google material design.
Besides text, it offers you a total of four different options to create notes, comprising to-do lists, drawings, voice, and pictures. We particularly loved the voice feature where you can speak whatever you want to, and it'll transcribe the same into text for you.
Moving further, it also lets you add reminders and share notes with other people. Being an Android user, you can enjoy all of its perks, including the ability to add notes or to-do's directly via Google Assistant– just one command, and you're good to go. And then, there's Google Drive integration for easy online accessibility.
Amongst other features, Google Keep also offers to search for notes based on the content, group them with hashtag labels or mark them with different colors for easy scanability. Overall, it gives you a no-frills experience while still covering all the essentials.
4. NOTEBOOK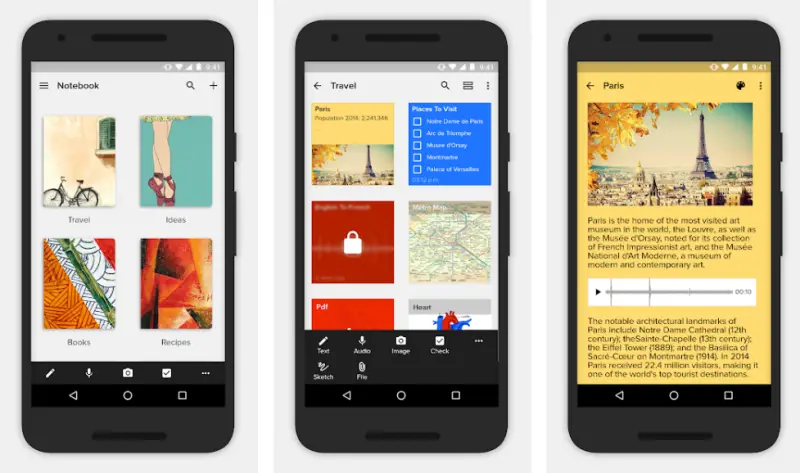 NOTEBOOK by Zoho Corp is a highly versatile notes app that is not only available for Android but also supports Mac and iOS. In fact, it even offers web clippers for Chrome, Firefox, and Safari. This gives it a massive advantage with synchronization as you can access and continue your work from any device you own.
Unlike many other apps, it offers handy gestures, which include swiping your notebook or note for additional information, pinching to group notes into a stack, or flicking to find the note you need. Those who care about privacy can securely lock the note either with a password or fingerprint ID.
As for the main functionality, you can organize different notebooks having notes with text, images, checklists, and audio. Plus, there's an option to attach documents & PDFs, scan pictures, and record voice notes. Besides, one can also use it as a daily journal to stay up-to-date with everyday tasks and upcoming plans.
NOTEBOOK is entirely ad-free with open access to all the features- no premium version thing. And this certainly makes it one of the best note-taking apps for Android.
5. ColorNote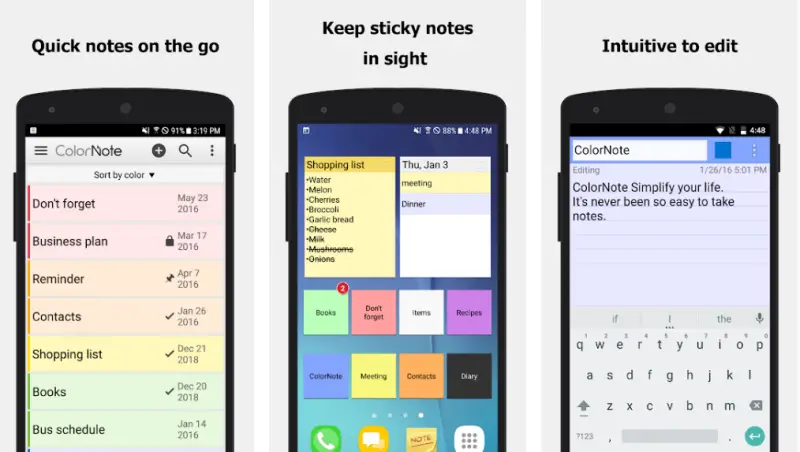 ColorNote is a straightforward yet feature-loaded notes app for Android. It uses a colorful and highly functional interface that aids for quick notepad editing experience. The same further gets better with the inclusion of the sticky note widget on the home screen.
Starting off, you get to choose from two basic note-taking formats- a lined-paper styled text option, and a checklist option. After you're done making a note, it can either be edited, shared, or added as a reminder. You can change the color of your notes, set memo widgets, organize notes by calendar view, and do a lot more stuff.
Now, it is not necessary to log in, but you must do it if you wish to backup your notes and sync them online. That said, the backed-up Notes will be encrypted with AES standards before the upload. The added password protection further makes the app an excellent choice concerning usability, privacy, and features.
Wrapping Up
So these were our top five picks for best ad-free notes apps for Android. Personally, I've been using Google Keep from the very beginning for its bloat-free and straightforward experience. What have you been using till now? Do let us know in the comments below. Also, feel free to reach us in case of any doubts or queries.
Also read: