Most of us use emails in our daily lives for logging on to social media, signing up for newsletters and other services. However, the free nature of email leads to a lot of unwanted junk in the inbox, known as spam. If you too get irrelevant emails from unknown people, telemarketers and companies, here's a simple guide on how to unsubscribe from spam emails.
Unsubscribe from Spam Emails
1. Use the 'Unsubscribe' Link
Email marketers, in general, have to comply with the CAN-SPAM act that defines standards for sending commercial e-mail and gives you the right to stop companies from emailing you. Following the law, they are bound to provide each email with an easy way to opt-out from their email list.
It is present in the form of a small, little 'Unsubscribe' button, which is usually given on the bottom of the email. To get rid of a spam email, open it and click on the "Unsubscribe" or "Change preferences" option. Confirm your selection on the next page, and you're good to go.
As a matter of fact, every genuine company offers a consistent way to unsubscribe from their newsletter subscriptions. Hence, it is recommended that you use this option instead of deleting the email or marking it as spam.
2. Ask the Other party to Remove you from Mailing List
If the unsubscribe option isn't present in the mail, you can manually ask the sender to remove you from their mailing list. Companies that use manual marketing workflow are likely to give instructions at the email footer to deregister yourself, wherein, they might ask you to reply to their email with "Unsubscribe" or "Remove Me" as the subject line.
3.  Report Emails as Spam

Majorly of email clients have a built-in spam filter which moves identified spam to the Spam section. However, at times, it might land into your inbox without being detected.
This is where you can manually report the email for spam using the given option. Gmail users can use the "Report Spam" button while Mail for Mac users can report spam using the "Move to Junk" option. People using Outlook, on the other hand, can click on "Mark as Junk." Once done, all the future emails from that particular sender will be marked as spam and won't appear in your primary inbox.
Similarly, keep a tab on your Spam section for emails that actually don't belong in there. If you find one, mark it as 'not spam.' Doing this will train your spam filter, and it'll work better for the next time.
4. Use Tools like Unroll.me & CleanFox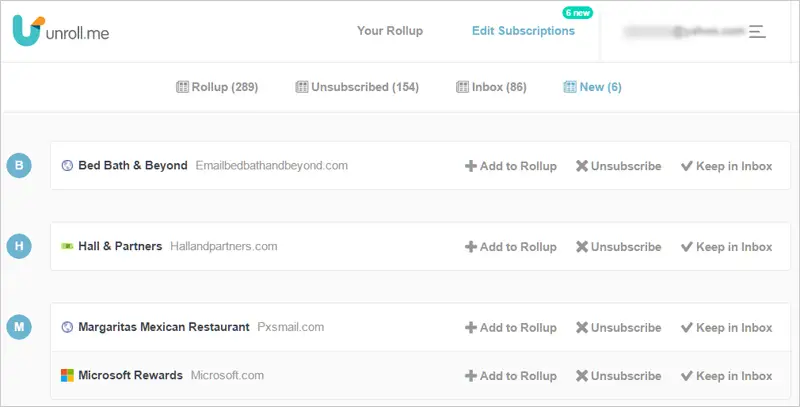 If you've too many spam emails to handle, you are likely to face difficulty in unsubscribing them one by one. In that case, we'd suggest using third-party tools like Unroll.me and Cleanfox that help clean newsletters and mailing lists in bulk using AI.
In the case of Unroll.me, once you connect your account with the service, it'll automatically detect all the email subscriptions. You can then choose what to remove, and it'll unsubscribe you using the link in the email or by following sender's instructions, without you having to do anything. Besides, it'll automatically trash all future emails from that sender. So, even if your unsubscribe request fails for some reason, you'll never see an email from that sender.
Similarly, Cleanfox scans all your emails to identify the old emails, spam and cumbersome newsletters. It then gives you the possibility to either delete or unsubscribe. And thus, you can declutter your inbox with a single click.
As an alternative, you can also use other powerful tools like Unlistr and Clean Email. For those who are concerned about their privacy can use Gmail Unsubscriber– an open-source Google script that helps unsubscribe spam and promotional email.
5. Tips to Reduce Email Spam
Never Reveal your Email Addresses
Telemarketers and spammers keep on hunting for public emails. Therefore, you should avoid revealing your primary email address, be it on your page or website. Doing this will keep you safe from spambots, thereby avoiding a massive chunk of spam email.
Even if giving out your email ID on public platforms, make a habit of replacing "." with "dot" and "@" with "at" to fool spambots. Plus, if possible, try keeping separate email addresses for business and private use.
Use Temporary Email Address for One-time Verification
Certain websites may ask your email address for one-time signup or access to files and services. And while it may not sound like a big deal, it's always better to use temporary email services like Temp Mail and 10 Minute Mail for sites that you'll never visit again.
These services provide you with a disposable email address that can be used to interact online for a set period. Thus, you can deal with one-time verification or OTPs while keeping your email addresses from potential spam.
Do not subscribe to Mailing lists or Newsletters
Ever noticed the small checkbox that reads "Send me the newsletter," "Keep me updated" or something similar while signing up on a site? Well, these boxes are checked by default and provide unintentional consent for newsletter and mailing lists.
Therefore, always make a habit of unchecking such boxes before signing up on any platform. This will not only reduce the number of notifications but also save the time required to unsubscribe these emails later.
Wrapping Up
So this was a small guide on how you can unsubscribe from spam emails. Besides the tips mentioned above, avoid interacting with spam messages or clicking on links/ files attached within. Also, don't try threatening the spammer as it may expose you to legal action. Follow precautions, use your brain, and you're good to go. Happy emailing.
Also read: How to Send Multiple Emails as an Attachment in Gmail