Attaching emails certainly makes more sense than forwarding them separately, especially when you want to send multiple emails. And therefore, Google has now started to roll out a new feature for Gmail, using which you can attach multiple emails to send them in one go. In this article, let's see how to send multiple emails as an attachment in Gmail.
Send Multiple Emails as an Attachment in Gmail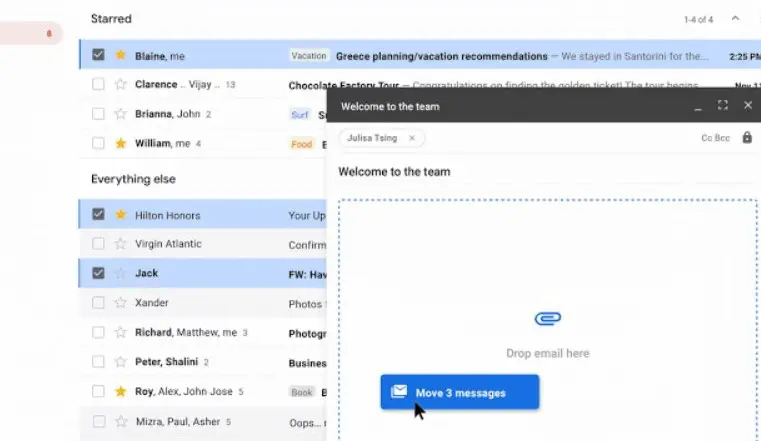 Login into your Gmail account and compose a new email.
Once you're done with the text, click on the boxes beside the emails you wish to attach from your inbox list and drag them into the email draft window.
     OR
In your Gmail inbox, select emails that you want to send to others.
Now, click the three dots given on the top of the inbox and select "Send as Attachment."
All the emails that you've attached will now be converted into .eml files and clipped to your draft as attachments. Whenever the other party clicks on a .eml email attachment, it'll open in a new window. And you can attach as many emails as you want.

In case you want to attach emails while replying to a mail, click on the small "Pop-out reply" button placed at the top right corner in the reply section. It will then open a new box where you can drag and drop emails to clip them with your message.
Note that this feature is currently available only for desktop users and there's no confirmation for its arrival on mobile devices. Google is rolling it out gradually for all the users and you'll know this feature is available to you whenever you see the "Forward as attachment" option in the above stated three-dot menu. The rollout has already begun on Dec 9, yet if it's not available for you, kindly wait for a few days.
Wrapping Up
So this was all about how you can send multiple emails as an attachment in Gmail. This new feature indeed will save a lot of hassle and time for many users. And more importantly, your inbox will look cleaner and less cluttered than before. What are your thoughts on the same? Let us know in the comments below. Feel free to reach us in case of any doubts or queries.
Also, read-