At times, you might have noticed that some apps don't appear in Google Play Store search results. And even when you manage to reach them using direct links, it says, 'This item isn't available in your country,' forbidding you from downloading the application.
Well, this usually happens because certain apps have region-based restrictions for various reasons, including unavailability of app's service in your country, differences in demography, and developer's objectives. It might also be the case that the app is yet to be launched in your region.
Following the same, certain applications are not available in India for now. Thankfully, we do have a couple of workarounds to solve this problem. In this article, let's see how you can install Android apps that are not available in India.
Install Android Apps Not Available in India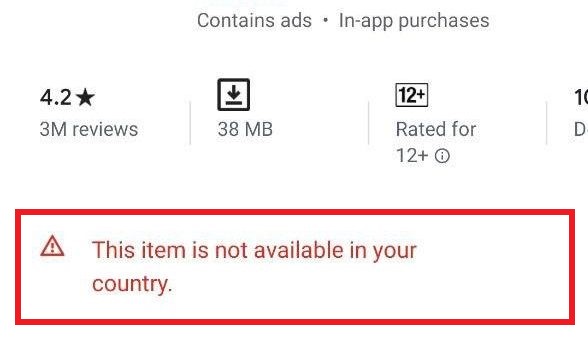 You can use many ways to install apps that are not available in India or any region for that matter. This includes tweaking Google Play settings, using VPNs and unofficial clients of Play Store amongst others, given below.
Tweaking Google Play Store Settings
1. Changing Account Country
To install an app that is unavailable in India, you need to change the country in your Google Play account to the one where the app can be downloaded.
Before you proceed with the given steps, note that you are allowed to change your location only once in 365 days, and the change may take up to 48 hours to reflect on your account. Hence, it's advisable to use a secondary account for the same, as you'd be locked into the US account for a full year.
Open Google Play Store on your phone.
Click on the hamburger menu on the top right corner and select Account.
Click on Country and Profiles and select a different country- the one where the app you want to install is available for download.
Proceed through the prompts and add a payment method for your current country if required.
Once you switch the country, you'll be able to access all the apps available in the new region. For instance, we were able to download the Pandora Music app (which is not available in India) by changing our location from India to the USA.
2. Creating a New Account
You can alternatively create a new Google account using a supported country as your location of residence. You'll then be able to access all the apps that are not readily available for download in India.
3. Creating a New Payment Profile
Creating a new payment profile also facilitates changing the home country. Follow the steps given below to create a new payment profile on your Google Play account.
Open Google Pay Settings Dashboard and sign-in with your Google account.
Click on the Edit button next to Country/ Region and select Create New Profile.
Then, click on Continue. Change the country from India to one of your choices from the given dropdown menu.
In the last step, fill in your address, click on Submit, and you're good to go.
Using VPN
Using a VPN app, you can mask your location to a different one, making Google Play Store think that you're in a different country altogether. While you can use any of the free VPN apps available on the store, we'll be using TunnelBear for this tutorial.
1] Download and install the TunnelBear VPN from Google Play Store.
2] Open the app, select a different country, and turn on the VPN. Since we want the Pandora Music app, we'll be changing it to the United States.
3] Now, navigate to the Apps section inside your Android Settings. Here, select Google Play Store and click on Clear Data. After that, Force Stop the app from running.
4] Next, open your browser and search for the app you want to download.
Once the results appear, click on the Play Store link, and you'll be able to use the Download button to install the app on your device. Additionally, you'll also be able to search for the app within the Google Play Store.
Using Aurora Store- An Open-Source Play Store Client
Aurora Store is an unofficial, FOSS (free and open-source software) client to Google's Play Store that lets you download apps from the Store without any Google Account. Notably, it's an independent app but downloads the apps from Play Store servers, similar to how YouTube Vanced works with YouTube.
Simply download and install the application and spoof your device's location as per your choice in the Spoof menu. Furthermore, you can also fool your phone's model, pretending to be a different device altogether to install apps that show 'not compatible with your device' on the Play Store.
Interestingly, it also works perfectly fine without Google Play Services or Micro G, forbidding any privacy issues. Other worthy alternatives include Evozi and APKGrabber.
Note: It's advisable to use an anonymous profile while building GooglePlay API during the setup. Using your own Google account may cause it to be blacklisted or deactivated. So either select Anonymous or use a throw-away account.
Install APK via Third-party App Stores
The other option you can resort to is to download and install the APK file of the app manually from third-party app stores. Some of the popular ones include Amazon App Store, APKMirror, Aptoide, and APKPure, where you'll find almost all applications available on the Play Store, irrespective of any region or device-based restrictions.
This method is super easy and doesn't require any efforts like the ones above. That said, make sure to grant your browser with the permission to install applications from unknown sources.
Wrapping Up
We hope that now you know how to bypass region restrictions to install Android apps that are not available in India. We mainly prefer the VPN method above others as it's more feasible for regular restricted downloads. Anyway, you can also use trusted third-party app stores mentioned above.
So, which method did work the best for you? Do let us know in the comments below. Also, feel free to reach out in case of any doubts or queries.
Also, read- Best Android Launchers That Can Help You Save Battery