Netflix now allows users to lock their profiles with a 4-digit PIN as a part of the service's updated parental controls. It's primarily meant to prevent kids from accessing their parent's profiles, which can expose them to inappropriate content. Besides, it can also be used to keep others away from accessing your watch history and messing with your recommendations.
In this article, let's see how to enable PIN lock on your Netflix profile.
Enable PIN Lock on Your Netflix Profile
Before we start, note that the PIN cannot be set up through the Netflix app on Android or iOS. Instead, you'll be required to access Netflix account settings through a web browser. To do the same, follow the step-by-step guide below.
1] Open the web browser of your choice and navigate to the Netflix website. Sign in with your account and select the profile you want to protect with a PIN.
2] Now, click on your profile picture on the top-right corner and select Accounts from the drop-down menu.
3] Next, scroll down to the Profile & Parental Controls section. Here, click the down-facing arrow next to the profile you want to lock.
4] You'll now see several options in the drop-down menu, including Profile Lock setting. Click the Change button beside the same. Netflix will ask you to re-enter the account password to be able to edit account settings. Do as prompted.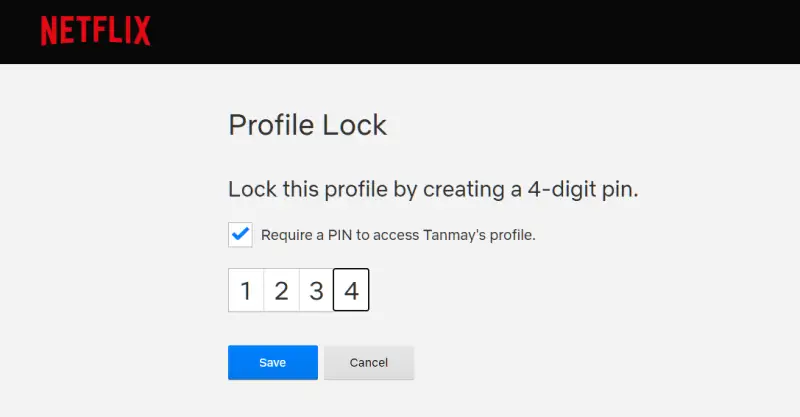 5] On the following page, check the 'Require a PIN to access < name's> profile' box and enter a four-digit PIN. Interestingly, you can also lock the ability to add new profiles with the same PIN. Once done, click the Save button to enable the PIN-protection.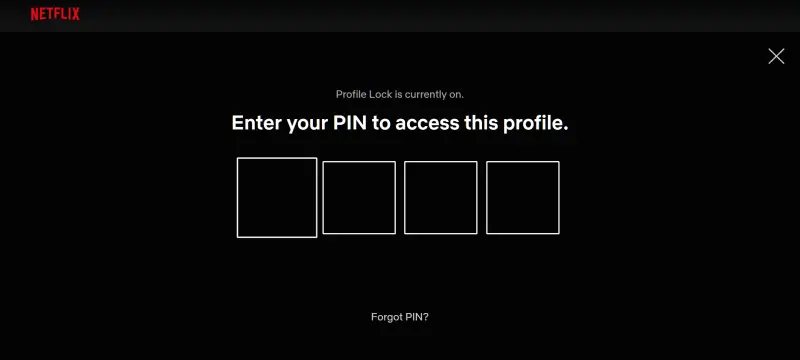 That's it. Now, whenever someone tries to open your profile, they'll be asked to enter the 4-digit PIN for getting access. As a result, children and other users, say your friends and family members won't be able to see your Netflix recommendations, viewing activity, or watchlist. The locked profile will be marked with a small lock icon in the profiles section.
Other users, too, can lock their profiles with a PIN. But as seen above, it requires account credentials from the original owner, who also can disable the profile lock for any profile at any time.
Wrapping Up
So this was a quick guide on how you can set up a PIN lock on your Netflix profile. Enable it on your account and binge your favorite series or movie without the fear of anyone accessing your watch list. Anyway, what are you watching these days? Do let us know in the comments below. Feel free to reach out in case of any doubts or queries.
Also, read- How to Watch YouTube Videos in HD on Your Phone During Lockdown in India