Google Photos is one of the best gallery apps for Android that offers a free cloud backup facility. If you accidentally delete a photo or video on Google Photos, there's always a possibility to recover them back to your device. In this article, let's have a quick look at how you can recover deleted photos and videos from Google Photos.
Also Read: How to Stop Google Photos from Backing-up All Image Folders
Recover Deleted Photos, Videos From Google Photos
If you've deleted a bunch of pictures or video files on Google Photos, then it's quite easy to recover them through the recycle bin, irrespective of whether they were backed up on the cloud or not. However, having a cloud backup is always an advantage, especially when you don't have access to your device.
Steps to Recover Deleted Google Photos on Android/ iOS
1] Open the Google Photos app on your smartphone.
2] Click on the hamburger menu on the top left corner.
3] Select Bin from the list of available options.
4] On the next screen, click the blue-colored Recover button on the top right corner. Now, select the pictures and videos that you want to restore. Alternatively, you can directly long-press a photo to make the selection.
5] Once you've selected the files, hit the Restore button on the bottom right.
That's it. The pictures and videos will now automatically reappear in the photo library at the same place where they were before deletion.
Steps to Recover Google Photos on Web
If you had turned on cloud backup for Google Photos, then the deleted pictures and videos can also be recovered on Google photos web, as follows.
1] On your computer, open the web browser of your choice and head to Google Photos web (https://photos.google.com/).
2] Tap the hamburger menu on the top left and click Trash.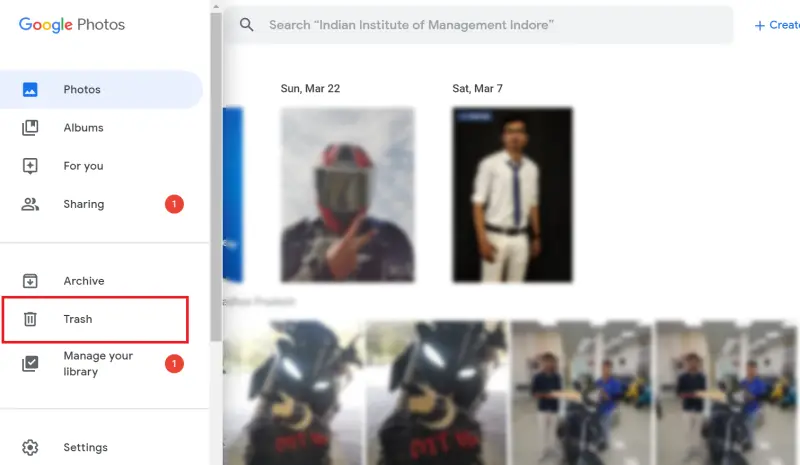 3] Here, select the photos and videos you'd like to recover.
4] Now, press the Restore button on the top right corner.
The selected photos will now be restored to your Google account and will appear across all synced devices, including your phone. Note that Google keeps deleted pictures for only 60 days in the trash, after which they are permanently erased from your account.
Wrapping Up
So this was a quick guide on how you can recover deleted photos and videos on Google Photos, be it on Android, iOS, or computer. By the way, do you use Google's cloud backup feature? Do let us know in the comments below. Also, feel free to reach out for any doubts or queries.
Also, read- How to Move Google Photos From One Account to Another