The built-in Mi security app on MIUI scans each app for viruses and malware during installation. This eats up a lot of time and can be annoying for many people. Therefore, we are here with a quick guide on how to disable Mi App scanner for Play Store apps on Redmi phones.
Disable Mi App Scanner On Redmi Phones
During installation, the Mi Security runs a virus scan of the apps before they can be opened on your device. This not only delays the opening time but also shows you with ads and recommendations on the scan screen, making it even more tiresome.
Besides, all of it seems completely unnecessary and pointless as Android readily offers enough protection against harmful apps through Google Play Protect.
Also, read: How to Disable Mi Browser from Swipe Up Gesture
Turn off Virus Scan for Play Store Apps
Whenever you install an app from Google Play Store, the Mi scanner automatically pops up stating that the app is being scanned for viruses. If you want to disable the virus scan for Play Store apps on your Redmi phone, follow the steps given below.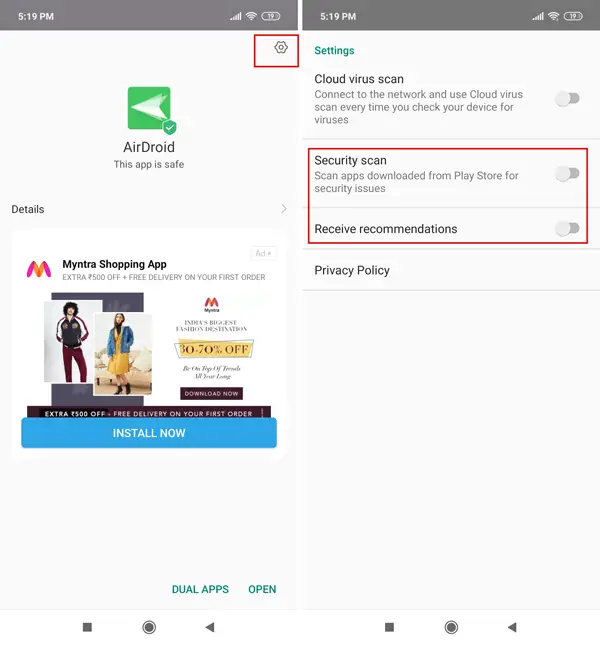 1] To start with, download any application from Google Play Store. This will trigger the APK Installer to scan the app.
2] During the scan, tap the gear icon on the top right.
3] On the next screen, disable the toggles for 'Security Scan' and 'Receive Recommendations.'
Turn off Virus Scan for Third-Party Apps
Apart from Play Store installs, Mi Security also scans the APKs downloaded from third-party sources during installation. You can follow the steps below in order to disable it completely.
1] Open the Security app on your Redmi Phone.
2] Click the gear icon on the top right corner to open Settings.
3] Now, head to the Security Scan section.
4] Here, turn off the toggle for "Scan before installing" to stop it from scanning apps for viruses during installation.
That's it. The built-in security app will no longer scan the freshly installed apps for viruses after installation. Plus, you'll no longer see any recommendations or ads on the install screen.
Also, read: 5 Ways To Stop Xiaomi Mi Browser From Collecting Your Browsing Data
Wrapping Up
So this was a quick guide on how you can disable virus scan for app installations on Xiaomi Redmi phones running MIUI. In case you want to stop data collection and ads your Xiaomi phone, make sure to check out our detailed article here. Also, feel free to reach out for any doubts or queries.
Also, read- MIUI 12 Tips and Tricks: New Home Screen, Dark Mode 2.0 and More