Realme has confirmed new true wireless headphones today with Neo Tag. The Realme Buds Air Neo is new true wireless headphones that are going to release in India on May 25th. Realme also going to release the Realme TV and the Realme Watch on the same date.
Also, read: Realme Watch India Launch on March 25: Features, Specs & Price
Buds Air Neo Features
This Realme Buds Air Neo is going to be a more affordable version of the Realme Buds Air launched late last year. These headphones were in the leaks when it for certified by the NCC back in January for the micro USB port for charging for the 400 mAh charging case.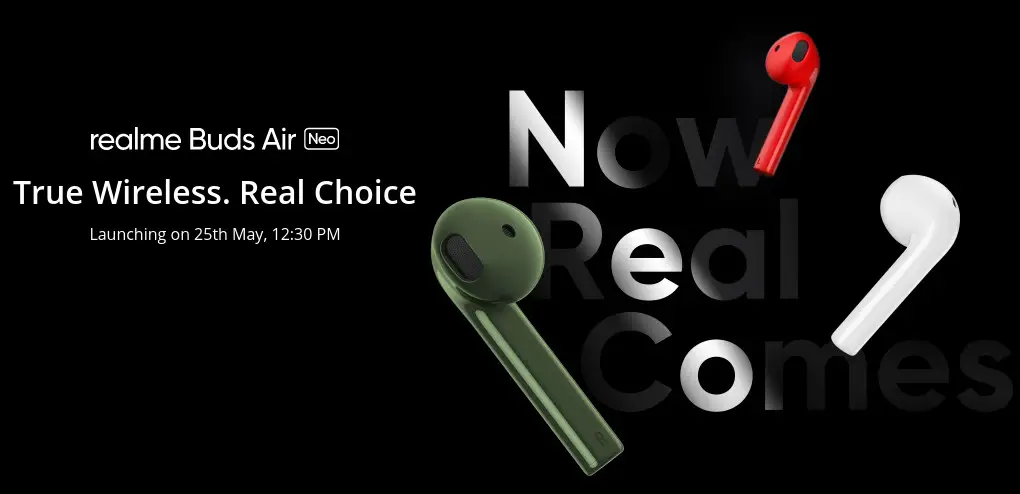 Just like all Realme devices, these were also be going to be sold on Realme.com as well as on the Flipkart. The company has advertised the total playback time for these headphones including the case as 17 hours. From which, you get 3 hours of standalone playback which can be extended via the case charging.
The company has also confirmed some specifications for these headphones as well. You will get 13mm drivers on the headphones which are slightly bigger than the one on Realme Buds Air. Apart from these specs, we also get some features like Bluetooth 5.0, Low latency mode, touch controls, and instant connection.
Buds Air Neo Expected Price
The Realme Buds Air Neo will be coming in three colors; White, Red, and Green. We don't know the price for these headphones yet but they are sure going to be cheaper than the Realme Buds Air which sells for Rs 3,999. So, Buds Air Neo could cost Rs. 3,000 in India.
Also, read: Mi True Wireless Earphones 2 Vs Realme Buds Air: Which one to buy?