If you are a Windows PC guy then even once but you must have dreamt of having Windows 10 on your smartphone too. Well, now you can, with the latest Windows 10 launches on Google Play Store you can make your phone looks exactly like Windows 10 desktop.
Also, read- Top Three Ad-free Launchers for Android
Microsoft Launcher
When talking about Windows 10 launchers so why not start from the official one, Microsoft Launcher. This is the official launcher which Microsoft launched a while ago for Android smartphone. This launcher got everything you need in a smartphone launcher including some features from your Windows 10 itself.
It is highly customizable and the default screen shows you personalized feed so you don't have to get into apps for that. You can see news, your todo list events, and contacts at a glance. This Microsoft launcher supports gesture shortcuts which are also customizable and easy to use.
Computer Launcher
This Computer Launcher is a perfect copy of your Windows 10 on your laptop or desktop. It comes with a taskbar and desktop with icons just like in the Windows 10 desktop. This launcher is also the fastest so you won't be able to see your phone freeze or lag at any part after installing this launcher.
It comes with a file explorer that looks just like the one on Windows 10 and you can do all those basic things which you do on the real Windows 10 file explorer. It comes with a pro version too which unlocks more features in the ap including creating folders on the desktop and accessing network drives.
Windows 10 launcher
Windows 10 launcher is another featureful launcher which leeks just like the real Windows 10 on your Android smartphone. It comes with customizable themes and colors just like the real deal. You get Android apps in a stylish tiles layout and a desktop-like experience.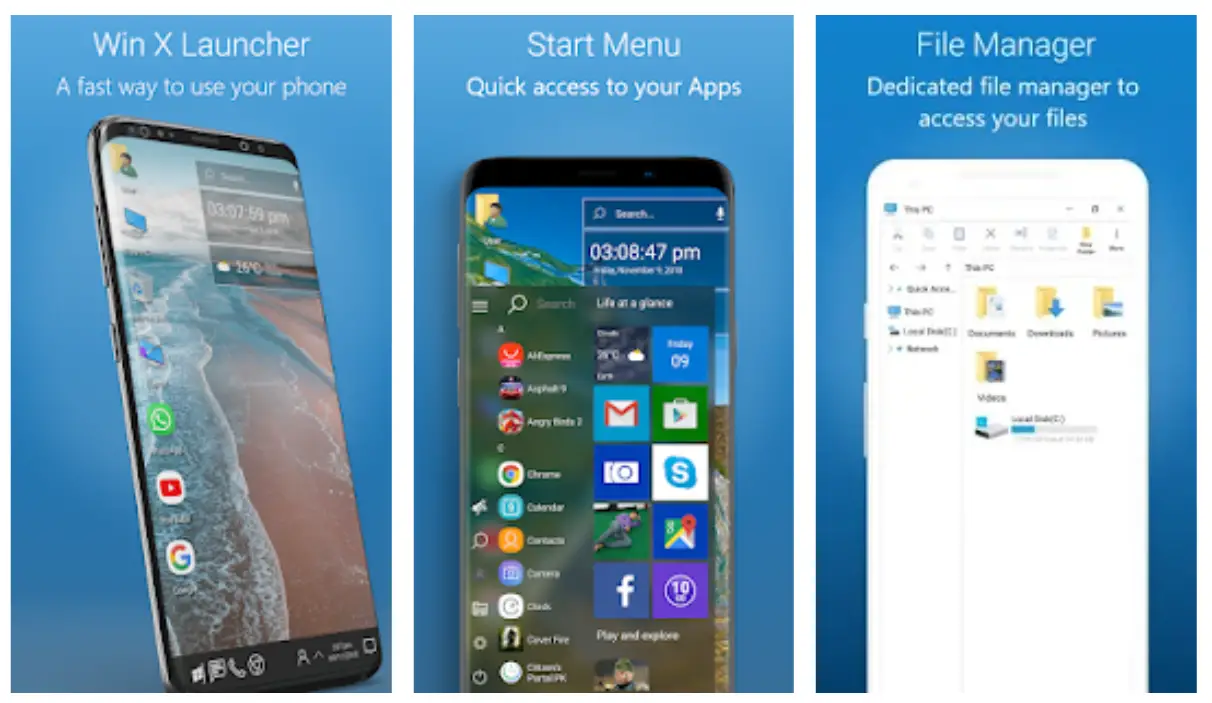 This free version of the Windows 10 launcher shows a few ads here and there but don't worry, there is an option to remove the ads in the settings which obviously need you to pay the developer and you won't see ads ever again.
Wrapping up
These are the Windows 10 launchers which can give your Android smartphone a fresh new look. Some of them are free a and some of them are freemium which means you will see ads but you can remove them by paying.
Also, read: Best Android Launchers That Can Help You Save Battery