Due to rising anti-China sentiments, many Indian people have started switching to Indian apps to support the country's local companies. However, hundreds of apps claiming to be 'Made in India' are now appearing on the Play Store. One such app is Bharat Messenger, which is going viral across the nation.
In this article, let's have a look at the real truth of Bharat Messenger, including what it exactly is, who's the developer and whether it's safe to install or not.
Bharat Messenger-  The Real Truth of the Viral App
Update (June 07, 2020): Replying to our query, folks at Signal have confirmed that Bharat Messenger is an app that has copied and modified Signal's old code. They've also warned that using the app can make you vulnerable to security issues.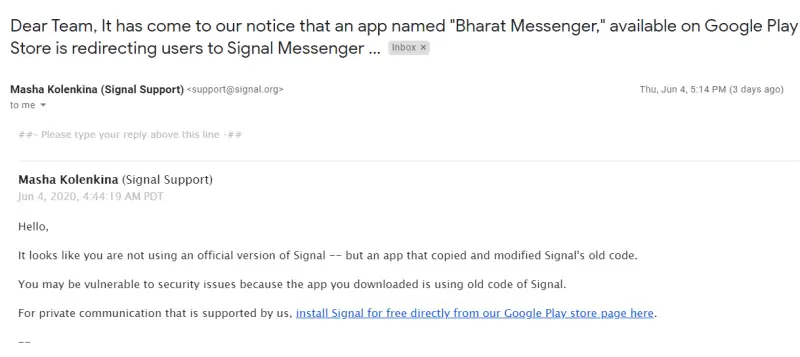 What exactly is Bharat Messenger App?
Bharat Messenger, a self-proclaimed 'Made in India' messenger, has been published by Mrityunjay Singh on Google Play Store. It has crossed almost 500K+ installs and over 6,100 reviews to date. The app was first released back in June 2019.
Note that the developer doesn't have an official website. Though, the developer contact page reads IIT BHU in the address section. Anyway, there are some interesting things to be revealed below.
Why is it so Popular?
The reason behind the recent spike in Bharat app's downloads is the viral message going rounds on WhatsApp and other social media platforms. The message appeals to people to delete WhatsApp and download Bharat Messenger citing the country's favor and how people in China have adopted homegrown WeChat.
After PM Narendra Modi's appeal on 'vocal for local' and the viral video of Sonam Wangchuk, people have started using apps that are seemingly made in India. However, many developers are misusing this sentiment for their benefit; for example, the recent Mitron app controversy.
Is Bharat Messenger App made in India?
So, is Bharat Messenger really a made in India app? To find out the same, I installed the app on my device, and in no time, it was evident that it's not an original app. Have a look at the following points:
1] When you sign up using your mobile number, the received SMS redirects you to download Signal Messenger instead of providing OTP. However, that has not always been the case- the signup process was working perfectly fine a few days back, and people were able to use the application.
2] Clicking the 'Terms & Privacy Policy' button in the Bharat Messenger drives you to Signal's terms & privacy policy page. Again, this links the app to Signal Messenger.
3] Contacts using Signal Messenger appear in Bharat Messenger even if they have not installed the latter on their phone.
4] Signal is an open-source messaging app. What that means is anyone can modify and redistribute the app.
Hence, there's a possibility that Bharat Messenger is either a modified version of Signal or using its API for functioning.
Signal Private Messenger is a cross-platform messaging app developed by the Signal Foundation, based in California, US. Moreover, it is open-source and uses end-to-end encryption by default. The software libraries and source codes are accessible freely on the web.
Why is it redirecting to Signal during Registration?
As of now, we don't have an exact answer on why one's being redirected to download Signal through the SMS received during registration. However, after consulting our friends into app development, we can presume that the redirection has been done by folks at Signal.
For some reason, they either don't want people to use Bharat Messenger or simply want to promote the original application. Again, this is just one of the possible scenarios. We've already sent out the query and awaiting a response from the Signal team.
Should you Install Bharat Messenger on your Phone?
The big question is- should you install Bharat Messenger on your phone? No! It's clear that the app is redirecting to another application and doesn't even have an original website or privacy policy page.
Yet, it seeks permission to access contact, photos, media, location, and other information on your device. There's no clarity on the safety & security of data collected by the app.
Furthermore, Bharat Messenger is full of ads, unlike Signal, which is a non-profit app. This implies that Bharat, which is apparently a forged version of Signal, has been made to cash out on ads and user data in the name of patriotism.
Therefore, we'll suggest you to avoid installing it. Even if you want to try a new messaging app, go directly for Signal. But then again, it comes from the US, not India.
Wrapping Up
So, this was the real truth of the popular Bharat Messenger app on Google Play Store. As evident, the developer is misleading people and making money in the name of patriotism. Plus, there's no guarantee of your privacy and data.
Hence, we insist you not to install the app. Also, do not follow social media claims blindly. Always do proper research while using unknown apps on the 'Made in India' belief. Stay tuned to GadgetsToUse for more such articles.
Also, read- Remove China Apps: Truth Behind This Viral App; How it works