Have you ever felt the need to record audio secretly on your phone? Well, whether you want to keep a check on your employee or simply want to record meetings, it can be easily done on Android through third-party apps. Here's a quick guide on how you can record audio on your Android phone with screen off.
Secretly Record Audio on Your Android Phone
The built-in audio recorder on Android usually supports background recording. What that means is that you can turn on recording, lock the screen, and it'll continue to capture the audio.
However, some phones either don't have the feature or get limited options to play with. Also, you need to manually open the app to trigger the recording, which isn't feasible in sudden situations.
Therefore, we are here with some third-party apps that'll help you record voice secretly on your Android. But before we start, note that recording without consent may invite legal claims and charges; so, make sure to check your local laws.
Apps to Record Audio on Android with Screen Off
1. GOM Recorder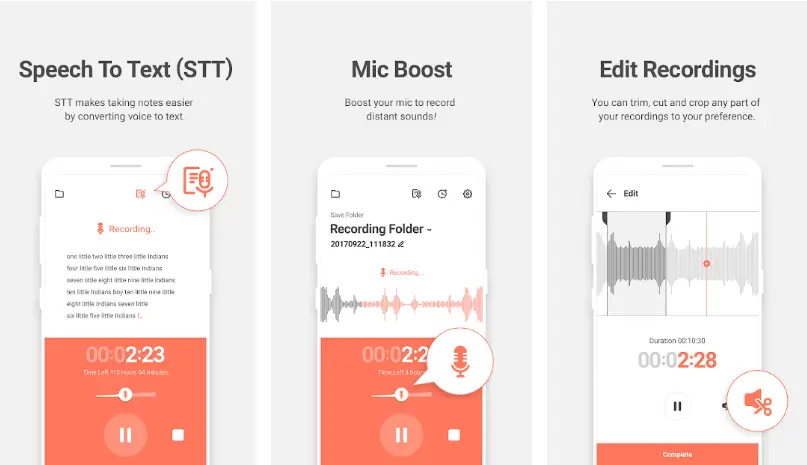 The GOM Recorder comes with motion gestures- just set the intensity and shake your phone to start recording. Besides, it lets you schedule audio recordings, making it an easy audio spy tool for Android. It also supports a quick recording widget on homescreen.
Amongst other features, the app gets Speach to Text for converting voice to text, which could be handy for people who want transcripts for the recordings. And then, there's a unique Mic boost option that helps record distant sounds.
Overall, the GOM Recorder is an ideal app to record lectures and meetings. However, you can also use it to record conversations on your Android phone secretly.
2. Background Recorder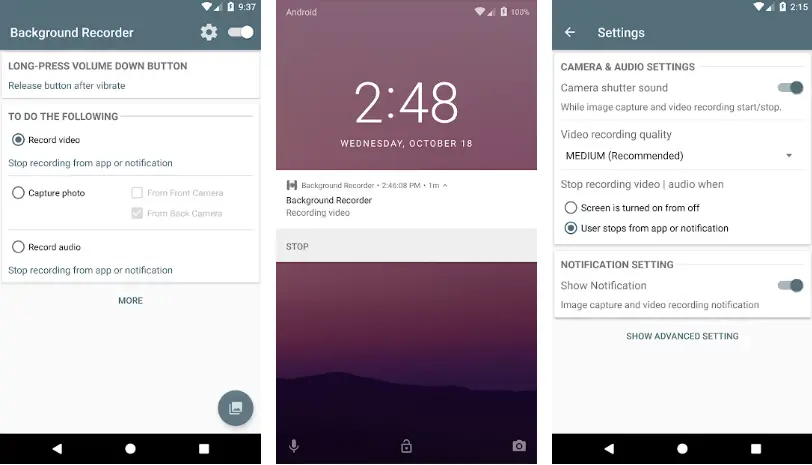 Background Recorder lets you record voice by long-pressing the volume down button on your phone- no need to open any app to start recording.
Interestingly, it works for both- voice as well as video. You can switch between either of them based on your convenience. Using the app, you can quickly start recording audio while your device is in the pocket.
For security, files are hidden by default. Plus, you even get the options to hide notification and stop recording either manually or when the screen is turned on.
3. Smart Recorder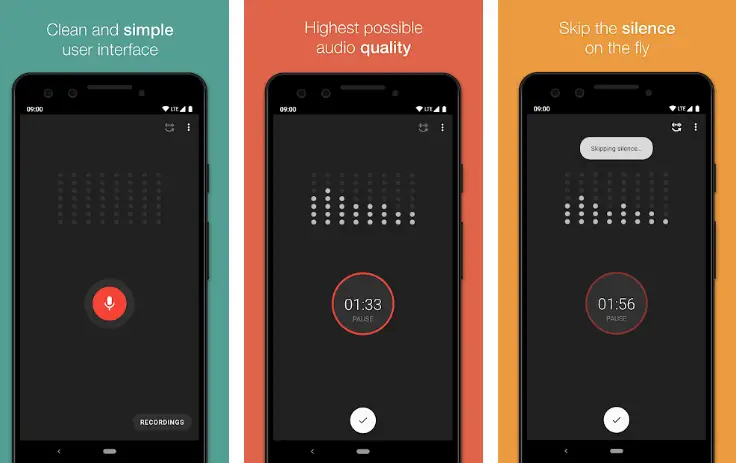 Smart Recorder is primarily designed for continuous recording, thanks to its skipping silence on-the-fly feature. Just start the recording and leave it for the whole day- only sounds will be recorded while silent fragments will be omitted.
It not only saves storage but also ensures that you don't have to listen to the whole file to find the actual content. You can use it to catch night sleep talks or maybe to check if you snore. Just like GOM, it gets a quick launcher shortcut to start recording in one tap.
One can also use Smart Recorder as a regular audio recording app as it offers tons of useful features including sensitivity control, live audio spectrum analyzer, gain control, Wave/PCM encoding with adjustable sample rate, and whatnot.
Wrapping Up
This was all about how you can secretly record audio on your Android phone with its screen off. Since the apps above work in the background, it's advised to disable battery optimizations for them in settings. Otherwise, the app may get killed, halting the recording in the mid.
Anyway, what apps have you been using till now? Let me know in the comments below. Also, feel free to reach out in case of any doubts or queries. Stay tuned for more such articles.
Also, read- How to Secretly Record Videos Without Opening Camera App