Many modern smartphones these days come with IP Ratings, marked for "Ingress Protection." Companies market it as one of the selling points, and it's already become a standard spec for the premium smartphone category. However, dust & water resistance has its own caveats. Here are some hidden truths of waterproof and IP Rated phones that you must know before exposing your phone to liquids.
The Truths Of Waterproof and IP Rated Phones
1. Rating Limitations
A phone's IP rating is defined by how well it holds up against dirt, dust, and water ingression- it can withstand a particular environment based on what grade it's been certified for.
Ratings range from 1 to 6 for protection against dust and dirt, followed by 1 to 9 for water. Both the numbers are written one after the other as "IPxy," where x means rating for dust protection, and y denotes rating for water ingression.
The most common IP ratings for smartphones and other consumer devices are IP68 and IP67. For IP68, six means total protection against dust and dirt, while 8 means protection from water up to a depth of 1.5m for about 30 mins. For IP67, the depth is capped at 1m.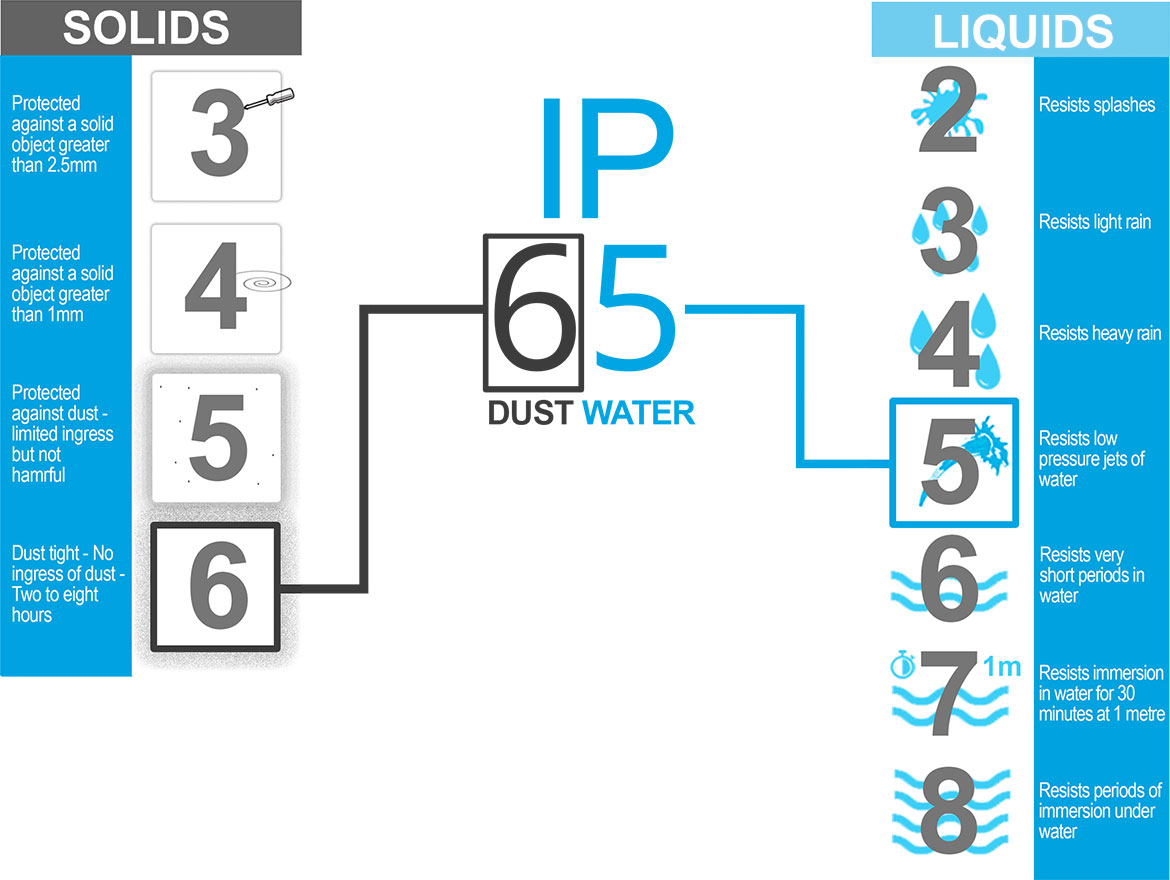 So, even if your phone has a high IP rating like IP68, it still has limitations and may suffer from liquid damage if exposed to water with high velocity/ pressure for longer than what it's built for.
Also, high IP ratings don't mean that the water or dust won't enter at all- it's just that it won't ingress in sufficient quantities to cause damage. You can check what different ratings indicate from the chart above.
2. IP Ratings aren't meant for Other Liquids
IP Ratings are strictly assigned for freshwater. Hence, a phone's capability to withstand other liquids like oil, beer, detergents, coffee, salt water, and soda may not be the same as it's for tap water.
Moreover, we wouldn't recommend swimming with your phone. Tests for IP certifications are done under lab conditions and not in a swimming pool full of chemicals that can break down the phones over time.
3. No Warranty on Water Damage
Remember that no smartphone manufacturer, including big players like Samsung and Apple, cover liquid damage under standard warranty.
If the phone is found to be exposed to liquid, any warranty claims are likely to be denied, and you'll have to pay out of your pocket for the repair. So, keep a note of it.
4. Bad Practice by Service Centers
Almost every other phone has tiny water damage indicator strips that turn pink in contact with water or liquid containing water. One of the indicators is usually placed inside the microSD/ sim tray slot.
Unfortunately, the indicators may often get activated when exposed to moisture and humidity or due to sudden changes in temperature.
In that case, if your phone starts to malfunction for some other reason and you take it to the service center, they may deny warranty citing that it's been exposed to water, even if the damage isn't caused by liquid.
So, keep your phone away from water as much as possible even if it has an IP rating.
Wrapping Up
So these were some hidden truths of waterproof and IP rated phones that you should be aware of while relying on it.
All-inclusive, it's good to have water resistance or IP rating on phones for added peace of mind, especially if you're buying a premium category device. However, taking it for granted and intentionally exposing the device to liquids may cause damage.
Moreover, water and dust tests are conducted in labs, not the real world. Hence, it's always advisable to keep your phone away from liquids. If you're really careless with your phone, opt for liquid damage cover while buying the device.
Also, read- How to Clean Water from your Phone's Speaker