Apple introduced new iPad lineup at its Time Flies event couple of days back. The company announced latest versions of both the standard iPad and the iPad Air. The iPad 8 and iPad Air 4 both received some upgrades, and the latter even got a new chipset.
Because of the major upgrade that iPad Air got, it is way too pricey than the standard iPad. So, should you buy iPad Air 4 at nearly twice the price of the iPad 8? We haven't used either tablets yet, but let's take a look at the specs and see what are the differences.
iPad 8 and iPad Air 4 Specs
| | | |
| --- | --- | --- |
| Specs | iPad 8 | iPad Air 4 |
| Display | 10.2 inches (2160 x 1620) | 10.9 inches (2360 x 1640) |
| CPU | A12 Bionic | A14 Bionic |
| Storage | 32GB, 128GB | 64GB, 256GB |
| Rear camera | 8MP (f/2.4) | 12MP (f/1.8) |
| Front camera | 1.2MP (f/2.4) | 7MP (f/2.0) |
| Battery life | 10 hours web surfing over Wifi | 10 hours web surfing over Wifi |
| Dimensions | 9.8 x 6.8 x 0.29 inches | 9.7 x 7 x 0.24 inches |
| Weight | 1.08 pounds (Wi-Fi), 1.09 pounds (cellular) | 1 pound (Wi-Fi), 1.01 pounds (Cellular) |
| Colors | Silver, gold, space gray | silver, space gray, rose gold, green, sky blue |
| Starting price | Rs. 29,900 | Rs. 54,900 |
Design and Display
Starting with the iPad 8th gen, there are not many changes from the iPad 7th-gen model. Just like earlier, you get a 10.2-inch Retina display. The 9.8 x 6.8 x 0.29-inch body. The iPad 8 comes in typical Apple colors including silver, gold and space gray.
Coming to the iPad Air, it comes with a new design that really stands out. The new Air iPad has slimmer bezels on each side. Its 10.9-inch Retina display is slightly bigger than before. It comes without Home button and the Touch ID now has been moved on the top. The device also comes in new colors including rose gold, green and sky blue.
Other changes in the iPad Air's design include stereo speaker and a USB-C port. The iPad 8 still comes with a Lightning port. The iPad Air 4 will also work with Apple's Magic Keyboard and Apple Pencil 2, something the iPad 8 can't do. However, iPad 8 supports 1st gen Pencil.
Processor, RAM, Storage
Apple's 8th gen iPad comes with the A12 Bionic chip, which is a huge upgrade over the A10 Fusion chip in the previous model. This A12 can offer a 40% jump in CPU performance and 2x the graphic capability. The A12 processor also includes Apple's Neural Engine, which improves Siri performance, photo editing and AR experience.
However, its the iPad Air 4, which has got a true upgrade. Apple introduces an entirely new A14 Bionic chip which is the first 5-nm processor for mobile devices. As per Apple, this can offer a 40% improvement in performance over the A12 Bionic chip and graphics should also get a 30% boost.
Storage in iPad 8 comes in at 32GB and 128GB versions, while iPad Air comes in 64GB and 256GB models. Apple doesn't exactly reveal the RAM specifications.
Software and User Experience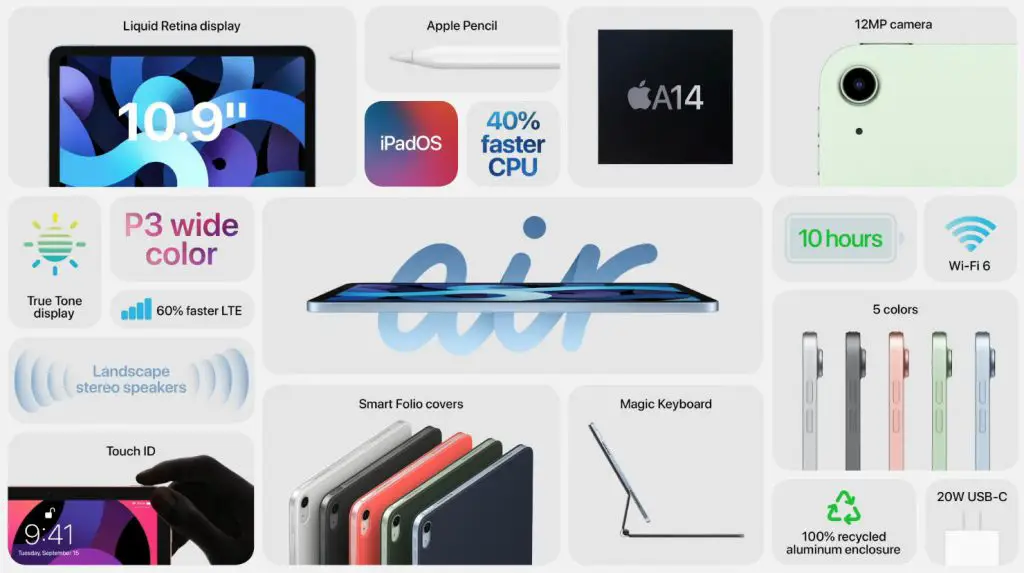 Both the iPad 8 and iPad Air 4 run the latest iPadOS 14 and thus these may offer the same software experience. Some iPadOS 14 improvements include compact notifications, new app sidebars and improved search, etc. These features will be available to all iPads when they install iPadOS 14.
Cameras
The rear camera on the iPad 8 hasn't changed from the last model and it is the same 8-megapixel sensor on the back and there is a same 1.2MP FaceTime camera.
Meanwhile, the iPad Air 4 sports a 12MP rear camera just like the iPad Pro, which allows the it to record 4K video. It has a a 7MP selfie camera.
Battery Life
Apple didn't talk too much about battery life on iPad 8 and iPad Air 4. However, based on the specs, these will offer similar battery backup that is up to 10 hrs.
Price and Availability
The Apple iPad 8th Gen starts at Rs. 29,900 for the 32GB Wi-Fi version, and 128GB WiFi version costs Rs. 37900. The 32GB Wi-Fi + Cellular version is priced at Rs. 41,900 and the 128GB WiFi+ Cellular version is priced at Rs. 48,900.
The iPad Air 4th Gen starts at Rs. 54,900 for the 64GB Wi-Fi version, and costs Rs. 68,900 for the 256GB WiFi version. The 64GB Wi-Fi + Cellular model is priced at Rs. 66,900 and the 256GB WiFi+Cellular version costs Rs. 80,900.
Wrapping Up
The iPad 8 and iPad Air 4 are targeted at different audiences with different needs, just like always. With its latest powerful chip, new design, larger display, and compatibility with Magic Keyboard and 2nd-gen Apple Pencil, the iPad Air can be your laptop's replacement. However, if you are looking for just a basic tablet which still helps in productivity in these Work From Home times, the iPad 8 is still the best value for money tablet in the market right now.