Update: While we were updating this story, Paytm was back again on Play Store.
Paytm, one of the leading digital payment apps in India was removed from Google Play Store today. So, new users cannot be able to download it. However, existing Paytm users who have the app already can continue to use the services provided by the company.
Owned by One97 Communications Ltd., the app is invisible on the Play Store while its other associated apps like Paytm Money, Paytm for Business, and Paytm Mall are still available on the Play Store. Also, it is still available on the App Store.
Recently, IT Ministry of India issued a ban on the 118 Chinese apps for security reasons after the border tensions between India and China. Following the ban, some household apps in India such as TikTok and PUBG Mobile were banned. So this raises doubts if Paytm will also be banned in India as it is backed by Chinese investment. Let's find out!
Is Paytm Banned in India?
Paytm recently launched a new feature 'Paytm Cricket League' on its app for users to participate in cricket game and get cashback. The game allows users to get stickers and collect them after each transaction and receive cashback on Paytm.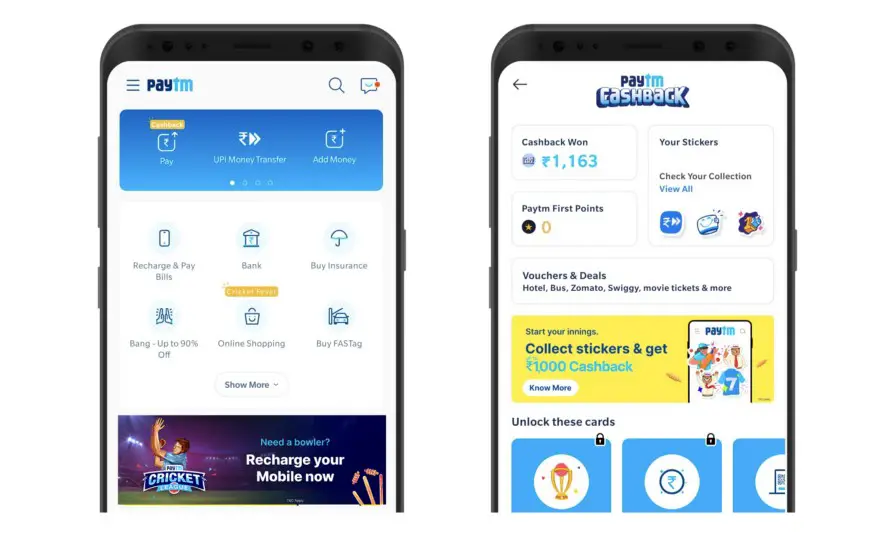 Google has removed Paytm from Play Store citing new rules related to online gambling. The tech giant states that it doesn't allow any unregulated gambling apps that offer sports betting online. This also includes even the app leads to some external website that offers paid tournaments to win cash prize.
As soon as the guidelines were detailed by Google, Paytm has been removed from Play Store as it violates these new gambling policies. Suzanne Frey, the Vice President, Product, Android Security and Privacy at Google, announced the new policies for online gambling.
Is Money in Paytm Payments Banks Account Safe?
Since, Paytm is removed from Play Store, many uses suspected that their money on the app would be at risk, Most of the people use Paytm as primary digotam payment method and also have their bank accounts linked with it.
Paytm, on its official blog, clarified that all the services related to money on Paytm were functioning. The company wrote that all users and their balances & linked accounts were '100% safe'. So, you need not worry about money on Paytm.
𝗨𝗽𝗱𝗮𝘁𝗲: We continue to work with Google to restore our Android app. We assure all our users that their balances & linked accounts are 100% safe.

Our services are fully functional on all existing apps and you can continue enjoying Paytm like before.https://t.co/Klb63HRr0V

— Paytm (@Paytm) September 18, 2020
Lastly, Paytm also clarifies that "all activities on Paytm are completely lawful" and they have temporarily removed the cashback feature in the app in order to meet the Google's Play Store policy requirements.