By offering an unlimited plan at just Rs. 399, Jio Fiber has managed to grab many eyeballs in the country. However, a lot of people still have doubts regarding the installation process, documents required, security deposit, and any other hidden charges. We recently got a connection for ourselves, and here's everything you need to know about the same.
Jio Fiber 399 Plan: Overview, Process & Charges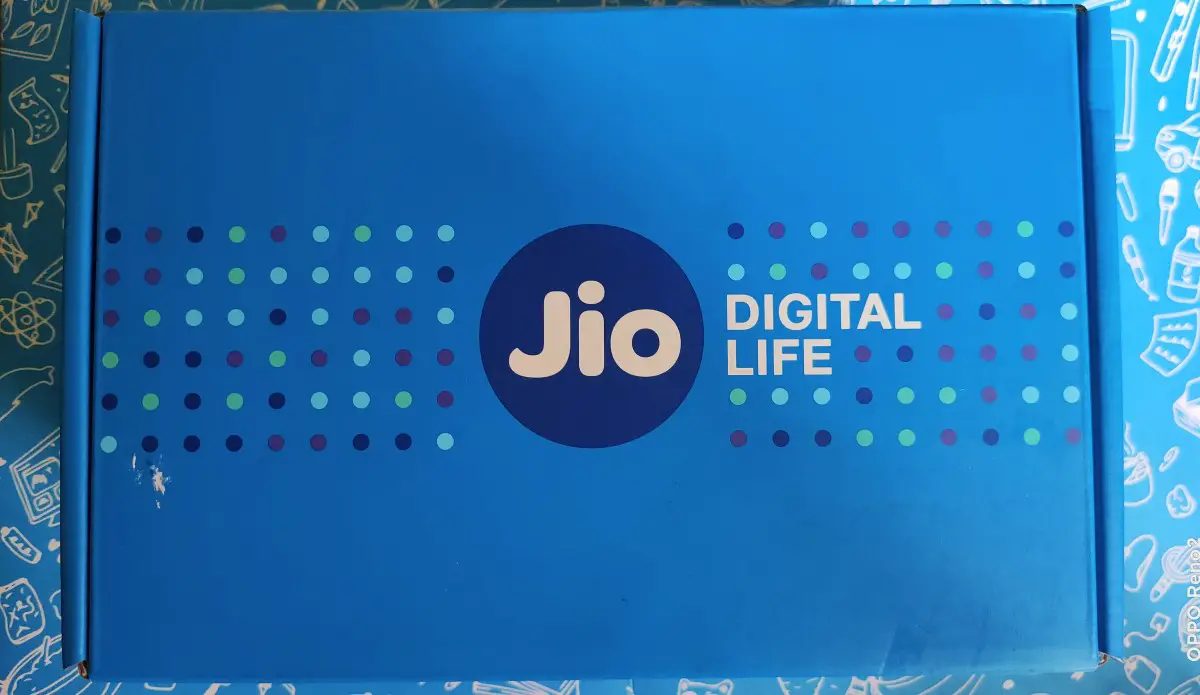 Jio Fiber's Rs. 399 plan is a part of the company's revised tariff plans. Being the cheapest plan, it entitles you with unlimited data (more on that later) and 30Mbps bandwidth. Moreover, the giant is offering a free 30-day trial to attract new subscribers, which can be availed by making a one-time refundable payment.
Below, we've covered all aspects of Jio Fiber, including installation, requirements, charges, and more.
1. Documents Required
To get a JioFiber Broadband connection, you'll need either your Aadhar Card or Driving Licence. You can also use any other original valid Proof Of Identification & Proof Of Address document.
2. Installation Process
The installation process of Jio Fiber begins with online registration, as follows.
Head to https://fiber.jio.com/registration on your browser.
Enter your name, mobile number and click on 'Generate OTP.'
Enter the OTP received on your phone to verify the mobile number.
Now, enter the address where you'd like to have the Jio Fiber connection and submit.
After you submit the details, you'll receive a call from Jio representative for confirmation of the installation appointment. An engineer will come to your home on the set day and time. He'll take your registration and click your picture for verification.
Once your connection request is approved, the engineer will install the fiber line, router, and set up the Jio Fiber connection. The whole process takes about two hours, provided that the request is approved on time.
For each connection, you get a dual-band router (2.4GHz + 5GHz), an ethernet cable, a telephone cable, a power adapter, a patch cord, and a quick start guide. The engineer will do the installation.
3. Trial Offer, Deposit & Installation Charges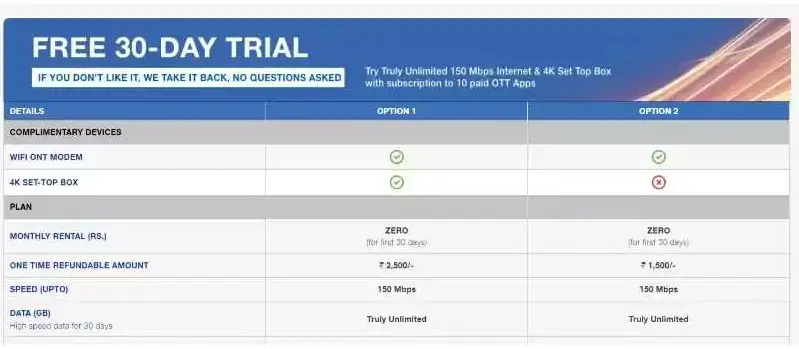 Jio is currently running a no-condition 30-day free trial offer that provides truly unlimited internet at 150Mbps. If you don't like the service, they'll refund the full one-time charge paid by you, provided that you cancel it within the trial period—more on trial offer here.
Every new user gets the free 30-day trial offer, whether you're willing to subscribe to the Rs. 399 plan or any top-of-the-line plan. You'll get two options for the trial:
Internet-only free trial at a refundable one time charge of Rs. 1,500
Internet + OTT free trial at a refundable one time charge of Rs. 2,500
If you don't end the trial period, you can continue paying for your desired plan by next month. In our case, we opted for the internet only trial by paying a one-time charge of Rs. 1,500. From next month, we can continue the plan by recharging with Rs. 399 + GST, i.e., Rs. 470.82.
How is the payment made?
During registration at your home, the Jio Fiber representative will take your details. You'll then get a payment link through SMS. Once the payment is successful, they'll proceed with the router installation.
After the 30-day trial ends, you can continue by recharging your Jio Fiber with Rs. 399 plan. The same can be done easily through the MyJio or JioFiber recharge page. You can also switch to other plans on the go.
4. Jio Fiber 399 Plan Details, Data Limits
The Jio Fiber Rs. 399 plan nearly costs Rs. 470, including GST. It entitles you with 30Mbps of data bandwidth for 30 days. It is marketed to offer unlimited data, but in reality, it's capped at 3,300GB as per the commercial use policy. You can subscribe on a monthly, quarterly, semi-annual, or annual basis.
The plan also includes free unlimited voice. Jio won't charge you anything towards voice or the data used to make voice calls except for premium numbers. Also, using the JioCall app, you can receive landline calls right on your smartphone.
5. Free OTT Services?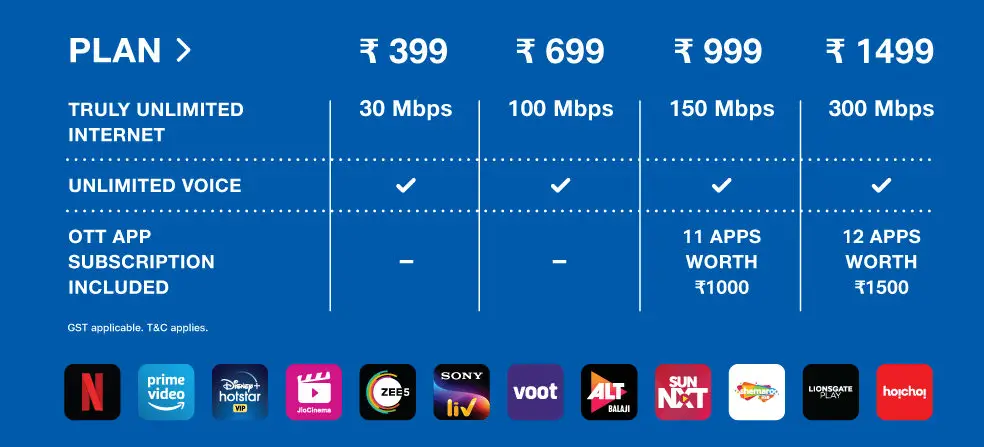 Jio is also offering paid OTT services for free with its Fiber plans. However, Rs. 399 plan doesn't come with any OTT services.
To enjoy them, you need to recharge with Rs. 999 or above plans, wherein you'll get access to services like Amazon Prime, Netflix, Disney Hotstar, Jio Cinema, JioSaavn, ShemarooMe, Sony Liv, Voot, Zee 5, Alt Balaji, Hoichoi, Lions Gate, and Sun NXT.
6. Jio Fiber Speed, Router Range
The router provided by Jio is capable of covering an open area of about 1000 Sq. ft. on the same floor. However, the coverage may vary based on interference. Speeds will increase if you switch to 5GHz, but that'll negatively affect the range.
In our current 150Mbps trial period, we're getting consistent download and upload speeds of 140Mbps+. The average ping is about 4ms, which is excellent for playing online games.
The 30Mbps plan should give download and upload speeds of 25Mbps+. Anyway, we'll update the article soon with our experience, once the trial ends and the Rs. 399 plan starts.
Wrapping Up
This was all about the Jio Fiber Rs 399 Plan, installation and setup process, and involved charges. If you have any doubts regarding the broadband service, please do let us know in the comments or on Twitter. We'll soon update the article once our trial ends.