At its 'Launch Night In' event, Google introduced a new Chromecast device called Chromecast with Google TV, and evidently it comes with Google TV, a new UI based on Android TV. Apart from new UI, the new Chromecast also comes with a remote control. These two things make it complete to compete with others dongles. Here we are comparing Chromecast with Google TV Vs Fire TV Stick.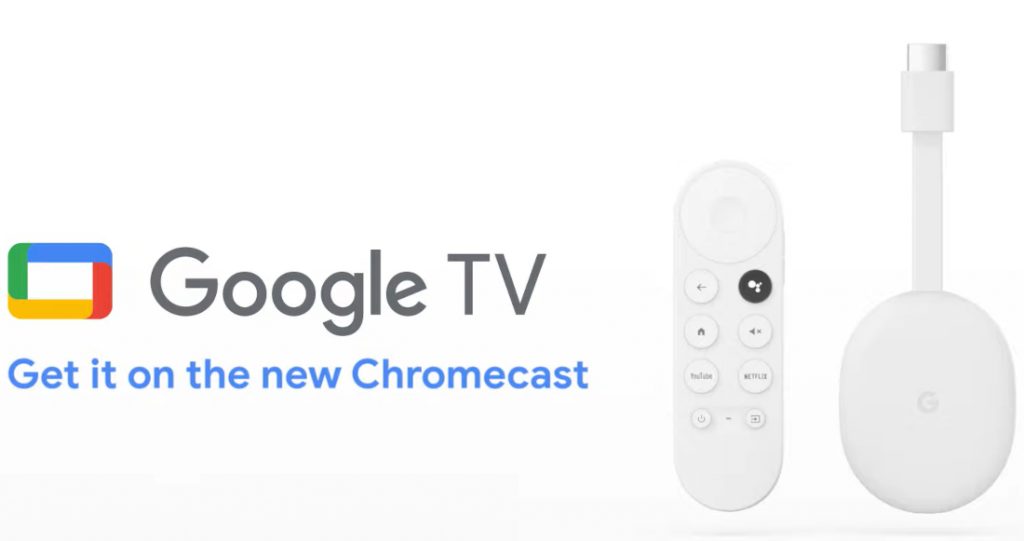 To recall, Amazon Fire TV Stick comes with all these features including a dedicated UI, and a remote control. There are as many as three Fire TV sticks available in India. But since Google's new Chromecast supports up to 4K HDR at up to 60 fps, we are comparing it with Fire TV Stick 4K here. Read on to know which one is right for you!
Chromecast with Google TV Vs Fire TV Stick 4K
Design and Looks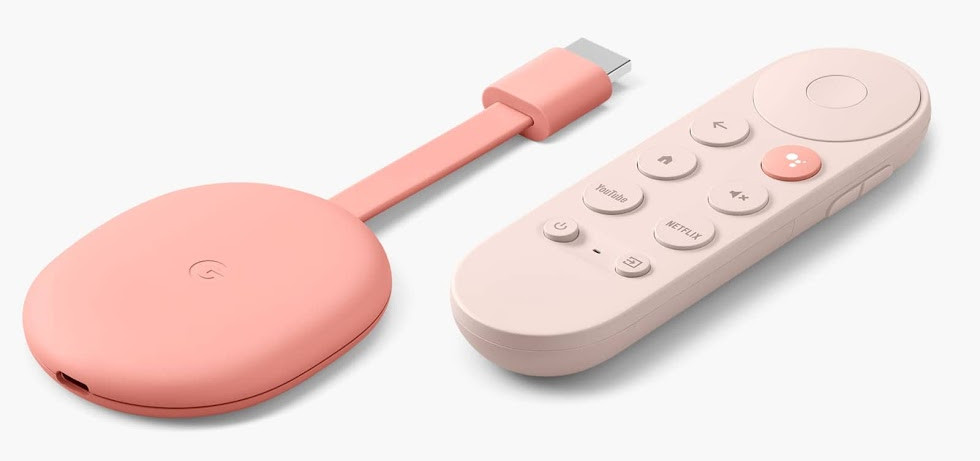 The new Chromecast with Google TV comes in compact form factor just like previous models. Its dimensions are 6.4 x 2.4 x 0.5 inches and it comes in cool new Snow, Sunrise and Sky colours. There is still an HDMI cable hanging and a USB-C port for charge.
The Fire TV Stick, on the other hand, comes in much more compact size, it looks like a USB drive. Dimensions of Fire TV Stick are  3.9 x 1.2 x 0.6 inches and it comes in Black color only. So Amazon's TV stick is smaller but thick and thus it may block the other ports on your TV. Also, it has a Micro USB port for power.
Specifications
The official website doesn't mention the exact specs of the new Chromecast. However, some users suggest that it is powered by a 1.9GHz quad-core Amlogic processor, paired with 2GB RAM and 8GB storage.
The Fire TV Stick 4K is powered by a 1.7GHz quad-core CPU. There is no mention of RAM on the official website but some reports suggest that it has 1.5GB of RAM. The TV stick has 8GB of internal storage.
User Interface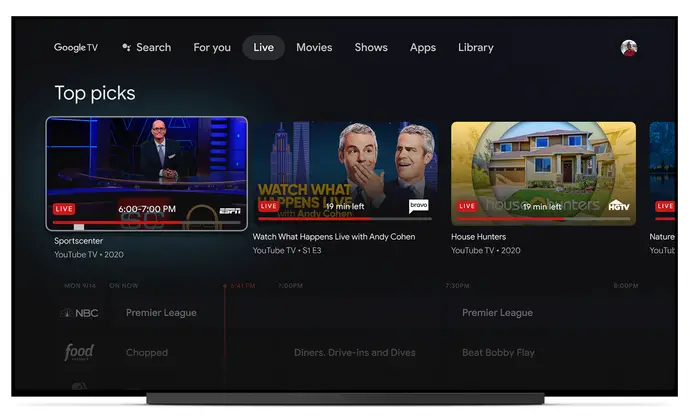 Google TV is a new interface that runs on Android TV that offers curated content from your streaming services like Netflix. It has a new watchlist feature that lets you list the shows and movies that you plan to watch later. Moreover, Google UI also has a Live TV Tab where you can find all the live channels that are available via YouTube TV subscription.
Talking about Fire TV stick, it also comes with a simple UI as well. The Fire TV stick also has a similar layout with fields like Home, Movies, TV Shows, Apps and settings.
Also, read | How to Install Custom Launcher on Amazon Fire TV OS
The home page on the Fire TV stick is a mix of content from OTT platforms and Prime Videos and you also have access to your most commonly used apps on the home screen.
App Support
The Chromecast with Google TV supports more than 6,500 Android TV apps that are available in the Play Store. Of course the list includes the usual biggies of OTT like Netflix, Disney+, Prime Video, etc.
While the Fire TV Stick offers access to its own app store and also offers popular OTT apps as well. However, for some users it can be useful to note that it doesn't have HBO Max.
Streaming quality
Both the Chromecast with Google TV and Amazon Fire TV Stick 4K can stream up to 4K UHD content at up to 60 fps. These also support Dolby Vision, HDR 10 and HDR10+ formats, for better video quality and rich colors.
In terms of audio formats, they both support similar audio codecs including Dolby Digital, Dolby Digital Plus and Dolby Atmos.
Other Features
As far as other features are concerned, the new Chromecast still offers to cast content from smartphones to the TV. You can also mirror a web page to the TV. Further, the Chromecast syncs easily with other Google products, so you can control your smart home lights or give commands to Google Home.
Meanwhile, you can also mirror content from the Fire TV Stick 4K to your TV. The Fire TV stick works with Amazon's own ecosystem. So you can use Alexa to control lights and the Echo smart speakers.
Also, read | How to Mirror your Android or iPhone's Screen to Chromecast
Remote Control
A remote control is really a big addition to the new Chromecast. Google's new remote features YouTube & Netflix buttons, volume controls, and a dedicated Assistant button that will help you find something to watch, answer questions and also control smart devices.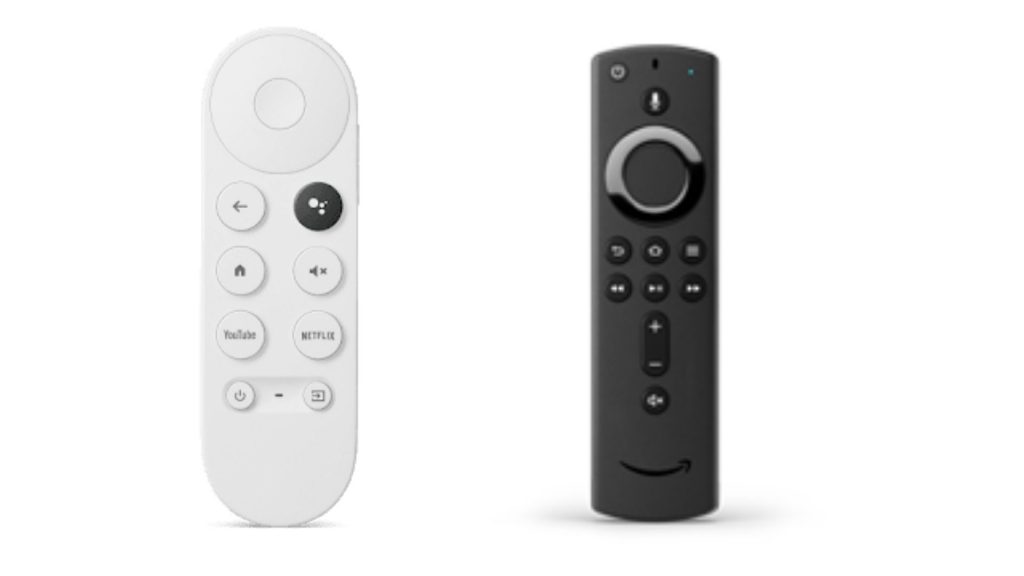 On the other hand, the Fire TV Stick 4K has a remote control that doesn't have any OTT shortcut button. However, it has smart assistant button to bring up Alexa, volume rockers, mute button, and also works as a universal remote control for your TV and soundbar.
Chromecast with Google TV Vs Fire TV Stick Price
The new Chromecast with Google TV is priced at $49.99 (Rs. 3,675 approx.) and will be available in the US and some other markets starting from October 15. Google will soon bring it to India as well.
On the other hand, Amazon's latest Fire TV Stick 4K is priced at Rs. 5,999. It is available in India via Amazon.in.
Wrapping Up
If we look at the US price of the new Chromecast, we can expect that Google will launch in India at the same price as well. So, with Google's new but friendly interface of Google TV, its ecosystem of apps and right pricing, the new Chromecast can be a hit in India and a better option between the two.