With the launch of Realme 7 Pro and Narzo 20 Pro, Realme took the crown of offering the fastest charging phones in the sub-20K segment in India. In this article, let's have a quick look at Realme's 65W SuperDart charging, how it works, and if it's safe for your phone.
Realme 65W SuperDart Charging: Everything You Need to Know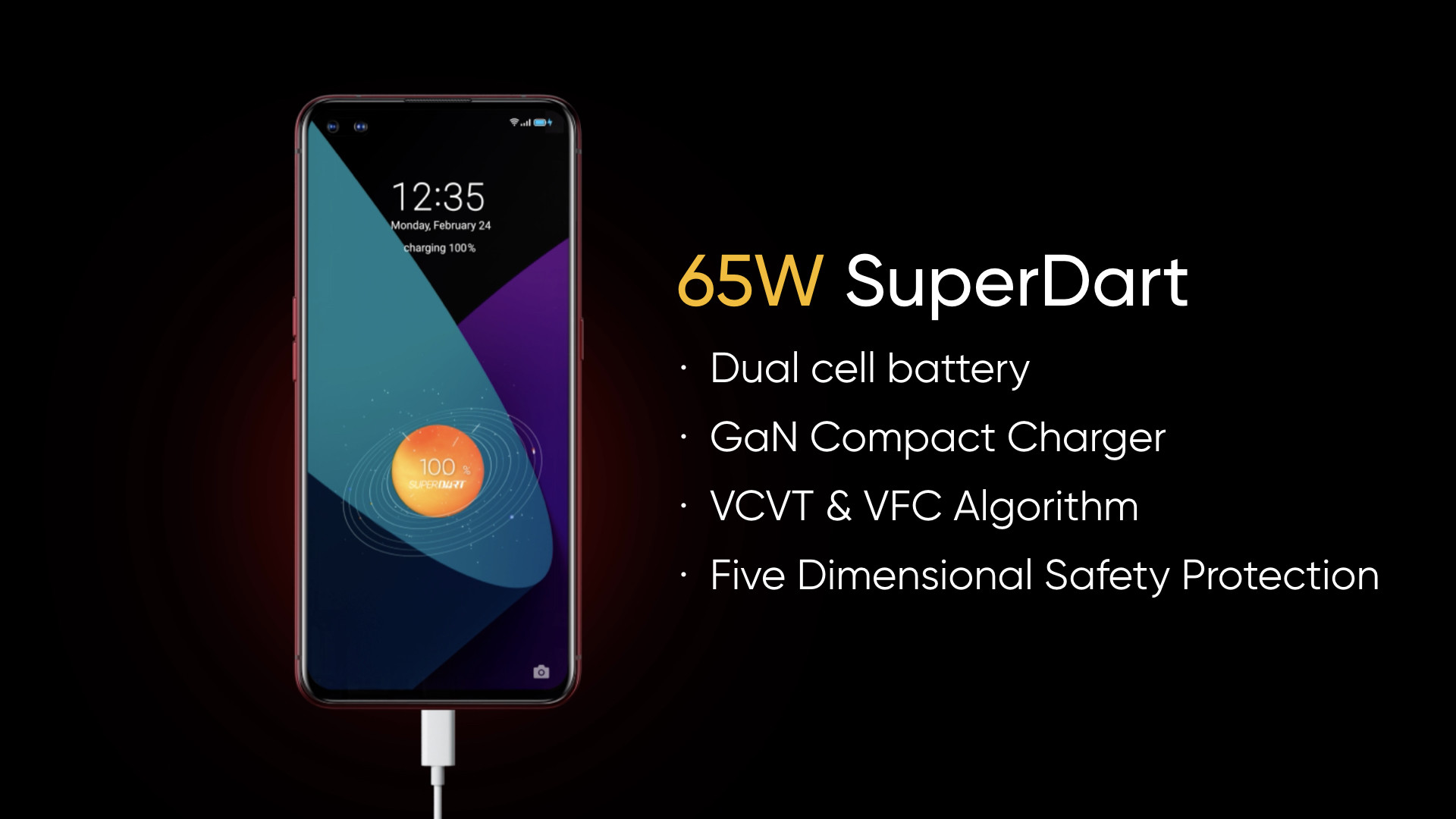 For starters, Realme's 65W SuperDart Charging shares the same technology as SuperVOOC 2.0 from Oppo and OnePlus' Warp Charge 65. No, it isn't the highest what the company offers- both Realme and Oppo have already announced their high-tech 125W charging technologies, discussed here.
How Does it Work?
The 65W SuperDart Charging (or SuperVOOC 2.0) uses an innovative bi-cell design to deliver high charging power. It uses two batteries instead of a single cell. This allows it to charge two cells simultaneously, thereby reducing the time.
SuperDart supports a maximum of 6.5A at 10V, in line with VOOC's "low voltage and high-current" philosophy. Algorithms like VCVT intelligent tuning, VFC trickle charging optimization, and real-time adjustment based on charging conditions further improve the charging performance and efficiency.
The company uses dual 3C cells on SuperDart compatible phones. The 'C' here refers to the charge and discharge ratio of the cell. Compared to 1.5C cells, 3C cells have better quality and twice the current carrying capacity. This is why they can carry an input current of 6.5 Amps.
Moreover, the bundled 65W charger uses Gallium Nitride (GaN) semiconductors. They are more efficient than silicon, can sustain higher voltages, and run current faster while keeping the charger's size and weight in control.
What's the Charging Speed?
According to Realme, the 65W SuperDart Charge can charge Realme 7 Pro's 4,500mAh battery from zero to 100% within 34 mins. At the same time, a 50% charge can be achieved in about 12 minutes.
So, if you forgot to charge your phone at night, a mere 10-minute charge in the morning will be enough to get you through the day.
Which Phones have 65W SuperDart Charging?
The 65W SuperDart technology is available in Realme 7 Pro, Narzo 20 Pro, and Realme X50 Pro 5G smartphones.
Is it Safe for your Phone?
Realme's 65W charging system uses five safety protection layers across the charging adapter, cable, and smartphone, right down to the battery itself.
There are custom chips to manage the charging process and monitor voltage and current at each node. Also, the low-voltage system keeps the temperature under control. This makes the technology completely safe for day-to-day use.
However, one must note that charging your phone every day with the 65W fast charger will degrade its battery at a faster rate. So, if you're not in a hurry, it'd be better to use a good quality low-power adaptor.
Related: Check Your Android Phone's Battery Health, Tips to Prevent Battery Degradation
Wrapping Up
So this was all about the Realme's 65W SuperDart Fast Charging technology, it's working, supported phones, and if it's safe for regular use. Anyway, do you have a smartphone with SuperDart or SuperVOOC 2.0 charging support? Do let us know your experience in the comments below.
Also, read- 125W Flash Charging Technology: Everything You Need to Know