Launched earlier this year, the iPhone SE 2020 (review) packs the powerful A13 Bionic chip, allowing it to capture photos like the iPhone 11. However, despite being powerful enough, it never received the night mode, which Apple introduced with the latter. The same is the case with older iPhones- there's no trace of the night mode even on the iOS 14. Thankfully, it's still possible to take good pictures in low-light with the previous iPhone models. In this article, let's see how you can get Night Mode on iPhone SE 2020 or older iPhones.
Related- How to Enable ProRAW Support on iPhone 12 Pro/ Pro Max
Get Night Mode on iPhone SE 2020 or Older iPhones.
Unlike the iPhone 11 or iPhone 12-series, the iPhone SE 2020 doesn't come with a built-in night mode. As a result, the images captured in low light have lesser details and are quite grainy.
Thankfully, a third-party app called NeuralCam lets you shoot in the dark with brighter and clearer images by binning images with different exposures. It specifically helps with Night Mode and is compatible even with the dated iPhone models like the iPhone 6.
So, if you have any of the iPhones ranging from iPhone 6, iPhone 6s, iPhone 6s Plus, iPhone 7, iPhone 7 Plus, iPhone 8, iPhone 8 Plus, iPhone X, iPhone XR, iPhone XS, iPhone XS Max, or the iPhone SE 2020, you can get the night mode feature using the NeuralCam app, as follows.
Click Night Mode Photos on Any iPhone Using NeuralCam
Before we start, note that NeuralCam is a paid app and can be purchased for $2.99. However, if you don't want a paid solution, we've also mentioned a free alternative below.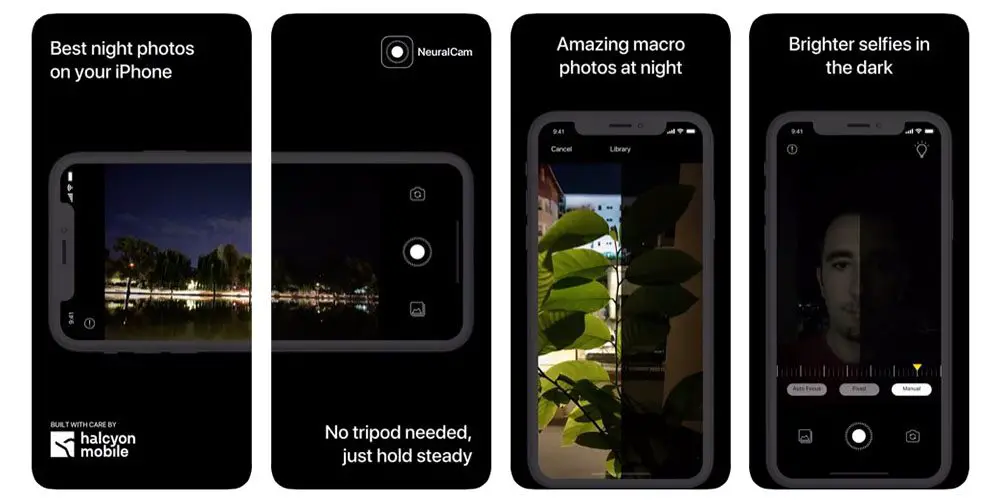 To start with, install NeuralCam on your iPhone from App Store.
Open the app and allow it to access the camera.
Click the Shutter button to capture the photo.
Give the app some time to process the image, especially if you're shooting in low-light.
Once the photo has been clicked, tweak it using the given options, and save it to the gallery.
You'll see that the images captured through NeuralCam in low-light are better than the ones from the native iPhone camera app. There will be a significant difference in the overall brightness, detail levels, and vividness.
Especially with the iPhone SE 2020, one would notice that the phone performs very similar to other expensive flagships with built-in night mode, like the iPhone 11. The same can be seen in the side-by-side comparison video above.
Free Alternatives to NeuralCam
Don't want to pay for NeuralCam? Well, there are still a couple of free alternatives available in the market. They may not work perfectly, but you still get a scope of better low-light photos than the native camera app on your iPhone.
1. Night Camera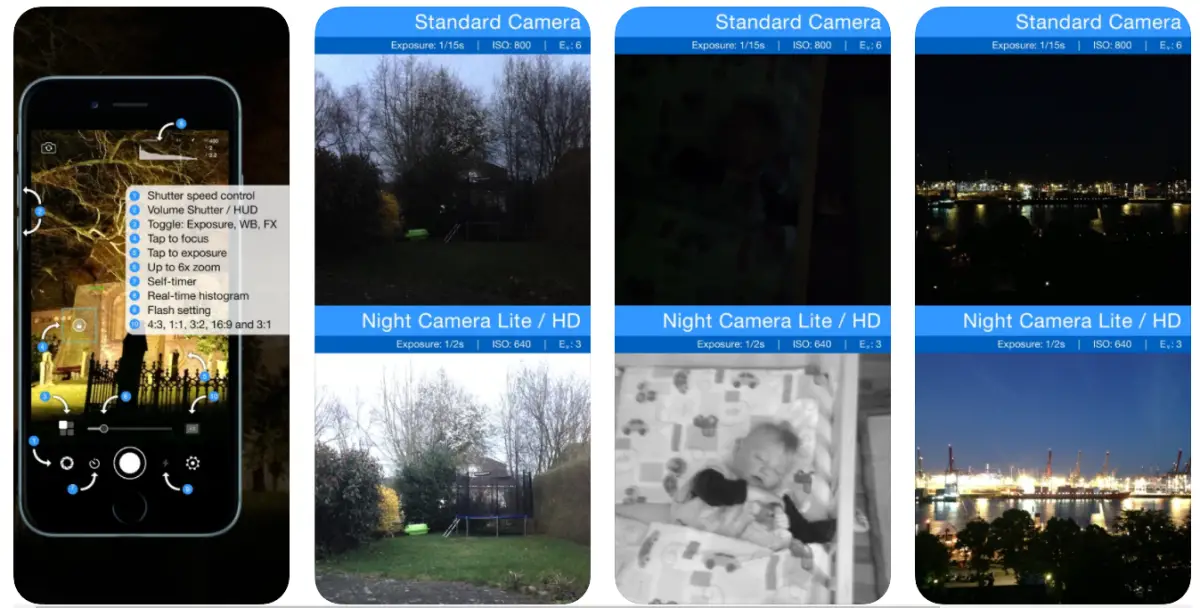 The Night Camera app comes with a dedicated low light enhancement mode, which boosts the overall light and exposure. This helps your iPhone to see in the dark even when the native camera app produces pitch black pictures.
You can tweak the exposure and shutter speed manually based on your requirements to tweak the amount of light captured. While this app is nowhere near NeuralCam, it will surely help you capture decent photos in low-light.
While the app is free to use, it does have ads within.
2. Moonlight Selfie Camera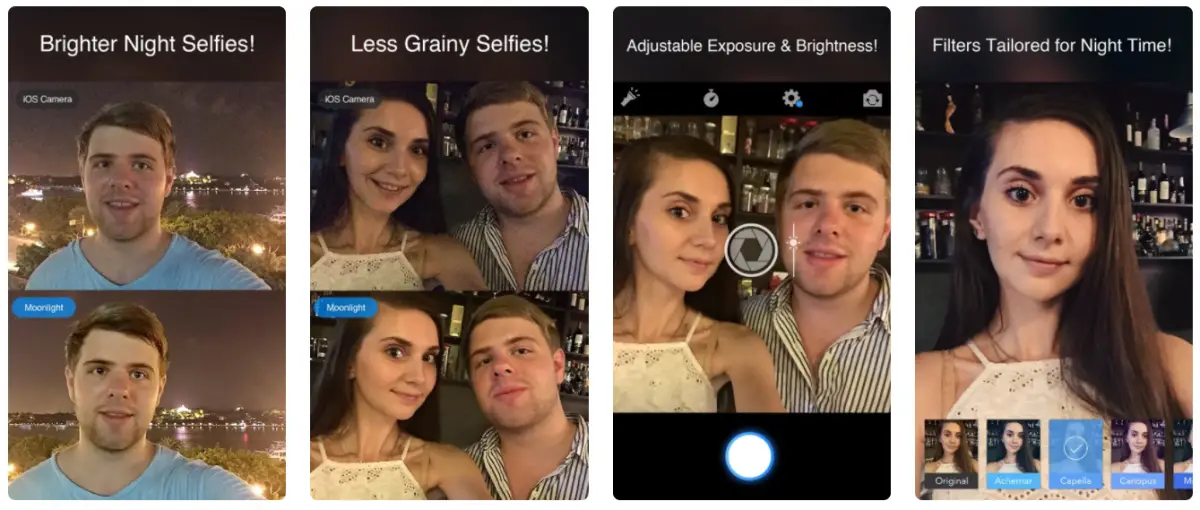 This app is a selfie camera app, primarily meant for low-light selfies. While capturing, it takes four different photos and combines them into one vivid, illuminated picture with optimal exposure and lesser grains.
Furthermore, you can manually adjust the exposure or apply filters based on your liking. To use it, install the app, grant camera access, and click a selfie. You can then adjust the light level, add filters if needed, and save the photo to the gallery.
3. RAW+
RAW+ is made for photography enthusiasts who love tweaking the camera settings before taking a picture. Using it, you can manually control the ISO, focus, shutter speed, and white balance to get better pictures than the native camera app on your iPhone.
With the app, you can also capture in RAW format. RAW photos have a lot more detail from the sensor and can be processed later for better quality. If you're into photography and editing, you should definitely try it on your phone.
Wrapping Up
While Apple has decided to keep Night mode exclusive to iPhone 11 and iPhone 12-series, the older iPhones don't necessarily have to compromise much. The NeuralCam will surely help you get Night Mode-like photos with your iPhone SE 2020 or any other old iPhone model that doesn't support night mode.
Anyway, a lot of you may not want to spend on an app. In that case, you can try the free alternatives to NeuralCam given in the article. So, do try them on your iPhone and let us know your experience. Also, don't forget to subscribe to notifications for more tips & tricks on iOS.
Also, read- How to Mirror Front Camera Selfies on iPhone X, iPhone 8, iPhone 7, iPhone SE & iPhone 6s-series.