Being the cheapest current-gen iPhone in Apple's lineup, the iPhone SE 2020 brings some promising features at an attractive price, enough to lure first-time iPhone buyers and older iPhone users who are looking for an upgrade. I've been using the device as my daily driver for some time now, and here's a quick review of the same to help you with your buying decision. To keep things simple and straightforward, I've divided it between reasons to buy and reasons not to buy the iPhone SE (2020).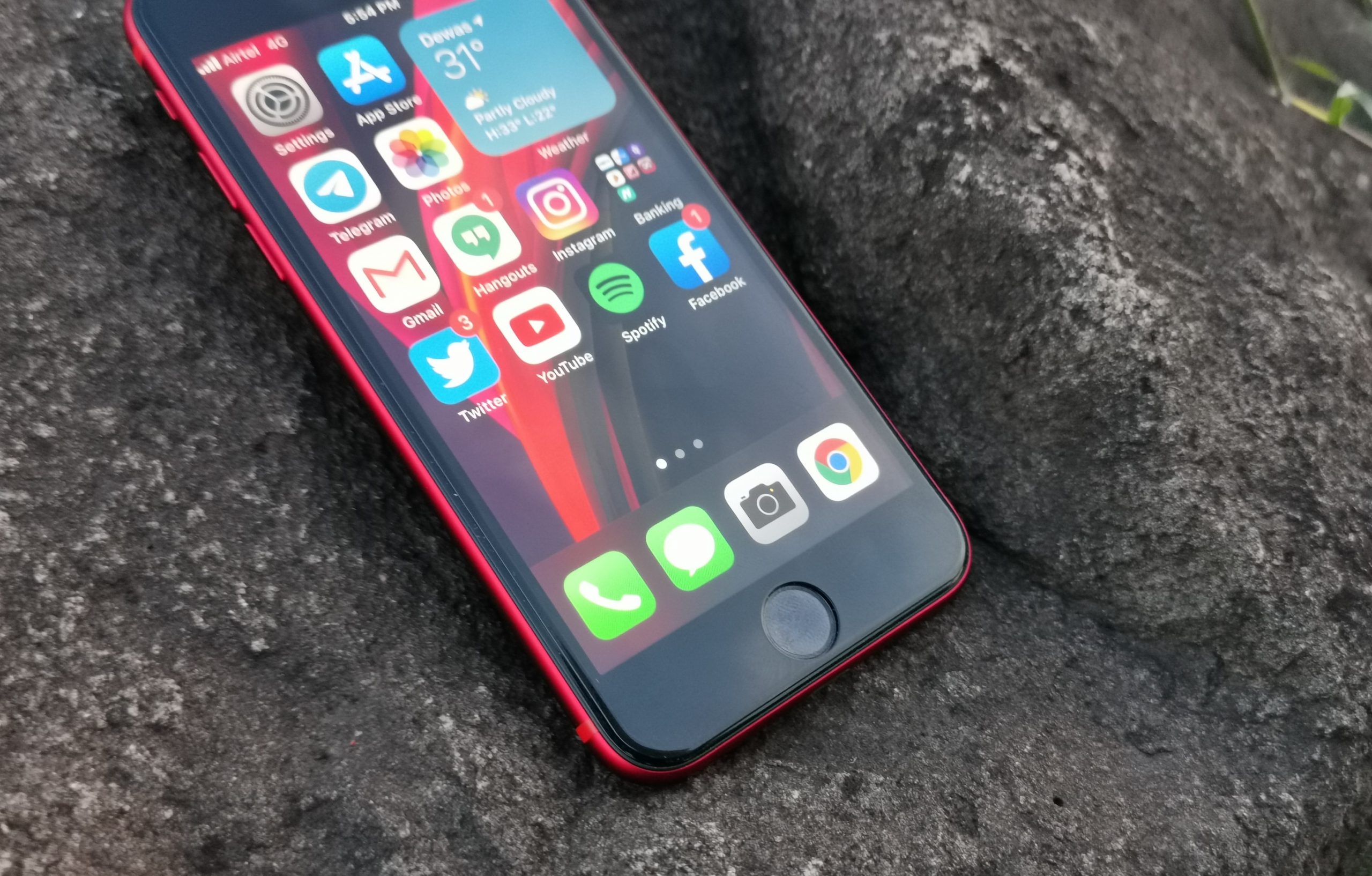 Reasons to Buy iPhone SE (2020)
1. Build Quality, Form Factor
Profile: 138.4mm tall, 67.3mm wide, 7.3mm thick
Weight: 148grams
The iPhone SE (2020) features a glass sandwich design with a matte-finished aluminum frame. Gorilla Glass covers both front and rear, and the back has a glossy finish to it. The Product Red looks very bold and attractive, but you can also buy White and Black versions.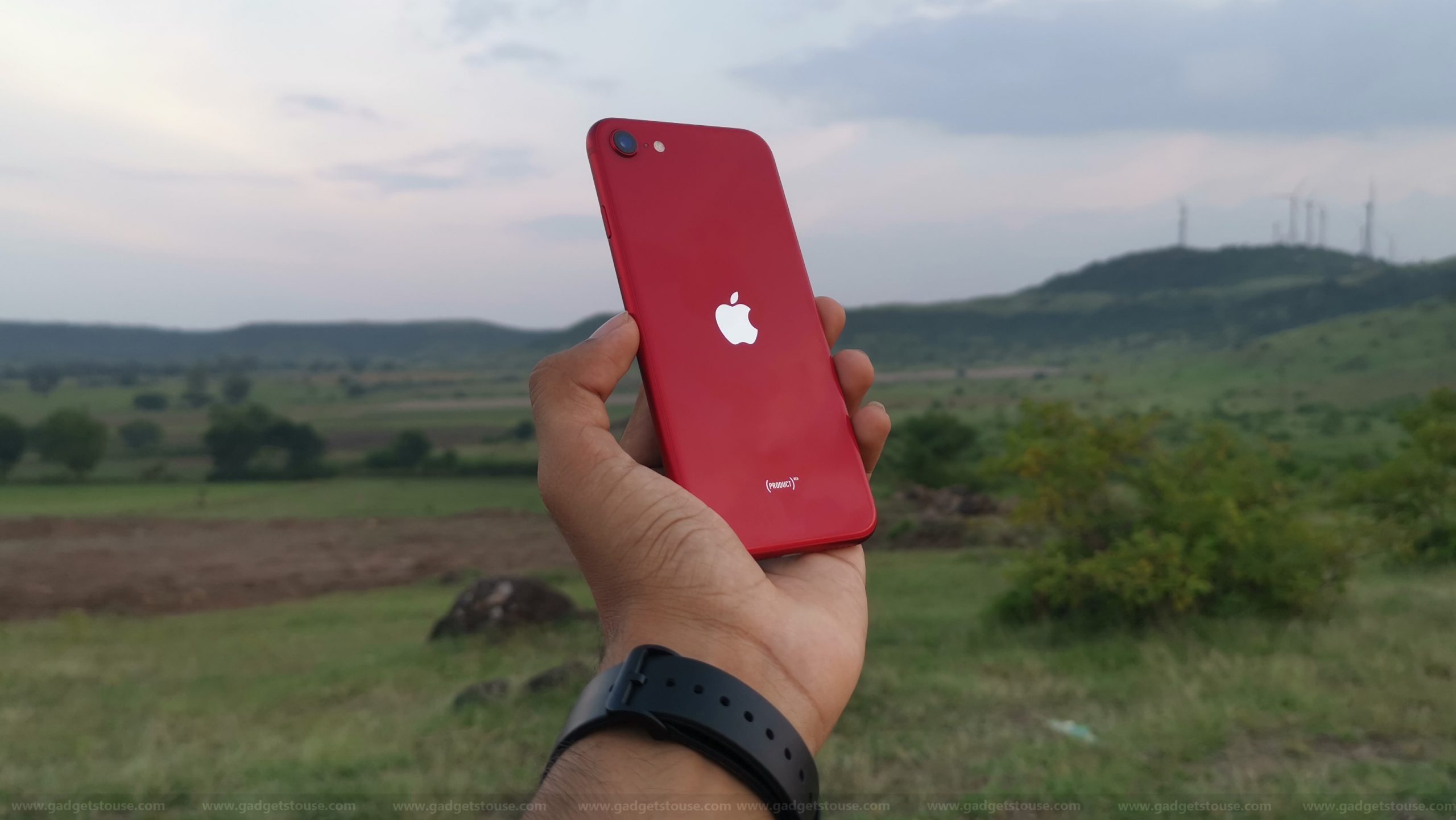 The SE weighs just 148 grams, making it one of the lightest phones on the market. It has a really compact form factor which allows you to use it single-handedly, all day long without getting tired. Plus, it slips easily into most pockets.
Volume rockers and alert slider are on the left while the power button sits to the right- both being easily reachable. The primary speaker and mic are given at the bottom alongside the lightning port colored in silver (for the Red variant) to match the Apple logo on the back.
Overall, the phone feels premium and concrete in the hands. However, please do note that it's quite slippery and prone to smudges. If smudges and visible fingerprints tend to annoy you, go for the White variant.
2. Performance
The new-gen iPhone SE uses the same 7nm-based A13 Bionic chip from the iPhone 11-series. And hence, it can handle anything you throw at it with ease. Apps load quickly, and multitasking is a breeze for the device.
Besides, you can play almost any game on high graphics. I was able to play Call of Duty: Mobile comfortably in the highest graphics and frame rate settings without any lag or jitter. It's one hell of a smooth phone, and you won't have any complaints about performance.
That said, the phone does get a little warm at the rear when stressed for too long. If the temperature goes overboard, say when you're using it outdoors under the sun, the screen dims itself to prevent overheating—more on gaming experience in the display section below.
3. iOS, Software Updates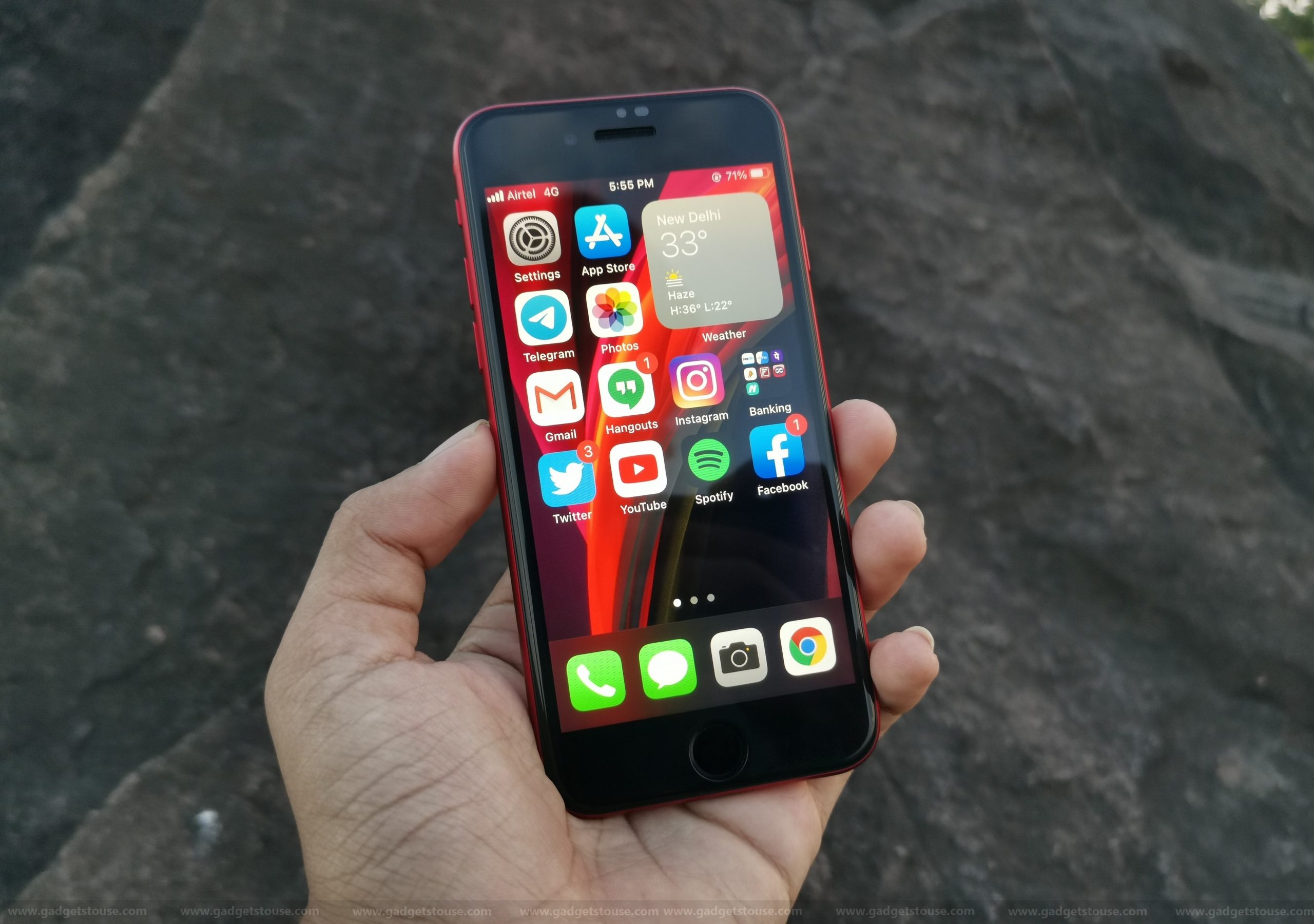 The sheer performance on the iPhone SE is well complemented by iOS 14. The software feels smooth, well-optimized, and there's no jitter or lag while scrolling or navigating through apps.
Being an Android lover, I wouldn't say I like iOS much, but I've certainly got a few things to appreciate. Firstly, the app library and customizable home screen widgets feel refreshing to use. Plus, you can now change the default mail app to Gmail and browser to Chrome. The new privacy controls, too, are a welcome addition.
And wait, did we forget updates? Well, the phone will continue to receive regular iOS updates for upwards of four years from now. The original SE from 2016 and the iPhone 6s from 2015 have already received the latest iOS 14. This throws a positive sign on an iPhone's longevity compared to any Android phone in the market.
Anyway, note that iOS is still very restrictive compared to Android and may not be liked by everyone, especially power users. While existing iPhone users have nothing to worry about, people switching from Android may have mixed feelings.
4. Camera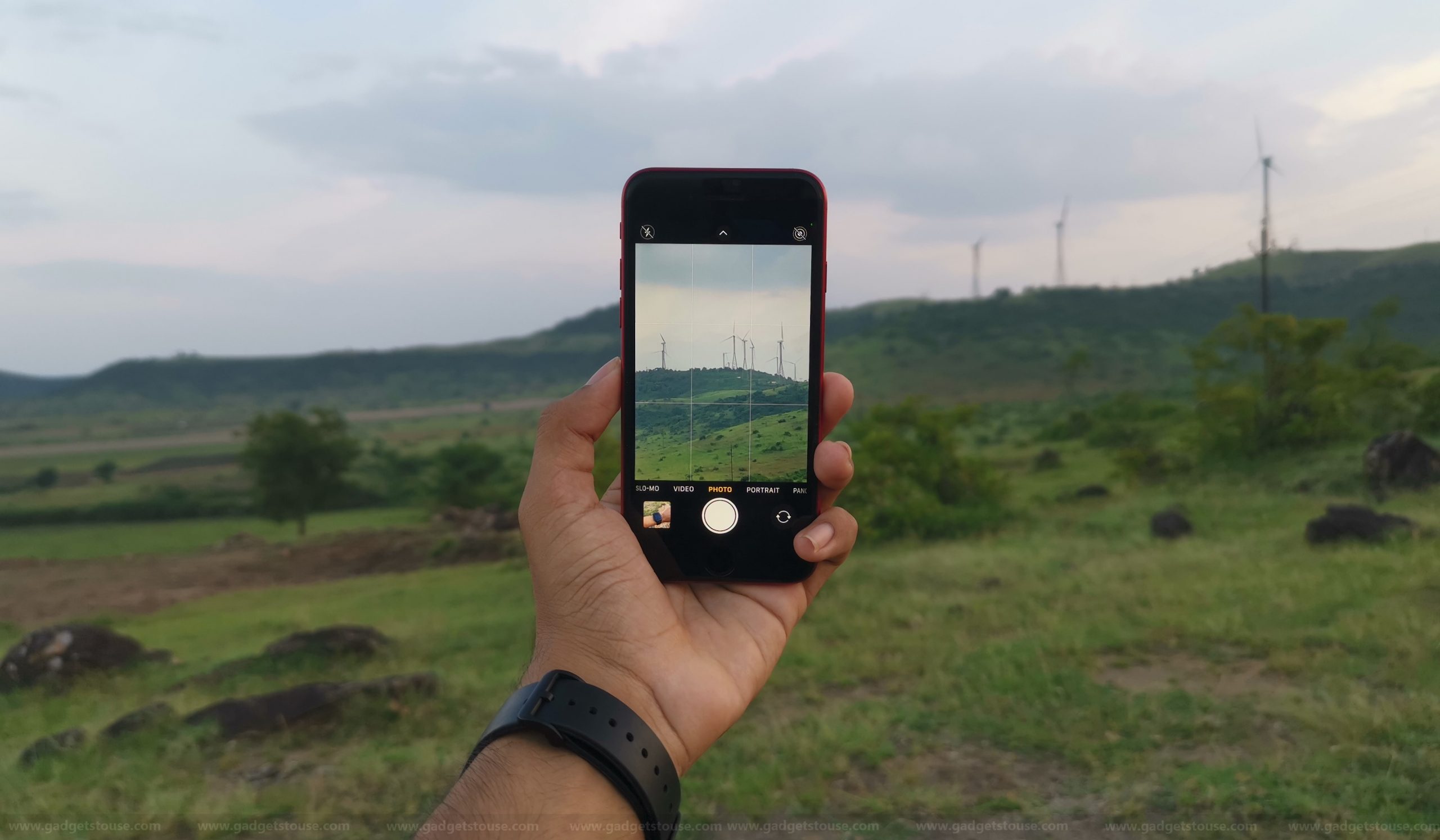 The iPhone SE gets a 12-megapixel rear camera with an f/1.8 lens, OIS, PDAF, and up to 5x digital zoom. Upfront, there's a 7-megapixel selfie shooter with f/2.2 aperture. Although the setup is the same as on the dated iPhone 8, it's still quite good, thanks to A13 Bionic's advanced image processing.
In daylight, the phone captures some great pictures. Images are crisp and have a lot of detail. The dynamic range is on point and the colors, too, are quite accurate. The white balance is slight to the warmer side, giving a pleasing, natural look to images.
Even indoors, the camera maintains a well-balanced exposure and retains the right amount of detail. Unfortunately, Apple decided to skip the night mode here. As a result, the phone underperforms in low light with visible noise.
The front camera produces good selfies in well-lit situations, considering colors and skin tones. However, the quality deteriorates once the light goes down. Both the front and rear support portrait mode, but it only works with human faces.
Video recording goes up to 4K at 60fps and while slo-mo maxes out on 1080p at 240fps. The phone records excellent quality videos with balanced colors, good dynamic range, and, more importantly- good stabilization while walking. The front maxes out at 1080p at 30fps and supports EIS.
Overall, the iPhone SE (2020) has good cameras, especially when counting in daylight photography and video quality.
5. Stereo Speakers, IP67, Wireless Charging
The iPhone SE gets stereo speakers- one is the down-firing main speaker, and the other is the earpiece. The speakers are loud and sound pretty good by the mid-range standards.
Apple has given IP67 water-resistance to hold up against rain, accidental spills, and even brief submersions in water. It also gets wireless charging. Both are flagship-grade features that are rare to see at this price point.
The iPhone SE also gets the eSIM feature. You can use a physical nano-SIM card and an eSIM at the same time to use two numbers on the device.
Reasons Not to Buy iPhone SE (2020)
1. Dated Design
The iPhone SE 2020 retains the same design from the iPhone 8, which itself was borrowed from the six-year-old iPhone 6. It gets huge bezels on top and bottom that result in black bars while watching videos shot in taller ratios- you can't simply zoom the video to fill the screen.
At a time when full-view displays have become common even on entry-level smartphones, the front on the iPhone SE looks like wasted space, attributed to Apple's aggression on cost-cutting. I like the handy form factor, but those beefy bezels didn't make sense in 2020.
2. Display- Small & Inferior
The 4.7-inch Retina display that debuted with iPhone 6 makes its reappearance on the SE with minor tweaks like removing 3D Touch, an enhanced brightness of 625nits, and wide color (P3) gamut, and TrueTone technology as it was with the iPhone 8.
Talking of shortcomings, the small screen with the age-old 16:9 aspect ratio creates a major issue with gaming. The controls feel tightly clustered together, and a vast portion is covered by your fingers, trying to reach those controls.
Not just games, it's the same story everywhere. Watching videos and movies feels awkward, especially if you're coming from a large size phone. The keyboard, too, is quite crammed in, and it'll take you a while to get used to the typing experience.
Now, some of you may like the display profile, but an average user migrating from any modern-day phone will instantly feel how small the iPhone SE's screen is. And it's not just about the looks of it; it equally hampers the multimedia and gaming experience.
Thankfully, the display quality is just fine. The 4.7″ LCD features a 1334 x 750 pixels resolution and a pixel density of 326ppi. The panel is adequately sharp and has nice viewing angles. It's also bright enough to be used under direct sunlight.
Needless to say, the screen is quite inferior to other devices in the segment like the OnePlus 8 and Pixel 4a, which offer bigger and sharper AMOLED screens with higher refresh rates.
3. Single Rear Camera
The camera on the iPhone SE is one of its major strengths. However, the fact that it's single also counts for its weakness. No, I'm not talking about useless depth, macro, or monochrome sensors here. However, a telephoto or an ultra-wide-angle shooter would've been a cherry on the cake.
Furthermore, there's no night mode on the device, despite having a more than capable chipset. As the lights go down, a lot of noise starts to creep into images. So yeah, if you're fond of wide-angle or low-light photography, you should probably look somewhere else.
4. Touch ID (Subjective)
It's quite strange that Apple re-introduced the old-school Touch ID after three whole years, and that too, after moving on to Face ID and swipe gestures with the recent iPhones.
Anyway, it's understandable that nothing else would have suited the iPhone 8 chassis, and Apple wanted to keep the costs down. However, if you're someone who's already used to face unlock and swipe navigations, you may have a tough time dealing with the Touch ID.
Moreover, the lack of FaceID means that you don't get features like Animoji and Memoji. Anyway, the basic navigation stays the same as before the iPhone X. You can swipe down for notifications, swipe up for the control center, and double-tap the Touch ID for the recent apps. The taptic engine provides good haptic feedback.
5. Battery Life, Charging Speed
Battery life is one of the biggest downsides of the new iPhone SE (2020). You get a mere 1,821mAh cell, which is quite tiny, precisely the same as on iPhone 8.
Since A13 Bionic is an efficient processor, if you are a light user and do basic stuff like checking messages, emails, and watching YouTube videos, the phone may last you till the evening with a cumulative screen on time of 4 hours.
However, throw in a heavy game, a video call session, or an hour of camera use, and you'll find yourself running for the charger. To give you an idea, 30 minutes of Call of Duty: Mobile on max graphics settings drains about 20% of juice on the device.
Moreover, Apple is shipping a mere 5W charging brick in the box, which takes about two and a half hours for a full recharge. You can buy an 18W PD fast charger, but that adds extra cost to the device.
Note: I noticed the network reception to be weak on the iPhone SE 2020, compared to other smartphones in the same vicinity.
Final Words- Should you buy the iPhone SE 2020?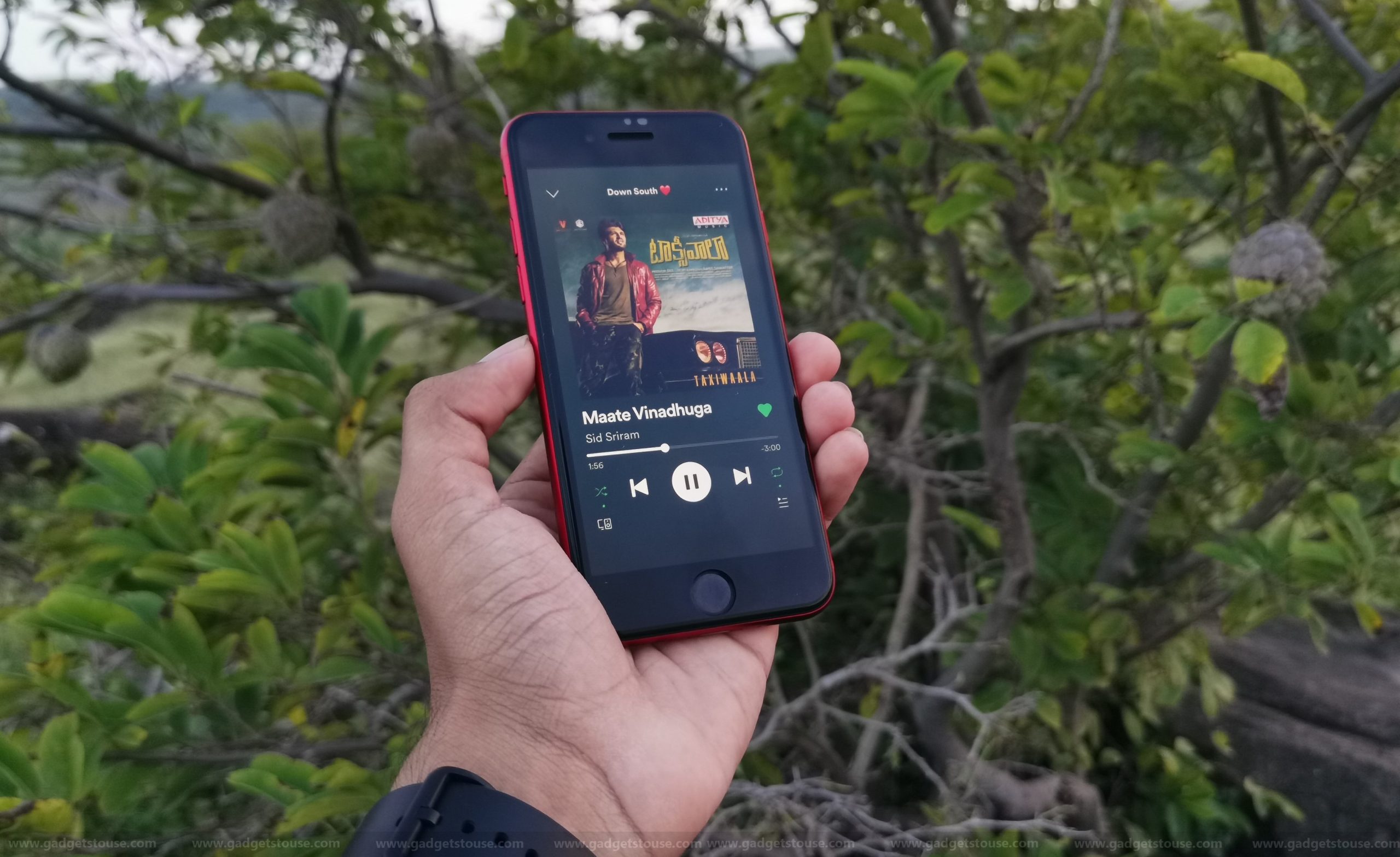 The iPhone SE (2020) excels in performance, has capable cameras and long-lasting software, but the recycled design and display keep it far from the current standards. The tiny screen isn't good for media consumption or gaming, and battery life is average at its best.
At ₹30,000, however, it's a good choice for people who want a compact, fast phone with reliable cameras. Usually, it hovers close to ₹25,000 after discounts in Flipkart sales. Nonetheless, if you're someone who spends a lot of time playing games, watching movies and needs a long battery life, this is not for you.
You can check out other alternatives in the segment like Pixel 4a, OnePlus 8, OnePlus 7T, and Realme X2 Pro. If an iPhone is what you want, it'd be better to increase the budget and go for the iPhone XR or even the iPhone 11 in the sales.