Amazon has now introduced the Watch Party feature for Indian users. Using it, you can watch your favorite movies, web-series, and TV shows with your online friends together. Here's a step-by-step guide on how you can use the watch party feature in Amazon Prime Video to stream movies and TV with friends.
Watch Amazon Prime Video Together with Friends Using Watch Party Feature
After introducing it in the US, Amazon has rolled out the Watch Party feature for  Prime Video users in India. It allows users to watch a show or a movie together by creating and sharing a link with their friends.
Also, read | How to Use Netflix Party to Watch Movies With Your Friends
Currently, the feature is only available on computer web browsers and not on the mobile app. Also, a maximum of 100 members can join a Watch Party session.
Steps to Use Prime Video Watch Party Feature in India
Open Amazon Prime Video in the browser on your computer.
Search for the movie or show that you want to stream with friends. Click the title.
On the movie page, click on Watch Party next to the Share button.
Enter your name and click on Create Watch Party.
Now, share the link with your friends.
Your friends can join the watch party by opening the link on their computer.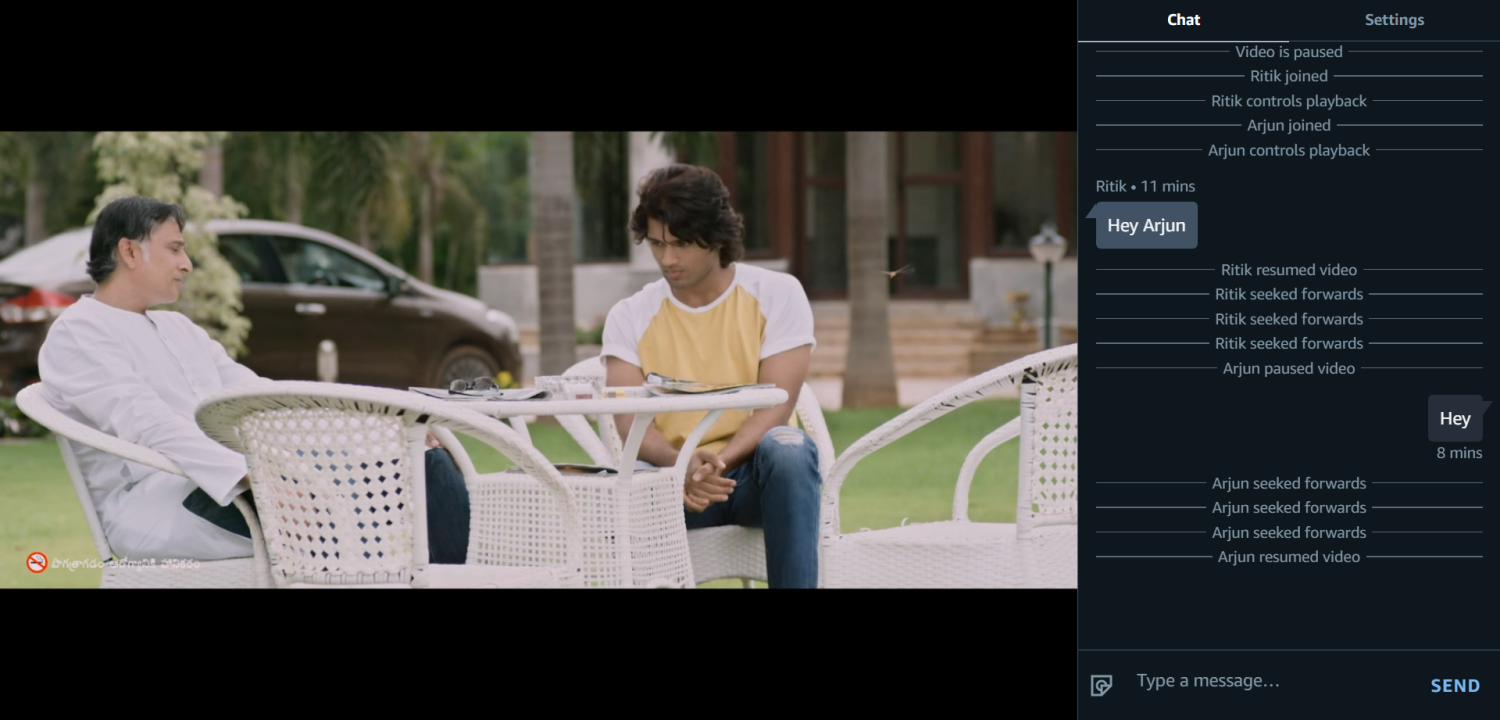 That's it. You can now stream movies and TV shows of your choice and watch them together with your friends. There's also a Chat feature that lets you chat with each other in the sidebar while watching the movie or show.
Common Questions Around Watch Party
1. Who controls the video playback?
The person who created the Watch Party can control the video, including pause, play, rewind, and fast-forwarding. If somebody else joins using the host's account, he can too control the playback. Other users in the Watch Party can control their audio and subtitle settings.
2. Can Watch Party work with the same Amazon account on multiple devices?
Yes, you can watch movies together on different computers even if you and your friend are using the same account. But do note that you can only stream the same title on two devices at a time.
3. Can I host Prime Video Watch Party with friends from other countries? 
No. Only users located in the same country as the host can join the Watch Party.
4. Does Prime Video Watch Party work on Android or iOS?
As of now, the Watch Party feature is available only on computer web browsers. It is not available on the Android or iOS apps of Amazon Prime Video.
5. Which browsers are Supported?
It supports major desktop browsers, except for Safari and Internet Explorer.
6. Can I use Prime Video Watch Party on Fire TV Stick, Smart TVs, or Tablet?
No. Prime Video Watch Parties are not eligible on any other device, including Fire TV Stick, Smart TVs, Connected Media Players, Mobile phones, and Tablets.
7. Can I use Voice Chat in Watch Party?
As of now, Prime Video only allows you to chat with other people using messages. There's no option to interact using voice.
Having Issues with Prime Video Watch Party Feature?
Is the Watch Party feature not working properly for you? Or are you facing issues while using it? In that case, you can follow the troubleshooting tips given below.
Make sure you and the other users have an active Amazon Prime subscription.
All the participants should be in the same country as the host.
Check that you are not using a VPN.
Do not use the same account on more than two devices- you cannot stream the same title on more than two devices at a time.
Check if Watch Party is full- Amazon only allows up to 100 people in a single Watch Party.
Try using browsers like Google Chrome and Microsoft Edge.
Wrapping Up
This was all about how you can use the Prime Video Watch Party feature to stream movies & TV together with your friends in India. Besides, I've also mentioned some common questions and troubleshooting tips around the Watch Party feature. Do try it and let me know your experience in the comments below. Also, feel free to reach out in case of any related doubts or queries.
Also, read- How to Check if Your Phone Supports HD Streaming on Netflix & Prime Video