After months of anticipation, the FAU-G game has finally been released in India. It was first announced last year in September and has been developed by an Indian company. We tried the game, and here's our brief FAU-G review, covering what we experienced with the presumed PUBG alternative.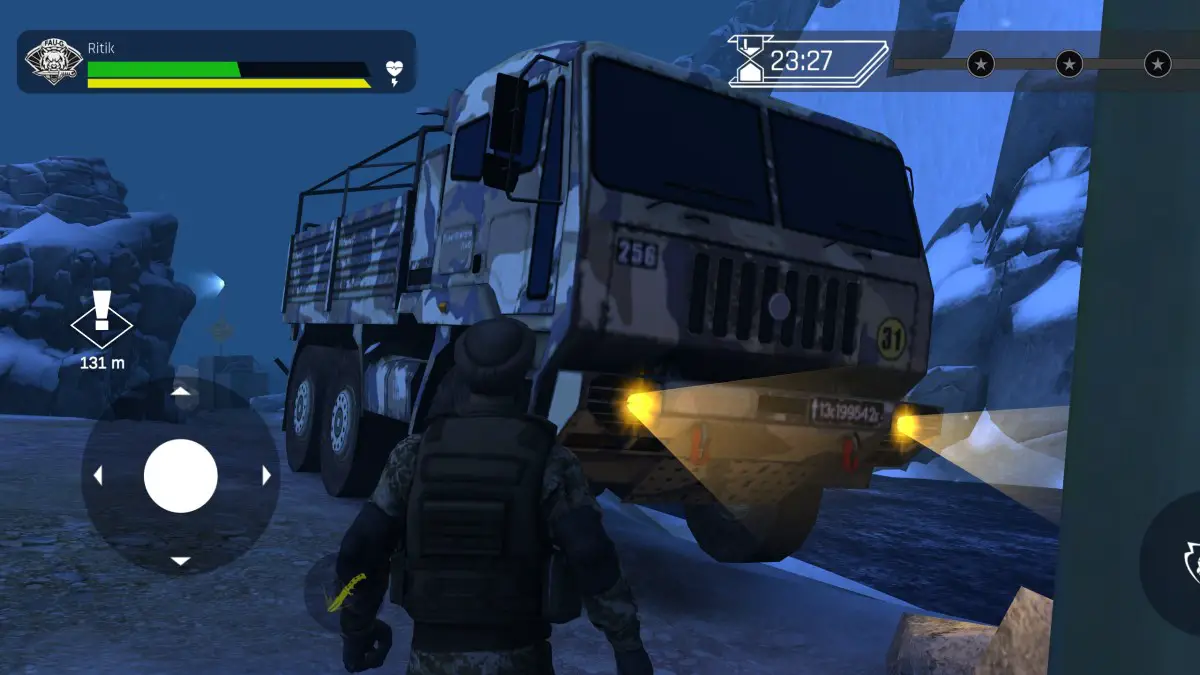 FAU-G: Fearless and United Guards Review
For starters, FAU-G was announced by Bangalore-based nCore Games soon after the ban on PUBG Mobile in India. Being backed by the Bollywood celebrity Akshay Kumar, it gained a good hype and was looked upon as the Indian alternative to PUBG Mobile.
However, the actual game tends to speak a different story. We played the game for a while, and here's what we have to say.
Game Modes- Three but One.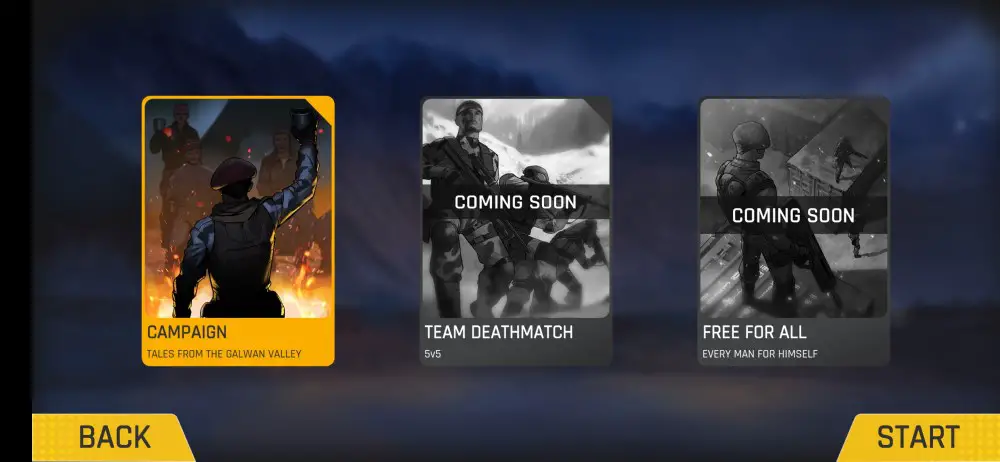 FAU-G comes with three modes: Campaign, Team Deathmatch, and Free for All. Unfortunately, only the Campaign mode is available for now, while the other two are slated to be "Coming soon."
We expect the other modes to be rolled out later with an update. But as of now, we'll be focusing on what's available, i.e., the Campaign mode. The same has been named as "Tales from the Galwan Valley."
Storyline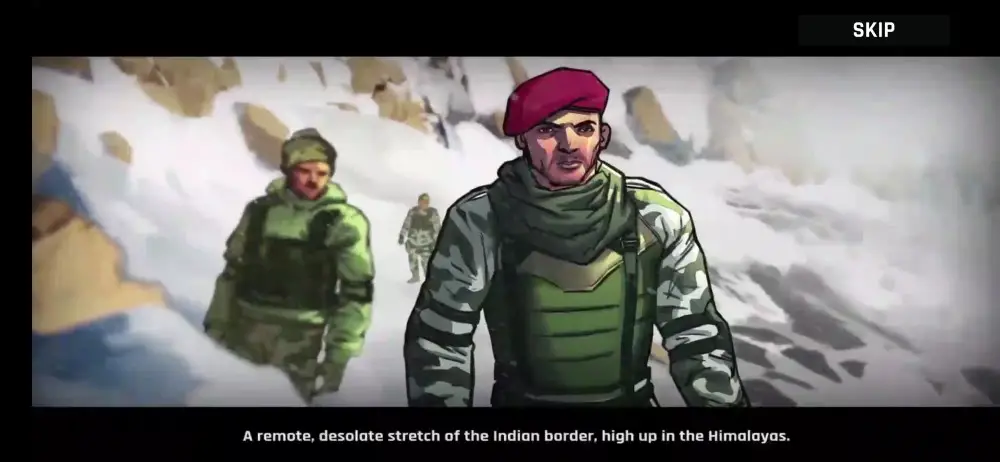 The game starts with a comic-like narration. Here, you're playing as a Soldier in Galwan Valley who has been separated from his squad after an attack by enemies and an avalanche. You have to keep moving and kill enemies on your way to complete missions.
Gameplay & Controls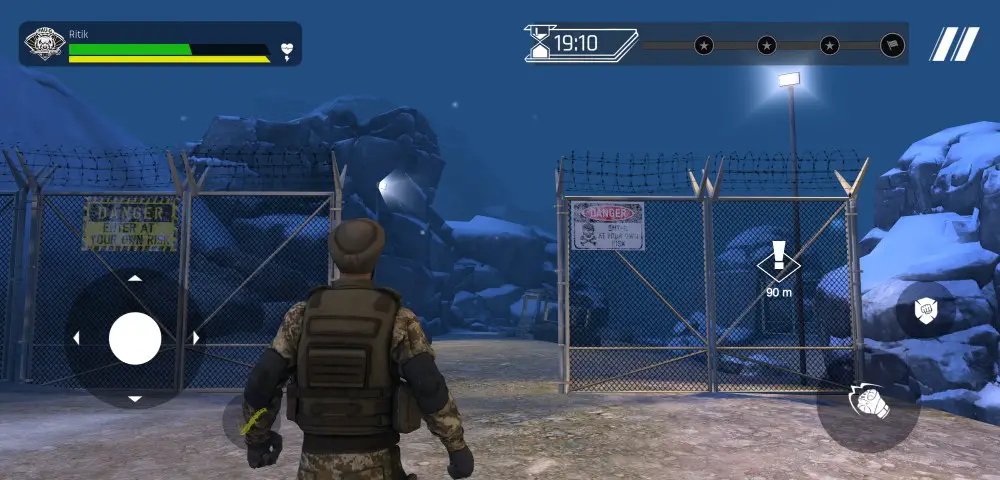 For now, the game is single-player. You can control your player from a third-party view. There's a D-Pad at the left for controlling the movement, while the right has buttons to Attack and Block. The rest of the screen can be used to look around and change direction.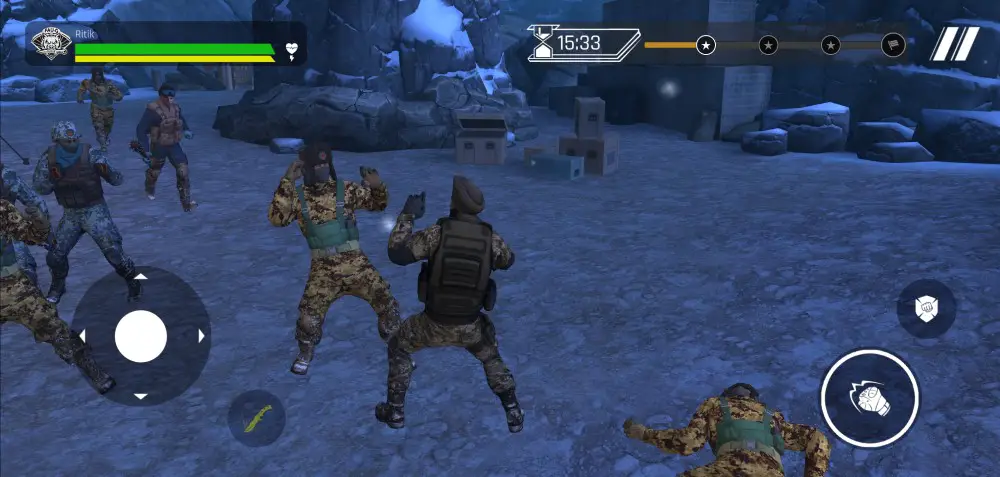 In the campaign mode, all you need to do is move forward and fight with the enemy soldiers on your way. There's no gun here- the fights only involve punches, kicks, and melee weapons. The enemies are quite dumb too. Heck, they walk back when you decide to leave the fight in the middle.
Anyhow, it's all about rigorously pressing the Attack button to smash off your enemies. Once you finish them, you move forward and complete the checkpoint. The only change you'll see in the next mission is reduced time and an increased number of enemies.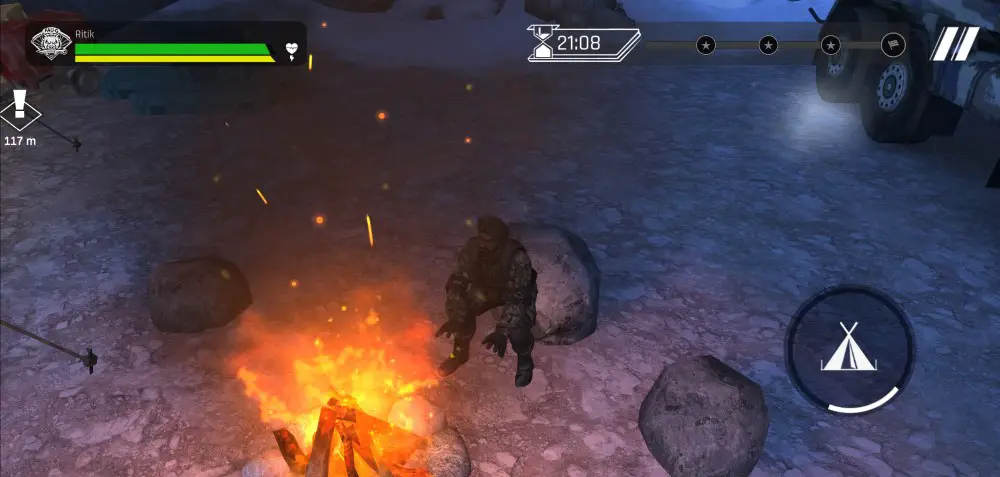 The lost health can be regenerated by sitting beside the fireplace. The weapons involve tools like wooden-ax and spear. However, there's no way to create them- you need to acquire them from your enemies. Unfortunately, they have limited hits and break after some time.
The fight is quite Bollywood-inspired, ranging from punches to slo-mo finisher moves. Plus, there are dialogues that your player says from time to time like "Jahan Ek ghuspaithiya hota hai, vahan aur bhi hote hain" and "Wo hamesha to borders ke peeche chhup kar nahi reh sakte"– they sound fun in the beginning but start annoying once you play for a while.
Graphics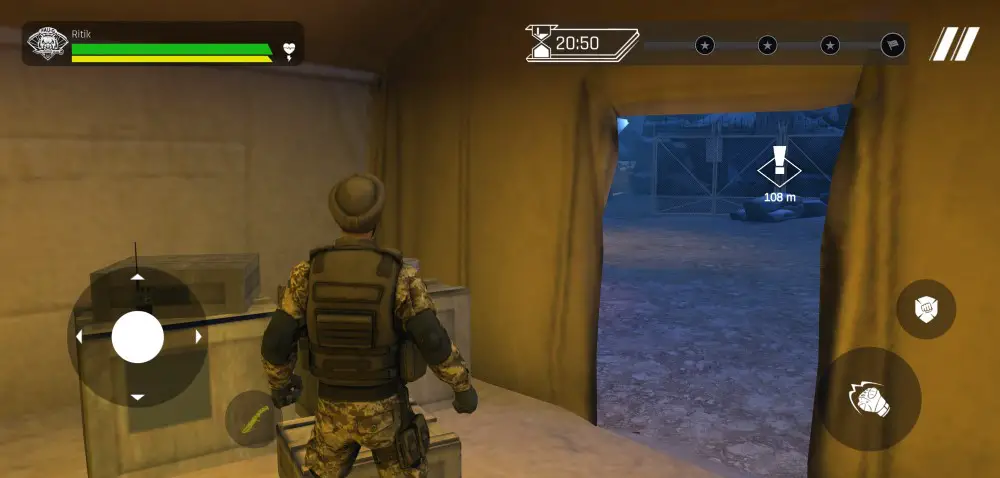 The game has different graphics levels, ranging from 'Very Low' to 'Ultra.' I played the game on Ultra settings, and the graphics were average at best. Yes, they don't come even close to games like PUBG Mobile, Call of Duty, or Free Fire.
To be frank, we expected it. After all, the game weighs just around 460 MB. Anyway, the overall graphics are decent for a mobile game.
In-Game Store & Settings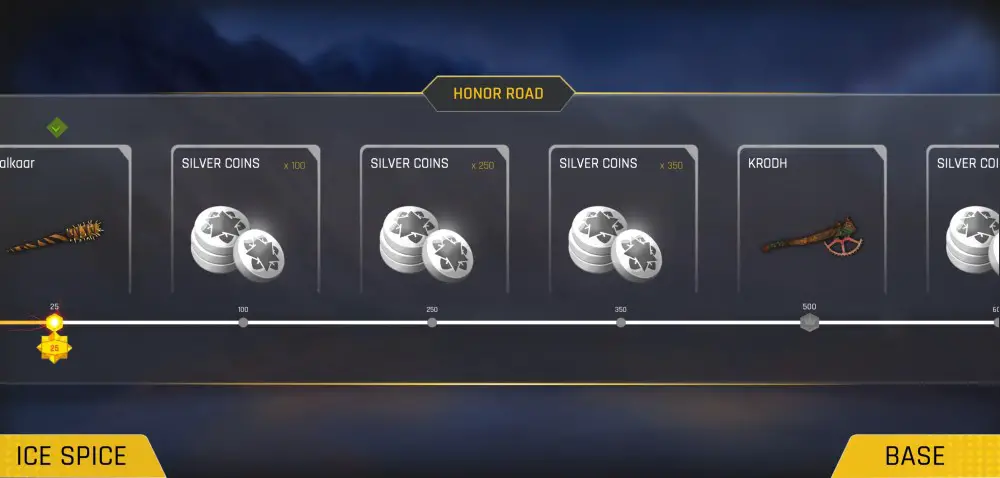 Like most other games, FAU-G comes with an in-game store with the option to buy Gold Coins with real money. You can use these coins to buy in-game items like skins for the character and melee weapons. Besides, it also has a store to sell real-world FAU-G merchandise like T-Shirts and Hoodies.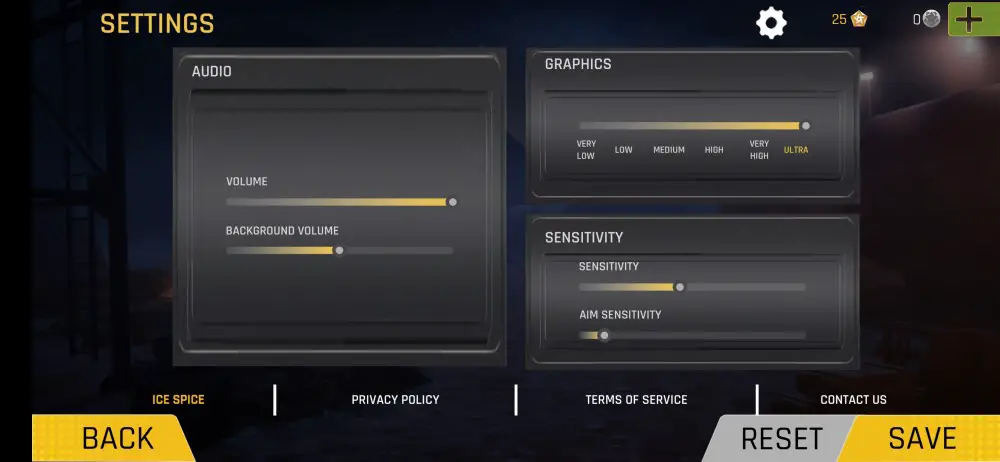 In the game settings, you can tweak the game volume, background volume, and graphics levels. There's also an option to change movement and aim sensitivity. There's no option to change the game difficulty.
Conclusion: Is FAU-G a PUBG Mobile Alternative?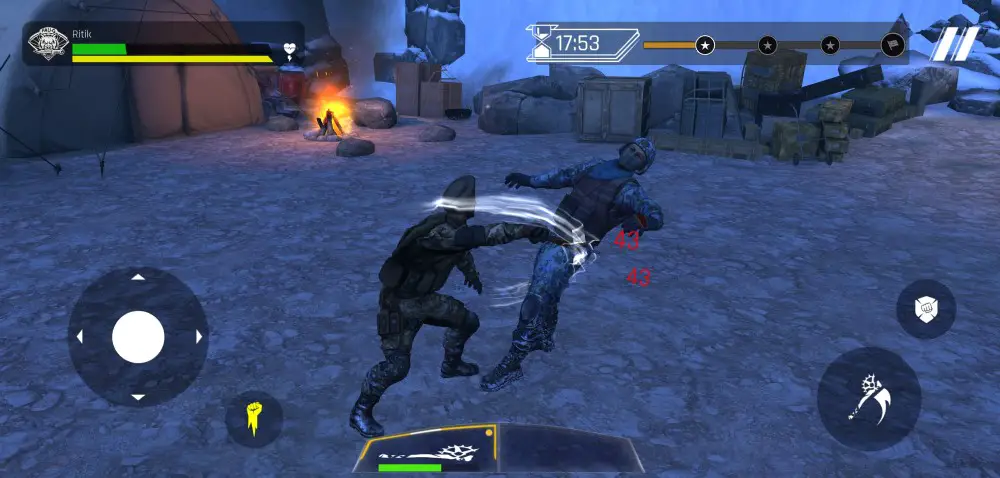 Our FAU-G review experience found it to be a very basic and lackluster game with a weak storyline, insipid gameplay, and average graphics. Plus, the half-baked modes suggest that the game is incomplete and has been released in a hurry.
Contrary to our assumptions, FAU-G seems to be intended for kids and cannot be termed a PUBG or COD Mobile alternative. It seems more like a missed opportunity with the intent to cash out on the nationalistic hype created in the beginning.
Anyways, we appreciate the developers' efforts and hope that they will improve it in the coming time. Those who want to try the game can download it from Google Play Store here.
Also, read- PUBG Mobile Ban: Best Alternatives to PUBG Mobile
You can also follow us for instant tech news at Google News or for tips and tricks, smartphones & gadgets reviews, join GadgetsToUse Telegram Group or for the latest review videos subscribe GadgetsToUse Youtube Channel.