YouTube has become the most popular video-sharing platform worldwide, especially in the past five years. As a YouTube creator or even a normal user, you would upload a video on this platform to reach some audience and get views. However, sometimes you need to upload some content that is not meant for all the people out there. When you normally upload and publish a video on YouTube, it can be seen by anyone. YouTube has integrated a new "Private" video privacy feature. Now you can share a video as "Private" and it can be viewed by select people only. Let's know more about private YouTube video here!
Also, read | YouTube Channel Got Hacked? Here's How to Get It Back
Private YouTube Video
You can make a YouTube video private when you upload and publish it, or you can also do it after it's published.
Publish a Private YouTube video on PC
If you're uploading the video from your PC, follow these steps:
1] Open YouTube in a browser.
2] Now click the Camera icon or "Create" button at the top of the screen and then click "Upload Video."
3] On the next page click on "Select files", and select your video from PC.

4] Fill in video details, add video elements, click "Next" and it will take you to the "Visibility" page.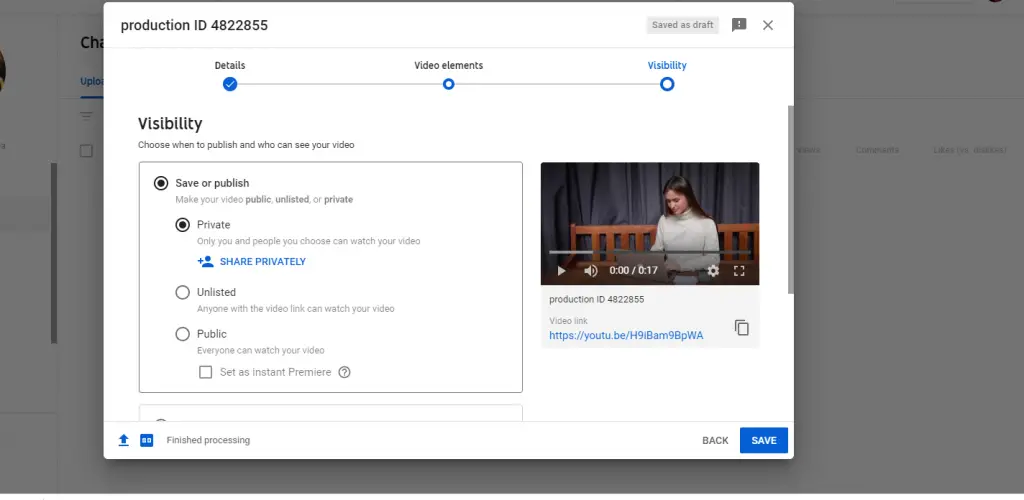 5] Select "Private" from the given options. Click on "Share Privately" below to share it with select users. Enter those person's email ids with who you want to share it with.
That's it! When you complete the process to upload and publish, click "Save" and it will now be saved as a private video.
Make a Published Video Private on PC
If you have already published a public video, you can change it to private and also share it with specific users via their email address.
1] Open YouTube in a web browser and click your profile picture at the top right and then click "YouTube Studio" from the drop-down. Or go to YouTube Studio directly.
2] In the left sidebar, click "Content" and find the video you want to make private.
3] Click the toggle under the Visibility section.
4] Select "Private" from the options and click save.
Just like above, if you want to share it with others, click "Share Privately" and enter people's email addresses. If you want to notify them, check the "Notify via email" option.
Make YouTube Video Private on Mobile
Just like on a PC, you can use the YouTube app to make a video private. You can do this when you upload it, or after publishing it.
Here's how to do it when you are uploading a new video:
1] Open the YouTube app and tap the Upload Video icon at the mid-bottom of the screen and tap "Upload a video".
2] Choose a video file from your mobile and tap "Next."
3] On the Add details page, tap "Public" and in the pop-up window, choose "Private".
4] Tap Next and tap "Upload". That's it.
If the video is already published, here is how to change it to private:
Open the YouTube app and go to "Library". Here Tap "My videos" and find the video you want to change and then tap the three dots on the right side of the screen and tap "Edit." On the details page, find the Privacy section, tap it and select "Private" and save.
This is how you can publish a private YouTube video or make an already published video private. For more such tips and tricks, stay tuned!
You can also follow us for instant tech news at Google News or for tips and tricks, smartphones & gadgets reviews, join GadgetsToUse Telegram Group or for the latest review videos subscribe GadgetsToUse Youtube Channel.