Has your laptop become so dirty because of the continuous use that you don't feel like using it anymore? Want to clean it but worried about the possible damages you can do while cleaning it yourself? Well, don't worry, today I am sharing with you a few tips for cleaning your laptop or desktop computer without getting anything damaged. Read on to know the safest way to clean your laptop completely at home.
Also, read | You Don't Need a Sanitizer To Clean Your Phone Or To Kill Coronavirus
Clean Your Laptop
Like any other everyday gadget that we use, our laptops get very dirty. Now in these times of pandemic, when hygiene should be our top priority, cleaning our work or home computer has become necessary. Here's how you can clean your laptop properly.
What you'll need?
You do not need many items to clean your laptop. Just grab a disinfectant spray, wet wipes, microfiber cloths, paper towels, canned air, etc. If you are using wet wipes, just make sure these are alcohol-based so that they can kill germs. Also, if you use a cloth to clean after spraying disinfectant, use microfiber cloths so they don't scratch your screen.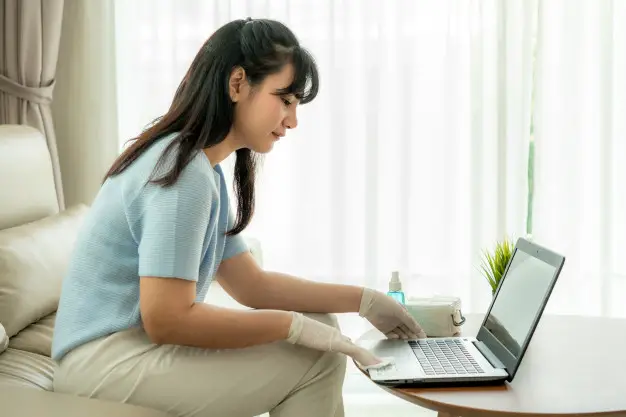 Don't go buying some specific cleaners for electronics items, though they're good, however, at the same time they're unnecessarily overpriced compared to what you might already have at home.
Apart from the above-mentioned items, there are also a few things that you should remember before starting the cleaning-
Just shut down the laptop,
Also, unplug the charger cable and,
remove the battery (if it's removable easily),
Take your laptop outside.
Once you've gathered the tools and done all the above-mentioned things, it's time to start the cleaning of your computer.
First, start by cleaning your laptop internally. It is easier on most laptops, and it's mostly a similar process across the category.
Clean the keyboard
Start with the keyboard and it is not so easy to clean, especially if you have the habit of eating near your laptop and spill things often. Just grab a microfiber cloth or paper towel, pour a few drops of alcohol spray on the cloth and wring it out properly so it isn't dripping wet, and start on the surface of the keyboard.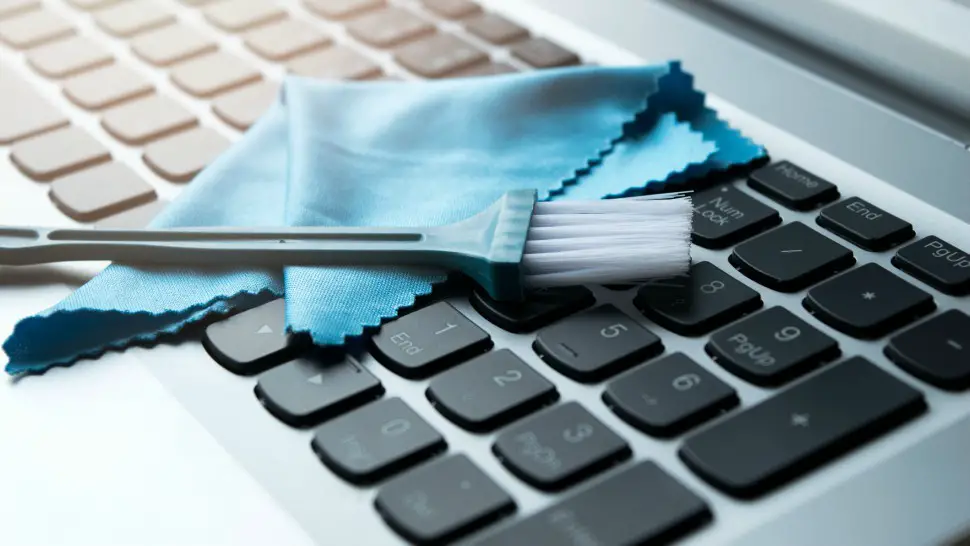 You can use cotton swabs or brushes for the tiny spaces between the keys. After properly cleaning the whole surface and paces between the keys, you will see the new keyboard. If your laptop is old, and you type a lot then you may not get rid of the shiny keys.
Clean the internals
If your laptop has eaten dust and that's why its vents like fan and ports have blocked, you should use canned air or compressed air duster to clean it off. These products are easily available via Amazon and other e-com websites.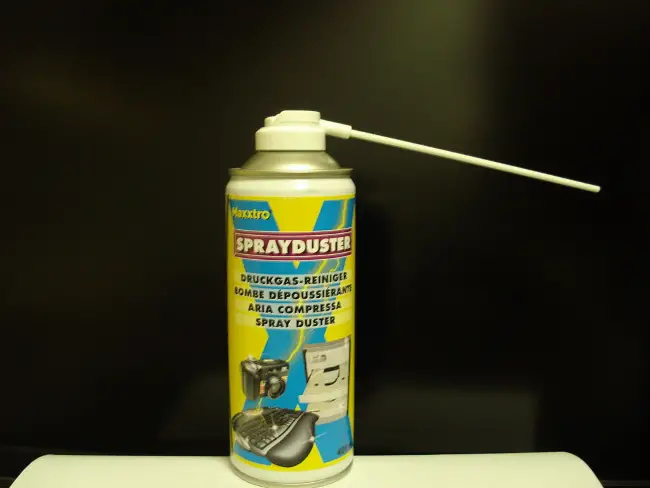 Just put the nozzle of the canned air on the vents and press it for some time. It will blow off the dust internally. Also, remember to not blow the air with too much pressure that it can damage any internal wiring.
Clean the screen
Next comes the screen which is slightly delicate from other parts so you need to take extra care while cleaning it. First of all, don't use paper towels to clean the screen as they leave dust as well as scratches. Don't either use alcohol, or any glass cleaner on the display.
The only thing you should use on the laptop screen is a microfiber cloth. These are able to wipe off fingerprints from it. Remember to use a microfiber cloth across the screen in a gentle horizontal or vertical motion. Otherwise, it may leave smudges or scratches.
You might also need some cleaning power, and a little bit of water if your screen is too nasty. Just pour the solution onto the cloth and wring it out before cleaning. Again use the same movements and gentle pressure, and dry it with a clean microfiber cloth.
Clean the exterior
Now that your laptop's internals including the keyboard and screen are all clean, it's time to take care of the outside. This is the easiest part of cleaning a laptop.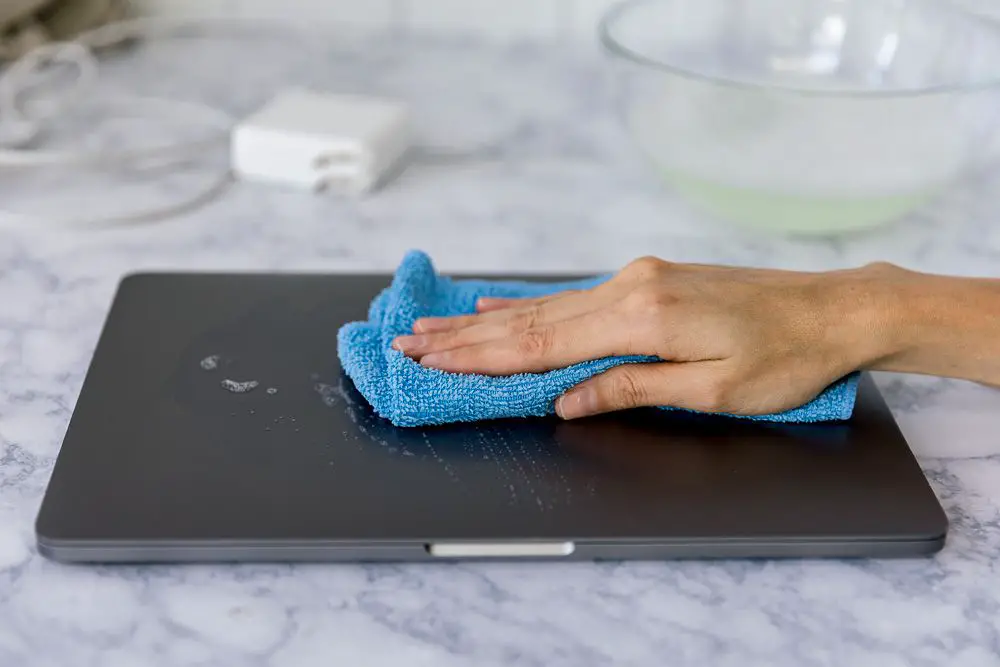 You can clean a laptop's outer surface with a range of solutions, but we again recommend using a microfiber cloth because paper towels may leave dust. Dip the cloth with an isopropyl alcohol solution, or soap water solution and gently wipe down the laptop's case.
What you shouldn't do
Anyway, laptop cleaning is not rocket science, but still, there are a few things that you should avoid doing while cleaning the computer or any other electronics: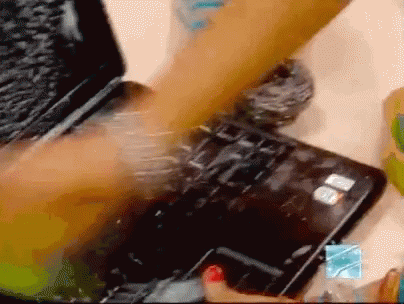 Do not use water or any other liquid solution directly on any part as it may damage the computer. Use it outside and that too through a cloth or paper towel.
If you see a product being sold as a screen cleaner, do not use it on your laptop's screen. Also, avoid using household cleaners with harsh chemicals on the screen. 
Do not put pressure on any part, especially on the screen while cleaning. Only press gently even while cleaning with a cloth. 
Do not make circular motions on the screen.
And that's it! These were a few tips to safely clean your laptop and computer at home. Now you can use a clean laptop clean from head to toe. Also, remember to clean your laptop on a regular basis to maintain its performance as well as appearance.
For more such tips, stay tuned!
You can also follow us for instant tech news at Google News or for tips and tricks, smartphones & gadgets reviews, join GadgetsToUse Telegram Group or for the latest review videos subscribe GadgetsToUse Youtube Channel.