Voice typing can be very convenient and time-saving, especially when working online. While it's easy to type using speech on the phone, the same can be tricky on a desktop browser. Things are even difficult for Microsoft Edge users as they don't get the voice typing feature in Google Docs like Google Chrome. However, there's still a workaround that can help you type using voice in Edge. Here's a quick guide on how you can use voice typing in Microsoft Edge on your Windows 10 PC.
Related | Use Vertical Tabs in Microsoft Edge 
Use Voice Typing in Microsoft Edge on Windows 10 PC

For starters, it's quite easy to type or search using voice in Edge, thanks to Windows 10's voice recognition feature. You can use it to dictate searches or type in Google Docs, Sheets, or any other website with your voice.
It involves a two-step process- enabling speech recognition in Settings and using the shortcut to enable voice typing in Edge. Moreover, you can also use Edge Canary if you prefer using the mouse and not keyboard shortcuts.
Step 1- Enable Online Speech Recognition
Open Settings on your Windows 10 computer.
Here, click on Privacy.
On the next screen, select Speech from the sidebar at the left.
Here, turn on the toggle for Online Speech Recognition if not already.
Step 2- Use Voice Typing in Microsoft Edge

Open Microsoft Edge on your PC.
Click on any text-field, be it the search bar or any website where you want to type.
Then, press Windows Key + H on your keyboard simultaneously.
Doing so will turn on voice recognition with a small toolbar at the top.
You can now speak to type on Microsoft Edge.
One can use the Mic button in the toolbar to start and stop voice recognition. You can use it to type using speech on any website like Google Docs, social media, blogs, or even simple search queries. All you need to do is use the Win + H shortcut wherever you want to toggle speech to text.
Didn't Work? Make sure you have updated your computer and turned on Online Speech Recognition. Also, try updating Edge to the latest version. To do so, click the three-dot menu at the top right, select Settings > About Microsoft Edge.
Additional Tips & Tricks for Voice Typing
1. Voice Typing in Edge Canary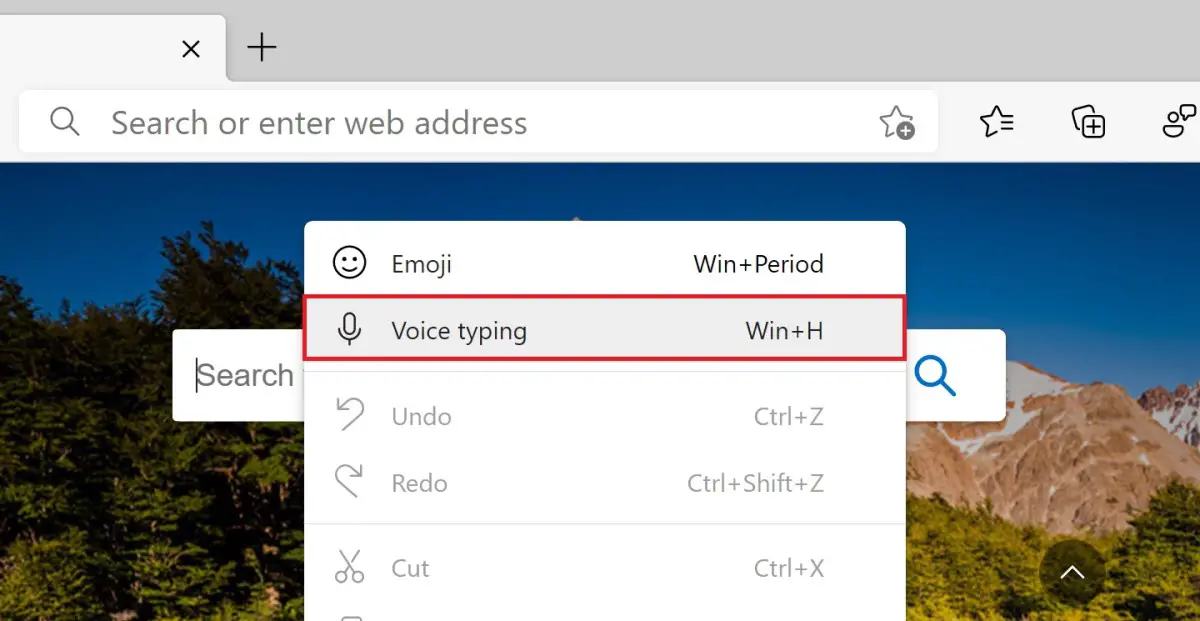 Edge Canary is one of the optional versions of Edge. It can be highly unstable but gets the latest features and is updated daily. The advantage with the Canary version is that you get a dedicated option to trigger voice recognition.
In the case of regular Edge, you have to use Win + H shortcut. However, in Edge Canary, you can right-click a text-field and tap Voice Typing to start typing with your speech. This option is not available in the regular Edge.
If you want the added convenience of not having to touch your keyboard, you can install Edge Canary using the steps given below. And don't worry, it will install as a separate browser without affecting the regular version.
Steps to Install Edge Canary on your Computer-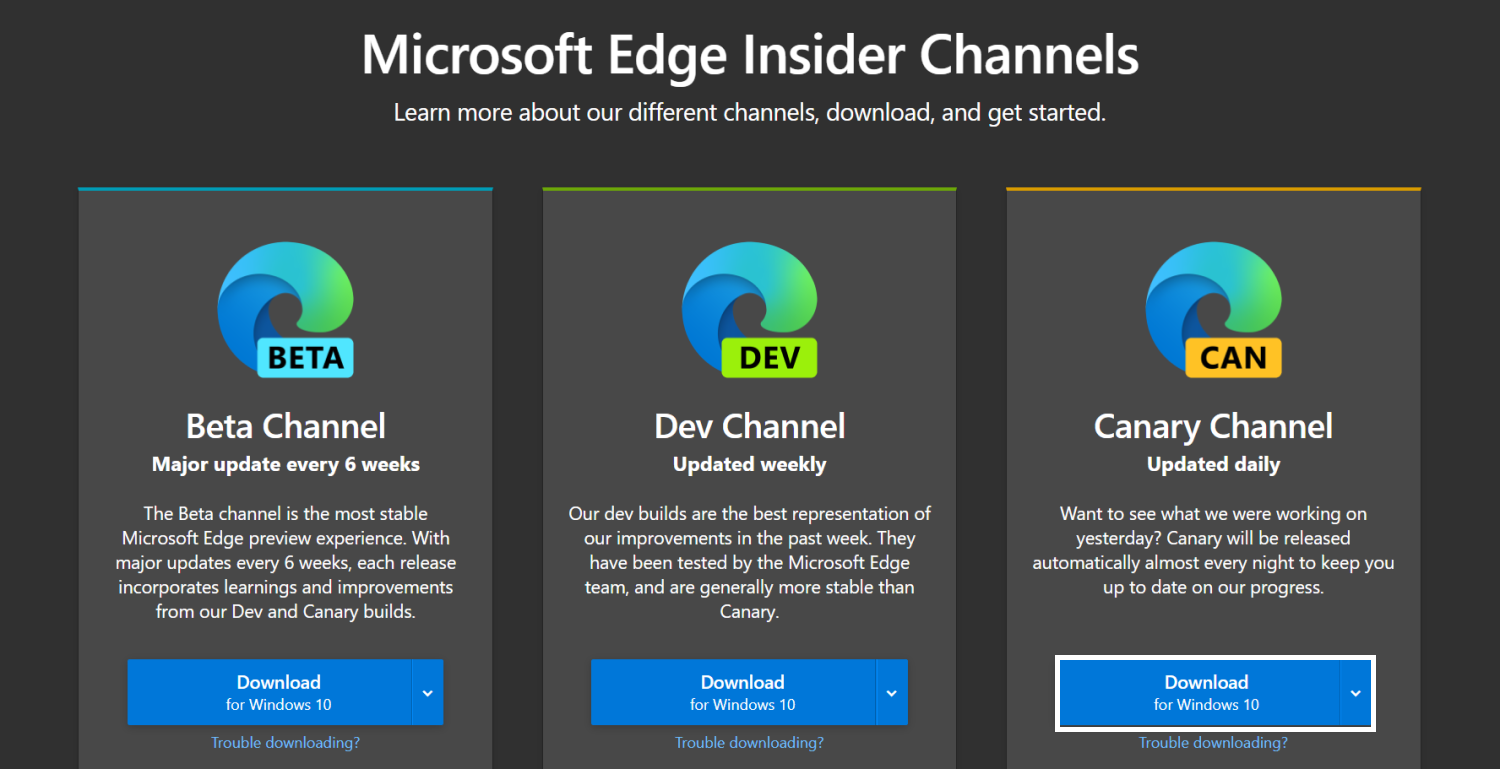 Visit this page on your browser.
Here, click on the Download button for Canary Channel.
Click on Accept & Download when prompted to agree to terms and conditions.
Open the downloaded setup file.
Please wait for it to download and install Edge Canary on your computer.
Open it, right-click on any tex-field, and select Voice Typing.
The option shall soon become available in the regular version of Microsoft Edge.
2. Use Voice Typing Outside Microsoft Edge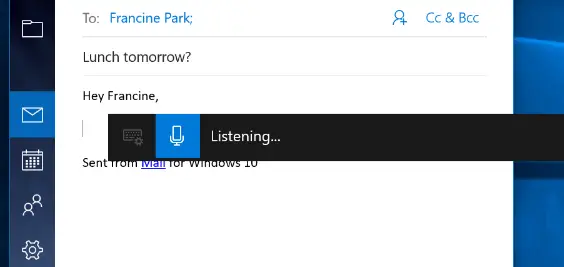 The Voice Typing shortcut works outside Edge too. You can use it on any app on your computer, be it Chrome, Microsoft Office, Hangouts, or anything, by pressing the Win + H key combination. Again, if it doesn't work, check whether Online Speech Recognition is enabled or not.
3. Use Dictation Commands
While dictating using your voice, you can use certain commands to perform actions like selecting the text, backspace, deleting the word, moving to the next paragraph, and more. You can also enter letters, numbers, punctuation, and symbols using simple commands.
Here are all the dictation commands to be used with Window's speech recognition in detail.
Wrapping Up
This was all about how you can use voice typing in Microsoft Edge. As evident, you don't need to install any third-party app or extension to type using your voice- you can use Windows 10's built-in speech recognition feature for the same. For me, it worked decently well, with occasional issues in recognizing words correctly. Do try it and let me know your experience in the comments below.
Also, read- How to Lock Microsoft Edge with Password Protection
You can also follow us for instant tech news at Google News or for tips and tricks, smartphones & gadgets reviews, join GadgetsToUse Telegram Group or for the latest review videos subscribe GadgetsToUse Youtube Channel.