Want to know how you can file a complaint against cybercrime in India? Well, you can easily do this by either dialing a helpline number or via online methods. In order to help citizens in such matters, the Government of India has launched a National Cyber Crime Reporting Portal where you can report cybercrime online. So today I am going to tell you about the ways to report cybercrime in India and everything else you should know.
Also, read | 5 Quick Easy Tips to Identify Fraud Emails in Your Inbox
Ways to Report Cyber Crime in India
You can report any type of cybercrime via two methods either via a phone call or online via the National Cyber Crime Reporting Portal. We are elaborating on both methods here and also telling some alternative ways. Read on!
1. Report cybercrime via phone call
First of all, you should report any type of cyber fraud by dialing the helpline number of the National Cyber Crime Reporting Portal which is 155260. You can call this number from 09:00 AM to 06:00 PM only.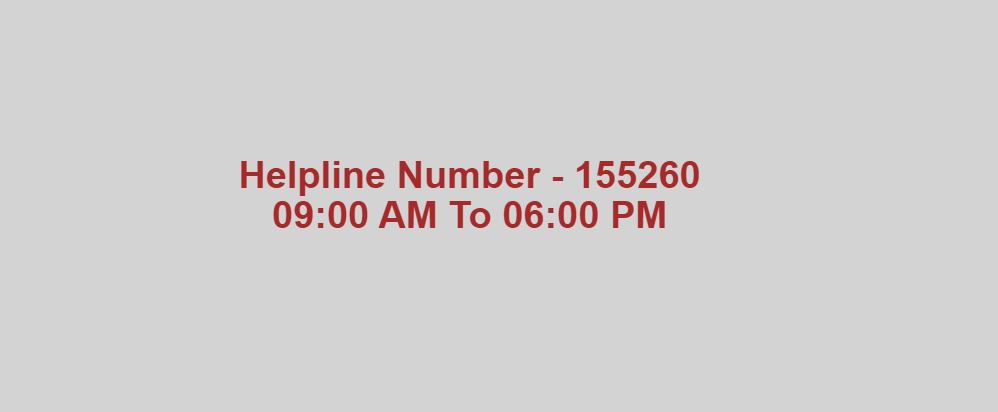 Also, you can contact your local area police in case of an emergency and also for reporting other crimes than cybercrimes. The national police helpline number is 100 and the national women's helpline number is 181.
2. Report cybercrime via the online portal
You can use the National Cyber Crime Reporting portal to report cyber crimes related to women & children and other online crimes like financial frauds, ransomware, etc.
Here's how you can file a complaint on the portal:
1. Go to the home page of the National Cyber Crime Reporting Portal and click on "File a complaint".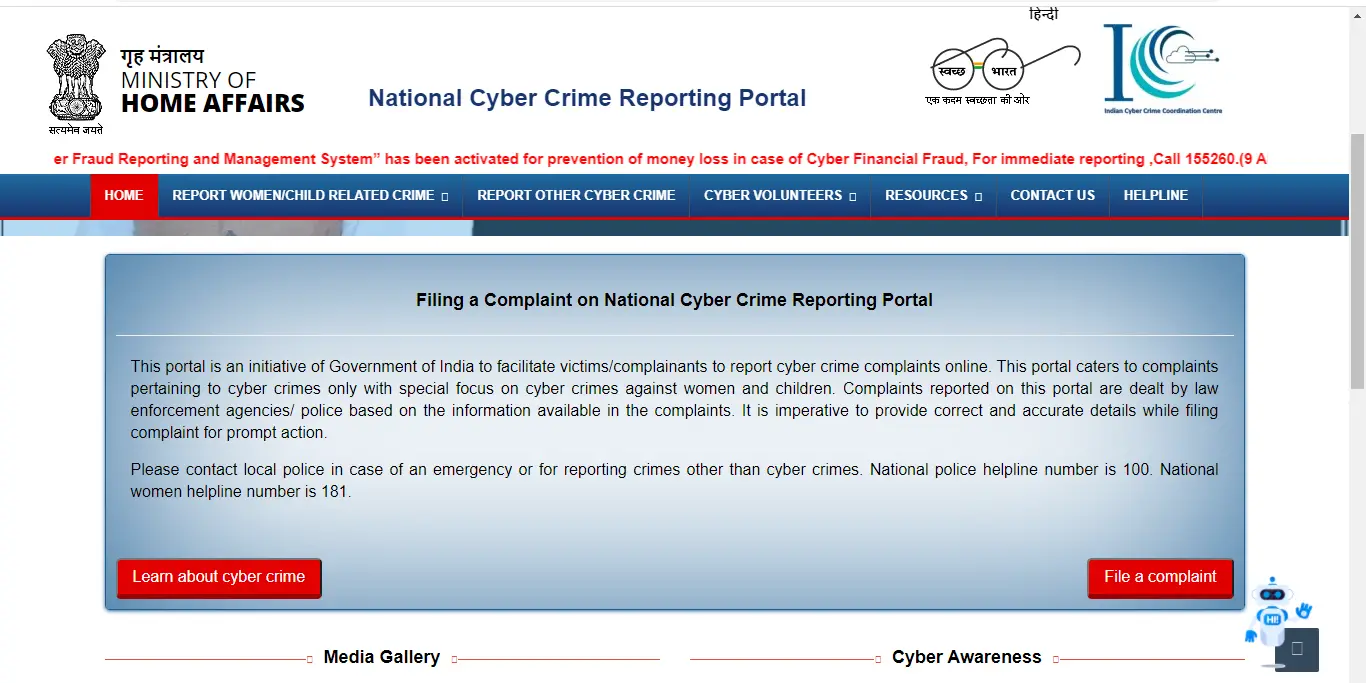 2. On the next page, click on Accept.
3. Then select the category of crime. There are two options: Report Crime related to Women/Child and Report Other Cybercrimes. If you want to report other than women and child-related crime, click on "Report Other Cyber Crime".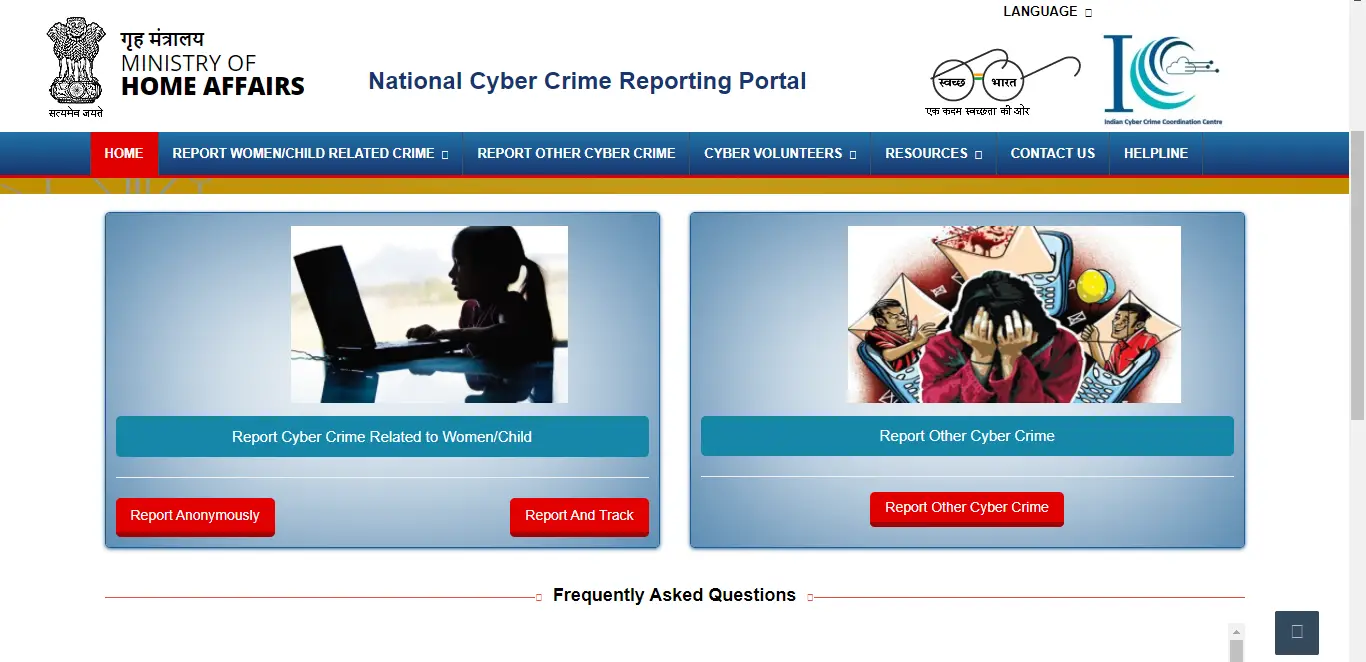 4. On the login page, click on "Click Here for New User" if you don't have an account on the portal. Otherwise, login using your user id.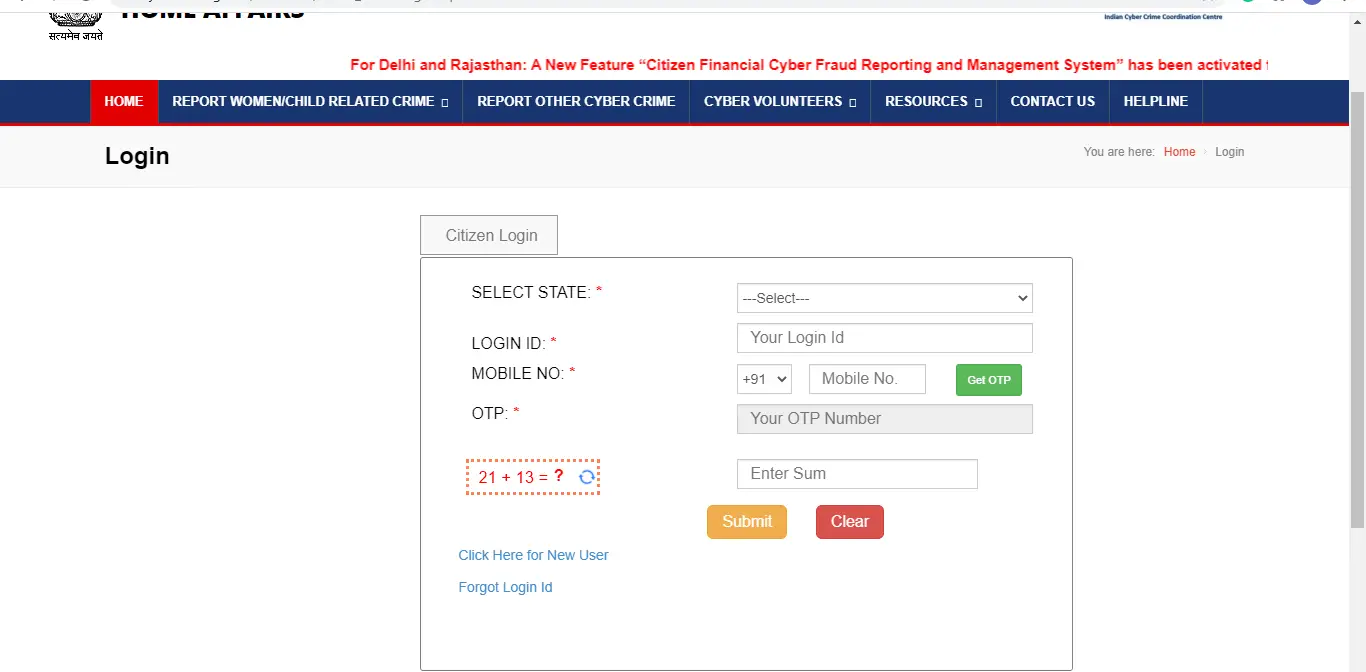 5. To register yourself, select your state, any login ID, mobile number, and click on Get OTP. Once you receive the OTP, enter it in the respective box, solve the sum and then click on Submit.
6. On the next page, update your Personal details including name, email ID, and address. Once you enter all the details, click on Next.
7. Then you can select the category of complaint, subcategory, date & time of the incident, place where the incident occurred, upload supporting evidence, and provide additional info about the incident in the given box. Click on Save as Draft & Next.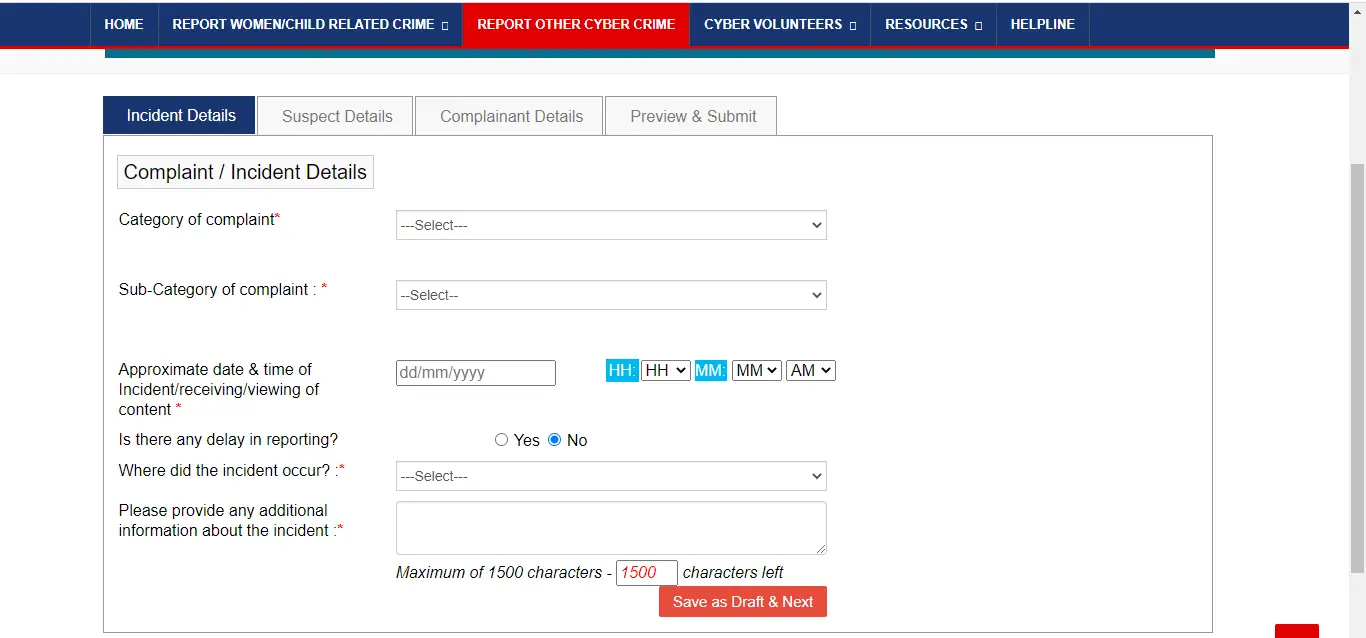 8. After that, enter suspect details if any. This includes his/her ID, email, address, photo if you have any. Click on Save as Draft & Next.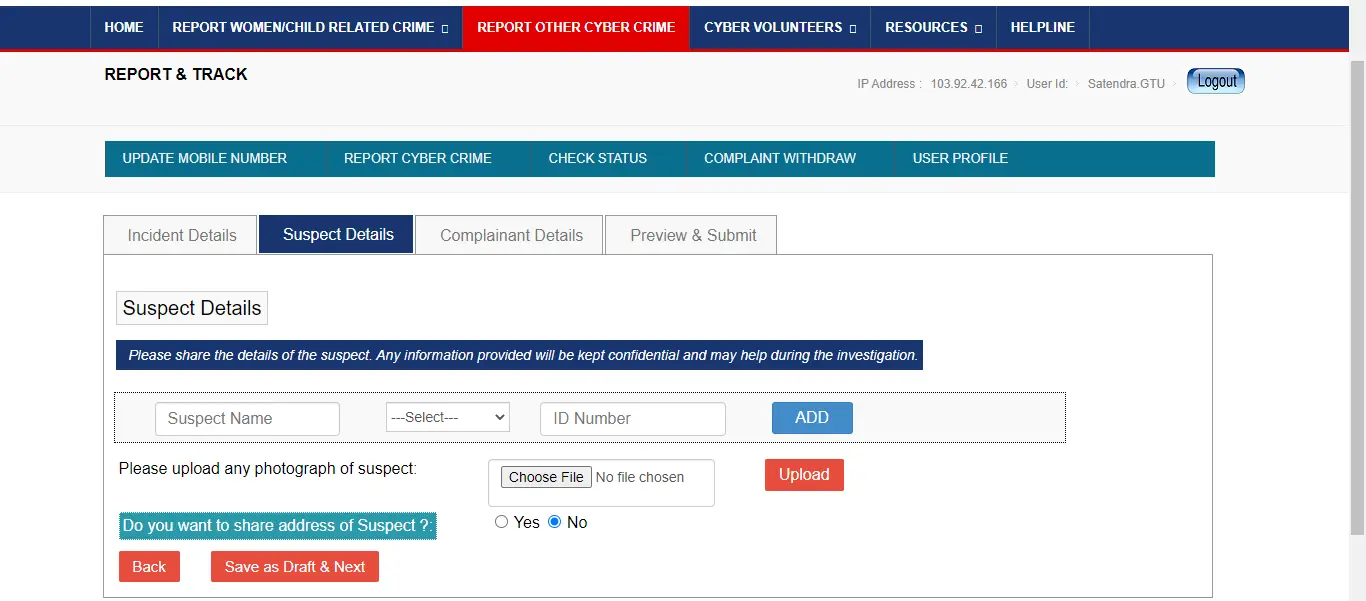 9. On the complaint details page, provide your or the victim's ID proof and also chose the relationship with the victim. Click on Save and Review.
10. Lastly, preview your complaint, click on "I Agree" and then click on "Confirm & Submit".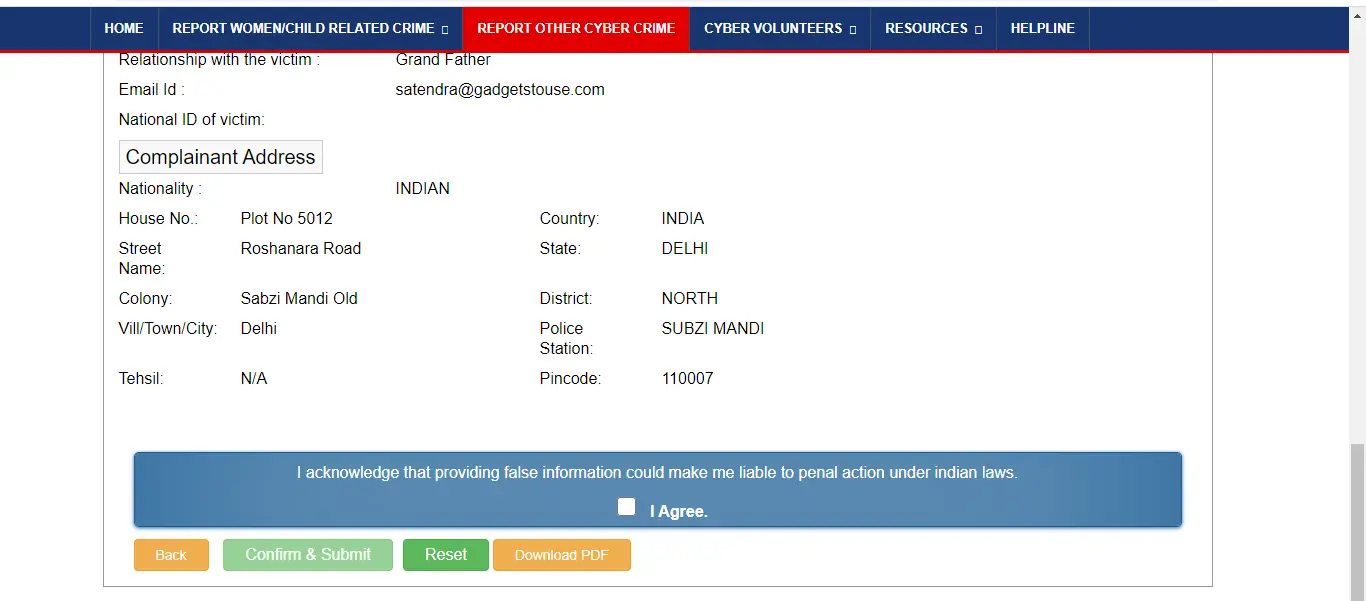 You can also download your complaint as a PDF file by clicking on the respective button.
Types of Evidence
You will be required to submit any type of evidence related to your complaint. The evidence may include any of the following:
"Credit card receipt
Bank statement
Envelope (if received a letter or item through mail or courier)
Brochure/Pamphlet
Online money transfer receipt
Copy of email
URL of webpage
Chat transcripts
Suspect mobile number screenshot
Videos & images
Any other document".
3. Alternative Ways to report cybercrime in India
You can also report cyber crime to the respective website on which the incident has happened. Most social media websites including Facebook, YouTube, Twitter, and Instagram have the option of reporting offensive content.
These social media platforms also take appropriate action based on the report as per their content policy.
Reporting Cyber Crime in India FAQs
Q. What are the types of cyber crime you can report on the online portal? 
A. You can report "Child Pornography, Child Sexual Abuse Material, or sexually explicit content such as Rape/Gang Rape content". You can also report other cybercrimes such as social media crimes, financial frauds, ransomware, hacking, cryptocurrency crimes, and cyber trafficking".
Q. What happens after someone reports a cyber crime complaint?
A. The complaints reported on the portal are handled by the concerned police authorities based on your selected state/UT.
Q. Can I check the status of my cybercrime complaint?
A.  You will receive an acknowledgment number that can be used to track the status of the complaint and you can do this by logging on to the portal and clicking "check status".
Q. What will happen if someone reports any false complaint? 
A. If someone reports a false complaint, he/she will be liable to penal action as per the Indian Penal Code.
Q. Can I withdraw my complaint from the cyber crime portal?
A. If you have filed a complaint under the "Report Women/Child Related Crime" section, it can NOT be withdrawn. Other complaints can be withdrawn before those are converted into FIR.
Q. Can I report a complaint without uploading any information?
A.  You will need to provide some evidence of the crime in order to file a complaint. The portal also recommends providing as much information as possible so that the authorities can take appropriate action.
Q. Can I report a cybercrime anonymously?
A. Yes, you can report crimes related to Women & children anonymously. You'll not be asked for any personal details but provide accurate information related to the complaint so that the police can take necessary action.
Q. Can I file a complaint if I am not a citizen of India but have been victimized online by an individual or company in India?
A. Yes, you can still file a complaint against that person or company on the portal by selecting appropriate options.
Q. Can I file a complaint if I am an Indian citizen but have been victimized online by a foreign national or company?
A. Yes, you can file a complaint against that cybercrime irrespective of where the crime occurred.
So this was all about reporting a cybercrime in India and if you still have any questions, reach out to us in the comments. For more such articles, stay tuned!
You can also follow us for instant tech news at Google News or for tips and tricks, smartphones & gadgets reviews, join GadgetsToUse Telegram Group or for the latest review videos subscribe GadgetsToUse Youtube Channel.