The internet is full of scammers who are trying to steal data, personal information, and even money from you. Each and every one of us get these spam emails in our inboxes that lure us to give away our details. Hence, it is very important to have the basic knowledge of identifying fraud emails so that you can keep yourself from falling prey to spam. Here are some tips to identify fraud emails.
Tips to Identify Fraud Emails in Your Inbox
Check Email ID
Whenever you get an email from an unknown source,  before proceeding, check for certain key points to see if the email ID is authentic. Check the email domain first, as no legitimate company will use a public email domain like '@gmail.com'.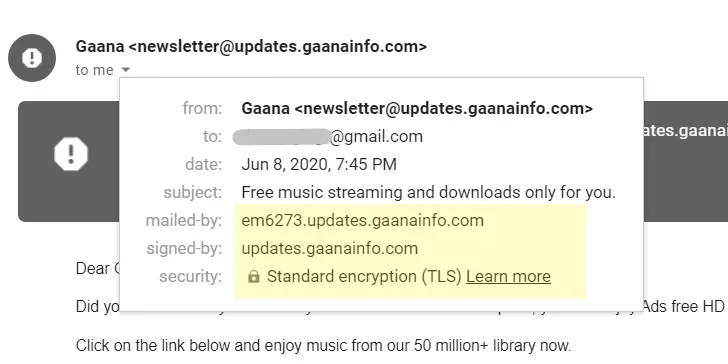 Also, mails from authentic companies always have mailed-by and signed-by options with the official domain, and encryption as well. Check this by clicking on the drop-down arrow below the sender's email address. You can unsubscribe from such emails instantly.
Check Links in Email
Spam emails often come with a link asking you to click on it, mainly to steal your data. So before clicking on any button or link in such an email, hover your mouse cursor over it. You will see a link after a few seconds in the left bottom corner of your screen.

You can check the real link address to which you are being redirected to. This will help you check if it's driving you to a malicious, fake link or a completely unrelated website.
Check Language in Body
One of the easiest tricks to identify a phishing email is simply by the poor language used in the subject line and even in the body of the message. Read the email and check for spelling and grammatical mistakes. If you see any such error or some words that are used in spams, it is most likely a fraud email.
Check Subject
Spammers mostly try to panic you with the email by writing an urgent subject line. If you receive an email with a subject line that reads 'your account has been suspended' or 'an unknown device login attempt' to your account, this could be the fraud. So, do not click in the links given in the email and talk to the customer care of the mentioned app.
Check Attachments
The fraud emails also often contain an attachment. Do not click on such attachments from unknown sources unless you're confident that it's from some authentic person. Mostly, the attachment could be a malicious file that could harm your computer.
This was all about how to identify fraud emails in your inbox. Hopefully, now you will now be able to verify such emails and keep yourself safe against scammers. In case of any query, reach us in the comments below!
Suggested How to Permanently Block Spam Email Messages