Google introduced Safe Browsing feature for Chrome back in May 2020 to offer its users a secure experience while surfing the internet. The feature is available for Chrome on Android as well as on PC. Google offers some levels of safe browsing which include standard, enhanced and no protection at all. In this article, we are going to explain these levels of safe browsing in Google Chrome and also tell you which is the best level for you.
Also, read | 2 Ways to Stop Chrome From Asking to 'Save password' on Websites
Levels of Safe Browsing in Google Chrome
1. Enhanced protection
This is the first level of safe browsing in Chrome and it is recommended to everyone because  of its features. It offers faster, proactive protection against dangerous websites, downloads, as well as extensions. This feature automatically warns you about password breaches and sends browsing data to Google in case of any data or password theft.
This feature has some added security features such as:
It can predict about dangerous events whole browsing and warns you before anything bad happens to you.
Apart from keeping you safe on Chrome, it can also be used to improve your security in other Google apps when you are signed in with your Google account.
This feature links the security breach data to your Google Account, so when you're signed in, it can protect you across Google apps.
With this feature, Chrome also warns you if your passwords are exposed in an online data breach.
Chrome sends URLs to Google Safe Browsing alongside a small sample of pages, downloads, extension activity, and system info to help discover new threats and thus improves security for you as well as everyone else on the internet.
Also, read | How to Generate Secure Passwords Using Chrome
2. Standard protection
The standard protection protects you against dangerous  websites, downloads, and extensions. It also has some extra security features: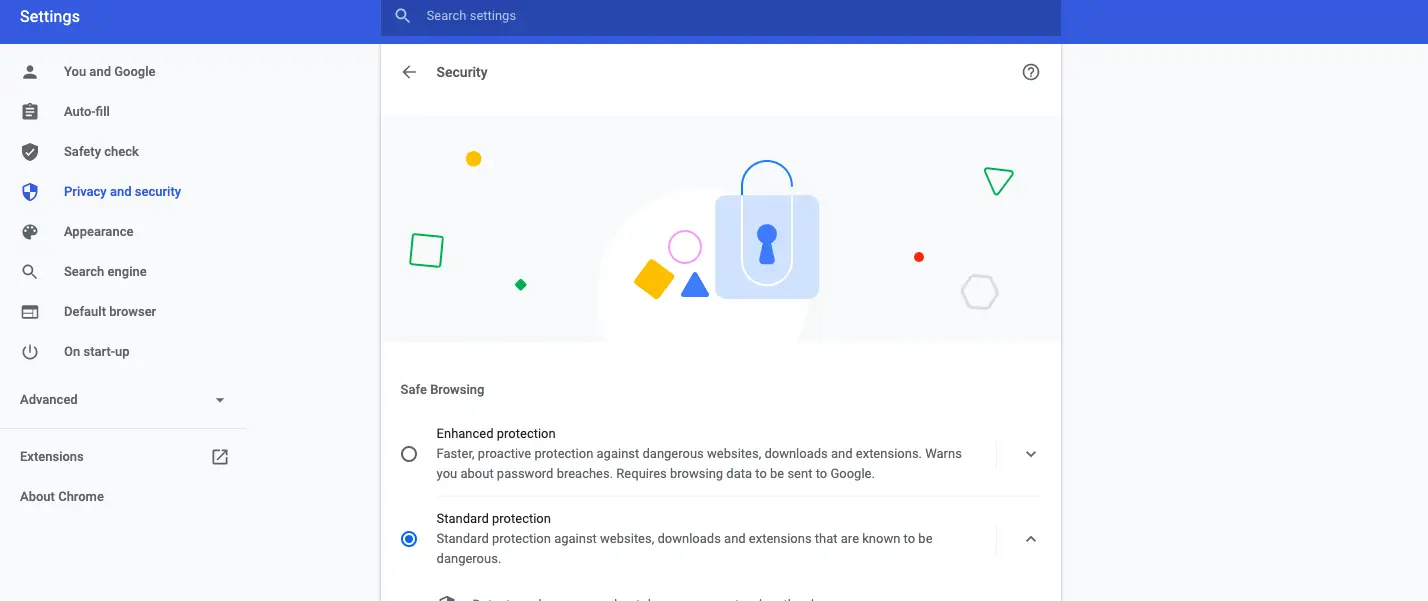 This feature will detect and warn you about dangerous online events whenever they happen to you.
With this enabled, Google checks URLs with a list of unsafe websites stored in Chrome.
Also, when a site tries to steal your password, or when you download some harmful file, Chrome will send these URLs, including bits of that page content, to Google.
In this level, you will need to enable the following feature by yourself and these are not enabled by default.
a) Help improve security on the web for everyone– When you enable this toggle, Chrome sends URLs of some pages that you visit, system info and some page content to Google, that helps in discovering new threats and protecting everyone else on the internet.
b) Warn you if passwords are exposed in a data breach– You will also need to enable this feature in this setting so that Chrome checks your passwords regularly. By enabling this, your passwords and usernames are also encrypted, so anyone including Google can't read them.
3. No protection (not recommended)
This level of safe browsing is not recommended to anyone. You'll still get Safe Browsing protection when you choose "no protection" such as in Google services including Gmail and Google Search, but Google will not protect you against dangerous or phishing websites, downloads as well as extensions.
Which Safe Browsing Level is Best For You?
As you can see in the last option, there will be no protection at all. This means Chrome will not warn you when you visit a dangerous website and you will be more prone to malware and other attacks. In the second option, you'll get standard protection but you'll have to enable two security features which is still not the best level of safety.
So, we recommend you to use the first one i.e. Enhanced protection. This will protect you against all dangerous websites, downloads, as well as extensions. This will also warn you about password breaches and send data to Google automatically.
This was all about safe browsing in Google Chrome. Now you also know which level is the best for you to stay safe online. If you like the article, please share the word with others. For more such tips and tricks, stay tuned!
You can also follow us for instant tech news at Google News or for tips and tricks, smartphones & gadgets reviews, join GadgetsToUse Telegram Group or for the latest review videos subscribe GadgetsToUse Youtube Channel.