Most Facebook users upload most of their information on the platform including personal photos and other data such as birthdays, workplace info, etc. If you are also one of those users, it's better you should keep your information private and safe. If you do not already know this, we remind you that Facebook lets you control what other users see from your profile. So, today I am going to explain these easy ways to make Facebook posts private be seen by selected people.
Also, read | 32 Types of User Data Facebook Collects; This is How You Can See Yours
Make Facebook Posts Private
Facebook has an audience selector tool that lets you set different sharing options for each type of content you post. This article explains how to change your privacy settings to make your Facebook posts and other data be seen by selected people.
1. Change the Facebook Posts Privacy Settings
First of all, you should change your default posts sharing option. When you change this, only your friends or select people will be able to see your posts.
To change Facebook Privacy Settings on PC:
1. Click on the drop-down arrow in the upper-right corner of the screen on your Facebook.

2. Select Settings & privacy from the drop-down menu.
3. Now, click on Settings and then select Privacy in the left pane.
4. After that, you will see Who can see your future posts option and if it says Public, click on Edit next to it and then choose Friends from the drop-down.
Or you can also choose "Friends except" and add people from your friend list who can't see your posts. Moreover, you can even choose "Specific friends" to show your posts to selected people.
5. Click on Close to save the changes.
Further, you can also change the audience for your previous Facebook posts from here. Look for the Limit the audience for posts you've shared with friends of friends or the Public option and select Limit Past Posts, then click Limit Past Posts again.
You can also change the setting for who can see what pages, lists you follow.
On this same page, you will see the "Who can see the people, Pages, and lists you follow?" option. Make sure to set as much privacy as possible for this setting and choose the option "Only me".
2. Make Your Facebook Friends List Private
Facebook makes your friend list Public by default. So everyone can see your friends whether they are on your list or not. You can also change this from the settings:
1. Go to the Privacy screen just like the steps mentioned above.
2. Now, look for Who can see your friends list and select Edit next to it.

3. Choose either Friends or Only me to keep your Facebook friends list private.
Alternatively, go to your Facebook profile page and click on the Friends tab. Select the three-dot menu in the upper-right corner and choose Edit Privacy. Then change the audience next to Friends List and Following.
Select the X icon to save the changes.
3. Change Your Facebook Profile Privacy Settings
Next, you can change other privacy settings on your Facebook profile. These settings are public by default, which means these can be viewed by anyone.
We recommend you review the privacy settings for each item in your profile. Here's how to change it:
1. Click on your Name at the top of the Facebook homepage and go to your profile.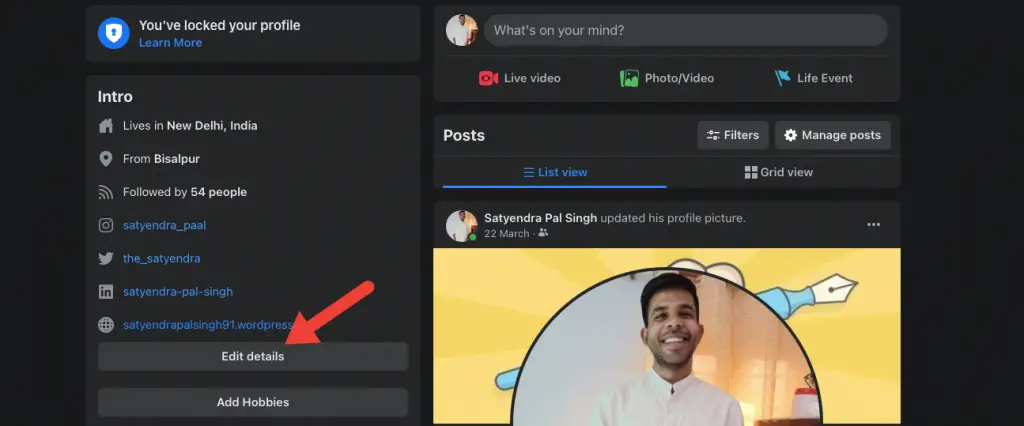 2. Select Edit Details on the left side of the profile page and Customize Your Intro box will open.
3. Now, turn off the toggle next to the info that you want to make private. You can do this for your education, your current city, your hometown, and other personal info on Facebook.
Click on Save from the bottom to save these changes.
4. Hide Your Facebook Profile from Search Engines
Search engines can easily crawl your social profiles so you should also block your Facebook profile from appearing in search engines. Here's how:
1. Click on the drop-down arrow in the upper-right corner on any screen to go to Settings & Privacy from the drop-down menu and then choose Settings.

2. Now, select Privacy from the left pane and look for Do you want search engines outside of Facebook to link to your profile.
3. After that, select Edit next to it and clear the check box that allows search engines to track you from Facebook.
Control Privacy Settings on Facebook App
The above-mentioned steps for changing various privacy settings were for Facebook on PC. Since many people use Facebook on phone so it can be easily be done on the mobile app, too. Follow these steps:
1. Launch the Facebook app on your smartphone or tablet and tap on the three-line menu at the top right of the screen and scroll down until you see the "Settings & Privacy".
2. Tap on that and then select "Settings" and scroll down until you see "Privacy."
3. When you tap on Privacy, choose "Privacy Settings," and then tap on the "Check a few important settings" option.
4. Here, the first box is "Who can see what you share", tap on this and then on "Continue" to change various settings.
Here you can change who can see your personal data including Phone number, email, birthday, hometown, current city, work, education, etc.
You can also change settings of "Who can see your friends list on your profile?" and "Who can see the people, Pages, and lists you follow?" We again recommend this to change from "Friends" or "Everyone" to "Only me."
Once you have made these changes, tap on Next to save all the changes.
This is how you can make your Facebook posts private and be seen by selected people. Always keep in mind that instead of sharing your personal info with everyone, you should keep this to your friends or to yourself only.
You can also follow us for instant tech news at Google News or for tips and tricks, smartphones & gadgets reviews, join GadgetsToUse Telegram Group or for the latest review videos subscribe GadgetsToUse Youtube Channel.