For a lot of websites, using photos and images might be an important feature for the site. The inclusion of photos and images on a website can make the site appear more professional and transform a dull page into an exciting and eye-catching one.
If you happen to be on the lookout for professional-looking photos and images that might help boost the appearance of your website, there are a lot of options to choose from throughout the internet. For example, if you have just finished creating your new website through a website builder, that website builder may also have a stock photo section for you to browse through, although this will depend on the website builder being used.
So, the following article will look at four of the best sites to find professional photos and images for your website.
Also, read | How To Find Free To Use Images in Google Search
Best Sites to Find Professional Photos
1. Adobe Stock
Adobe Stock may be one of the best sites to find professional photos for your website. The Adobe Stock website offers customers millions of stock images on hand for licensing, and there is a decent chance that their services could have the right kind of professional-looking photos for your website given the breadth of their available images.

Whether your website is to show off a creative project, showcase a product or service, or perhaps even a blog about a specific hobby, the Adobe Stock website gives customers an amazing number of choices. The Adobe Stock website also offers customers 'free stock assets', as well as a wide variety of purchasable licenses for high-quality photos, videos, audio files, and even premium images. Adobe Stock is perhaps one of the most diverse providers.
2. Getty Images
Much like Adobe Stock, Getty Images is perhaps one of the most popular options for finding professional-looking photos for your website. Getty Images has a fantastic range of photos and images available for licensing, however, the prices featured on their website can be rather high, although the premium service and their high-quality images reflect this pricing.

Depending on your budget, their website also allows potential customers to sign-up to specific plans, each with different packages and prices, or the chance to purchase a license for individual photos, meaning their service can potentially cater to almost any wallet size.
3. Bigstock
Much like the previous websites mentioned here, Bigstock is another good site to find professional photos for your budding website. Bigstock may offer potential customers a more financially friendly price and service for their images and photos, providing flexible sign-ups and pricing fit for any budget. It also offers a free trial for one week.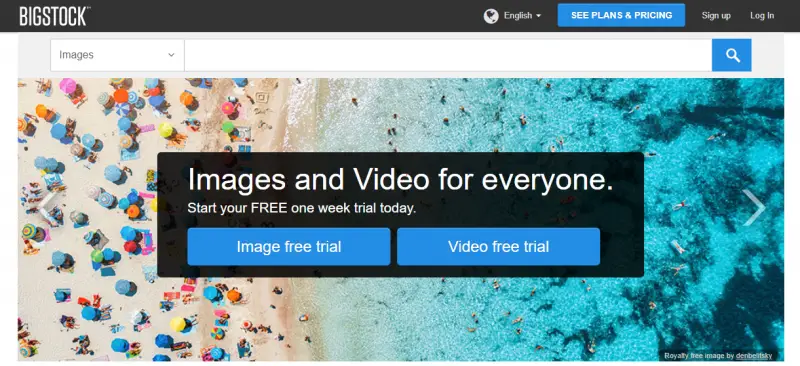 This can be a relatively decent provider to find professional photos for your website if you are currently running on a tight budget but still want to have access to good-quality images. The Bigstock sign-up plans helpfully list out which ones are the most popular amongst other customers, which plan is of best value, and the plan that offers the most flexibility.
4. Shutterstock
Shuttershock is yet another reputable provider offering potential customers a wide variety of stock photos at reasonable prices. It is a great resource for finding professional-looking images that can help give your website the boosts it has been looking for. The Shutterstock website houses millions of images, and much like other sites it also provides a helpful and sophisticated search bar that can help you find the right image for your website. You can take Shutterstock's free trial for one month and find that.

Shutterstock boasts a simple and easy download feature where you can find and purchase a license and download it to store locally on your device. It can be a good place to find licensed photos and images at reasonable prices and is another site that you might find some professional photos for your website without having to commit a lot of your funds.
License and Copyright for Photos
You should keep these things in mind when looking for photos and images to use on your website:
Make sure you have the correct license and beware of copyright, so please exercise caution and check the type of license and copyright before use.

Most websites offering their photos, images, and other types of multimedia for purchase, download, and use should usually come with some sort of license agreement and license information.

A license agreement should detail the terms and conditions of use for photos, images, and potentially other multimedia, and will also usually detail situations where content cannot be used and is strictly prohibited from being used.
Some websites offering photos, images, and other types of multimedia might come with an easy-to-follow FAQ section for customers that can explain their own licensing and copyright policies, and these customer support sections should be quite easy to find and navigate.
This is not a comprehensive explanation of copyright and licensing, so you should conduct your own research before making a purchase.
So these were some of the best sites to find professional photos for your website. Tell us in the comments if you have any other options in mind. For more such lists, stay tuned!
You can also follow us for instant tech news at Google News or for tips and tricks, smartphones & gadgets reviews, join GadgetsToUse Telegram Group, or for the latest review videos subscribe GadgetsToUse Youtube Channel.