Our Future is going to be electrifying, no I really mean it. The conversion of gas (fuel) vehicles has begun, as the number of electric vehicles is increasing, and consumers are also slowly accepting them as their vehicle of choice. If you are one such person and is looking to buy an electric scooter from Ather or has already bought one, today I will be covering the tips and tricks about Ather 450X, so that you don't need to scratch your head, instead enjoy the smooth your ride on your electric scooter.
Ather 450X Tips and Tricks
Google Maps on Ather 450X
Ather 450X comes with an inbuilt SIM card to connect to Google Maps so that you need not take your phone out of your pocket. Instead, there's a 7 inch LCD display right in front of you to guide you to your destination.
Open the maps from the top right
Click on the search bar at the top right, enter the destination, start your ride
You can also find the best route to your saved home or office location, with a single tap
Note: In order to jump back to the home screen, you need to click the Reverse/Drive button on the bottom left.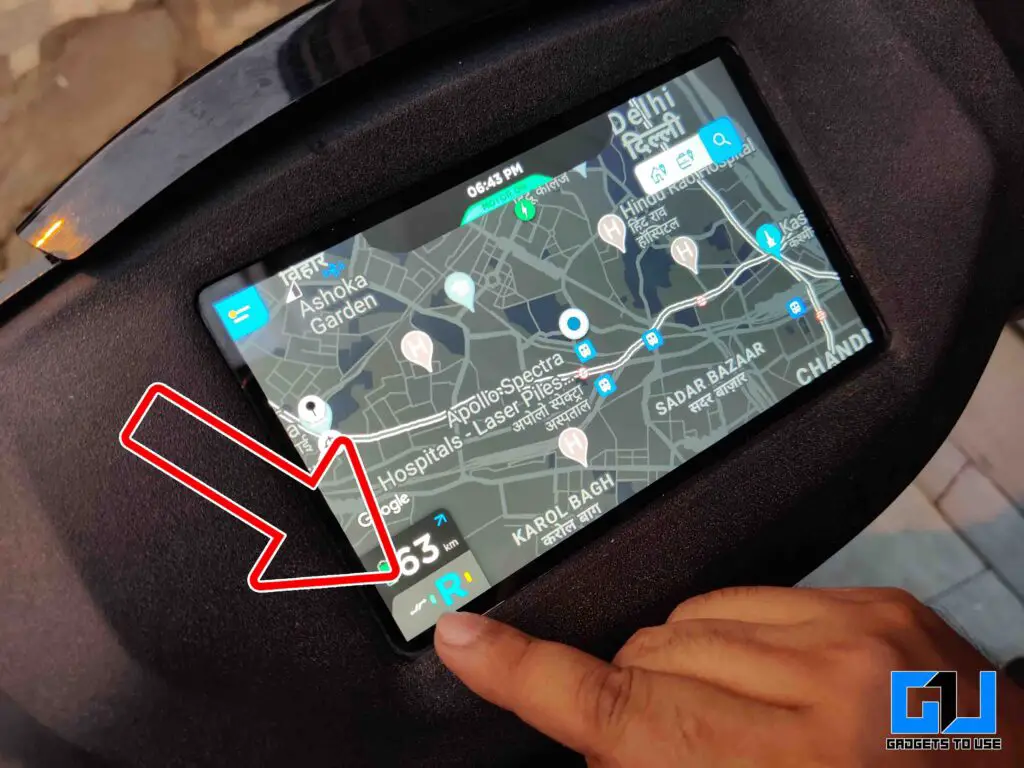 Switch Between Modes on Ather 450X
Usually, Electric Vehicles are considered less powerful, but Ather changed that perception with their 450X which comes with a 6 kiloWatt Permanent Magnet Synchronous (PMS) Motor, that can go 0-40KM/h in just 3.3 seconds… Yeah! You read it right, in just 3.3 seconds. Also, it can touch the top speed to 80km/h, giving a hit on its range. That's why we have 4 different modes to choose either max performance or best range.
Move the toggle to adjust the mode on the Ather 450X
Eco Mode comes with upto 85Km/charge range
Ride mode comes with upto 70Km/charge range
Sports mode comes with upto 60Km/charge range
WARP mode comes with upto 50km/charge range
Reverse Mode on Ather 450X
Ather 450X comes with an easy feature to tackle tight parking spots, rough terrains, with reverse mode. It can be activated by following these steps:
Turn off Indicator or Reverse Sound on Ather 450X
Ather 450X does make a loud sound when you enable reverse mode, to alert you and prevent any injuries. But in case you want to turn that off, it can be done as follows:
Open the menu from the top left
Now click on Settings
You can then click on the respective button to turn off the indicator and/or parking assist sound
Dark Mode on Ather 450X
If you like it to be on the dark side (I mean on the theme front), then you can enable the Dark mode to please your eyes, especially after sunset. It can be enabled as follows:
Open the menu from the top left
Click on Settings
Tap on the dark mode to enable it
You can also adjust the brightness to the level which suits you the best
Incognito Mode on Ather 450X
Ather do collect some data to get a log about your EV, to improve, tweak, and fine-tune it via Software updates over time, this includes your location history as well. If you don't want to share it with Ather, you can enable the Incognito Mode:
Receive Calls and Control Music on Ather 450X
EV's have become smart just like our smartphones, allowing you to take calls, and control music right from the display in front of you. Ather 450X does the same, as you can pair your Ather to your smartphone using Bluetooth:
Open the menu from the top left
Click on Bluetooth, and enable it
Pair your phone to Ather 450X, and sign into the Ather App on your Phone
Errors on Ather 450X
If anything is wrong with your Ather and needs your attention to fix it, then it can be found as follow:
Digital Certificates of Ather 450X
As Ather is a smart EV, it allows carrying your certificates along, so that you don't forget them back at your home. It can be accessed whenever required as follows:
Open the menu from the top left
Go to Documents, and choose the document you want to see
Click on the full-screen button, to open it, and double-tap to zoom
Hard Reset Ather 450X
If you ever face any issues with your Ather 450, like the touch screen doesn't respond or anything like that, then you can fix it yourself with a simple and quick hard reset, by the following method:
Hold Both Brakes (Front + Rear) and Press the start button, all at the same time
So these were a few tips and tricks about the Ather 450X that you should know, in order to make the most out of it and enjoy a smooth and safe ride. Do note in as per Indian rules and regulations you need to have a Driving license to ride the Ather 450X as the motor is above 250w and the top speed is more than 25km/h. Also, always wear a helmet with a mask every time you take your Ather out for a ride.
You can also follow us for instant tech news at Google News or for tips and tricks, smartphones & gadgets reviews, join GadgetsToUse Telegram Group or for the latest review videos subscribe GadgetsToUse Youtube Channel.