Apple has finally unveiled the iPhone 13 models alongside iPad 9th generation, iPad Mini, and Watch Series 7. The new Apple products are now available for pre-order and will go on sale very soon in India. Now, if you're looking forward to the iPhone 13 or the new iPad models, you must know the cheapest ways to buy them. In this article, let's see how you can avail the best discount on iPhone 13 series, iPad 9th gen, and iPad Mini to get them as cheap as possible in India.
Related | Apple iPhone 13 and iPhone 13 Mini: Reasons to Buy & Not to Buy
Get Best Discount on iPhone 13, iPad Mini, or iPad 9th Gen in India
Apple imports the new iPhones and iPads in India. This results in heavy import duty, which, when combined with the taxes, currency depreciation, and other factors, makes up for a significant price difference.
Hence, the cheapest way to buy the new iPhone 13 models or 2021 iPad and iPad Mini would be to purchase them from the USA, Hong Kong, UAE, Malaysia, etc. However, if you want to buy in India itself, there are several discounts and offers available.
Below, we've mentioned different ways to get the best discount while purchasing iPhone 13 models, iPad 9th gen, or iPad Mini in India to get them for the lowest possible price.
1. HDFC Cashback Offer on iPhone 13-Series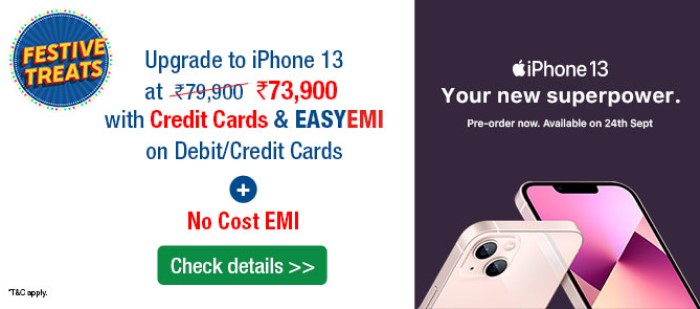 HDFC Bank has announced huge discounts and offers on the newly launched iPhone 13 series. To enjoy the cashback offer, you'll need to have an HDFC Credit or Debit Card.
If you purchase an iPhone 13 or iPhone 13 Mini using an HDFC credit card, you'll be eligible for a cashback of ₹6,000. On the other hand, buyers of iPhone 13 Pro and iPhone 13 Pro Max can avail the cashback of ₹5,000.
Besides Credit Card full swipe, the cashback offer is also available with EasyEMI on HDFC debit and credit cards, with the choice to opt for a six-month No cost EMI.
The offer is valid only till September 23. You can avail it at Apple premium reseller, and Apple authorized reseller stores, alongside Amazon, Flipkart, and Tata Cliq.
On Amazon, you can get a flat ₹6000 instant discount on HDFC Bank Debit Card and Credit Card transactions provided the minimum purchase price of ₹80,910.
2. Student Discount on iPad & iPad Mini
If you're a university student (or parents buying for them), teacher, or staff, you can benefit from Apple's education pricing. Using the student discount, you can buy iPad models at a lower price. Unfortunately, iPhones are not eligible for the offer.
Under educational pricing, you can buy the new iPad 9th generation's 64GB and 256GB models with Wifi at ₹29,046 and ₹42,880, respectively. The Wifi + Cellular models, on the other hand, are available at ₹40,326 and ₹54,340.
Similarly, the iPad Mini can be purchased for ₹44,555 and ₹57,855, respectively, for 64GB and 256GB models with Wifi. The Wifi + Cellular variants are priced at ₹57,855 and ₹71,155 for 64GB and 256GB storage, respectively.
Apple Education Pricing for New iPad and iPad Mini
| iPad Model | Regular Price | Education Price | Discount |
| --- | --- | --- | --- |
| iPad (64GB, Wifi Only) | ₹30,900 | ₹29,046 | ₹1,854 |
| iPad (256GB, Wifi Only) | ₹44,900 | ₹42,880 | ₹2,020 |
| iPad (64GB, Wifi + Cellular) | ₹42,900 | ₹40,326 | ₹2,574 |
| iPad (256GB, Wifi + Cellular) | ₹56,900 | ₹54,340 | ₹2,560 |
| iPad Mini (64GB, Wifi Only) | ₹46,900 | ₹44,555 | ₹2,345 |
| iPad Mini (256GB, Wifi Only) | ₹60,900 | ₹57,855 | ₹3,045 |
| iPad Mini (64GB, Wifi + Celullar) | ₹60,900 | ₹57,855 | ₹3,045 |
| iPad Mini (256GB, Wifi + Celullar) | ₹74,900 | ₹71,155 | ₹3,745 |
Here's our detailed guide on how to avail of Apple Student Discount in India.
Will You Get Free AirPods with iPad 9th Gen or iPad Mini?
Lately, Apple announced its University Offer 2021, wherein eligible people could get free AirPods with select Mac and iPad purchases alongside an additional 20% off AppleCare+. The offer is still running and will end on September 27.
Unfortunately, the free AirPods offer is applicable only on iPad Air and iPad Pro models. Hence, you cannot get them with the new iPad or iPad Mini.
3. Trade-in Offer for iPhones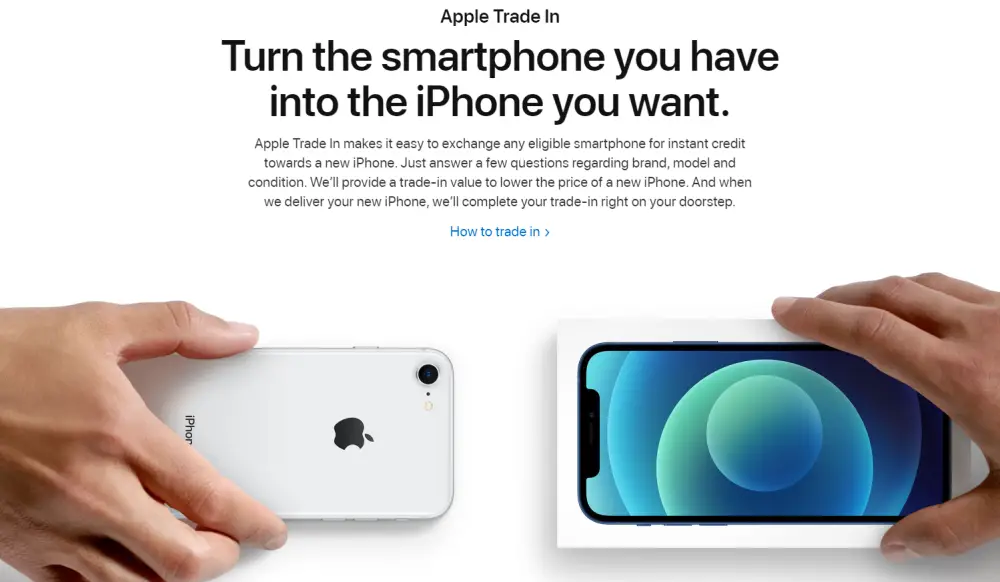 If you have an old iPhone or certain Samsung and OnePlus phones, you can trade them in for an iPhone 13, iPhone 13 Mini, iPhone 13 Pro/ Pro Max (or any other iPhone) on Apple Online Store or Apple Premium Resellers.
While ordering the iPhone, you need to select your old phone and answer some questions about it. Apple will analyze and quote you a trade-in value for the device. You can then choose whether to give it in exchange for a discount on your new iPhone purchase.
Note that you may not always get the expected value of your phone in Apple's trade-in program, even if it's an iPhone. To get a better price, you can try selling your device in the local marketplace or online platforms like Cashify and OLX.
4. Claim GST on iPhone 13, iPad, or iPad Mini
While buying iPhone or iPad (or any other smartphone), you pay 18% as GST, which goes to the government. If you're a business are buying it for business purposes, you can claim back the GST and take the input tax credit of the tax component.
Let's understand it with an example. Say you buy an iPhone 13 by paying ₹79,900. Here, the total price = iPhone's net value + 18% GST. The GST paid is around ₹12,200.
Now, say your business's GST liability for the same month is ₹90,000. So, the net amount you have to pay as GST is ₹90,000- ₹12,200= ₹77800. The tax you paid on the iPhone or iPad will be adjusted with your GST liability for the month.
This way, you can buy the new iPhone 13 or iPad and iPad Mini for cheap in India. However, to claim GST, you need to keep the following things in mind:
Your business should have a valid GST registration number.
You must have some GST liability for the month you're making the purchase. You cannot just get the tax back as cash in your bank- it can only be adjusted against an existing liability.
The purchase should be for business use. You cannot claim GST input for purchases made for personal use.
The invoice of your iPhone or iPad purchase should contain your business's name and GST registration number. Keep this in mind while making the purchase. You'll have to ask the seller to issue you a tax invoice.
You cannot claim GST with a regular invoice.
5. 5% Cashback on Flipkart Axis Bank Credit Card
The new iPhone 13 models, including iPhone 13, iPhone 13 Mini, iPhone 13 Pro, and Pro Max, are available for pre-order on Flipkart. If you have a Flipkart Axis Bank credit card, you can earn 5% cashback on purchasing the models.
For instance, the iPhone 13 is listed at ₹89,900 for the 256GB model. If you purchase it using a Flipkart Axis Bank credit card, you'll be eligible for a ₹4,495 discount which will be credited to the card as cashback in the next billing cycle.
However, the HDFC credit cards will fetch you a higher discount on iPhone 13. So, use this method only when the HDFC offer is not available. You can further check the Apple reseller stores in your area for bank offers.
6. Vodafone Idea Offer for iPhone 13
The telecom giant Vodafone Idea (VI) has come out with special offers for iPhone 13 series. Under the same, it is offering cashback to Redx postpaid plan users who order the new iPhone 13 Pro Max, iPhone 13 Pro, iPhone 13, or iPhone 13 Mini via Vodafone's official website.
If you order the iPhone 13 via Vodafone Idea:
You will get the product on the first day of its availability in India.
A special 100% cashback on the first-month rental for REDX 1099, REDX Family 1699, and REDX 2999 Postpaid plan users.
Double data benefit on ₹299 recharge with weekend rollover benefit for Prepaid customers and more.
Users can pre-order the devices from VI mobile app, myvi.com, or reach out to over 270 retail stores across the country. The delivery of the iPhone 13 models will commence starting September 25, 2021.
Wrapping Up
These were easy ways to get the best discount on purchasing the iPhone 13 series or the new iPad and iPad Mini. I hope this helps you buy the latest Apple products at the lowest possible price in India. Anyways, do let me know if you've anything to add in the comments below. Stay tuned for more such articles.
You can also follow us for instant tech news at Google News or for tips and tricks, smartphones & gadgets reviews, join GadgetsToUse Telegram Group or for the latest review videos subscribe GadgetsToUse Youtube Channel.