If you are an iPhone user, you might already know about its "Find My" app that helps you locate lost or stolen devices. With the iOS 15 update, Apple has added more usability to this app. Now, you can find a device even if it's completely offline. So, in case your iPhone has run out of battery and you misplaced it, you still have chances to find it. In this tutorial, I will walk you through the steps of locating a stolen iPhone when it's turned off.
Also, read | Govt will now help you track your lost phone; Here's how
Locate Stolen iPhone When Turned Off
Earlier, the app could locate a device only when it is turned on or find the location where it was last online. But with the new features, Apple will be adding the functionality of tracking lost devices even when they're offline.
Supported Devices
First lets, find out which iPhones support these latest iOS 15 features. You can locate an iPhone even if it's offline if you are using one of the following models:
All models of the iPhone 13 series, and
iPhone 12 series and iPhone 11 series.
The best way to find out if the feature is supported on your iPhone is when you shut down your phone, you'll see "iPhone Findable After Power Off" under the power slider.
Enable the Find My iPhone Feature
If you're new to the iPhone or have never set up the Find My app yet, here's how you start:
1. Go to "Settings" and tap on your name at the top.
2. Now tap on "Find My" from the next menu and on the next page tap "Find My iPhone".
3. Now, enable the toggle next to "Find My iPhone".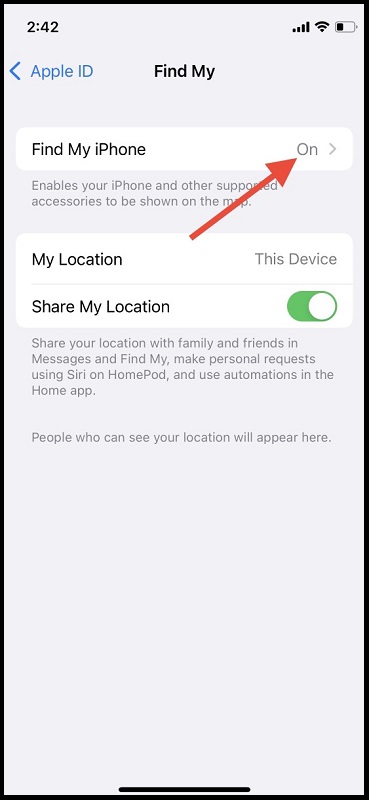 4. With iOS 15, you'll see two more options here-
i) Find My network- To let you find your iPhone even if it's offline, and
ii) Send Last Location- To send the last location of your iPhone to your Apple account when the battery is critical.
5. Tap the toggles next to these options to turn them on.
And that's all for Find My features in iOS 15. After enabling these, someday, unfortunately, if you can't find your iPhone, you can track it either by using the Find My app or iCloud.
How to locate your lost iPhone?
If you have misplaced your iPhone or it is stolen, you can track it using iCloud on the web or using the Find My app on another iPhone.
On Web
1. Open any browser and go to iCloud.com/find.
2. Sign in using the same Apple ID that is logged in on your iPhone.
3. Once you're logged in, you'll see a green dot on the map which is showing the location of your iPhone.

4. Click on the green dot and then on the "i" button.

5. Now, you'll see three options to do on your iPhone- Play Sound, Lost Mode, and Erase It.

i) When you tap on Play Sound, it will play a sound on your phone so you can locate it. This feature is for when you misplace your phone in a nearby area.
ii) If you choose Lost Mode, you can enter a phone number where you can be called and drop a message too. Once you do this, the phone will be locked until its passcode is entered.
iii) Lastly, if you want to remote erase your iPhone's data, choose the third option.
On App
If you want to use the Find My app to locate your phone, you can use someone else's iPhone to do so.
1. Open Find My App on your friend's iPhone.
2. Now tap on Me and then scroll up to see the "Help a friend" option.
3. Tap on it and it will open the iCloud login page on Safari, enter your Apple ID and password.
That's it. After this, all the features are the same as the web along with map directions to get to the last location of your iPhone.
Needless to say, if your iPhone is running on iOS 15 and eligible for the latest feature, you can be able to track it even if it's switched off.
Alternate method: Use Tracker Device
If you want to foolproof your iPhone with some things so that it cannot be stolen or lost, there are a few more ways to do so. Well, you can use an iPhone case that comes with a tracking device built-in.
These cases come with a built-in GPS chip and you either have an app for tracking or a controller. So when your iPhone is separated from you, either the controller will let you know or you can later track it using the respective app.
So this is how you can locate your stolen or lost iPhone even when it's turned off or offline due to network. We know losing your iPhone is really very unpleasant experience, so
You can also follow us for instant tech news at Google News or for tips and tricks, smartphones & gadgets reviews, join GadgetsToUse Telegram Group, or for the latest review videos subscribe GadgetsToUse Youtube Channel.