You might have often come across a 'No Sim Card Detected' error while using your Android device. This error is annoyingly frustrating as it is devoid the user of making any phone calls or messages. In this article, you will learn 5 ways to fix when a sim card is not detected on your Android device. Additionally, you can learn to fix fast charging issues with your Android smartphone.
Also, Read | 7 Amazing Charging Animations you should install on your Android Smartphone
Ways to Fix Sim Card Not Detected in Android
Restart Your Smartphone
If you have just bought a new sim card and replaced it with the old one present in your device, then your device needs a restart to properly identify and configure the new sim. Follow these simple steps to restart your Android smartphone.
Long press the power button on your device till you see the Power Menu.
Tap on Reboot/Restart to restart your device.
Clean and Adjust the Sim Card
Sometimes the dirt and dust that gets accumulated on the golden side of the sim card or an improper sim placement inside the holder cause problem for the device in reading the sim card. To ensure that the sim works properly inside the holder, remove the sim tray and clean the golden side of the sim card. Additionally, ensure that the sim is properly placed inside the holder without any gaps.
Remove/Re-insert Sim and Test your Sim Card Holder
If your device is showing the no sim card error, it is possible that the existing sim card or the sim cardholder present in your device might have been damaged. You can check if your sim card is working or not by following these simple steps.
Open the Sim Card Holder tray using the sim ejector pin.
Remove your existing sim card.
Grab another sim card and place it in the sim card holder tray.
Close the tray and check if the sim is working on your phone.
If the other sim works, it could indicate a problem with your previous sim card.
If the other sim card doesn't work, it could mean a problem with your sim cardholder.
Toggle Airplane/Flight Mode
Sometimes a problem or issue with the network cell reception can cause the no sim card error. To fix this, Airplane/flight mode can prove really helpful. Toggling it on will block and disable all broadcasts and cell reception. Follow these steps to do the same.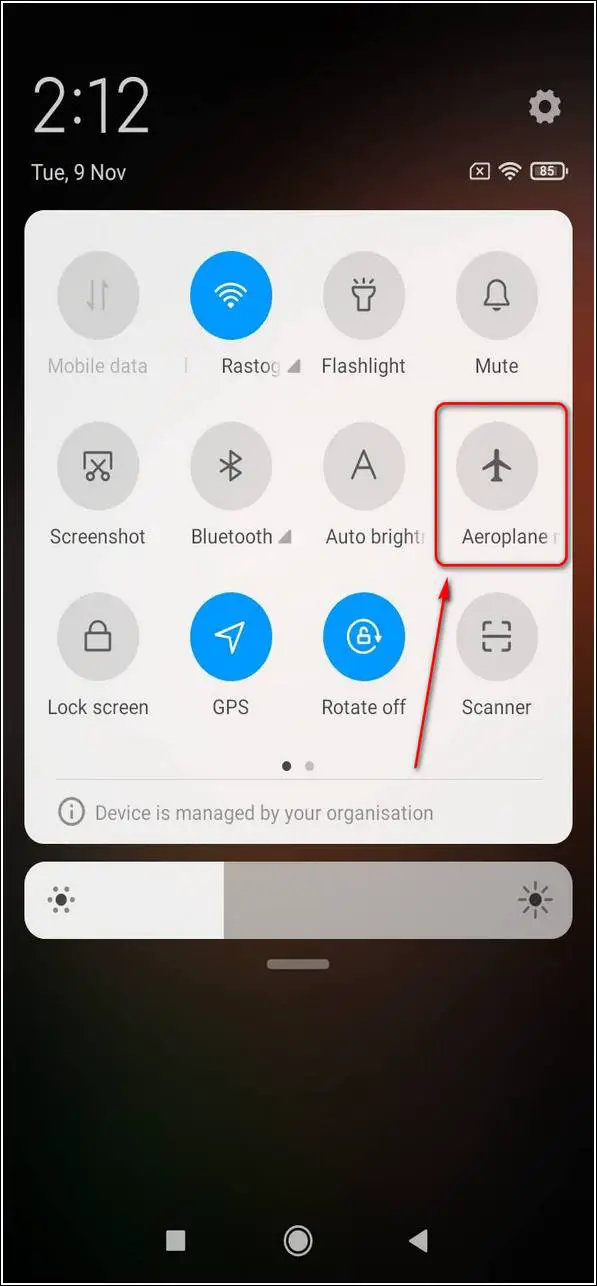 Open the Notification Panel on your device by swiping down from the top.
Expand the Notification Tray and Turn on Aeroplane/Airplane Mode.
Tap again to Turn off the Aeroplane/Airplane Mode to allow the device to enable and reconfigure cell network reception.
Reset Your Network Settings
An existing bug or accumulated cache files can cause the network on your device to behave abnormally. This may sometimes result in producing the no sim card error on your smartphone. To fix this you need to reset your network settings manually. Follow these simple steps to do the same.
Open the Settings app on your Android smartphone.
In the search bar, type Reset and tap on Search.
Locate Reset Mobile Networks from the search results and open it.
Tap on Reset Settings to remove all the existing network configurations and set the new one.
Wrapping Up
In this article, you have learned 5 ways to troubleshoot and fix the "No SIM card detected" error on your Android smartphone. If this article has helped you in fixing this issue, then hit the Like button and share this with your friends. Also, stay tuned for more troubleshooting guides like this one.
You can also follow us for instant tech news at Google News or for tips and tricks, smartphones & gadgets reviews, join GadgetsToUse Telegram Group, or for the latest review videos subscribe GadgetsToUse Youtube Channel.