Emails are one of the best and most secure ways of communication. They're no doubt easy and fast to use especially with regards to accessing the information contained in the emails. For these and other reasons, a large number of individuals around the world prefer to interact and save information via email. They're secure, fast, and easily accessible, so why not? 
But what if there was a more secure and even easier way of saving emails? A way that saves time, space and even improves security. Professionals have discovered that distributing classified information over the internet using portable document format (PDF) files is a safe and convenient method to package emails together. 
Also, read | 3 Best Ways to Protect PDF File with Password for Free
Save emails as PDF has never been easier thanks to a cloudHQ extension. It has reduced time and enhanced security. Now, it has a compact PDF option that removes any unnecessary information such as email signatures and page breaks, making data less bulky. Over 100,000 people use the extension every day, and it's trusted by firms like Twitter, Uber, and Airbnb, to name a few.
Introducing Compact PDFs Feature
When cloudHQ first introduced saving emails to PDF, it was a great step in advancement but they didn't stop there. Their aim to provide more ease and simplicity to convert Gmail to PDF led them to what they have now – an announcement of a new feature and an improvement that they just couldn't wait to share – Compact PDFs.
Compact PDF, like the name implies, reduces redundant information in the content of the PDF. This includes email signatures, page breaks, and other, repetitive information that isn't necessary to the email thread or its attachments.
As you can see (as shown on the right), a document saved in compact PDF format has all extraneous material deleted, such as signatures, quotations, page breaks, and redundant information, leaving only the essential information. Given the volume of emails that individuals get daily, a compact version of emails to PDF was proven to be necessary.
Benefits of Compact PDFs
One of the most obvious advantages is that a compact PDF file is smaller in file size. If you're not sure why you should use a compact PDF, or how it will help you, consider the following three benefits of compact PDF documents for email backup.
Removal of extraneous material
Longer PDFs with thousands of pages don't require more information to lengthen them. Not only is it inconvenient to read repetitive material, but the person that reads or prints your PDF may charge you per page (like legal offices). Keep it short and sweet, and keep your billable hours minimal.
Compact for More Efficient Collaboration
PDFs are easier to read and understand, allowing coworkers to communicate more rapidly. Bloated files, on the other hand, take longer to upload, slow down as they travel through the network, and take even longer to open and read by the receiver.
Take care of the environment
Long PDFs should never be printed in any context. Remove page breaks and email signatures to help save trees and be ecologically conscious. This is especially true for lengthy court documentation.
How to Save Emails as PDF Using the Compact PDF Feature
I have some legal emails to file. So, I'll use this as an example to show you how to save them all to one PDF rather than printing them one by one.
I'll start by selecting the emails I wish to convert to PDF and then click the 'Save to' option

Then select 'Save to PDF' from the drop-down menu
The "Convert Gmail to PDF" options box will appear, where you'll notice the 'Compact Format' feature. Select it.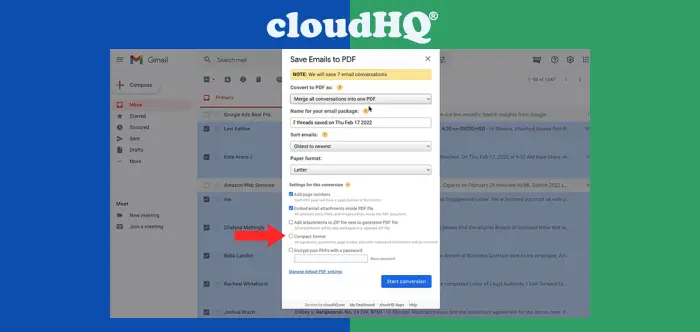 Click 'Start conversion.'
You can expect to view a clean, uncluttered version of your document with only the most important information after the conversion is complete.
I save paper, time, and money by using the compact format feature, which offers me only the information I need. Now, I have all I need for my legal paperwork. The document without the new compact functionality is on the right, while the compact version is on the left.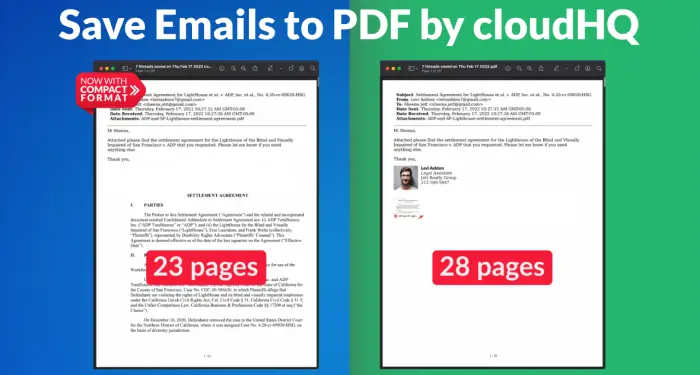 On average, you may anticipate trimming a document's length by 20%, which is a significant difference, especially if your docs are lengthy.
Usage of this feature
cloudHQ's extension to convert Gmail to PDF is easy and suitable for anyone such as: 
Real estate agents
All emails related to sales transactions should be bundled together and uploaded to SkySlope or another CRM.
Attorneys and other legal professionals
Save, arrange, and sort all of your emails into a single PDF document, which you can then submit to the court. Using Clio or similar CRM, combine many emails into a single PDF.
Team leaders and project managers
Keep track of all project emails by archiving them as a single PDF. Set up an automatic save of Gmail labels containing project-related emails to your Google Shared Drive for team collaboration.
Entrepreneurs
Gather all of your email receipts and sort them by date, customer, and so on. All correspondence with your clients should be archived by independent contractors.
Literally anyone
Anyone who needs to save and archive essential email messages can use cloudHQ's extension.
So this is how you can save all your important emails as PDFs using this easy-to-use feature. For more such tips and tricks, stay tuned!
You can also follow us for instant tech news at Google News or for tips and tricks, smartphones & gadgets reviews, join GadgetsToUse Telegram Group or for the latest review videos subscribe GadgetsToUse Youtube Channel.