Sometimes seeing some of your old posts on social media, you might wish you had not posted all that. We always have the option to delete, but not every social media site offers the ability to see and delete old posts. For example, you can delete bulk posts on Facebook, but is it possible on Twitter? I don't think there's such a feature on Twitter. So let's know in this guide, how you can delete your old tweets.
Also, read | 2 Ways to Remove Followers On Twitter Without Blocking Them
Ways to Delete Old Tweets, Retweets
When you want to delete a tweet, you can do so by manually going to that tweet. But in case of multiple and old tweets, you will have to use some third-party services. Read on to know more about these websites and extensions to delete tweets.
Delete Tweets Manually
You can your Tweets from Twitter at any time using the in-built delete feature. Here's how:
1. Go to your Profile page on the Twitter web or mobile app.
2. Now find the Tweet that you want to delete.
3. Click the three dots icon next to it.
4. And then select Delete from the menu that appears.
This way you can delete any tweet from your profile. However, this method is very time-consuming and it's not that easy to locate all old tweets and then delete them one by one. So, you can go ahead with the following third-party services.
Use TweetDelete
TweetDelete is a free online tool that lets you delete old tweets in bulk. You can even set a time and text filter to delete all your old tweets. Here's how to use the TweetDelete tool:
1. Open TweetDelete.net in any browser of your choice.
2. Now click on "Sign in with Twitter".
3. If you are already signed in on Twitter on the same browser, it will automatically fetch your profile details.
4. Click on Authorize app and it will take you to the page where you can delete tweets.
5. Here, select the age of tweets from one week to one year. You can also enter a specific word or phrase so that a tweet containing these words can be deleted.
7. In the end, click on Delete My Tweets.

Pros
Has options to delete tweets older than one week to one year.
Can delete tweets containing a specific word or phrase.
Can automatically delete tweets every few days.
Cons
Can only delete up to 3,200 of your recent tweets.
TweetDeleter
TweetDeleter is another online tool that lets you search and delete tweets. Interestingly, you can also unlike old tweets on it. You can search old tweets by keywords, date, media, and more. Here's how to use this:
1. Go to tweetdeleter.com on your browser and click Sign in with Twitter.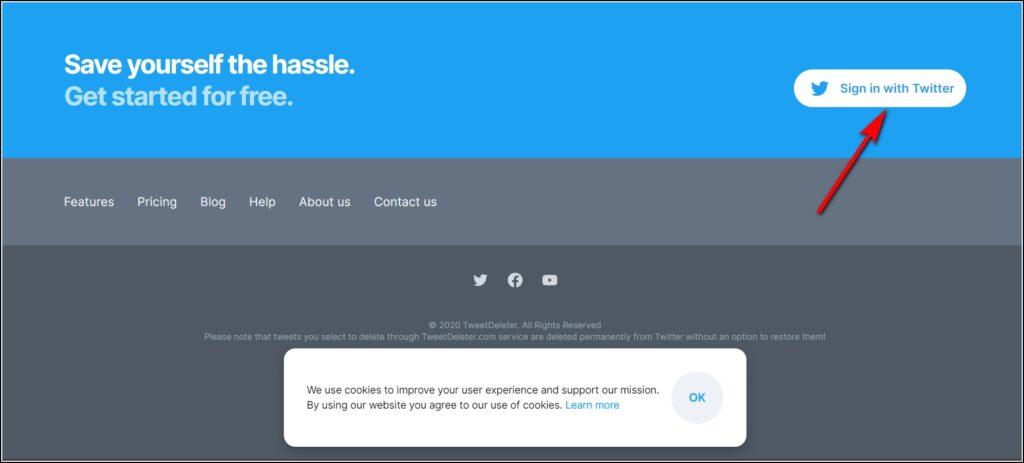 2. If you're already signed in on the same browser, your details will be fetched, else enter your login details.
3. Next, click on Authorize App.
4. Now, you'll be directed to the dashboard where you can see all your tweets and retweets.
5. Here, you can search for old tweets and delete them by clicking on the boxes before them.
You can also set up automatic deletes as well as see the deleted tweets you saved on the app.
Pros
Can auto delete tweets and likes
Find tweets and likes by keyword, date, and media
Keep deleted tweets
Cons
The free version lets you delete only up to five tweets and search only five free keywords per month.
TwitWipe
TwitWipe is another such app that lets you delete all the tweets, retweets, likes, replies, media, and mentions from your Twitter account. Your followers as well as the tweets in which you were mentioned by others will remain as they are.
Here's how to use this service to delete tweets:
1. Go to twitwipe.com on your PC.
2. Now click on Get Started and then on Sign in using Twitter.

3. Lastly, click on the TwitWipe This Account button to delete all tweets on your account.
Pros
Can delete all tweets from an account at once.
Can also delete retweets, likes, and media.
Cons
Ads in the UI.
Can't see your deleted tweets.
Bonus Tip: Remove Others Retweets From Your Feed
When you follow someone on Twitter, you can also see what they retweet. But if you are not interested in seeing other accounts' retweets, you can use this "Remove Retweets" extension that can filter retweets from your timeline.
1. Visit Chrome Web Store and install the Remove Retweets extension.
2. Once it is added to Chrome, open your Twitter account and then tap on the little jigsaw puzzle icon to enable the extension.
3. When the Remove Retweets extension opens, enter the username of that Twitter account whose retweets you want to remove.
That's it. You can add multiple usernames in the extension and it will filter out all the retweets from their accounts.
Related | How to Use Twitter 'Leave This Conversation' Feature to Untag Yourself
Frequently Asked Questions
What happens when you delete a tweet?
When you delete a Tweet from your account, it is removed from everywhere on Twitter be it your account, the timeline of your followers, or Twitter search results. Moreover, the contents and all other data about that tweet will also not be available on Twitter.
What happens to the retweets of the deleted tweets?
When a tweet is deleted, all of its retweets will also be removed from Twitter. However, if someone has retweeted it with a comment, their Tweets will not be deleted.
So this was all about how you can remove old tweets, likes, and retweets from your profile. For more such guides, stay tuned and follow us on Twitter @gadgetstouse.
You can also follow us for instant tech news at Google News or for tips .

and tricks, smartphones & gadgets reviews, join GadgetsToUse Telegram Group, or for the latest review videos subscribe GadgetsToUse Youtube Channel.