Recording phone calls on an iPhone might sound like an easy task, but it is not what it looks like. Apple doesn't provide a native phone call recording feature as it is considered illegal in most parts of the world. However, if you are curious to try it out, we have several working tricks to record iPhone calls.
Also, Read | How to Access, Listen, and Delete Google Call Recording on Android
Why is it so complex to record calls on iPhone?
In most parts of the world, recording a phone call without the other party's consent is illegal. Since Apple covers the entire distribution of iOS apps for their devices, unlike Android, they won't allow apps that provide illegal functionalities such as recording a call. This is the primary reason behind the absence of a call recording feature natively on iPhones.
The methods listed in this guide adhere completely to Apple's privacy policy and offer effective workarounds to record calls after taking consent from the concerned party.
Also, Read | Step by Step Guide to Record Calls on All Android Phones
4 Easy Ways to Record Calls on iPhone
Record Phone Calls Using an External Device
This is one of the most easiest and effective methods to record any phone call on your iPhone. All you need to do is to put your iPhone on speaker mode during a call and use the voice recording app on another phone to record it. You can either use an Android phone or an iPhone as the secondary device to record an ongoing call on your iPhone.
Merge a Phone Call to Record it Seamlessly
Another effective trick to recording a phone call on your iPhone is to use the merging method. For this method to work, you will require an Android phone and an iPhone. Follow these simple steps to achieve the same.
1. First, place a phone call on your Android phone from the iPhone and enable call recording on it. You can check out this read to record calls on Android using Truecaller.
2. Next, tap on the Add Call button on your iPhone and choose the contact whom you wish to talk to.
3. Further, merge both calls to combine them as a conference call. Your call recipient will receive the incoming call as a conference call.
4. Your entire conversation will get recorded on your Android phone and you can listen to it later for future reference.
Make Use of VoiceMail Service to Record Calls on iPhone
If you have an active VoiceMail service on your iPhone, you can use it to record your phone calls.
1. Open the Dialer app on your iPhone and place a phone call to yourself to start the voicemail service. Wait for a few seconds till the voicemail starts recording after the beep sound.
2. Next, tap on the Add Call button and choose the contact of the person with whom you wish to talk to and record the call. Merge both calls to record the call through your voicemail.
3. After the call ends, you can listen to the entire call recording through voicemail by accessing the list of stored voicemails on your iPhone. You can refer to the official steps listed by Apple to access Voicemail on your iPhone.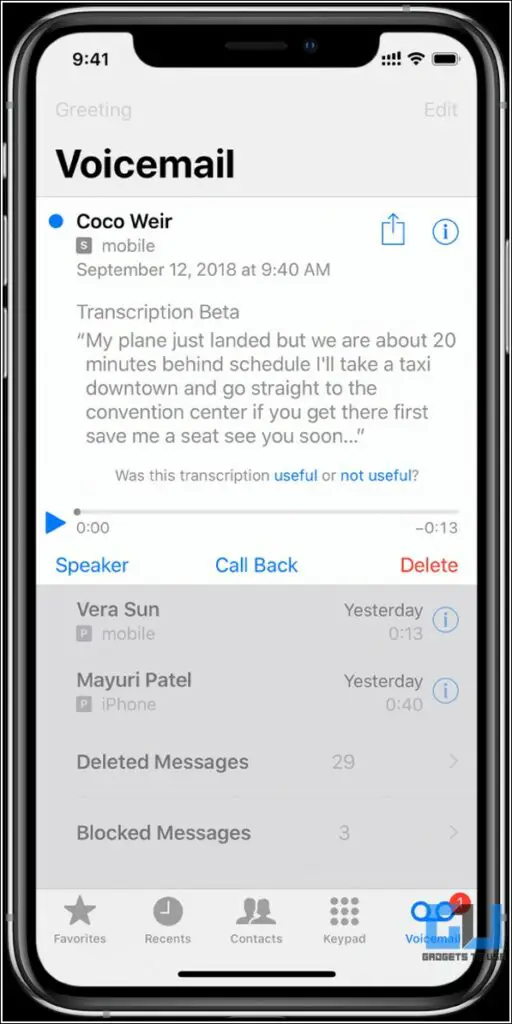 Use the Google Voice App to Record Phone Calls
If you are situated in the United States or Canada, you can use the Google Voice app to record phone calls using your iPhone. This is a free VoIP service that you can use to record incoming and outgoing calls using the app.
1. Configure your Google Voice account or create one if you don't have an existing account.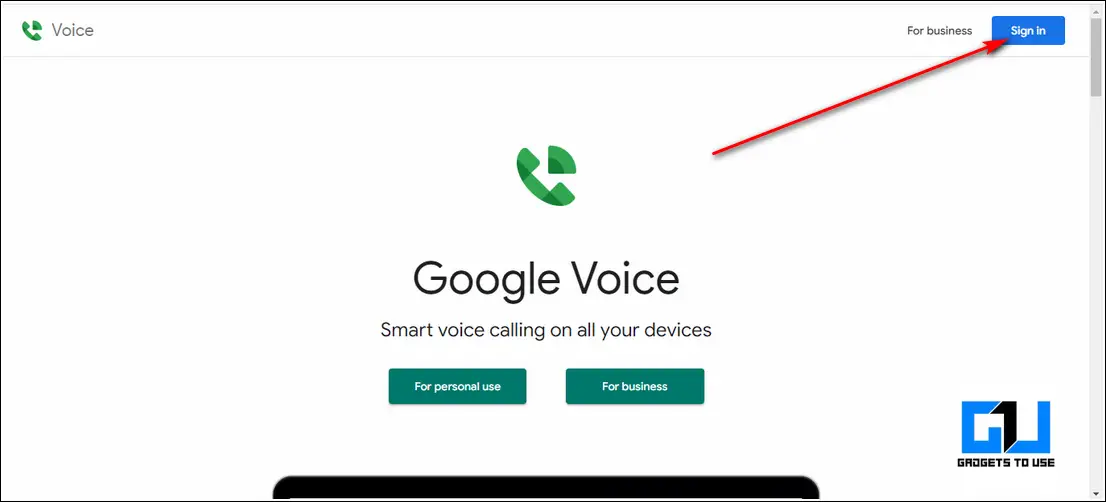 2. Next, install the Google Voice app on your iPhone and sign in to configure it.
3. Tap on the three-bar icon in the top-left corner of the app and press the Settings option.
4. Next, expand the Calls option and turn on the toggle for incoming calls option.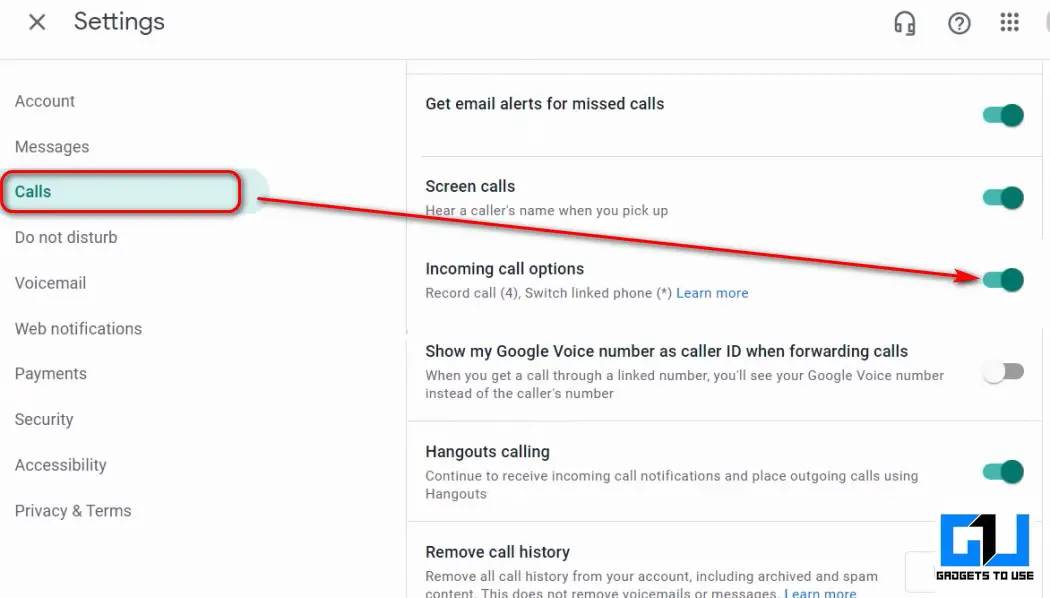 5. That's it. You can now record calls by pressing '4' on the keypad during the call. Your recorded audio will get instantly saved to the Google Voice inbox.
Bonus Tip: Record WhatsApp Calls on iPhone
Now that you have learned to record phone calls on your iPhone, you must learn to record WhatsApp calls on your device. Follow this detailed guide to record WhatsApp calls on Android or iPhone.
Related | How to Bring Back Auto Call Recording on new Android Phones
iPhone Call Recording FAQs
Q. Is it legal to record phone calls in India?
Legally, you should get prior consent from the other party before recording their calls. In India, telephone tapping has to be approved by a designated authority, otherwise, it is considered an illegal form of action.
Q. Can you record phone calls on your iPhone without an app?
Natively, iPhone doesn't provide the call recording feature as it is against their privacy policy. Though, you can use the tricks listed above to easily record a phone call.
Q. Can you record phone calls using the Voice Memo app on your iPhone?
No. While testing, we noticed that the voice memo app pauses itself during an ongoing call on the iPhone.
Q. Can you record phone calls on your iPhone for free?
Yes, you can record phone calls on your iPhone by using your voicemail service or the merging method listed above.
Q. Will the other caller be notified of your call recording?
No, the above-listed methods will not notify the other party of an active call recording.
Q. Is there any free third-party app on iOS to record phone calls?
Unfortunately, no. We tested lots of free apps to find an effective tool on iOS that can record phone calls easily but most of them are either paid or bogus.
Q. Can you use the Google Voice app in India?
Unfortunately no. Google Voice is not available in India and requires only a US number to use and record calls.
Q. How do you activate the Voicemail service on your iPhone?
The Voicemail service depends primarily on your network carrier. You can contact the customer support of your associated network carrier to enable and activate the same.
Wrapping Up: Record Your Favorite Calls
We hope that you've now successfully recorded a phone call on your iPhone using the methods mentioned above. If this guide has helped you to achieve the same, then hit the Like button and share this read among your friends to make them aware of these working tricks. Subscribe to GadgetsToUse for more awesome walkthroughs.
You can also follow us for instant tech news at Google News or for tips and tricks, smartphones & gadgets reviews, join GadgetsToUse Telegram Group, or for the latest review videos, subscribe GadgetsToUse Youtube Channel.