In the times of social media and messengers like WhatsApp, fake news has become very much common. However, during the last two years of the Covid pandemic, many media groups and tech giants have come forward as fact-checkers to help users identify fake news. Google has also been working with a fact-checking community to help users find the right information. Today, in this article, I will tell you about six fact-checkers who can help you identify fake news.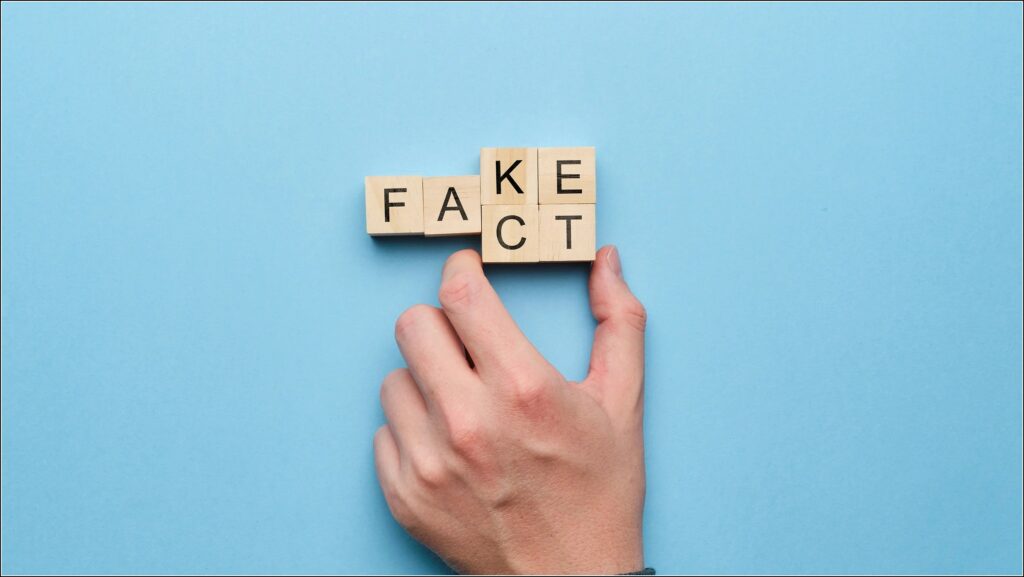 Also, read | 9 Best Ways to Spot Fake Ads, Scams on Instagram
Fact-Checking WhatsApp Tiplines
Recently, Google supported Ekta Facts, a consortium of six independent fact-checking groups. Ekta first came into existence after collating newsrooms and fact-checkers in 2018 during the Rajasthan Assembly elections.
The six fact-checking groups are mostly from some popular media houses. These groups have launched a WhatsApp tipline of their own so that people can easily verify the fake news using their smartphones.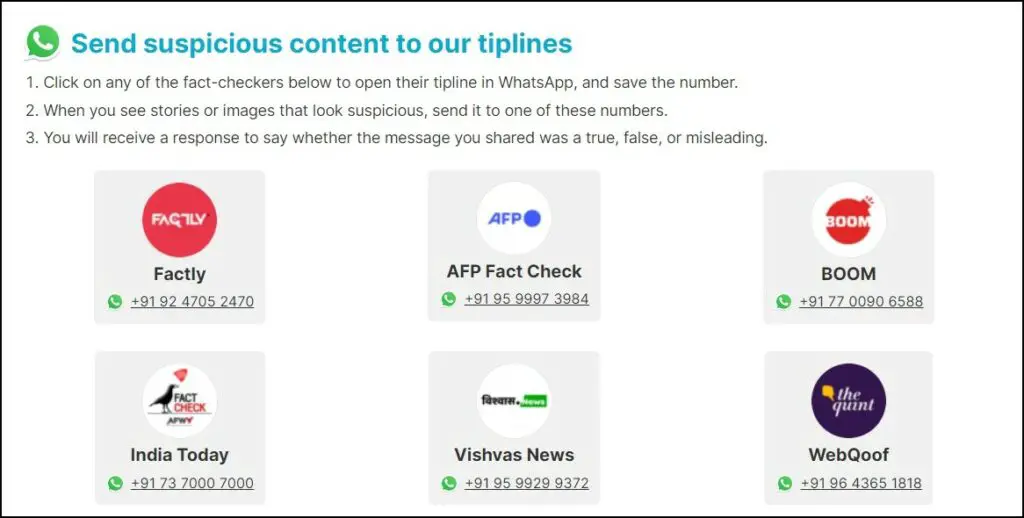 How to fact check using WhatsApp numbers
Save the WhatsApp numbers of these fact-checkers on your phone.
When you find some news or image that looks suspicious, send them to one of these numbers on WhatsApp.
All tiplines have an almost similar interface, asking you to submit a query.
Once you send the image or news link, you will receive a response from the fact-checker.
Their team will investigate it and come up with the fact that your shared information was true, false, or misleading.
India Today- WhatsApp at +91 7370007000
India Today Fact Check is part of the India Today group. There is also a separate section for fact-checking on the India Today website. This section is managed independently from the editorial operations, so it works to find the truth behind the news.
We'll share the steps to fact-check any news on India Today; all other fact-checking links also work the same way.
1. Open WhatsApp and look for India Today's fact check number that you saved.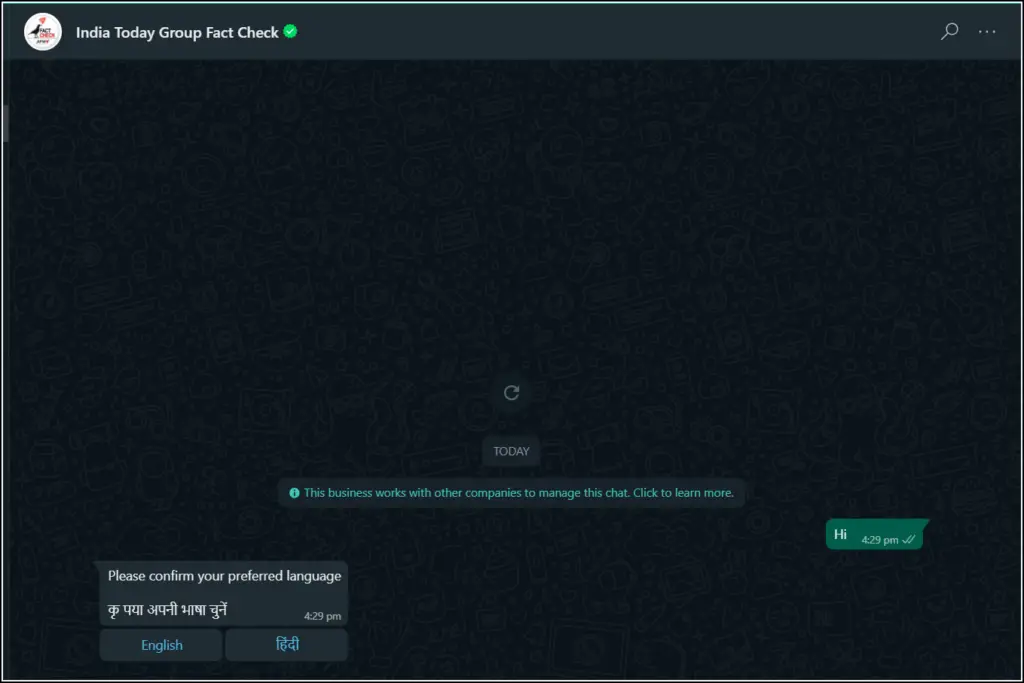 2. Send Hi, and next, choose your language and tap on Main Menu.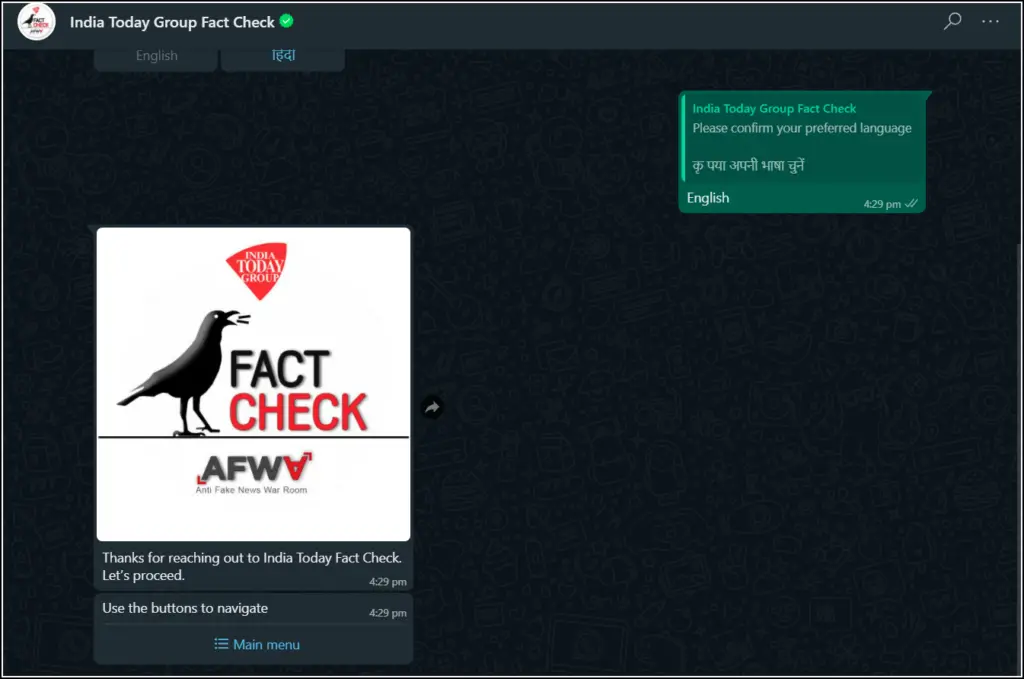 3. From the menu, select "Request a fact-check."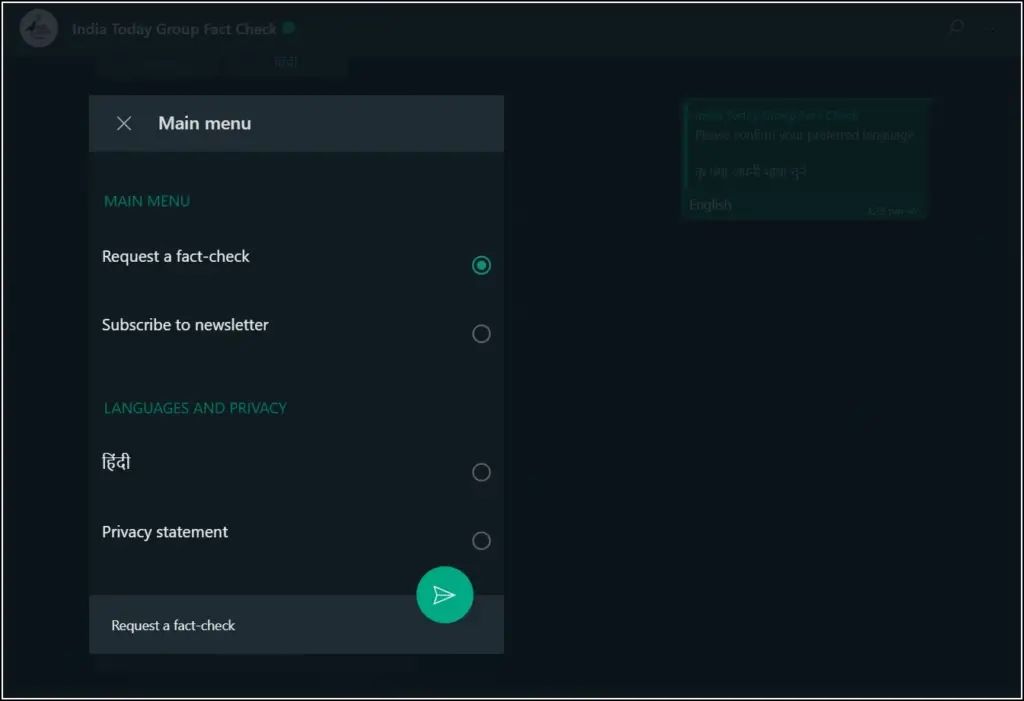 4. Then send the photo or link that you want to cross-check.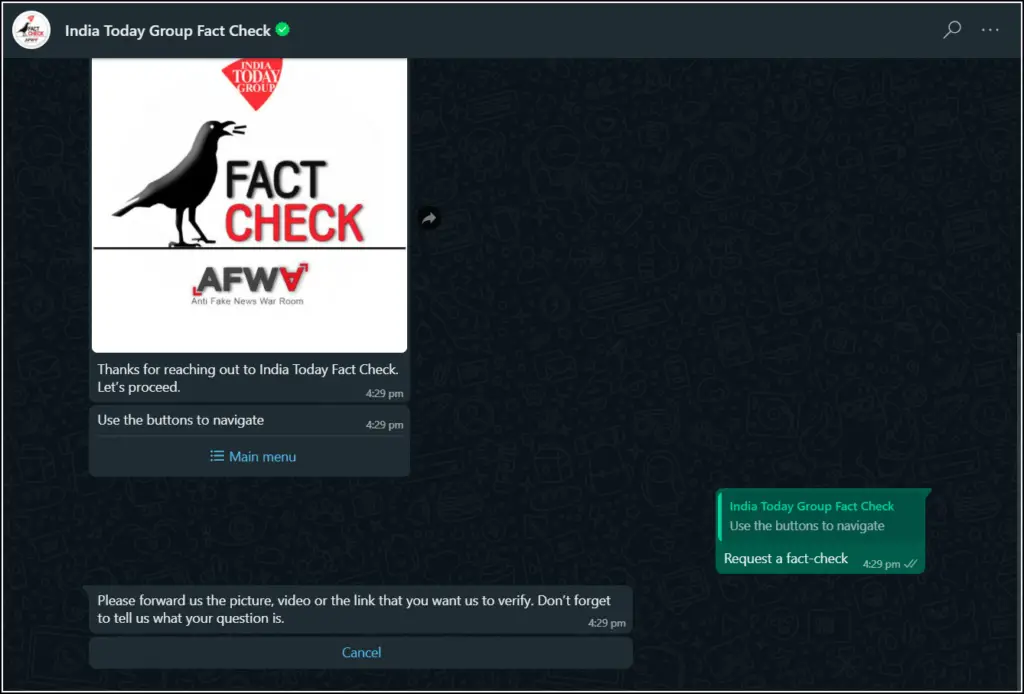 5. Confirm by selecting "Submit."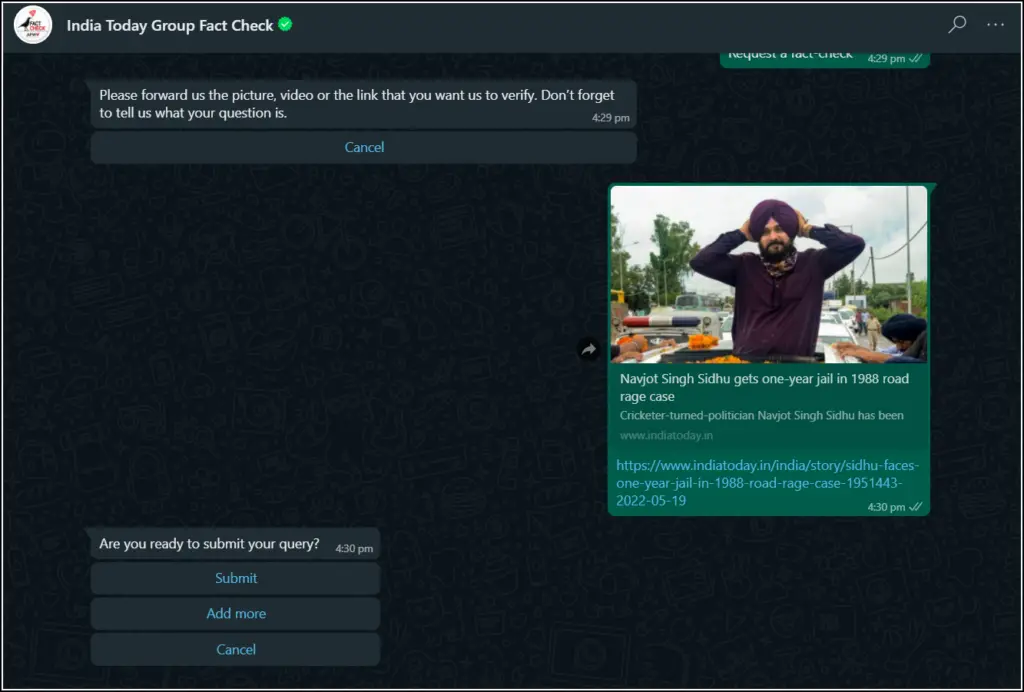 That's it. Your request will be submitted, and you will get an immediate response that their team is looking for the fact. Once verified, you will get the message with the source link whether the news is true or not.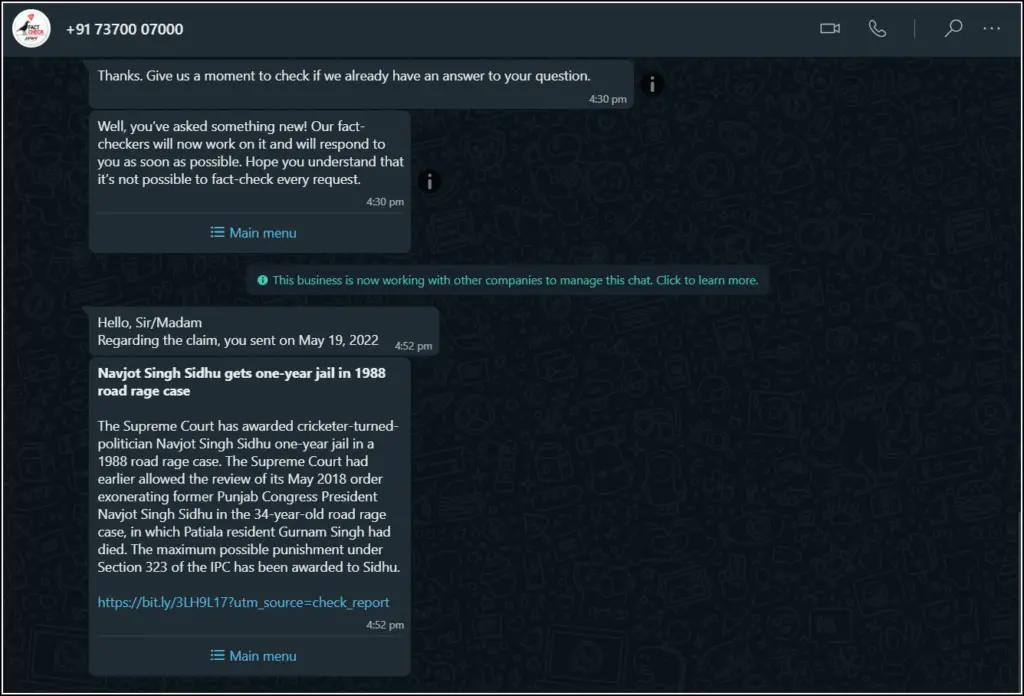 WebQoof from The Quint- WhatsApp at +91 96 4365 1818
Quint is another popular media house in India, and its fact-checking initiative is known as WebQoof. Launched back in May 2017, WebQoof has become one of the leading myth busters in the media industry.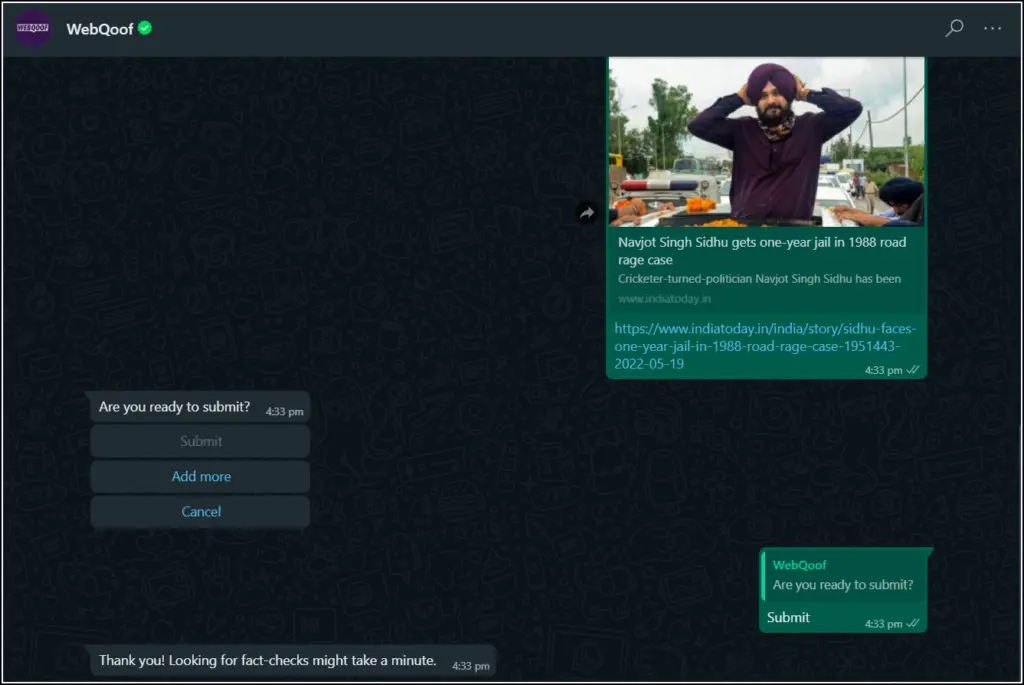 Factly- WhatsApp at +91 92 4705 2470
It is another well-known fact-checking initiative that is based in Hyderabad. In addition to fact-checking, Factly also works on tools for easier data consumption by the masses.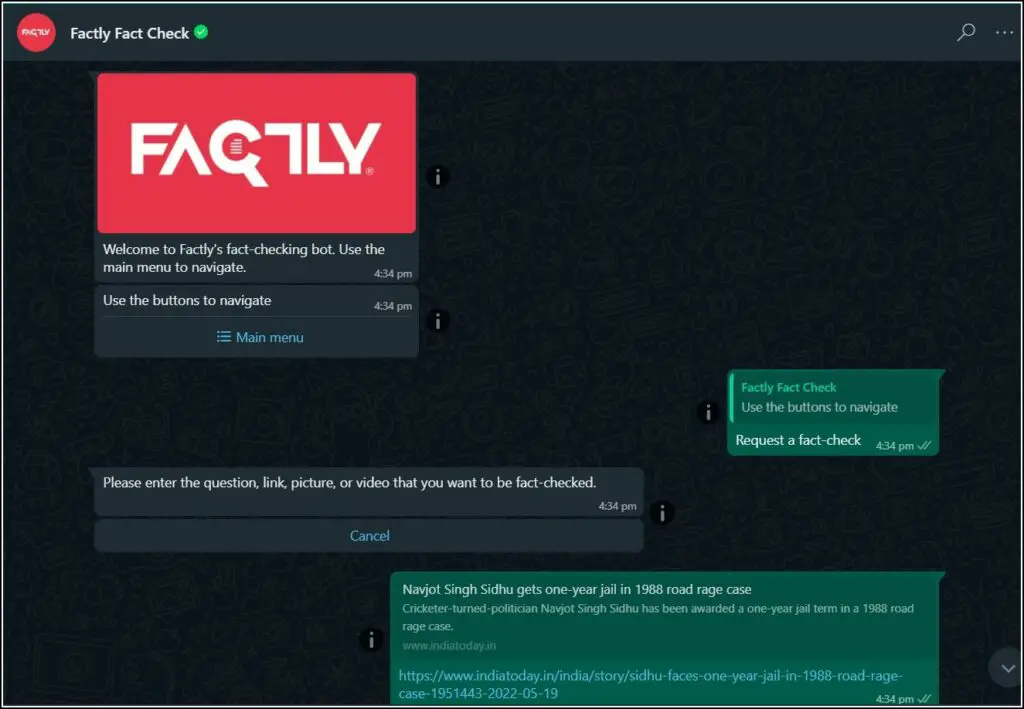 Boom- WhatsApp at +91 77 0090 6588
It is an independent journalism initiative that works to fight misinformation and make the internet safer. BOOM was the first Indian member of the International Fact-Checking Network (IFCN). It is also the first to partner with Facebook on its fact-checking program.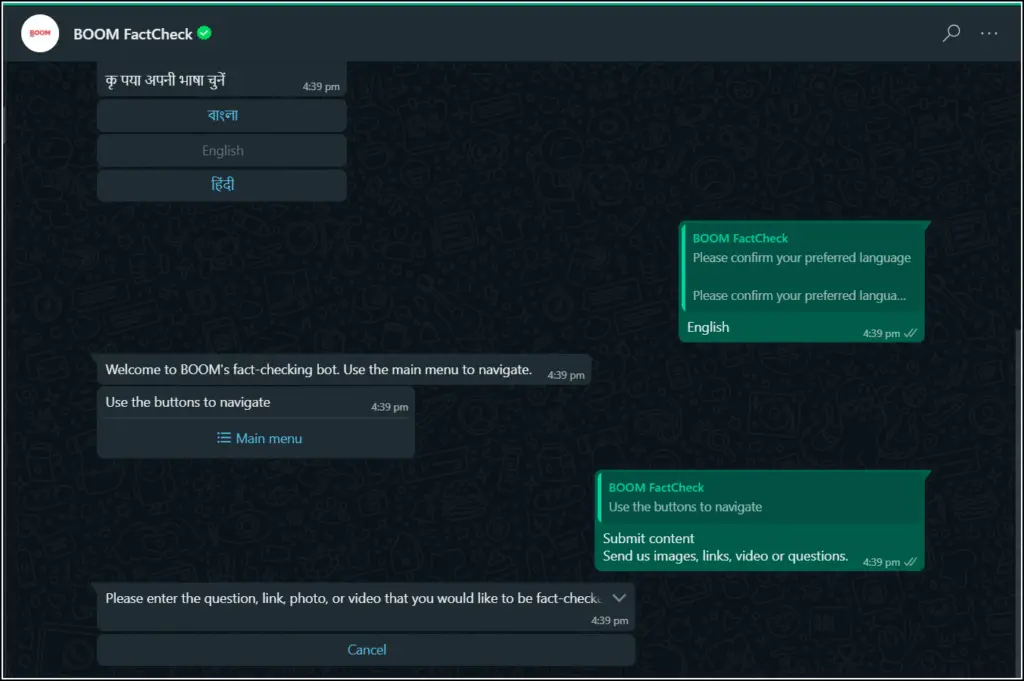 AFP Fact Check- WhatsApp at +91 95 9997 3984
AFP Fact Check is part of the global news agency Agence France-Presse. It works to verify fake news and misinformation from around the globe.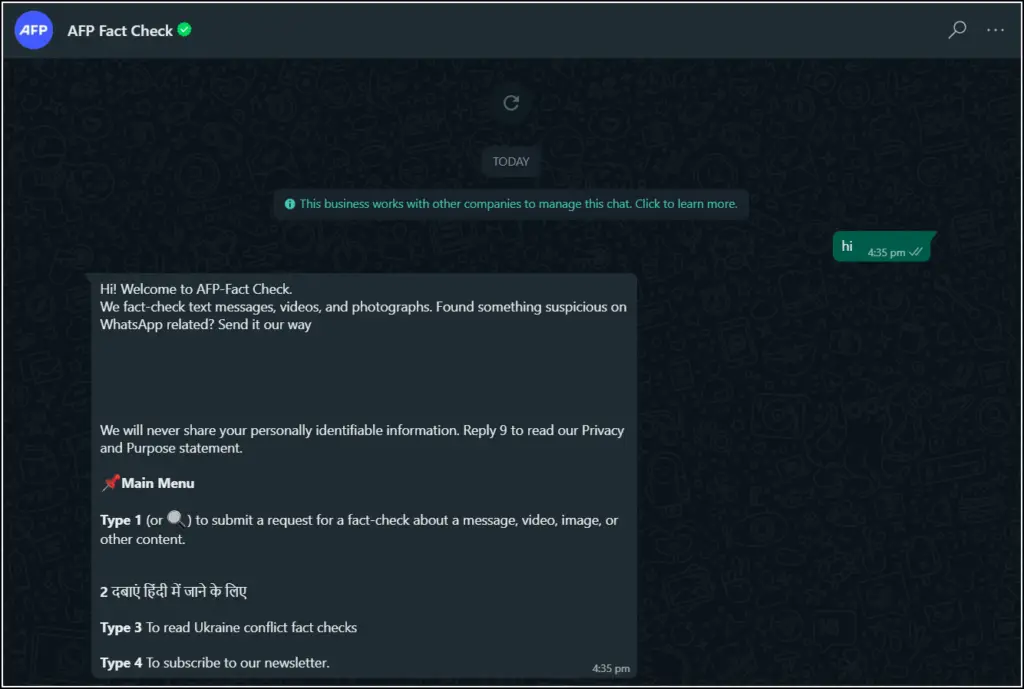 Vishvas News- WhatsApp at +91 95 9929 9372
Vishvas News is an information fact-checking group fighting against fake news in 12 languages, including Hindi, English, Assamese, Marathi, Malayalam, Tamil, Telugu, Gujarati, Bangla, etc.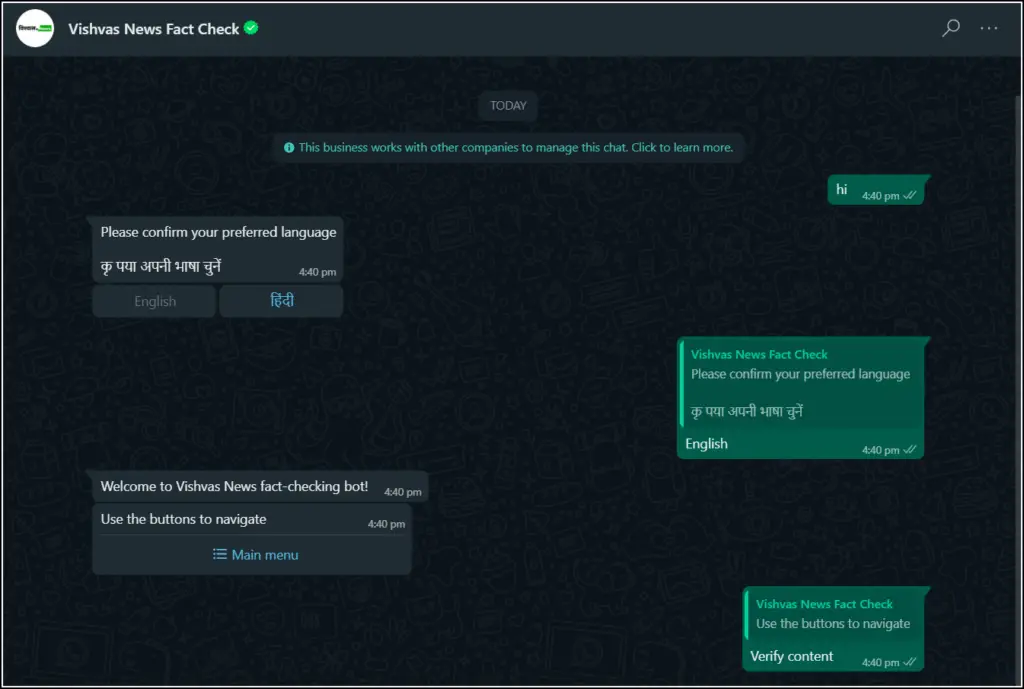 Tips and tricks to become a fact-checker
Apart from relying on these fact-checkers, you can also become a fact-checker yourself. It is very important for a fact-checker to verify all the facts in a story and ensure they are accurate. You can also play a part in checking the spread of misinformation.
I am sharing with you some tips from the fact-checkers themselves. These are some questions you should ask yourself while reading suspicious news.
What is the source of the news?
First of all, find out where the news comes from. Do not share it with anyone until you cannot verify the original source, and also, if the source is credible, share it.
How to trust a source?
First, you should look for the primary sources of information. Then find out if they are some reputable media or government websites. Also, check if the article has enough evidence for the claims, including links, necessary photos, and videos.
Who is the "expert"?
Check who is making the claims in a piece of news or photo/video. If they are someone like a recognized authority on the subject and then pay attention to the perspective they bring. Also, check what other points of view are available on the same subject.
Is the fake link asking something like share, subscribe, or buy?
Some malicious links, especially in the forwarded messages, often create some sort of urgency to get users to act in a way that's lucrative, like free data or some free coupon for a shopping website.
Is the news shocking or trying to instill fear or hate?
There are some bad elements who use social media and instant messenger as a weapon to spread information that can instill fear or hatred in people. So, think before you share! Additionally, you can also learn to how to check if a Customer Care Number Is Real or Fake.
We have already mentioned fact-checking WhatsApp numbers. So whenever you are in doubt when reading the news, just open WhatsApp and send that piece of information to any of these fact-checkers.
You can also follow us for instant tech news at Google News or for tips and tricks, smartphones & gadgets reviews, join GadgetsToUse Telegram Group, or for the latest review videos, subscribe GadgetsToUse YouTube Channel.