WhatsApp is still the most popular messaging platform despite so many controversies lately. Apart from calling, the Facebook-owned app is mainly used for chatting. The app always keeps adding some new features to its platform to make the conversation more interesting such as custom stickers, reactions, etc. However, you can still text only in those boring fonts. So, to change that, Here I am going to tell you some cool WhatsApp fonts tips and tricks to add fun to your chats.
WhatsApp Font Tips and Tricks on Mobile
You can make a different types of fonts like bold, italic, and colorful texts using some simple tricks on your phone. Read on to know more about these tips and tricks.
1. Bold Text
WhatsApp now offers a feature to make your texts bold. You can make any text bold in your chat when you want to highlight something.
Here's how to make bold text:
You can add an asterisk (*) before and after the text that you want to make bold.
For example, in the above screenshot, I wanted to highlight the word Hi, so I wrote *Hi* and you can see that the text is now bold. You can then tap to send it.
2. Italic Text
Now if you want to write in italic text you can do that easily. Just like bold, italic is also useful when something is being emphasized.
To make some text italic, you will need to add underscore (_) before and after the text. For example, in the above message, I typed _Hi_ to make it italic.
3. Change Font
WhatsApp also supports Monospace font which you can check by long-tapping on any text in your chat box. However, there is no in-built setting in WhatsApp to change the font for all chats. So you'll need to change it individually for each text.
If you want to change the font, you can either tap and hold on the text and then swipe right from the options to choose monospace otherwise put the text in between three backticks ("`).
4. Strike through
The effect of striking out text represents correction or iteration in a sentence or any text. You can also add a strike through your text by simply tapping and choosing the option.
Or, you can also add it to your message by placing a ~ on both sides of the text. Just like you can see in the above text.
5. Change Font Size
Apart from changing the styles, you can also change the default font size of WhatsApp if it's too small or too large for you. Unlike other apps, WhatsApp depends on device fonts only and offers a built-in setting to change the font size.
To change WhatsApp font size, follow the steps below:
Open WhatsApp and tap the three-dot icon at the top right corner and select Settings.
Now, tap on Chats and then on Font size. There you can select the font size from the three given options — small, medium, and large.
6. Bonus Tip: Stylish & Colourful Texts
Android devices can use this bonus tip which lets is them change the text color and style. Well, WhatsApp doesn't officially offer this functionality and you need to download a third-party app called BlueWords for this.
Download the app on your phone and open it. Now, select the text that you want to use and then enter the text whose color you want to change in the given box that says Write here.
After that, tap the Blue color copy icon to copy it. Now go back to WhatsApp and paste there the text that you copied from the app.
Moreover, you can also use the above-mentioned app to change the font styles. The app offers many stylish fonts. All you need to do is just select the font type, enter your text, and then copy-paste it into WhatsApp.
Furthermore, you can also use the same app to change the font style in WhatsApp status as well. For that, you will need to copy-paste the text from the app directly to your WhatsApp Status.
WhatsApp Font Tips and Tricks on PC
WhatsApp has recently released an update for WhatsApp desktop app users which brings a new context menu. This menu now has bold, italic, and strikethrough shortcuts apart from the previous cut, copy, and paste options. But first, you should download the WhatsApp beta from Microsoft Store as this update is available on the Beta version as of now.
Here's how to use it:
1. Open the WhatsApp desktop beta app.
2. Now go to the chat in which you want to send stylish fonts.
3. Type something and then select it.
4. When you select all the text, a new menu appears with bold, italic, and strikethrough options.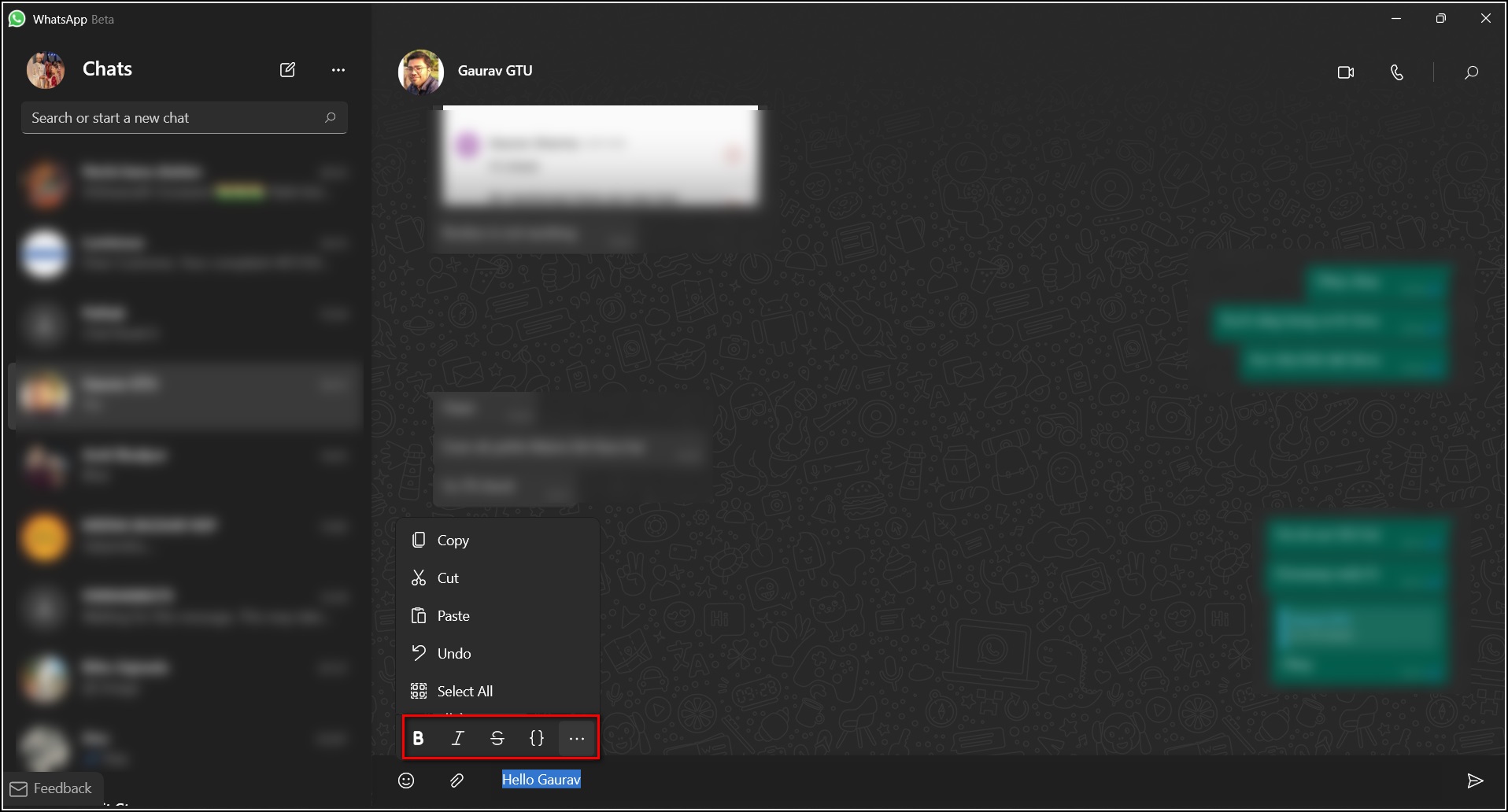 5. Select one and your text will be converted to that.
That's it. You can now send the WhatsApp stylish fonts to anyone from desktop.
These were some ways to use colorful and stylish fonts in your WhatsApp chats on mobile and PC. For more WhatsApp tips and tricks, stay tuned!
Also, read:
You can also follow us for instant tech news at Google News or for tips and tricks, smartphones & gadgets reviews, join GadgetsToUse Telegram Group or for the latest review videos subscribe GadgetsToUse Youtube Channel.