ASUS is known to make one of the best laptops in the segment, be it for every use case scenario, their all-rounder Vivobook series, premium Zenbook series, or gaming-centric series like TUF or ROG series. Today we will be reviewing the latest entrant to the gaming market under ROG branding, i.e., ROG Strix Scar 17 (2022) edition, which comes with top-of-the-line specs available right now, like 12th Gen Intel i9 CPU, Nvidia GeForce RTX 3070Ti, making it one of the most premium and expensive laptop in available out there. Let's dive into the ROG Strix Scar 17 (2022) review to check out how well it performs.
ASUS ROG Strix Scar 17 (2022) Review
ASUS ROG Strix Scar 17 (2022): Package Contents
A gaming laptop stands out from any other ordinary laptop in every corner, and this can be seen right from the package contents, as the ROG Strix Scar 17 package includes the following contents: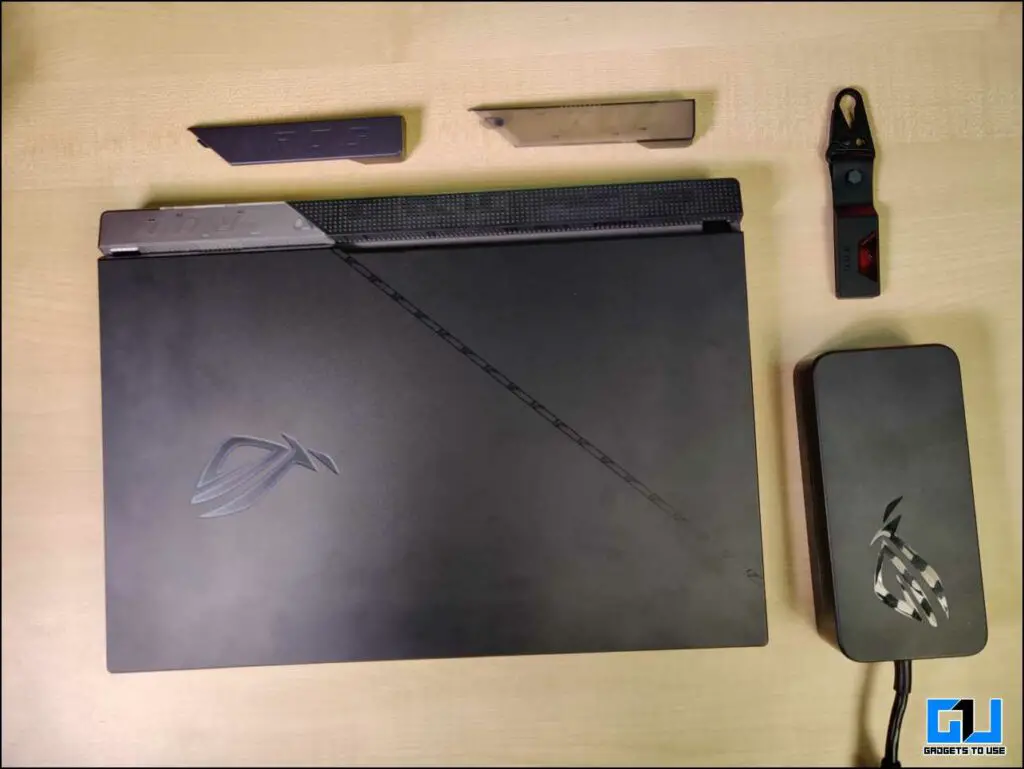 ROG Strix Scar 17 Laptop
280W Power AC Adapter (reminds me about Thor's Mjollnir)
2 Customisable Armor Caps
1 Keystone (The magic element of this package)
User Guide
ASUS ROG Strix Scar 17 (2022): Design
The ROG Strix Scar 17 is an eye-catchy laptop, making any tech enthusiast drool over it. As this lid is made of Aluminium, while the rest of the laptop chassis is made of plastic, the complete construction of the laptop comes in a soft-touch matte finish, which complements the look, but is a fingerprint magnet. The edgy corner design with a slight curve looks nice.
You get 2 Armor caps, which allow changing the look of your laptop, as it can be swapped easily with a slide. Since it is a gaming laptop, you do get RGB lighting all around, like the RGB logo on the lid, a wrap-around RBG light bar at the front edge to add a glow to your desk, a little RGB strip under the display, and the full-fledged keyboard is also RGB enabled.
There's also a ROG-themed keystone that sticks in the slit near the keyboard and comes with many features (I've mentioned them in a separate segment of this ROG Strix Scar 17 2022 review). The ROG Strix Scar 17 is not a laptop made to carry around because of its big form factor, as the build measures 15.6″ x 11.1″x 0.92″~1.11″ (LxWxH), which weighs nearly 1.5 kg (1.539 Kg to be exact), also don't forget about the humongous 280W (Thor's Mjolnir) power adapter, that weighs another 1 Kilo (1.069 Kg to be exact), making it nearly 2.5Kg if carried along together.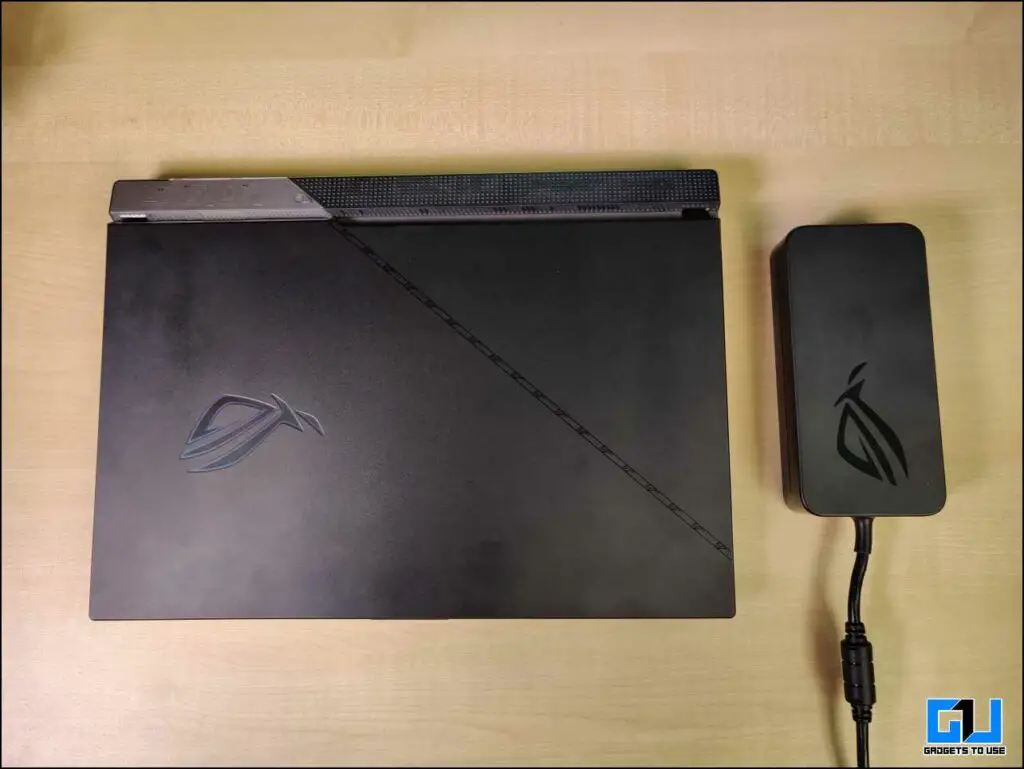 ASUS ROG Strix Scar 17 (2022): Ports and Connectivity
The ROG Strix Scar 17 does come with all the ports listed below on the machine. As you can see, there's no compromise on this front. However, being a right-handed person, I prefer to have a USB Port on the right side for plugging in a mouse to suit my workflow and gaming needs.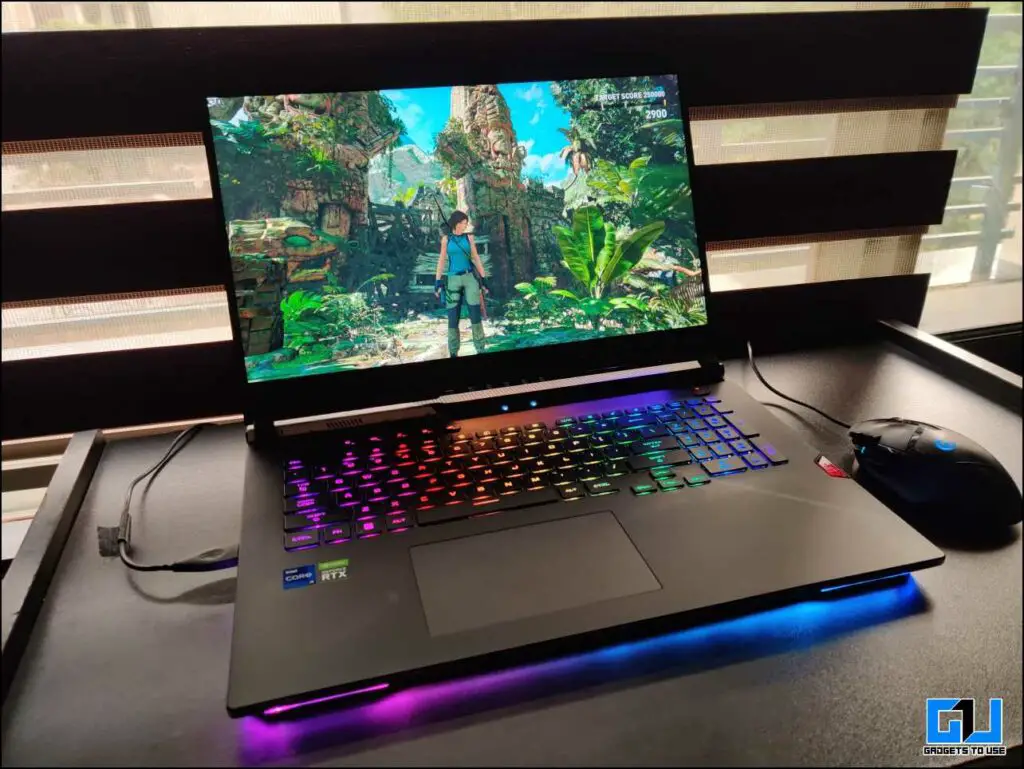 As for the connectivity, the ROG Strix Scar 17 is equipped with the latest Wi-Fi 6E standards (Dual-band) and Bluetooth 5.2, which seems great. However, when I checked the listing on the ASUS ROG website, it mentions the Bluetooth version may change with OS upgrades, meaning the chip does support minor upgrades to Bluetooth 5.3 whenever it comes with the software update.
ASUS ROG Strix Scar 17 (2022): Display
The Display of the ASUS ROG Strix Scar 17 comes with very minimum bezels on the three sides, while the bottom chin is fairly big to accommodate all the display belts. Because of such small bezels, ASUS has managed to fit a 43.94 cm (17.3 inch) display in a 15.6-inch body, compromising on the webcam front. What's more, it is surprising that you don't even get an external webcam inside the package. Due to the laptop's width, it barely fits in a 15-inch backpack.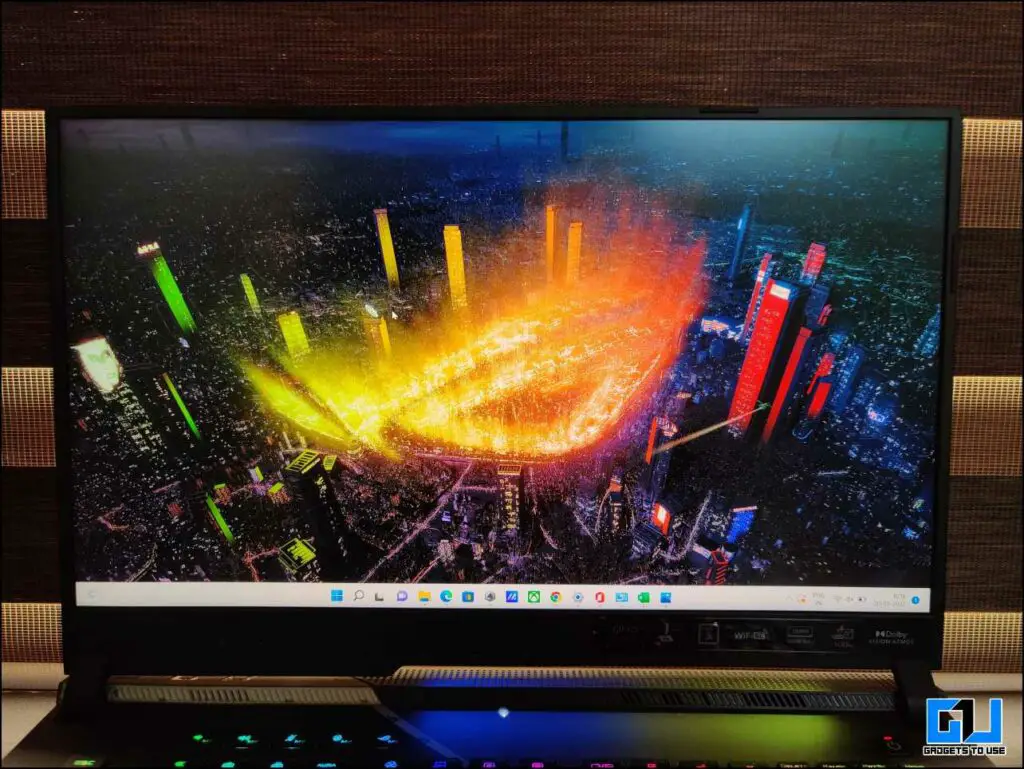 Coming back to display, it's one of the best IPS displays you can get on a gaming laptop. It's a QHD+, IPS, Anti-glare display that supports Dolby Vision HDR, with great colors and viewing angles, making it great for media consumption on OTT platforms or even everyday tasks.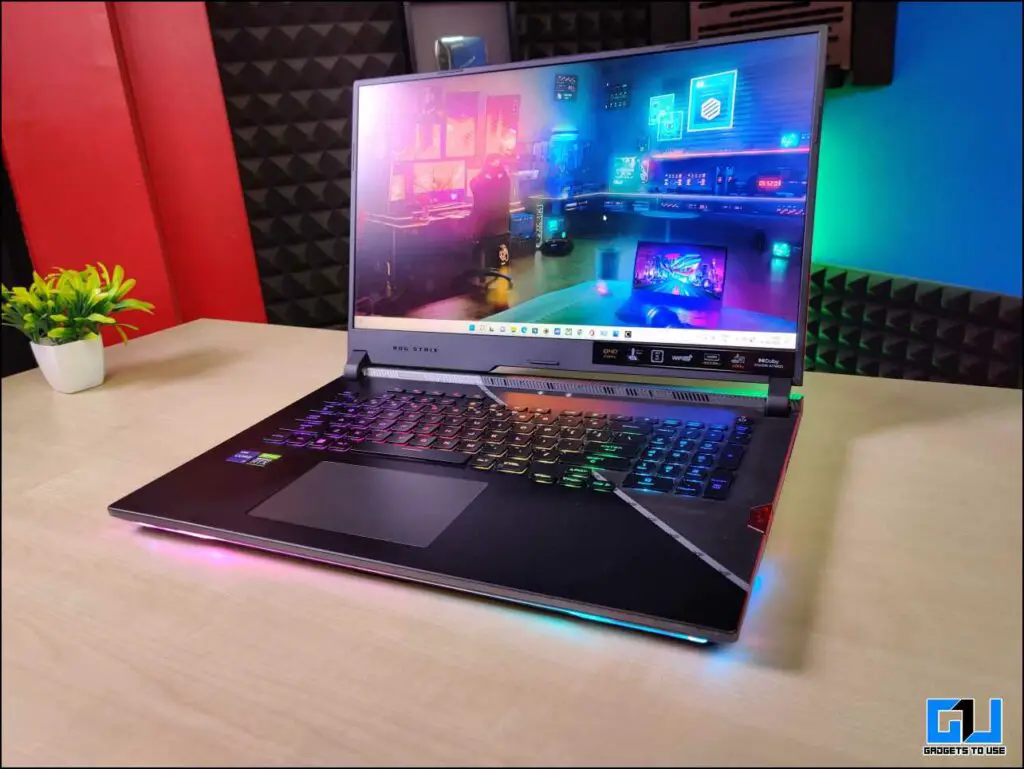 For the Gaming needs, the display comes with up to 240Hz Refresh Rate, with a response time as low as 3ms. There's also support for Adaptive-Sync and a MUX switch, which can be enabled from the ASUS Armoury Crate App. With this MUX Switch, you can disable the Optimus and utilize the full potential of the RTX 3070Ti GPU by routing frames from a dedicated GPU instead of the Integrated Intel Iris Xe GPU. This helps in reducing the latency and boosts performance by 15%.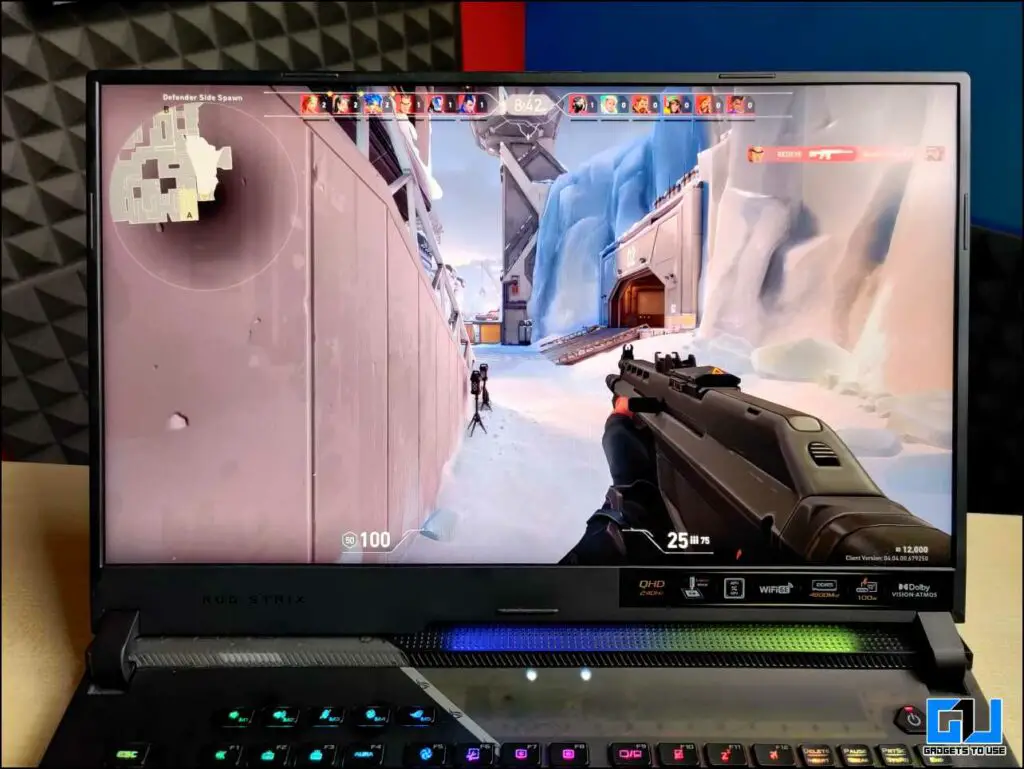 I liked the display of the Scar 17, but I would have liked it a tad bit more if it had an OLED panel, as there are laptops from ASUS that offers OLED for less than one-fourth the price of Scar 17.
ASUS ROG Strix Scar 17 (2022): Keyboard and Trackpad
The keyboard on the Scar 17 comes in a dual-tone look, as nearly one-third part comes in a semi-transparent finish. The soft-touch matte finish can be found inside as well, which feels velvety. Since it's a 17-inch laptop, we get a full-fledged keyboard with a dedicated number pad on the right. These 103 keys come with ASUS's Aura Sync technology, as the RGB backlit keys can be configured from Armoury Crate App.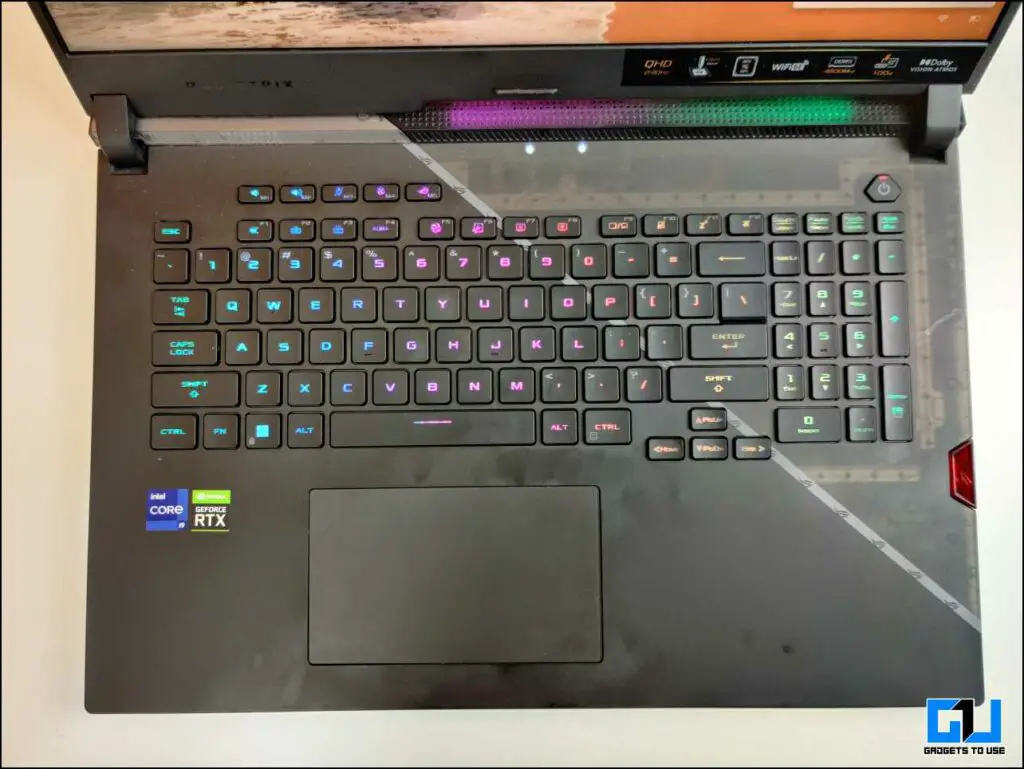 The keyboard comes with chiclet-style keys, with a keycap dish of 0.15mm, and key travel of 2.0mm. The keys are spacious enough, resulting in a very tactile, refined and premium typing experience. Above the function keys, you get five dedicated hotkeys to access volume, mute mic quickly, toggle between the silent, performance and turbo mode, or launch Armoury Crate. All these five keys can be customized to launch any app, work as a function keys or macro key.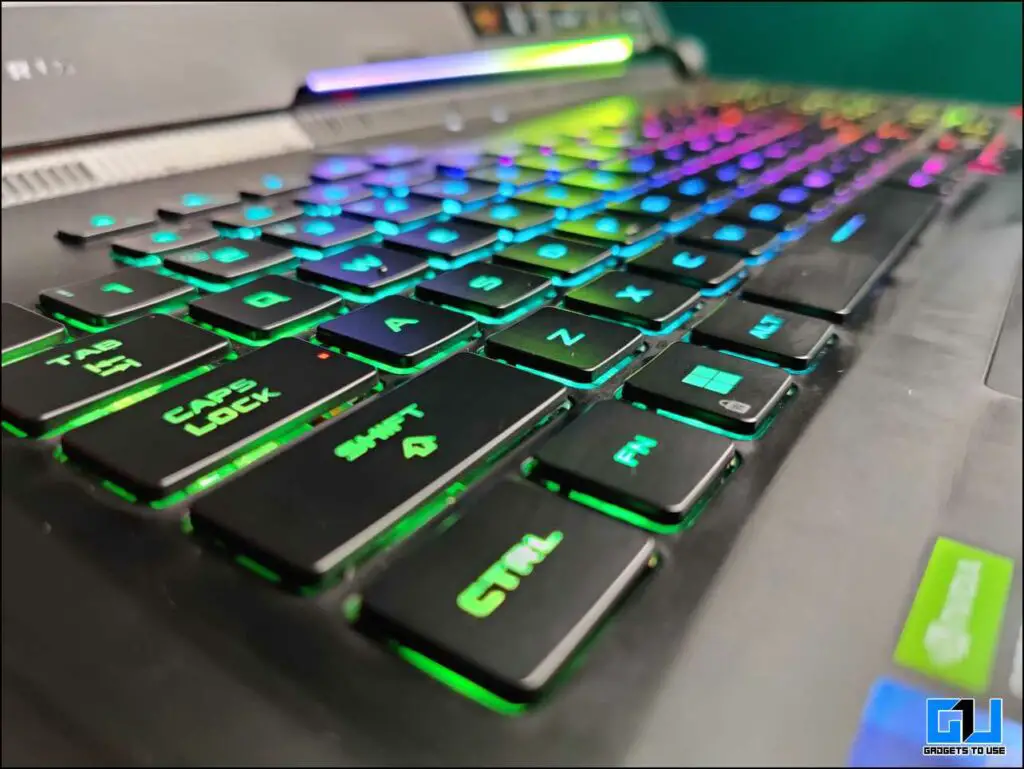 The trackpad on the Scar 17 is identical to Scar 15, with a large touchpad area and a comfortable feel, except for one thing, i.e., you don't get the digital Numpad on the trackpad. The matte texture does catch fingerprints, just like the lid and interior finishing, so you need to clean it multiple times or use a mouse if you prefer to see a clean trackpad.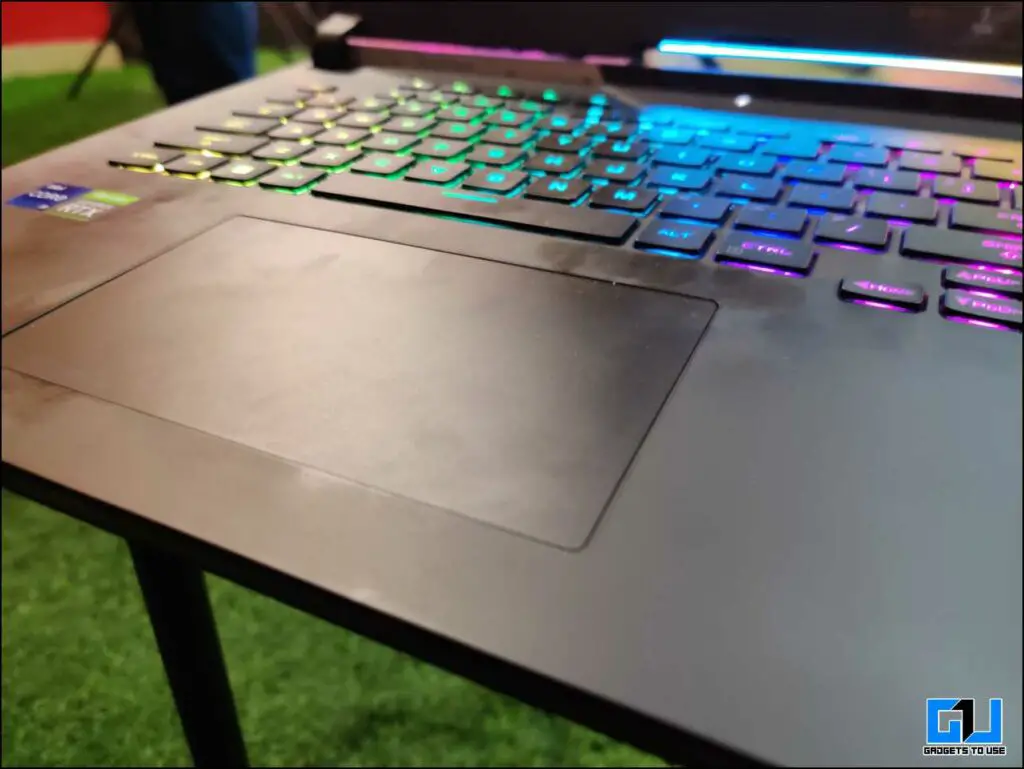 ASUS ROG Strix Scar 17 (2022): Audio
On the audio front, there are 4 amp speakers powered by Dolby Atmos. This four-speaker system consists of two forward-facing tweeters and two downward-firing woofers, creating a virtual surround sound experience. I played different tracks to test out the speakers. In an environment with moderate traffic and AC noise, I had to increase the volume above 70% to make two people easily jazz on the music. When maxed out 100%, the audio didn't distort.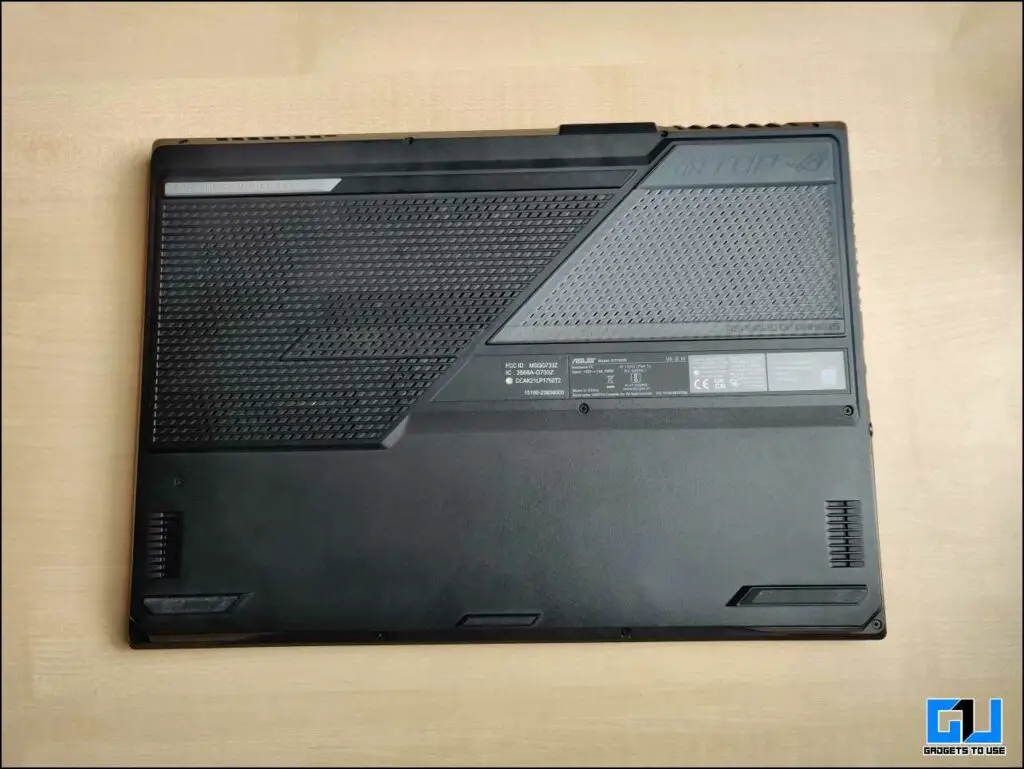 For a more immersive experience, you can plug in your Hi-Res earphones or headphones, as the 3.5mm jack is Hi-Res certified. Along with this, ASUS has used an advanced two-way AI noise cancellation that works for both the input mic and incoming feed, this can further be configured for every program. All this is done on the CPU, leaving the GPU free for a better gaming experience.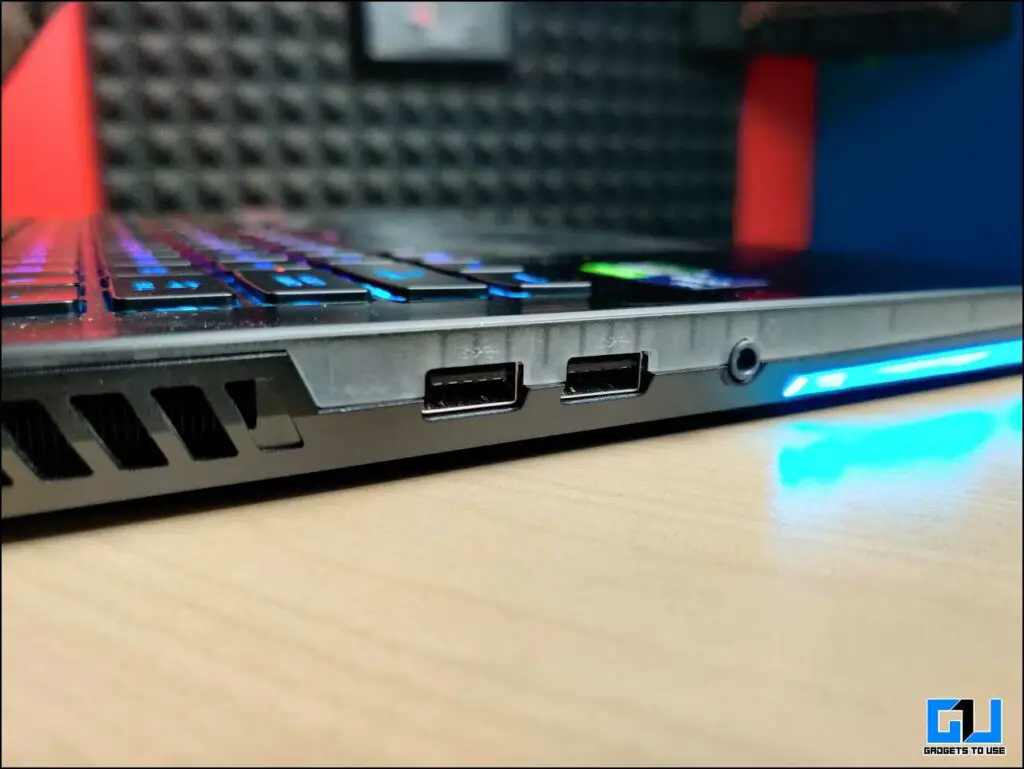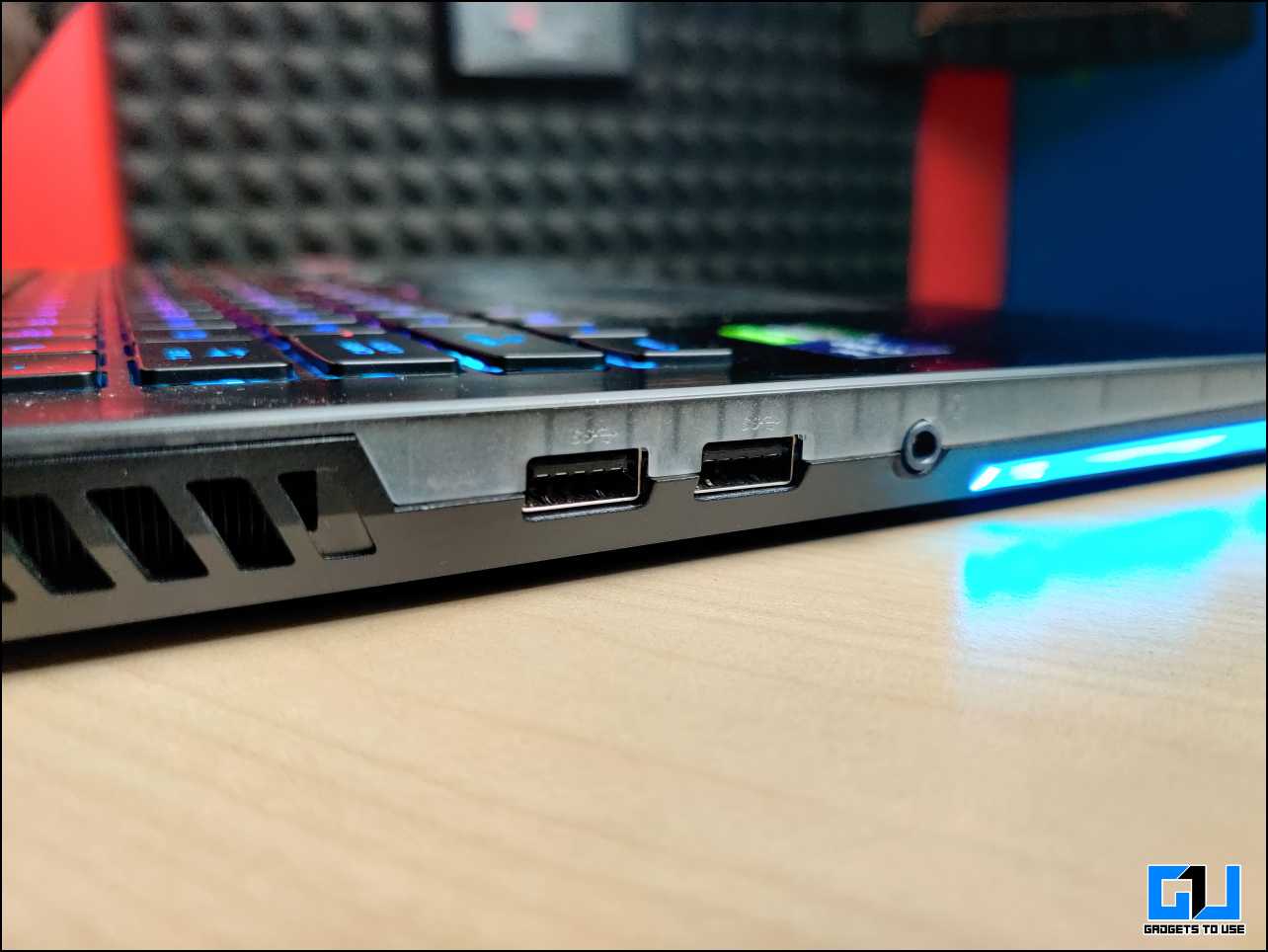 ASUS ROG Strix Scar 17 (2022): Hardware, Performance, & Gaming
The ROG Strix Scar 17 comes with bleeding-edge hardware, as it comes with Intel's top-of-the-line and latest i9-12900-H 12th Gen (Alder Lake) CPU, that's clocked at 2.5GHz, and can go up to 5GHz in Turbo Mode). It's a 14-core processor with 20 threads, where six cores are Performance Cores and eight cores are Efficiency cores. The L3 cache is 24MB, while the L2 cache is 10.24MB.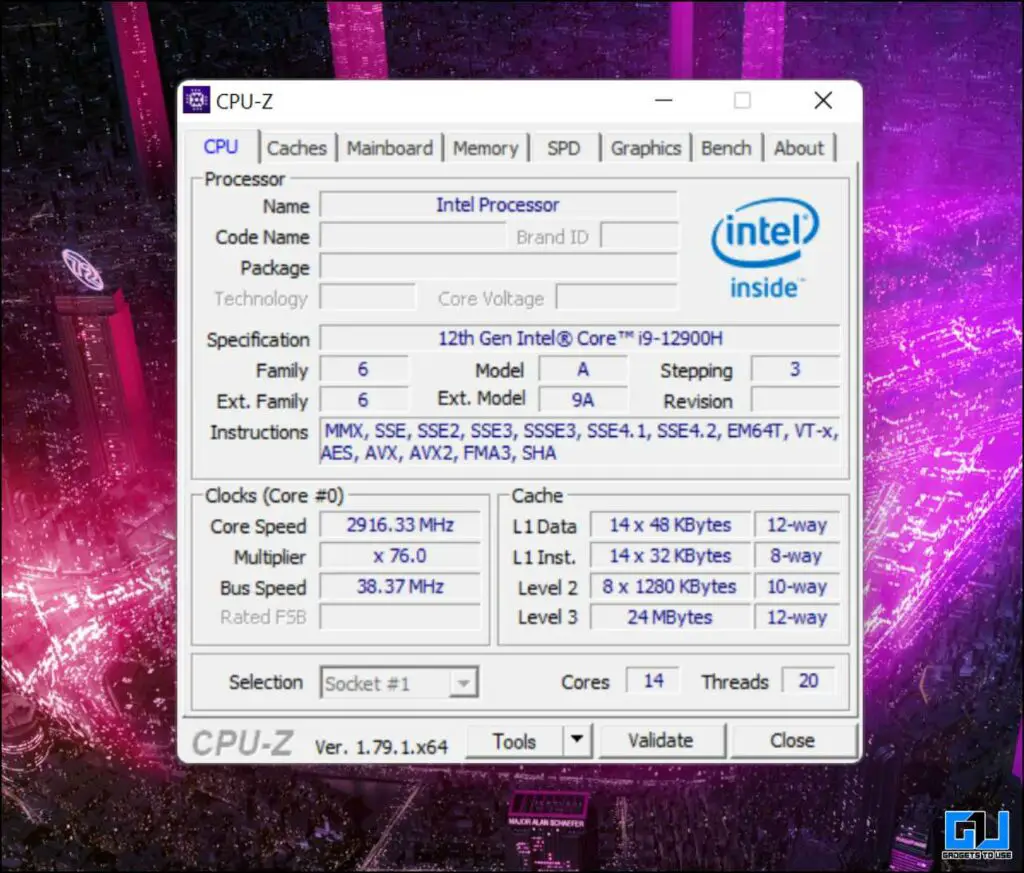 This is paired with an 8GB Nvidia GeForce RTX 3070Ti GDDR6 graphics card clocked at 1.4GHz (1.46GHz OC), which uses 125W of power in standard, and 150W in Dynamic Boost mode. This beast of a machine can handle anything you throw at it, be it any AAA title, 4K video compression, video editing, etc. For your reference, I have attached a few benchmark scores to give you a better idea.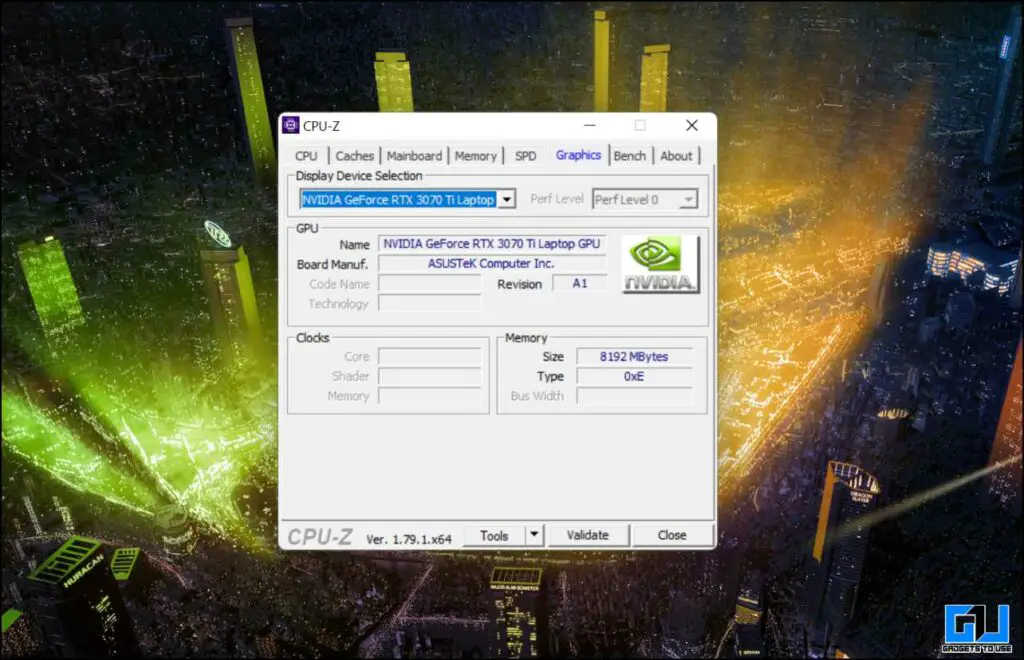 On the memory and storage front, it comes with a 32GB (2x16GB) @ 4.8GHz DDR5 RAM pre-installed from Samsung, with dual-channel memory support, and it can be further expanded to 64GB. Paired with 2TB of M.2 NVMe PCIe 4.0 SSD, which can be further expanded to 4TB via the additional slot.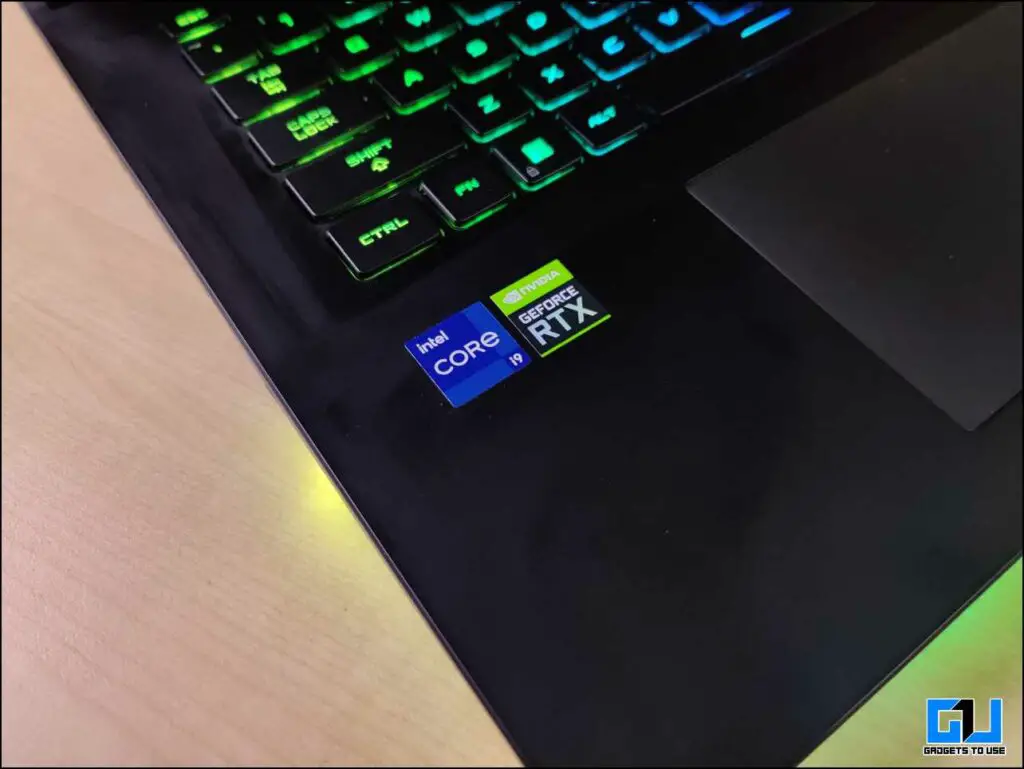 I tested a few titles of different zoners like Shadow of Tomb Raider, Valorant, and Need for Speed Run. The ROG Strix Scar 17 handled them easily, thanks to the super-powerful hardware. There's also a MUX switch that helps to utilize the full potential of the dedicated GPU. It reduces latency and boosts performance by 15%.
ASUS ROG Strix Scar 17 (2022): Thermals
For thermal management, ASUS has equipped the ROG Strix Scar 17 with four fan outlets that take in the fresh air from the mesh under the display. Two of these fans are located at the rear of the laptop, while the other two are located on either side. This helps in better heat dissipation from the CPU and GPU. On the CPU front, Asus has used Liquid Metal from Thermal Grizzly which helps keep the CPU temperature low. ASUS claims it to be 15°C cooler than traditional thermal pastes.
Even though the Scar 17 is packed with such powerful specs, I was surprised to see that ASUS has managed to reduce the fan noise that you will barely notice unless you keep your ear close to the vent. ASUS has used ARC Flow fans for the four heat sinks, which are as thin as 0.1mm at the base and have 218 fins. This help in better turbulence management and keeps the machine running silently. Even in turbo mode, while playing AAA titles, the Scar 17 does not make much noise and is relatively much more silent compared to other gaming laptops.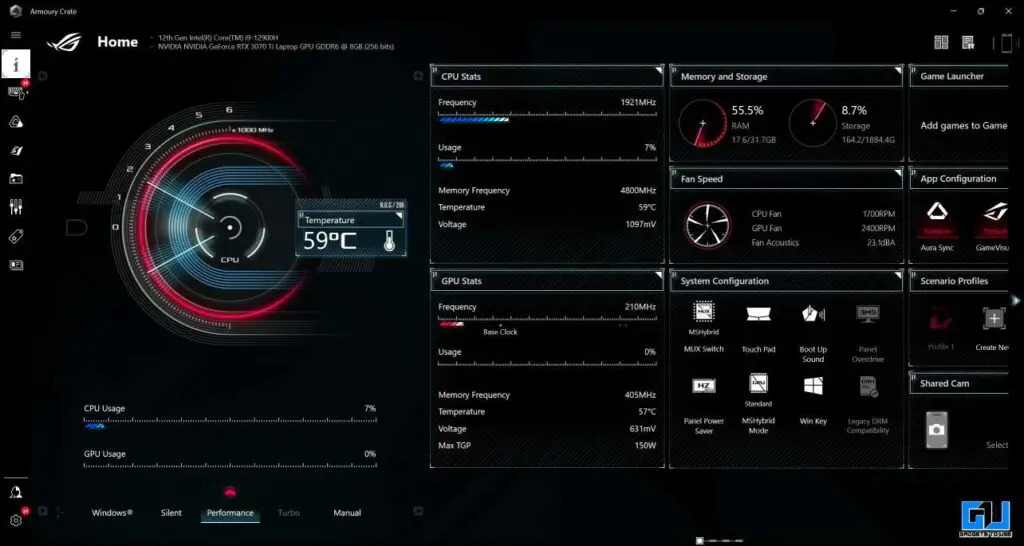 ASUS ROG Strix Scar 17 (2022): Software & ROG KeyStone
The ROG Strix Scar comes with Windows 11 Home edition preloaded, so you get the clean, refreshing UI with new features. Along with this, you get Home and Student Edition of Microsoft Office and Microsoft Office 365, which allows you to access the web versions of Word, Excel, Powerpoint, etc., with a subscription plan. Asus also bundles a 30 days plan for McAfee Live Safe protection.
Now, coming back to the ROG KeyStone, that comes in the package. It can be used for multiple purposes, like it can be programmed to switch to a specific model of the laptop, for example, Turbo Mode, or you can even configure it to launch a specific app when plugged in. It also works as a security key to quickly minimize all the windows and mute audio, or lock the Windows, when the keystone is removed. This is much appreciated and useful, as it fills in for the absence of Windows Hello.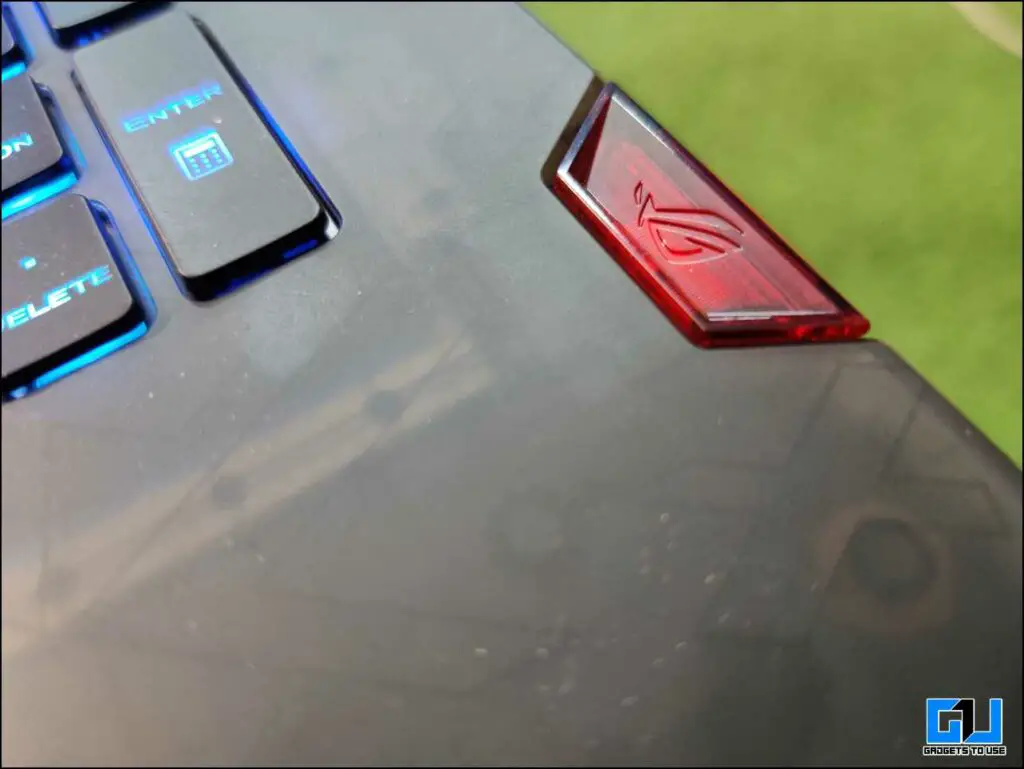 When bound with your ASUS account, it stores all the system configurations that can be easily restored on another ROG laptop with a keystone. Also, with the Keystone, you can unlock a private drive space known as Shadow Drive. You also get cool looking buckle strip to carry the keystone with you.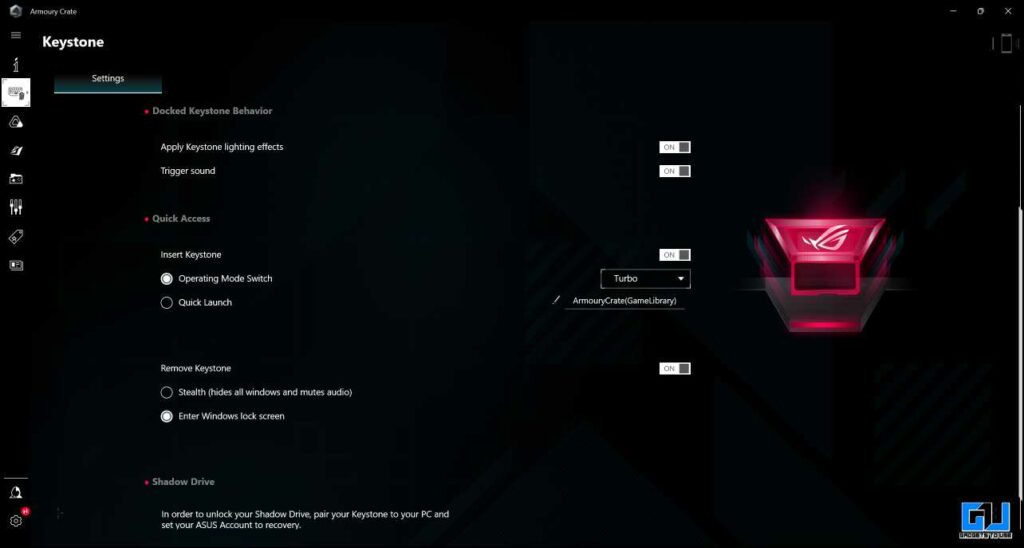 All the features of Keystone can be configured from the ASUS Armoury Crate app, the app also allows you to customize every single RBG LED on the laptop, plus you can even customize the hotkeys to anything you want to. You can find four cool Aura Live Wallpapers to personalize your ROG Strix laptop.
ASUS ROG Strix Scar 17 (2022): Battery
The ROG Strix Scar comes with a 90W Hrs, 4S1P Li-ion battery, from which I got around 4 to 4.5 hours of backup in normal use (social media, WordPress, causal gaming, at 240Hz). It can last more than 5 hours in silent mode for regular office use. However, if you are a heavy user, then you should get somewhere around 3 to 3.5 hours of use. That's not bad, considering it's such a powerful gaming laptop.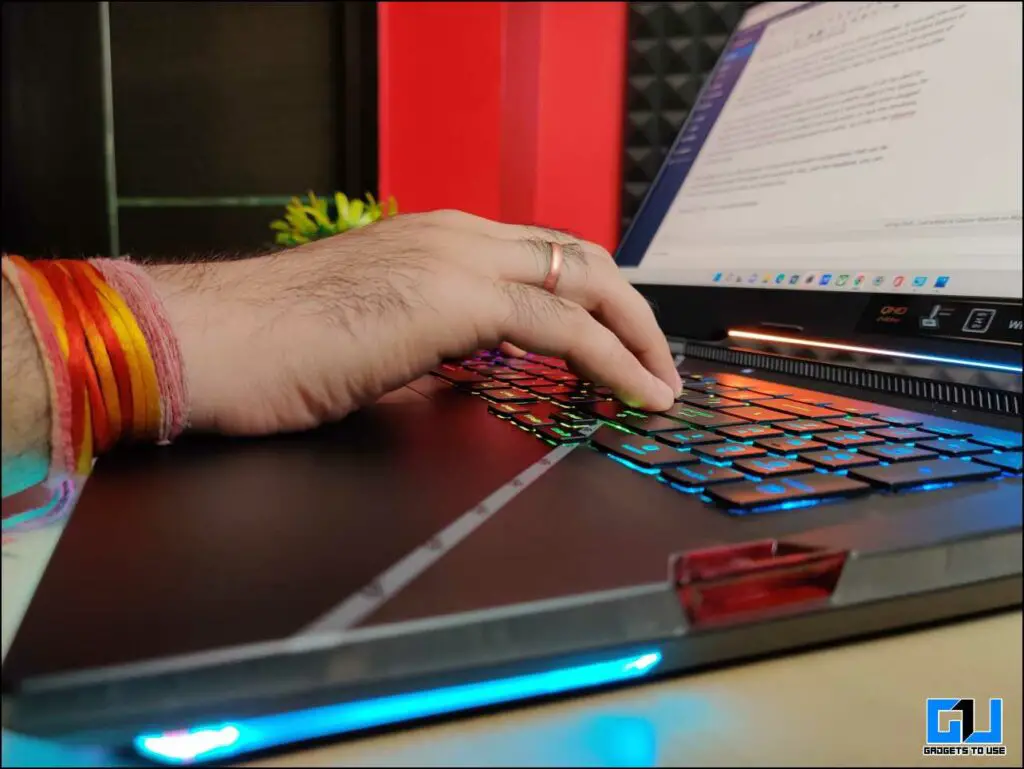 The bundled 280W power adapter can charge up the battery in nearly 1 hour and 15 minutes, but you need to find a 32-ampere socket to charge this beast, as it comes with a power plug. While on the move, you can charge the ROG Strix Scar 17 with a PD charger, with a maximum of up to 100W.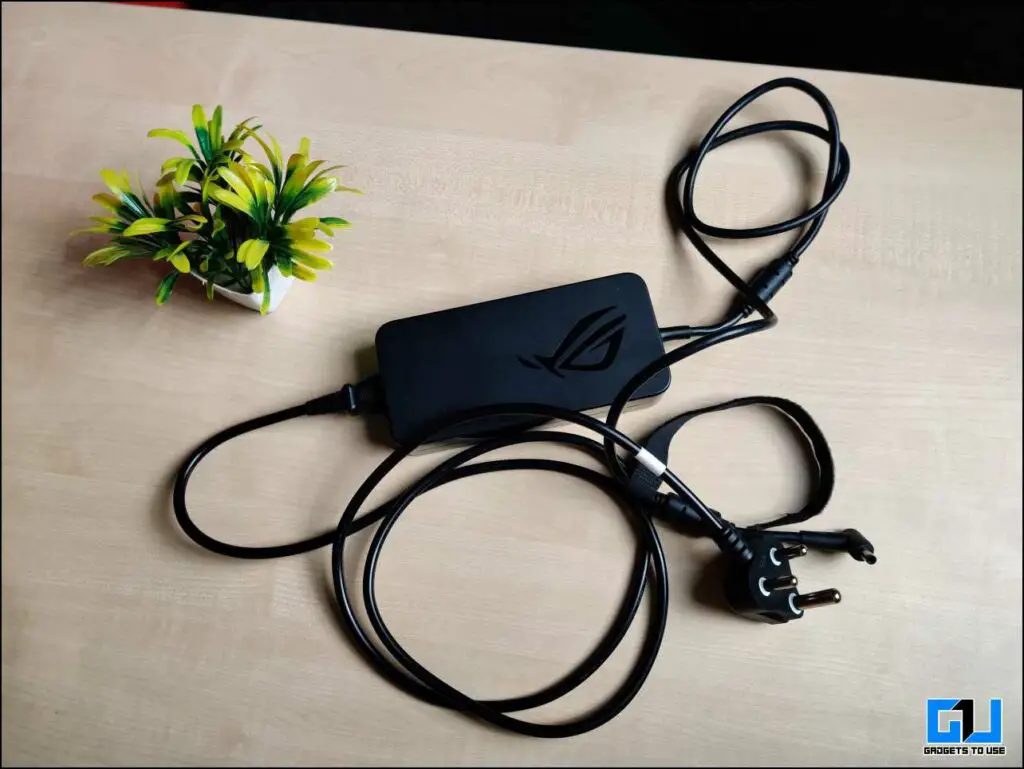 Wrapping Up: ROG Strix Scar 17 (2022) Review
That's all for ROG Strix Scar 17 (2022) Review. The machine is a beast of a gaming laptop, with bleeding-edge hardware, like Intel's Alder Lake i9 CPU, 32GB DDR5 RAM, and RTX 3070Ti, a great display, and surprisingly good battery life. However, do keep a note. It's not meant to be carried along because of the weight and size. The absence of a webcam might be a letdown for those who stream online. Overall the ROG Strix Scar 17 has raised and set a new bar for every gaming laptop in 2022. But would you be ready to pay the premium price of INR 2,61,990 (USD 3369 converted price) for this beat? Do let me know by sending a tweet!
You can also follow us for instant tech news at Google News or for tips and tricks, smartphones & gadgets reviews, join GadgetsToUse Telegram Group or for the latest review videos subscribe GadgetsToUse YouTube Channel.