Micromax made a comeback in India with its all-new IN sub-brand and promoted it with taglines like "IN For India", and "Cheeni Kam" which means less Chinese, to take on the Chinese brands in India. The two new smartphones that are introduced under the brand are budget devices, targeting the mass market of India. We are going to talk about the first phone- IN Note 1 here. The phone is up for sale on Flipkart starting at Rs. 10,999 and if you are planning to buy one, we tell you some reasons to buy and reasons not to buy Micromax IN Note 1.
Also, read | Micromax IN Note 1 Vs Others: Is It Better Than Chinese Phones in The Segment?
We've been using its retail unit for a while now and if you have any queries, read on to know our first impressions of IN Note 1.
Reasons to Buy Micromax IN Note 1
Big FHD+ Punch-hole Display
Micromax IN Note 1 sports a big display measuring 6.67 inches. It is bigger than what you get on many other models around this price. The screen has a small hole-punch in the center to house a 16-megapixel selfie camera, which looks good.
Moreover, you get a full-HD+ screen resolution here, which is not very common for budget phones these days. The display also comes with an Oleophobic coating for protection.
Performance on Par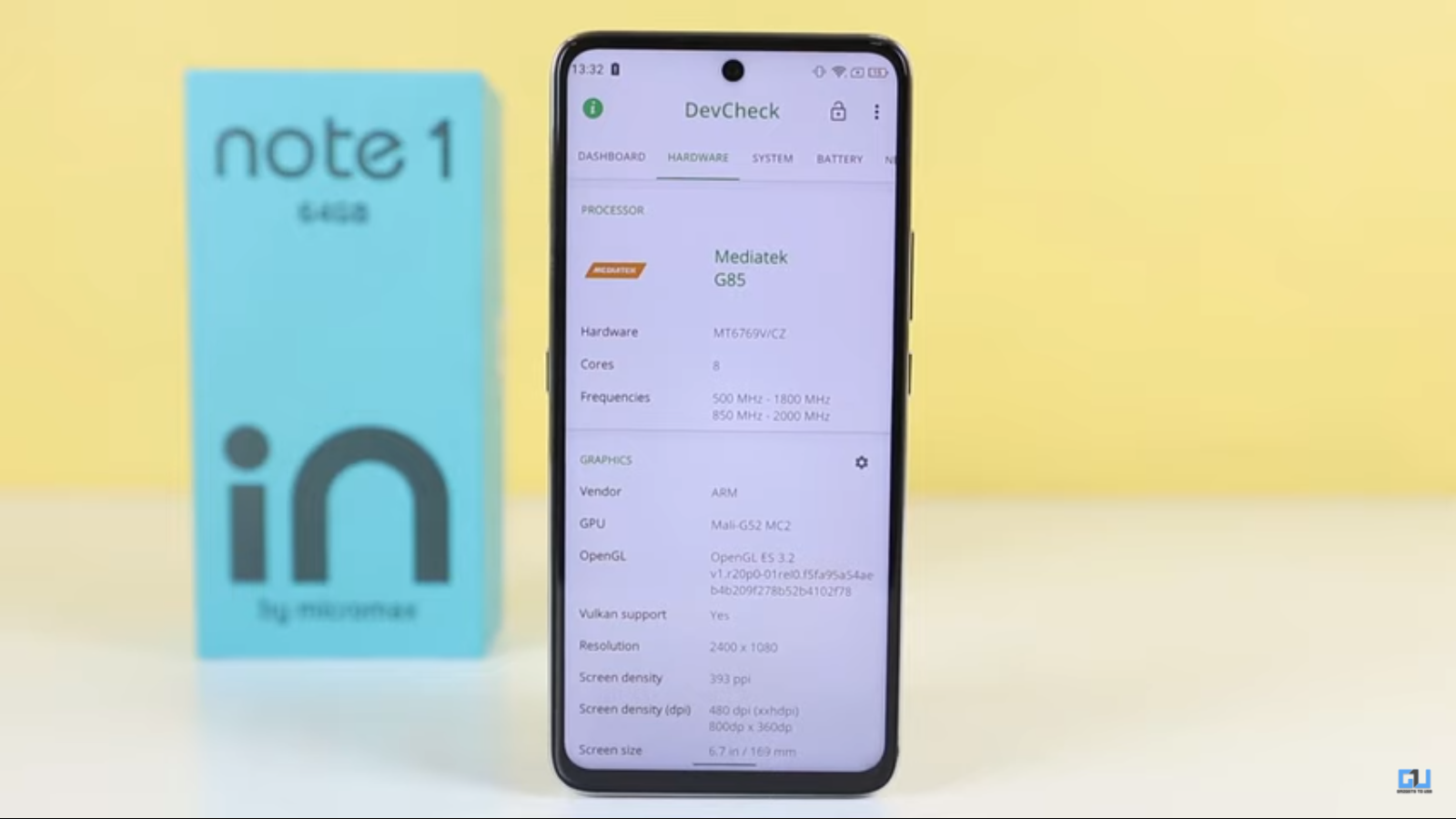 The new Micromax phone is powered by the MediaTek Helio G85 processor which is a capable processor in terms of performance at this price range. You will be able to play games and multitask without any issues. The processor is further paired with 4GB of RAM and up to 128GB storage variants.
Big Battery and Fast Charger
The Micromax In Note 1 is packed with a 5,000mAh battery, which is good as it has become a standard size these days. Also, you get an 18W fast charger in the box which is quick and can fully charge it in more than 2 hours. We'll talk more about battery backup in our full review.
Connectivity Features and Ports
We are impressed with Micromax for offering all the necessary connectivity features and ports. The phone comes with a 2+1 card slot which means you can use two SIM cards and one microSD at once.
You also get a dedicated Google Assistant button to launch the Assistant, however, you cannot customize it to launch any other app. Further, there is a USB Type C port on the bottom to support fast charging, a 3.55mmheadphone jack, a microphone, and a single loudspeaker. There is a secondary microphone at the top for noise cancellation.
Reasons Not to Buy Micromax IN Note 1
Platic Build Quality
The phone comes with a plastic back panel and a plastic frame, which is not that impressive. The back panel feels a bit light in terms of quality. You can feel that when you press the panel with your fingers.
Some YouTubers even reported in their reviews that the back panel comes out of the body easily. They shared pictures on Twitter and you can see the same in the above screenshot. However, we don't feel any such issue as of now.
Moreover, the phone also has a 9mm thickness and has more than 200g weight, so it is not that compact either. There is a back-mounted fingerprint sensor, which is a bit smaller in terms of area.
Overall, we feel that build quality could be improved a little bit more. Still, it is not that bad, as most other phones in the segment come with the same build quality.
Display Brightness Issues
Despite being a big FHD+ resolution display, there are still some issues. First, the auto-brightness is not that reliable, and you will see some issues when it's on, especially outdoors.
Another setback in the display is brightness level, the peak screen brightness is claimed to be 450 nits, but in LUX it is just 317, which means it is not that bright. Some other phones in the segment offer more brightness in LUX.
Software Related Issues
Coming to the software, there are some major changes on IN Note 1 compared to earlier phones from Micromax. This time you get near-stock Android with some negligible customization, which is a very good thing.
However, there are some issues which you may find annoying in the UI. First is the icons which are not symmetrical and you may feel some are big and some are small. Moreover, when you are browsing the internet, you may also feel a little bit jittering.
You also don't get Widevine L1 support in this phone, so you will not be able to stream videos in HD quality. However, this can be fixed via an OTA update.
Overall, we are impressed with the stock Android UI without any bloatware, but if the company fixes these issues via OTA, this will become more user friendly.
Slow (eMMC) Storage
The IN Note 1 comes with eMMC 5.1 type storage which means it will become gradually slower when the phone gets old, which we have already seen on multiple devices with this storage type. However, for now, you will not face many issues in multitasking and gaming, except for some slow loading issues in heavy games.
One thing you should also note here that in this price range, some brands like Realme are now offering the faster storage type i.e. UFS storage.
Rear Camera UI & Focusing Issue
The IN Note 1 camera module houses a 48-megapixel primary camera, a 5-megapixel ultra-wide-angle, a 2-megapixel macro camera, and a 2-megapixel depth camera. So, you can see that the camera specs are good, but there are some software related issues that need to be fixed.
First of all, the phone faces trouble with focusing. When you open the camera and try to focus on a subject, you will need to tap on the screen to focus on that subject, and then it makes a sound that seems like the one we used to hear in old Android phones.
Similarly, the camera struggles in focusing while shooting a video which results in blurry shots. Overall, it clicks some good pictures when the lighting is good and colors also look natural, but then again, when it can not focus, you will get a blurred picture.
You can check these camera samples to get an idea, rest we will share our detailed feedback in the full review.
Washed Out Selfies
One thing we noticed in the front camera, that it offers washed-out shots when the lighting is not right. I mean when you are trying to take a selfie in a well-lit room and unfortunately a light source comes in the way of the camera, it may wash out the background color. You can see that in the below sample, where the color of the wall is washed out.
Outdoors, it can click a good selfie, not that impressive, but you can use it on your social media. Overall, I am not much impressed with the front camera.
Final Words
Micromax did well in offering India-centric smartphones in order to give competition to Chinese brands and it got succeed too at some level. The Micromax IN Note 1 is a good phone in terms of specs, however, the company failed in some places, especially in software optimization which can affect the overall user experience very much. As of now, we cannot recommend this phone, but when some of these issues are fixed by OTA updates, we will let you know in our full review.