Apple has bundled battery protection features similar to iOS on WatchOS, which sometimes limit the watch charging speed. One common problem associated with the same, coming from most Apple Watch users, is that it won't charge and remains stuck at 80 percent despite being plugged in. And therefore, here's to fix the Apple Watch not charging above 80%.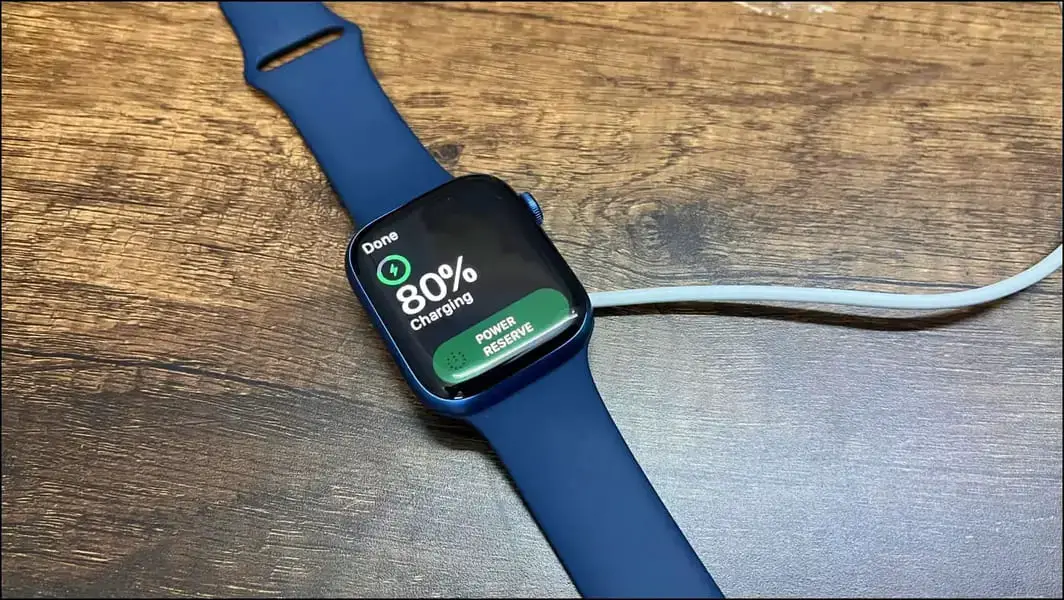 Apple Watch Not Charging Over 80%? Here's the Fix
This article contains affiliate links, and we may earn commissions for purchases you make.
Your Apple Watch not charging is usually due to the Optimized Battery Charging feature. However, it can also be caused by external factors. Read on to check the solutions below.
Turn Off Optimized Battery Charging
Like iPhones, the Apple Watch comes equipped with Optimized Battery Charging. Enabled by default, it is designed to extend the longevity of your Apple Watch battery. The feature learns from your usage habits and location and waits to finish charging to 100% until you need the watch.
For example, suppose you regularly charge the Apple Watch at night and unplug it at 7 in the morning. In that case, it'll automatically limit the charging to 80 and finish the remaining 20 before you wake up. This allows the watch to stay at comfortable levels instead of trickle charging at 100, reducing its life.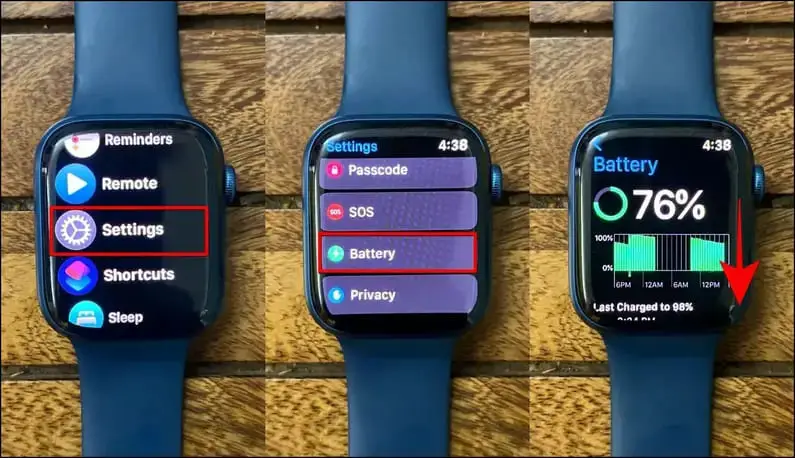 Sometimes, it may limit the charging to 80% even when you want the watch to charge full- maybe you woke up early, have a flight to catch, or have a schedule change. That's where you can turn off optimized charging to charge the Apple Watch quickly to 100, as shown below:
1. Press the Digital Crown on your Apple Watch to open the app list.
2. Scroll down and select Settings.
3. Scroll down again and select Battery.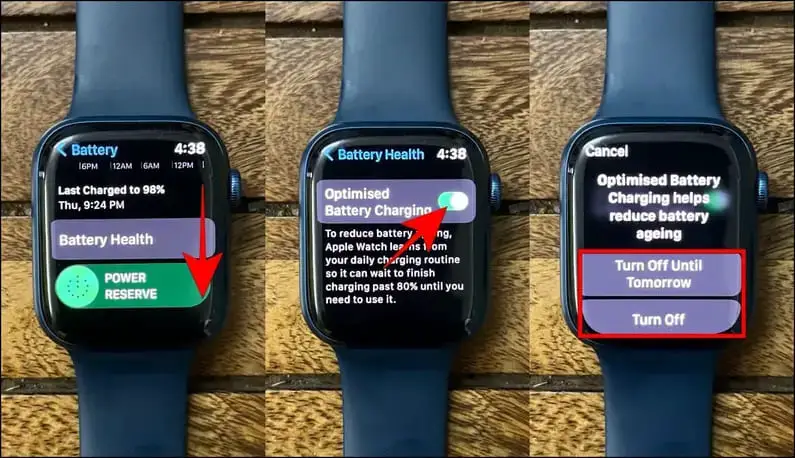 4. Next, tap Battery Health.
5. Turn off the toggle for Optimized Battery Charging at the bottom of this page.
6. If you want your Apple Watch to charge fast all the time without any limitations, select Turn Off. If it's a temporary thing, select Turn off until tomorrow.
Choosing the latter means Optimized Charging will be re-enabled the following day. Use this option when you want to charge your Apple Watch full once or twice in a while, say before going on a trek or vacation, without waiting for it to set at the restricted pace.
Optimized Charging is available on the following Apple Watches running WatchOS 7 and above:
Apple Watch Series-3
Apple Watch Series-4
Apple Watch Series-5
Apple Watch Series-6
Apple Watch SE 1, 2
Apple Watch Series-7
Apple Watch Series-8
Apple Watch Series-9
Apple Watch Ultra 1,2
Optimized Charging Off, Yet Apple Watch Won't Charge? Check Heating
When charging, the watch heats up for obvious reasons, and the heat gets amplified in hot environments, especially in summer. Consequently, the Apple Watch temporarily slows down or pauses the charging to lower the temperature to normal levels.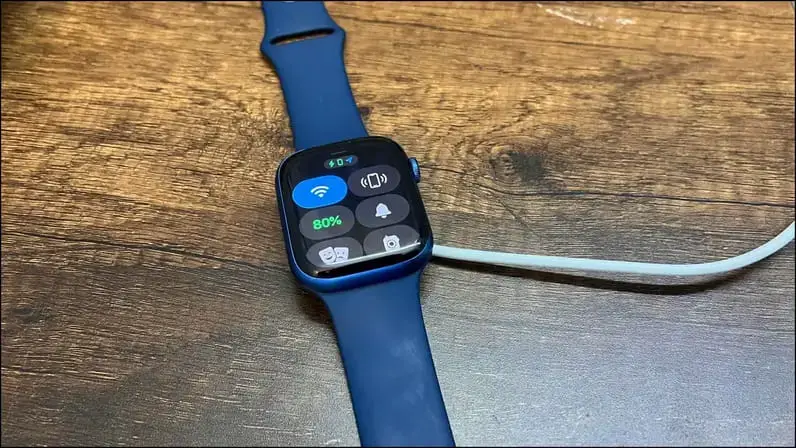 Remove the watch and let it cool down before you plug it back. Here are things you can do to ensure the Apple Watch stays at normal temperature while charging:
Charge the Apple Watch in an air-conditioned or well-ventilated environment.
Place the charger on a flat surface.
Avoid exposure to direct heat, say under the sun, in your car's dash, or near other electronic devices throwing heat.
Remove the protective case or grip (if attached any) from your Apple Watch.
Do not use the Apple Watch while charging.
Check the Apple Watch Charger
Apple Watch comes with a Magnetic Fast Charger to USB-C Cable (on Series 7 and newer) or a regular Magnetic Cable (on Series 6 and older models), which must be plugged into an adapter. The watch will charge slowly if you're using a slow-wattage adapter.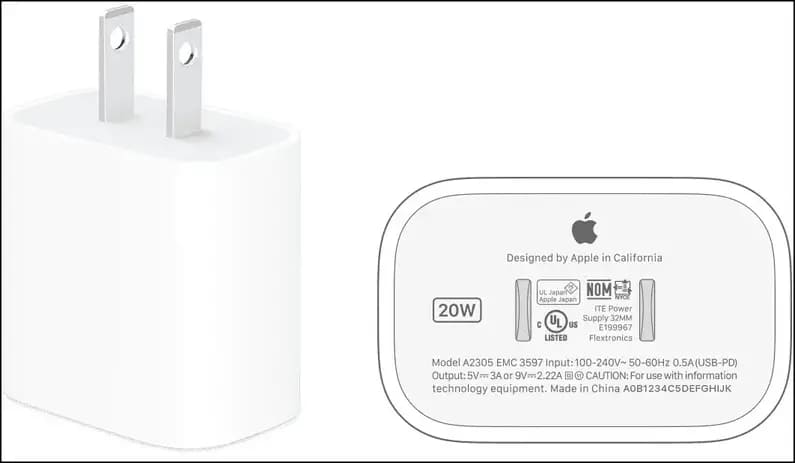 Many people use their old 5W Apple charging brick to charge the watch. Some use the USB sockets on their PC to power up the wearable. Both methods are quite slow.
If you have the Series-7 or newer models that support fast charging, use either ofApple 18W, 20W, 29W, 30W, 61W, 87W, or 96W USB-C Power Adapters. You can also use comparable third-party chargers that support USB Power Delivery (USB-PD).
We suggest getting the Apple 20W adapter, which would suffice for your iPhone and Apple Watch. You can also use a MagSafe Duo Charger or Magnetic Charging Dock- both are sold separately. Links to the charger are given below.
Apple 20W Adapter: Amazon India | Amazon USA | Apple Store
Clean the Charging Connectors
Make sure the back of your Apple Watch and the magnetic charging dock are clean. If there's any dirt or liquid, wipe it away gently with a microfibre cloth. And then try charging the smartwatch. The Apple Watch may not charge properly if there's water or debris. Also, remove any plastic wrap from both sides of the charger.
Other Tips to Fix Apple Watch Won't Charge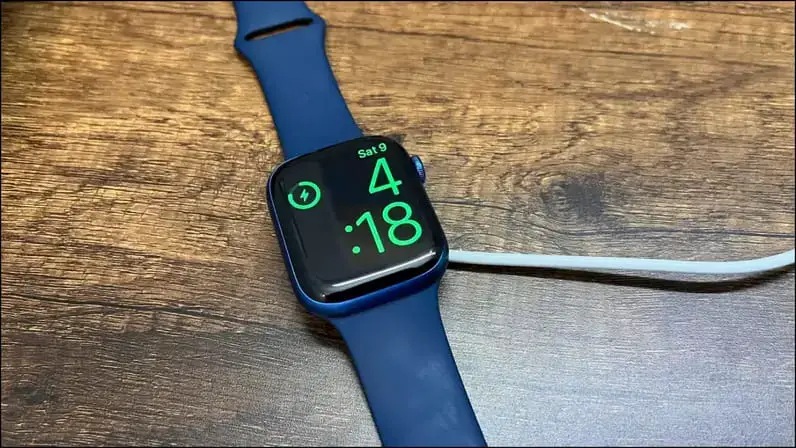 If the watch has been dead for a long time, leave it on the charger for a few minutes. And then try starting it.
Try a different Magnetic Charging Cable or USB-C Magnetic Fast Charging Cable and Power Adapter.
Ensure the charger's magnets align properly with your Apple Watch's back.
Even if using a third-party stand, use the original or certified cable.
(Resolved) Apple Watch Slow/ Stuck Charging
This is how you can fix an Apple Watch that is not charging or is stuck at 80 percent. Turning off optimized charging, disabling the 80% limit, and charging the watch in a cool environment will fix most people's issues. Anyways, what worked for you? Let us know via comments. Stay tuned for more such informative stuff.
You might be interested in:
You can also follow us for instant tech news at Google News or for tips and tricks, smartphones & gadgets reviews, join GadgetsToUse Telegram Group or for the latest review videos subscribe GadgetsToUse YouTube Channel.